A Neural Network-Based Four Phases Interleaved Boost Converter for Fuel Cell System Applications
1
Department of Electrical and Computer Engineering, College of Engineering, Dhofar University, Salalah 211, Oman
2
Laboratoire Analyse, Conception et Commande des Systèmes (LR11ES20), Ecole Nationale d'Ingénieurs de Tunis, Université de Tunis El Manar, Tunis 1002, Tunisia
3
Laboratoire de Génie Mécanique, Ecole Nationale d'Ingénieurs de Monastir, Université de Monastir, Monastir 5019, Tunisia
4
Research Unit on Study of Industrial Systems and Renewable Energy (ESIER), Université de Monastir, National Engineering School of Monastir, Université de Monastir, Monastir 5019, Tunisia
5
Energy and Thermal Systems Laboratory, National Engineering School of Monastir, Street Ibn El Jazzar, Monastir 5019, Tunisia
*
Author to whom correspondence should be addressed.
Received: 26 October 2018 / Revised: 1 December 2018 / Accepted: 4 December 2018 / Published: 6 December 2018
Abstract
This paper presents a simple strategy for controlling an interleaved boost converter that is used to reduce the current fluctuations in proton exchange membrane fuel cells, with high impact on the fuel cell lifetime. To keep the output voltage at the desired reference value under the strong fluctuations of the fuel flow rate, fuel supply pressure, and temperature, a neural network controller is developed and implemented using Matlab-Simulink (R2012b, MathWorks limited, London, UK). The advantage of this controller resides in its simplicity, where limited number of tests are carried out using Matlab-Simulink to construct it. To investigate the robustness of the proposed converter and the neural network controller, strong variations of the fuel flow rate, fuel supply pressure, temperature and air supply pressure are applied to both the fuel cell and the neural network controller of the converter. The simulation results show the effectiveness and the robustness of the both the proposed controller and converter to control the load voltage and minimize the current and voltage ripples. As a result of that, fuel cell current oscillations are considerably reduced on the one hand, while on the other hand, the load voltage is stabilized during transient variations of the fuel cell inputs.
View Full-Text
►

▼

Figures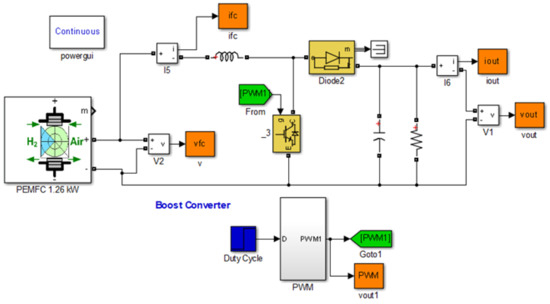 Figure 1
This is an open access article distributed under the
Creative Commons Attribution License
which permits unrestricted use, distribution, and reproduction in any medium, provided the original work is properly cited (CC BY 4.0).

Share & Cite This Article
MDPI and ACS Style
Barhoumi, E.M.; Ben Belgacem, I.; Khiareddine, A.; Zghaibeh, M.; Tlili, I. A Neural Network-Based Four Phases Interleaved Boost Converter for Fuel Cell System Applications. Energies 2018, 11, 3423.
Note that from the first issue of 2016, MDPI journals use article numbers instead of page numbers. See further details here.
Related Articles
Comments
[Return to top]