Open Access This article is
freely available
re-usable
Article
The Importance of Self-Monitoring for Behavior Change in Youth: Findings from the SWITCH® School Wellness Feasibility Study
1
Department of Kinesiology, Iowa State University, Ames, IA 50011, USA
2
Department of Food, Nutrition, Dietetics & Health, Kansas State University, Manhattan, KS 66506, USA
3
Helen & Arthur E. Johnson Beth-El College of Nursing and Health Sciences, University of Colorado, Colorado Springs, CO 80918, USA
4
Department of Food Science and Human Nutrition, Iowa State University, Ames, IA 50011, USA
5
School of Kinesiology, Louisiana State University, Baton Rouge, LA 70803, USA
6
University of Nebraska Medical Center, Omaha, NE 68198-4365, USA
7
Department of Psychology, Iowa State University, Ames, IA 50011, USA
*
Author to whom correspondence should be addressed.
Received: 29 August 2019 / Accepted: 2 October 2019 / Published: 10 October 2019
Abstract
:
School Wellness Integration Targeting Child Health (SWITCH
®
) is a school wellness implementation initiative focused on building capacity for schools to plan and coordinate wellness programming. Grounded in Social Cognitive Theory (SCT), the purpose of this study was to evaluate the utility of the web-based, self-regulation system on physical activity (PA) behavior outcomes. At pre-test and post-test, students in SWITCH
®
schools (
n
= 8) completed the online Youth Activity Profile (YAP) to assess PA and sedentary behavior (SB). Students (
n
= 513) were categorized into high or low self-monitoring groups (using a median split) based on their use of the web-based self-regulation platform. Linear mixed models were used to assess differences in moderate-to-vigorous PA (MVPA) and sedentary behavior, with school, classroom, student, time-by-school, and time-by-classroom random effects and main and interaction fixed effects for student self-monitoring, gender, and time. Significant self-monitoring-by-time interactions were observed for estimates of PA F(1, 477) = 5.55,
p
= 0.02 and SB F(1, 477) = 4.90,
p
= 0.03. Students in the high self-monitoring group had larger gains in PA per day and larger declines in hours per day of sedentary screen time behavior compared to students in the low self-monitoring group. These findings support the utility of web-based self-regulation for facilitating PA change in youth.
Keywords:
dissemination and implementation; health promotion; obesity prevention; physical activity; school wellness; sedentary behavior
2. Materials and Methods
The SWITCH
®
intervention is an evidence-based implementation framework with demonstrated feasibility in school settings [
13
]. The primary goal of SWITCH
®
is to increase the capacity for school leaders to implement systems and practice changes with involvement across multiple roles of school personnel, using a range of school resources, ultimately improving children's weight-related health-promoting behaviors. All data were collected in spring of 2017 with schools enrolled in the SWITCH
®
intervention. Approval was obtained from the Institutional Review Board (#14-651) at Iowa State University to conduct the project.
The SWITCH
®
training and implementation framework focuses on providing schools with materials and resources to deliver wellness programming with some latitude in implementation [
13
]. Implementation was facilitated with the use of a customized, web-based platform that allowed students to complete online self-monitoring of their PA and SB and self-evaluate progress relative to SWITCH
®
targets (i.e., at least 60 min of activity a day and less than two hours of SB per day). Emphasis in the present paper is on the impact of self-monitoring, which was described in SWITCH
®
as "tracking". Teachers also had access to curricular resources and posters to complement programming, but they were given autonomy in how they chose to use program materials.
The self-regulation process also was supported by classroom tracking participation goals and rewards called trinkets, which were provided to each classroom teacher as a means to encourage self-regulation, used at the teacher's discretion. The standardized SWITCH® training process ensures that the approach can be systematically evaluated, while the flexible implementation enables the programming to be tailored to fit local needs, interests, and capacity.
2.1. Sample and Measures
A convenience sample of eight rural elementary schools participated in the 2017 SWITCH® feasibility study. Schools varied in size (range of total enrollment: 157 to 526 students), and socio-economic status (range of free and reduced priced lunch eligibility status: 8.5–59.4%). Consistent with the demographics in the state, however, there was limited diversity with regard to race or ethnicity (predominantly White/Caucasians; range of school-level racial/ethnic minority sample: 3.3–13.3%).
The previous evaluation of the 2017 SWITCH
®
iteration captured the school- and classroom-level implementation [
13
], so student-level engagement and outcomes were the focus for the current study. Specifically, we evaluated the relationship between self-regulation through an online platform on youth behavioral outcomes. Through the SWITCH
®
training process, school personnel are guided through the SWITCH
®
website and are responsible for creating classes and uploading students, who are then given login information which allows them to access the website. When students logged in, they were taken to a tracking page where they could enter behavior data daily and/or weekly, depending on their preference (see
Figure 1
).
Each week, students utilized the self-regulation platform for a different behavior, with the focus changing between PA, screen time, and nutrition components each week to address the targeted goals of switching "do", "view" and "chew" behaviors (i.e., >60 min of PA, <2 h sedentary screen time, >5 fruits and vegetables). Students had opportunities to track behaviors relative to the SWITCH® goals for 11 weeks in the project, but the 12th week was used to facilitate student completion of post-test measures. Once students monitored behaviors, they were provided with instantaneous feedback on whether they met daily goals (described above); such feedback manifested as green (met) or orange/red (not met). Following this, students were directed to their dashboard which shows the week at-a-glance. This platform enabled students to view how many days they had tracked and whether they met behavior-related goals for that day/week, providing immediate feedback through the website. Classrooms teachers were also able to view class-level self-monitoring and were encouraged to use trinkets as an incentive for self-regulation behaviors. Self-monitoring level was calculated using the number of weeks that students entered data into the web-based platform, divided by the number of weeks of participation in the intervention.
Physical activity outcome data were obtained using the Youth Activity Profile (YAP), a validated seven-day recall instrument developed to assess children's PA and SB at the group level [
21
]. The YAP provides estimates of PA at school, during out-of-school time, and on weekends, as well as an overall estimate of SB (out of school) based on reported volitional screen time applications. Students completed the YAP assessment at pre-test (week 0) and post-test (week 12) in classroom and/or media center settings with teacher supervision. For most questions, students report their behaviors from the last seven days (e.g., "How many days did you walk to school this week?") but other questions ask students to report their behavior during a "normal" week or day (e.g., "How active are you during recess?"). The overall YAP assessment includes 15 items with five items capturing PA in school (transportation to and from school as well as activity during physical education, lunch, and recess), five items capturing out-of-school activity (activity before school, after-school, in the evening, and on Saturday and Sunday) and five items capturing SB (watching TV, playing videogames, using the computer, using a cell phone, and general screen usage). Students were instructed to select one option from a drop-down list that best describes their behavior. An additional set of five items capturing nutrition behaviors are included in the SWITCH
®
project, but these items have not been calibrated or formally validated. Students receive individualized feedback based on YAP raw scores but the data are processed using validated algorithms [
21
] to estimate time spent in moderate-to-vigorous PA (MVPA) and time spent in sedentary screen time behavior.
2.2. Statistical Analyses
The primary analyses focused on whether regular use of the web-based self-regulation system would positively affect youth behavior. For this reason, cases with missing data either at pre- or post-SWITCH
®
YAP assessments were excluded. The final student sample included 513 youth (boys:
n
= 251; girls:
n
= 262) in grade 4 (
n
= 205) and grade 5 (
n
= 308) from the eight elementary schools. Only participants with complete data (pre- and post-YAP assessments) were retained in the final sample. To facilitate interpretation, we used median splits to categorize students into high or low self-monitoring categories. Although it is common to use continuous variables in linear models, the use of median splits provides a more appropriate test of the research question since self-monitoring cannot be assumed to be linearly related to behavior change [
22
].
All analyses were run using Proc Mixed of the Statistical Analysis System (SAS; version 9.4). The school, classroom, and student were random effects, and time was modeled as school-by-time and classroom-by-time random effects, since all schools and classrooms were exposed to intervention and seasonal weather changes over time [
23
]. We hypothesized that the high self-monitoring group would have better gains in PA and larger reductions in sedentary screen time behavior compared to those in the low self-monitoring group. Thus, the primary analyses focused on examining two- and three-way interactions among gender (male, female), monitoring rates (i.e., high versus low), and time (pre-winter, post-spring) on PA and sedentary screen time behavior. Five total outcomes were evaluated, including PA, PA in school, PA out of school, PA on weekends, and sedentary screen time behavior. Alpha was set at 0.05 for all analyses.
5. Conclusions
The results of the present study provide evidence for the utility of the SWITCH® web-based tool and the use of self-regulation strategies for behavior change in the school setting. Youth with higher rates of self-monitoring had larger gains in PA and significant reductions in SB. The SWITCH® intervention model provides a promising whole-of-school approach to school wellness, and practicing self-regulation appears to be an important element within SWITCH® to promote changes in student lifestyle behaviors. Future studies of SWITCH® will evaluate the dissemination and implementation of this innovative framework as it goes to scale and reaches an extensive and diverse collection of schools.
Author Contributions
G.M.M., R.R.R., and G.J.W. took the lead in writing the paper and data interpretation; G.M.M., R.R.R., G.J.W., M.S.R., and D.A.D. took a leading role in data analysis, J.A.L., M.M.W., and G.J.W. managed the data collection and processing for the project; all faculty (S.C., R.R.R., D.A.D., L.L.-F., D.A.G., and G.J.W.) contributed to the design of this study and provided valuable additions to the manuscript. All authors have read and approved the final version of the manuscript, and agree with the order of presentation of the authors.
Funding
This project was supported by the USDA National Institute of Food and Agriculture (AFRI 2014–08390).
Acknowledgments
The authors wish to acknowledge the teachers, administrators, and students who participated in SWITCH®. We also acknowledge the following graduate students: Kyle Braun, who helped to manage data for this project; Rachel Lukoswki, who helped with data collection; and Andi Luth, who helped to build the website.
Conflicts of Interest
None of the authors declare competing financial interests.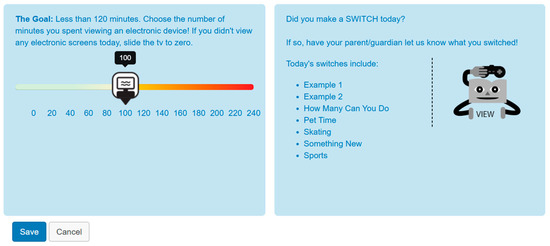 Figure 1. School Wellness Integration Targeting Child Health (SWITCH®) website self-monitoring interface.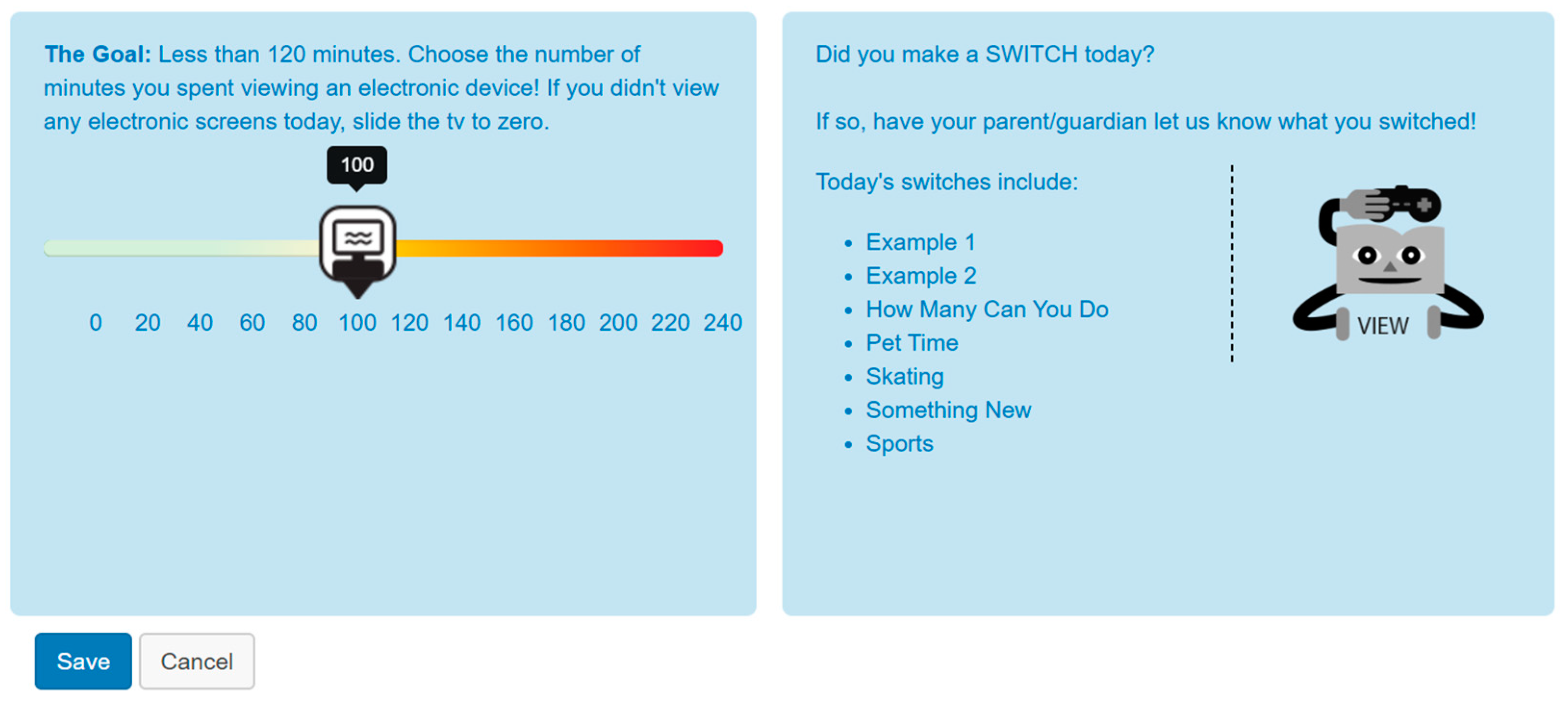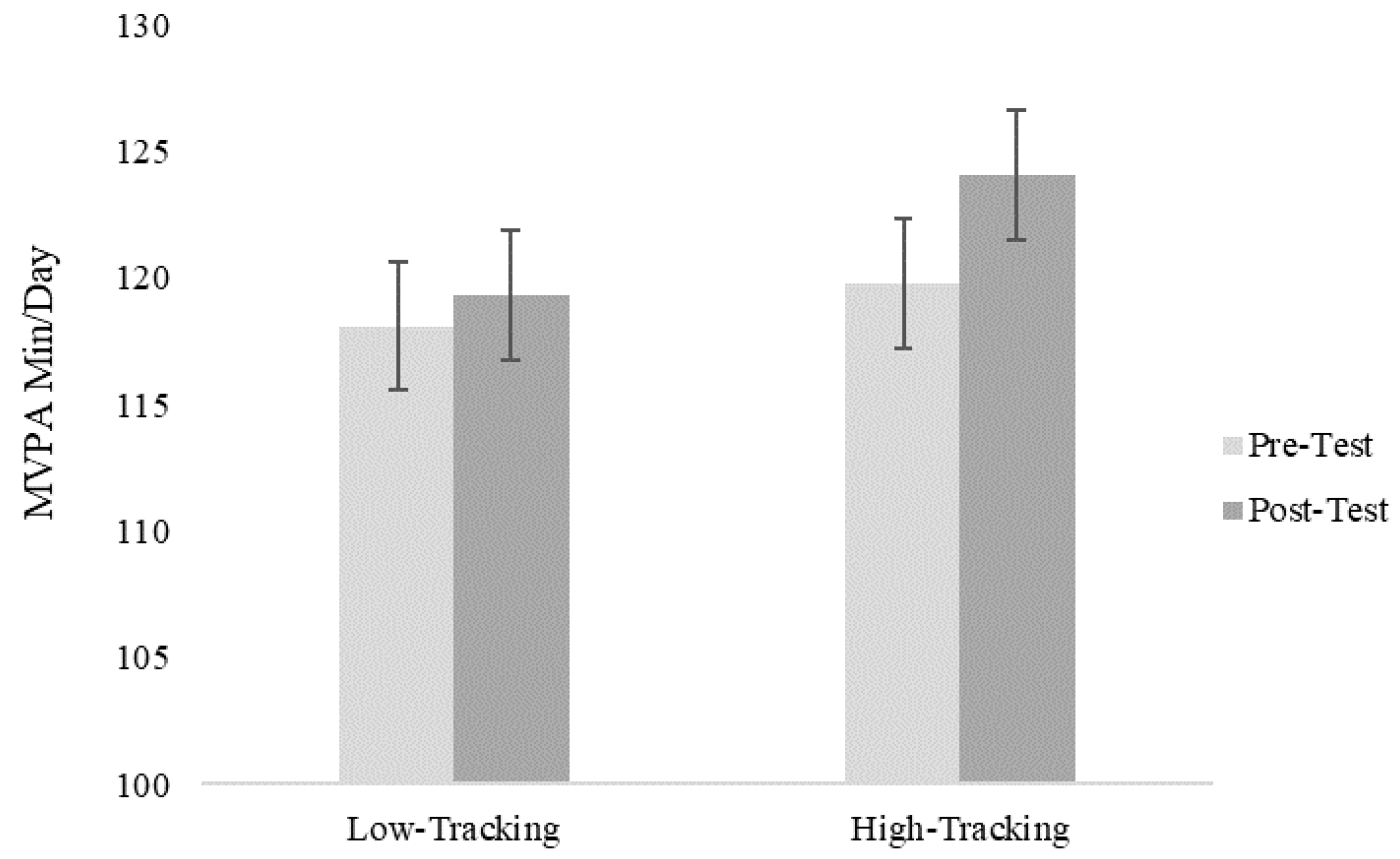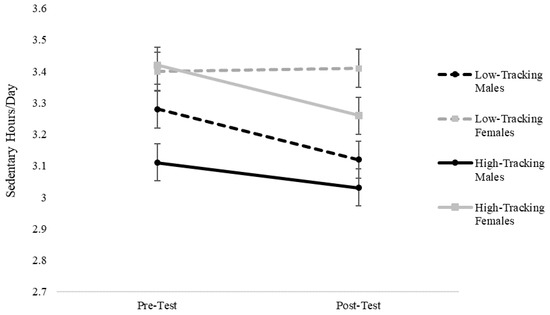 Figure 3.
Mixed linear results for daily sedentary behavior. Note: significant gender*time*monitoring interactions (
p
< 0.01) were found that show differential relationships between boys and girls; significant main effects were found for boys (
p
= 0.03) and girls (
p
< 0.01) in the high-tracking group and boys in the low-tracking group (
p
= 0.01), but not for low-tracking girls (
p
= 0.7).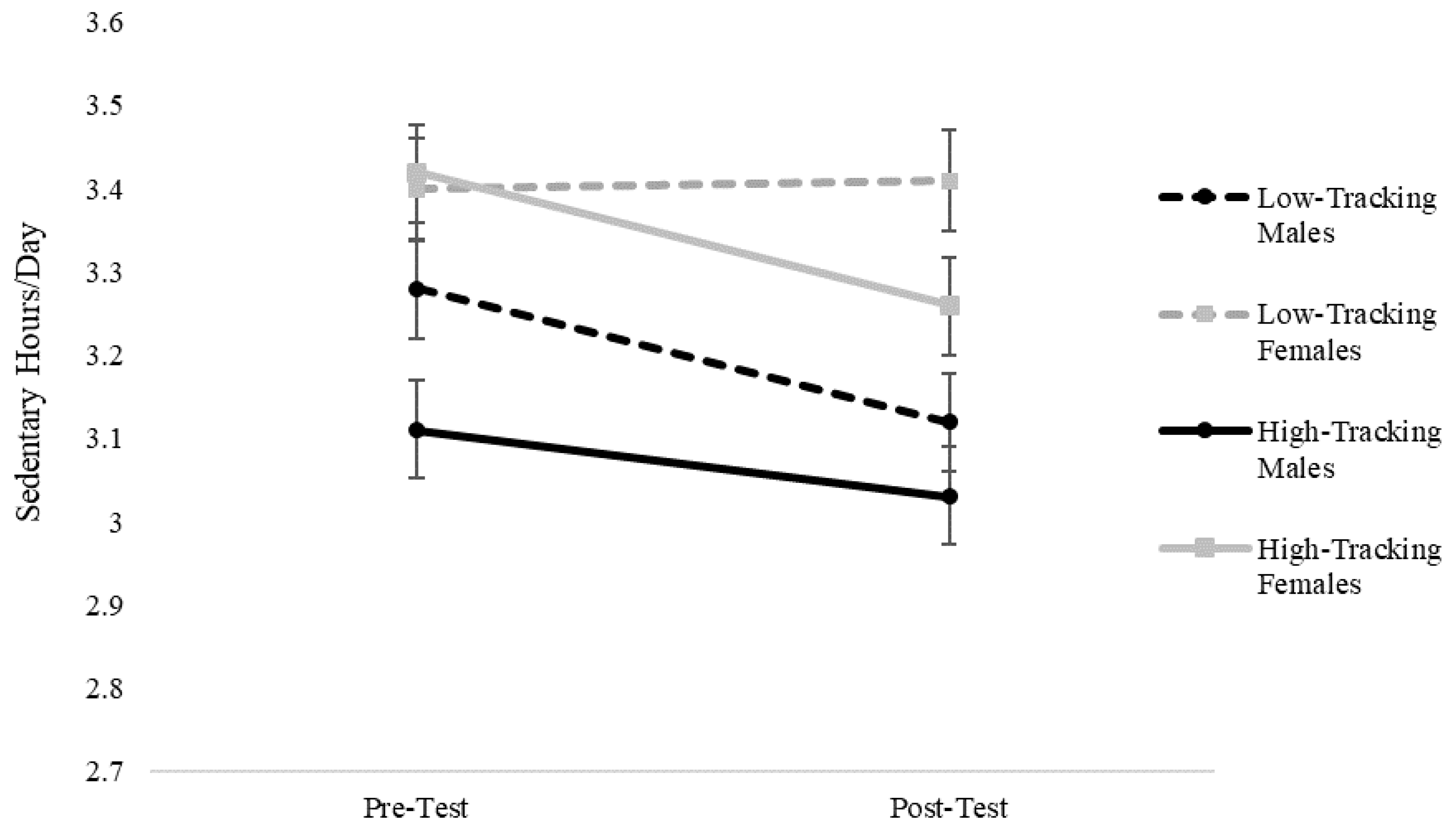 Title
Low-Tracking (

n

= 237)
High-Tracking (

n

= 276)
Baseline Mean
Post-Intervention Mean
Adjusted Change Mean (SE)

p

Value
95% CI
Baseline Mean
Post-Intervention Mean
Adjusted Change Mean (SE)

p

Value
95% CI
Male
MVPA/day (Min)
131.7
132.4
−0.7 (1.4)
0.6
(−3.3, 2.0)
132.1
137.1
−5.0 (1.4)
<0.01
(−7.8, −2.2)
MVPA/min/in-school day
56.3
56.5
−0.2 (1.2)
0.9
(−2.6, 2.2)
54.8
58.2
−3.3 (1.2)
<0.01
(−5.8, −0.9)
MVPA/min/out-of-school day
77.6
78.2
−0.6 (1.1)
0.6
(−2.8, 1.6)
78.2
82.1
−3.9 (1.1)
<0.01
(−6.1, −1.6)
MVPA/min/weekend day
126
127.4
−1.4 (1.6)
0.4
(−4.6, 1.7)
128.3
127.7
0.4 (1.6)
0.8
(−2.8, 3.7)
Sedentary hours/day
3.3
3.1
0.1 (0.04)
0.01
(0.02, 0.2)
3.1
3
0.1 (0.04)
0.03
(0.005, 0.15)
Female
MVPA/min/day
104.5
107.2
−2.7(1.5)
0.1
(−5.6, 0.1)
106.6
111.1
−4.5 (1.3)
<0.01
(−7.1, −2.0)
MVPA/min/in-school day
45.8
45.7
0.1 (1.3)
0.9
(−2.4, 2.6)
45.8
48.1
−2.3 (1.1)
0.05
(−4.5, −0.04)
MVPA/min/out-of-school day
63.8
67.8
−4 (1.2)
<0.01
(−6.4, −1.6)
66.3
69.8
−3.6 (1.0)
<0.01
(−5.6, −1.6)
MVPA/min/weekend day
92.1
92.5
−0.4 (1.7)
0.8
(−3.9, 3.0)
91
92.2
−1.3 (1.5)
0.4
(−4.2, 1.6)
Sedentary hours/day
3.4
3.4
−0.01 (0.04)
0.7
(−0.1, 0.1)
3.4
3.3
0.2 (0.03)
<0.01
(0.1, 0.22)
Note: Mixed model with school, classroom, student and school-by-time and classroom-by-time random effects. LS change means and 95% confidence intervals (CIs) are the differences between the low-tracking group relative to the high-tracking group, adjusted for gender.

© 2019 by the authors. Licensee MDPI, Basel, Switzerland. This article is an open access article distributed under the terms and conditions of the Creative Commons Attribution (CC BY) license (http://creativecommons.org/licenses/by/4.0/).