A Cross-Sectional Study of Endogenous Antioxidants and Patterns of Dental Visits of Periodontitis Patients
1
Division of Periodontics, Department of Dentistry, Taipei Medical University Hospital, Taipei Medical University, Taipei 110, Taiwan
2
Department of Community Medicine, En Chu Kong Hospital, New Taipei City 237, Taiwan
3
Department of Nursing, Yuanpei University of Medical Technology, Hsinchu 300, Taiwan
4
Department of Dentistry, En Chu Kong Hospital, New Taipei City 237, Taiwan
5
Department of Pharmacology, School of Medicine, College of Medicine, Taipei Medical University, Taipei 110, Taiwan
6
Division of Cardiology, Department of Internal Medicine, Cathay General Hospital, Taipei 106, Taiwan
7
School of Dentistry, College of Oral Medicine, Taipei Medical University; Taipei 110, Taiwan
8
School of Oral Hygiene, College of Oral Medicine, Taipei Medical University, Taipei 110, Taiwan
9
Department of Oral Hygiene, College of Dental Medicine, Kaohsiung Medical University, Kaohsiung 80708, Taiwan
*
Author to whom correspondence should be addressed.
†
These authors contributed equally to this work.
Received: 16 November 2018 / Revised: 22 December 2018 / Accepted: 1 January 2019 / Published: 9 January 2019
Abstract
Periodontitis is an inflammatory disease, wherein endogenous antioxidants help to balance the inflammatory status. Oral health behaviors are related to the periodontal disease status. The aim of this study was to explore the associations between oral health behaviors and endogenous antioxidants in periodontitis patients. In total, 225 subjects diagnosed with periodontitis were enrolled in the study. Information obtained from the initial interview included socioeconomic and demographic characteristics, lifestyle factors, and oral health-related behaviors. The clinical periodontal parameters evaluated included bleeding on probing (BOP), the plaque index (PI), and probing depth (PD). Stimulated saliva was collected before periodontal therapy to determine five endogenous antioxidants (copper-zinc superoxide dismutase (Cu/Zn SOD), manganese SOD (MnSOD), thioredoxin 1 (Trx1), peroxiredoxin 2 (Prx2), and catalase (CAT)). When these five factors were adjusted for in patients whose last previous dental visit was >1 year, the patients' PI, BOP, and PD showed significant decreases because of an elevation in the Cu/Zn SOD level. Associations of endogenous antioxidants with levels of clinical periodontal parameters were much higher in subjects whose last previous dental visit was >1 year, compared to subjects whose last previous dental visit was <1 year. This study provides a better understanding of dental visit patterns and the salivary endogenous antioxidants that may underlie the symptomatic development of preclinical periodontitis.
View Full-Text
►

▼

Figures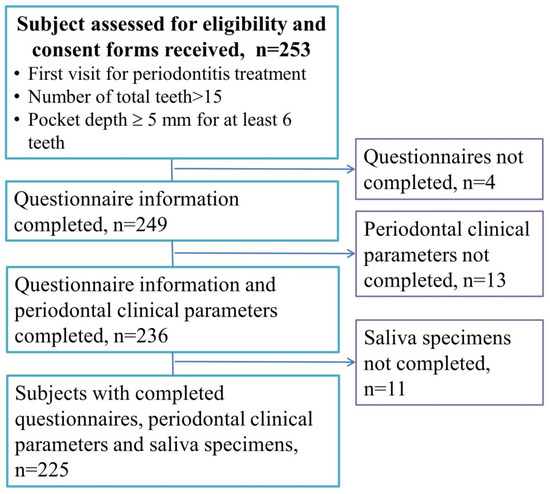 Figure 1
This is an open access article distributed under the
Creative Commons Attribution License
which permits unrestricted use, distribution, and reproduction in any medium, provided the original work is properly cited (CC BY 4.0).

Share & Cite This Article
MDPI and ACS Style
Lee, C.-Y.; Choy, C.-S.; Lai, Y.-C.; Chang, C.-C.; Teng, N.-C.; Huang, W.-T.; Lin, C.-T.; Huang, Y.-K. A Cross-Sectional Study of Endogenous Antioxidants and Patterns of Dental Visits of Periodontitis Patients. Int. J. Environ. Res. Public Health 2019, 16, 180.
Note that from the first issue of 2016, MDPI journals use article numbers instead of page numbers. See further details here.
Related Articles
Comments
[Return to top]