The Effects of Annatto Tocotrienol Supplementation on Cartilage and Subchondral Bone in an Animal Model of Osteoarthritis Induced by Monosodium Iodoacetate
1
Department of Pharmacology, Faculty of Medicine, Universiti Kebangsaan Malaysia, Cheras 56000, Malaysia
2
Department of Anatomy, Faculty of Medicine, Universiti Kebangsaan Malaysia, Cheras 56000, Malaysia
3
Department of Orthopedics and Traumatology, Faculty of Medicine, Universiti Kebangsaan Malaysia, Cheras 56000, Malaysia
4
Department of Medicine, Faculty of Medicine, Universiti Kebangsaan Malaysia, Cheras 56000, Malaysia
*
Author to whom correspondence should be addressed.
Received: 14 July 2019 / Revised: 8 August 2019 / Accepted: 9 August 2019 / Published: 13 August 2019
Abstract
Osteoarthritis is a degenerative joint disease which primarily affects the articular cartilage and subchondral bones. Since there is an underlying localized inflammatory component in the pathogenesis of osteoarthritis, compounds like tocotrienol with anti-inflammatory properties may be able to retard its progression. This study aimed to determine the effects of oral tocotrienol supplementation on the articular cartilage and subchondral bone in a rat model of osteoarthritis induced by monosodium iodoacetate (MIA). Thirty male Sprague-Dawley rats (three-month-old) were randomized into five groups. Four groups were induced with osteoarthritis (single injection of MIA at week 0) and another served as the sham group. Three of the four groups with osteoarthritis were supplemented with annatto tocotrienol at 50, 100 and 150 mg/kg/day orally for five weeks. At week 5, all rats were sacrificed, and their tibial-femoral joints were harvested for analysis. The results indicated that the groups which received annatto tocotrienol at 100 and 150 mg/kg/day had lower histological scores and cartilage remodeling markers. Annatto tocotrienol at 150 mg/kg/day significantly lowered the osteocalcin levels and osteoclast surface of subchondral bone. In conclusion, annatto tocotrienol may potentially retard the progression of osteoarthritis. Future studies to confirm its mechanism of joint protection should be performed.
View Full-Text
►

▼

Figures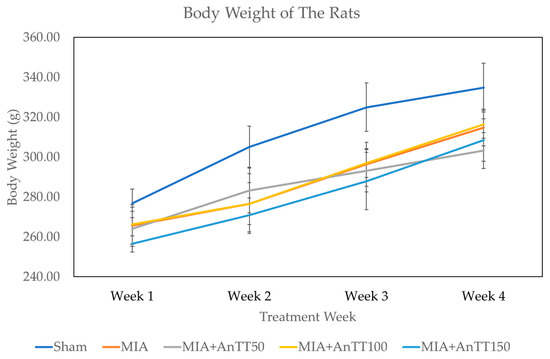 Figure 1
This is an open access article distributed under the
Creative Commons Attribution License
which permits unrestricted use, distribution, and reproduction in any medium, provided the original work is properly cited (CC BY 4.0).

Share & Cite This Article
MDPI and ACS Style
Chin, K.-Y.; Wong, S.K.; Japar Sidik, F.Z.; Abdul Hamid, J.; Abas, N.H.; Mohd Ramli, E.S.; Afian Mokhtar, S.; Rajalingham, S.; Ima Nirwana, S. The Effects of Annatto Tocotrienol Supplementation on Cartilage and Subchondral Bone in an Animal Model of Osteoarthritis Induced by Monosodium Iodoacetate. Int. J. Environ. Res. Public Health 2019, 16, 2897.
Note that from the first issue of 2016, MDPI journals use article numbers instead of page numbers. See further details here.
Related Articles
Comments
[Return to top]