Open Access This article is
freely available
re-usable
Article
Negative Influences of the 4th Industrial Revolution on the Workplace: Towards a Theoretical Model of Entropic Citizen Behavior in Toxic Organizations
School of Economic and Business Sciences, University of the Witwatersrand, Johannesburg 2050, South Africa
Received: 22 May 2019 / Accepted: 16 July 2019 / Published: 25 July 2019
Abstract
:
The 4th industrial revolution, referred to as a 'second coming' of the 'digital era,' has introduced both positive and negative effects on the workplace. While digitalization and automation have taken the drudgery out of work for some and released them to enjoy qualitative improvements at work and higher salaries, others have been thrust into low-paying work and unemployment with negative effects on their well-being and mental health. In many cases stress and threats of job loss created by digital era automation have generated negative workplace behavior and workplace outcomes. The 4th industrial revolution and its burgeoning information technology have presented widespread access to information to stakeholders and the general public about organizational business and environmental performance. This open access to information has driven toxic business leaders to maintain company profitability and environmental sustainability by pressuring employees to find solutions to difficult organizational problems with short timelines attached. Employees often are required to 'go the extra mile' to achieve organizational goals through forms of organizational citizenship behavior. Additionally, although organizational citizenship behavior can generate significant benefits for a company, toxic and entropic workplace outcomes can also occur from its more extreme manifestations arising from the stressful circumstances digitalization and automation of work have created. The methodological approach adopted in this paper is a secondary data analysis which uses reliable and valid sources of report documentation to corroborate a theoretical model of organizational citizenship behavior entropy. The theoretical model suggests that extreme forms of organizational citizenship behavior associated with the digital era can create toxic leaders and business organizations that lead to organizational entropy.
Keywords:
4th industrial revolution; workplace; entropic citizenship behavior; toxic organizations
1. Introduction
The 3rd industrial revolution started the digital era which began in the late 1950s–1970s with the introduction of digital technology and the movement away from mechanical and analogue technology. The digital revolution marked the start of the information age Schoenherr [
1
]. The 4th industrial revolution is marked by technological innovation in areas such as robotics, artificial intelligence, quantum computing, and biotechnology. Schwab [
2
] indicates that these new technologies are transforming industrial systems of production, management and employee qualitative and quantitative workloads.
Digitalization and automation introduced by the 4th industrial revolution has momentous and widespread effects on the workplace and employees. Like globalization there have been both benefits and costs in the digitalization process. On the negative side there has been the creation of a poorly paid underclass of workers forced out of skilled work by the introduction of automated and robotic processes in the workplace. The effects have been many on the incidence of voluntary and involuntary turnover, unemployment and well-being of the workforce. Desperation in the work force of the loss of traditional work opportunities and the threat to livelihood from digitalization and globalization have contributed to a wave of rebellion in the United States and ushered in a new era of politics focused on job protectionism and trade tariffs.
At the organizational level, employees have sought to make themselves less dispensable in the face of the wave of automation. This has led to extreme forms of worker organizational citizenship-type behavior in some situations through workers' attempts to demonstrate their special worth to the organization. Through altruistic behavior and overt demonstrations of 'going the extra mile' for the organization, employees have sought to reduce their chances of redundancy. The effects have been many as Litchfield and Cooper [
3
] put it: "It is clear that work can be harmful but so can the absence of work. The link between poverty and illness has been recognized for many centuries but it was only in the 1930s that the independent effect on health of unemployment was first described. Research since that time has confirmed that both job loss and continuing 'worklessness' impact adversely on people's health with increased levels of both mental and physical problems. Rates of anxiety, depression, suicide, hypertension, diabetes, stroke and heart attack have all been shown to be elevated in those who are made unemployed". The pressure to keep employment in the face of automation and rapid industrial change in the 4th industrial revolution, has also had negative effects on maintaining a healthy work/life balance and forces workers to maintain their citizenship behavior far beyond formal office hours, thus introducing forms of citizenship extremism. As Harrison and Lucassen [
4
] indicate "while in the past there was often a clear boundary between where work ended and home life began…this area is very much grey. Most of us have our work emails on our phones making us constantly available and contactable. This makes it very difficult to ever truly disengage from work and relax."
Effects on well-being and mental health of the work force have been considerable, "For individual companies, mental health is now often the commonest cause of sickness absence in developed countries, accounting for up to 40% of time lost with presenteeism adding at least 1.5 to the cost of absenteeism" Litchfield and Cooper, [
3
].
Past and current secondary data evidence of extreme forms of organizational citizenship behavior as a reaction to highly stressful situations, suggest that extreme citizenship behavior can generate a 'toxic' spread among employees and the organization, ultimately leading to entropy. This paper aims to contribute to the literature by presenting a theoretical explanatory model of extreme forms of organizational citizenship behavior generated by highly stressed situations, experienced by employees in the digital era, which can generate disorder and entropy in business organizations.
The paper aims to show using a theoretical explanatory model how:
Toxic forms of

leadership

brought on by pressures of rapid industrial change, automation, and information explosion of the 4th industrial revolution, and

Pressures of the 4th industrial revolution in the form of redundancies, erosion of healthy work/life balances, and problems of mental health, have generated

toxic employee citizenship behavior

and threaten organizational entropy.
The paper takes the following structure: The first section presents a brief literature review of organizational citizenship behavior (OCB), entropy, entropic citizenship behavior (ECB), employee and organizational toxicity, and organizational entropy. The second section deals with methodology of secondary data analysis. This is followed by a presentation of a sequential model built up from the findings and analysis of the secondary data, and a discussion of employee and organizational toxicity and entropy in highly stressed 4th industrial revolution workplace situations.
The conclusion outlines limitations of the study, recommendations for further research and the paper's implications for management in maintaining employee well-being and organizational sustainability.
2. Literature Review
This review describes the extant literature regarding various conceptual and theoretical foundations of the explanatory model developed later in the paper.
The relative evenness and unevenness of the OCB distribution is seen as ranging from 0 (complete uniformity) to H (complete chaos). Points beyond H Min (minimum level of disorder) become increasingly even in OCB as they progress towards point 0 (complete uniformity). Beyond point H Max, (maximum level of disorder) increasingly uneven distributions of personal and organizational OCB become evident. Organizationally- and personally oriented OCB between H Max and H Min are regarded as areas of order in organizational departments (an evenness of OCB distribution without extreme forms). In this area, balanced forms of OCB become increasingly evident. Increasing imbalances (extremes) in personal and organizational OCB occur towards H Max and, become OCE. OCE in units and teams 'poisons' the organizational climate and can spread to other departments resulting, ultimately, in the development of a toxic organization.
Toxic leadership can therefore be regarded as a necessary, but not necessarily a 'sufficient' condition for the emergence of toxic organizations. A toxic organization can be initiated through leadership behavior, but this can only be spread throughout the organization through the collective interaction of toxic employees. Toxic leaders do not just materialize out of the air, they are usually the result of socio-economic pressures, such as those created by the 4th industrial revolution with its emphasis both on competitive efficiency through technology and automation, and environmental sustainability.
Toxic employees and organizations can arise from many sources but distorted types of leadership which drive distorted employee behavior and a toxic organizational climate are becoming more prevalent in the digital era. Toxic employees and organizations arise from contextual stressors created through extreme circumstances such as economic and socio-political turmoil arising from, for example, rapid industrial change (revolution) and war.
4. Findings of the Secondary Data Analysis
4.1. Toxic Organization-Oriented Citizenship Behavior
4.2. Toxic Person-Oriented Citizenship Behavior
Paillé and Grima [
46
], in a paper focusing on organizational citizenship withdrawal in the workplace, found that an emphasis on helping others (personal-oriented citizenship behavior) was a strong predictor of employee intention to leave. This finding suggests that digital era pressures on employees to engage in personal/helping citizenship behavior produced toxic reactions that caused them to consider quitting the workplace. Such individual employee workplace withdrawal becomes dangerous to organizational survival when it diffuses to create a toxic organizational climate. An example of this phenomenon with a more widespread impact is presented by Roddick's Body Shop [
47
]. The Body Shop was founded on social activism and the principles of social and environmental change. Anita Roddick saw business as not simply the unwavering pursuit of profit to build a larger commercial empire, but also to influence social change and to make the world a better place to live in. Her focus was primarily on human rights and environmental preservation and she surrounded herself with employees who had been carefully selected to embrace these values. However, her company leadership ultimately created a toxic climate where the drive and emphasis on people and community welfare generated employee social activism that became inimical to the economic sustainability of the company itself. Open access of information about the company made possible by digital technology made the company become the object of a number of ethics controversies and was eventually sold to L'Oréal. The company is now owned by Brazilian Cosmetics Company "Natura Cosméticos" who bought the company from L'Oreal in 2017.
Murray's [
48
] account of Ben and Jerry and CPI's struggles with corporate social responsibility provides a more recent example of how extreme forms of personal-oriented, 'helping' organizational citizenship behavior brought about by pressures for social responsibility in the digital era, can create toxic organizational circumstances which threaten its existence. In this particular case, Ben Cohen, a co-founder of Ben and Jerry, after attending a concert by the Grateful Dead to promote the protection of the Brazilian rainforest, embarked on a partnership venture with Community Products Inc., (CPI) to produce a new ice cream,' Rainforest crunch' made from Brazilian nuts and cashews. Ben Cohen, who was chairman and president of CPI, committed the company to distribute 40% of the profits to rainforest preservation groups and international environmental projects. Another 20% would go to 1% for peace, and a further 10% would be shared among employees. CPI's social and environmental claims eventually came under scrutiny by information available to stakeholders and the general public. The original small cooperative nut farmers could not meet with the increasing demand for the product and comply with US health standards. Shipments of nuts arrived with broken shells, cigarette butts, rocks and coliform bacteria. It was found out also that 95% of the nuts were supplied by large corporate suppliers, including notorious anti-union agribusinesses. In fact, only 5% of the nuts came from local co-operatives. Ben and Jerry were forced to backtrack on their social responsibility claims and Rainforest Crunch was discontinued and CPI went bankrupt leaving its employees redundant and with some small local cooperative nut suppliers remaining unpaid.
In such circumstances the organization had become so fixated on its helping solve community social and environmental problems citizenship behavior, that it was prepared to go bankrupt (entropy) in its drive to maintain its reputation in the face of negative information, despite its erstwhile company profitability. Such toxic leadership puts enormous pressures of possible redundancy on employees which can create a toxic organizational environment to emerge with the twin objectives of maintaining a community-oriented façade while struggling to remain in business.
5. Discussion of the Findings and the Development of a Model
The secondary data indicated in the preceding section has suggested that extreme forms of personal and organizational-oriented citizenship behavior can, under the pressures of the 4th industrial revolution and toxic leadership, lead to organizational entropy.
Such compulsory extreme forms of citizenship behavior [
18
] engendered by pressures of the 4th industrial revolution have been shown in the examples described earlier to seriously undermine the functioning and survival of organizations.
Figure 1
below presents, diagrammatically, a heuristic of evident links in the chain of organizational citizenship entropy observed in the secondary data presented earlier.
Figure 1
indicates that pressures in inter-firm competition prompted by the rapid changes of the 4th industrial revolution has promoted toxic forms of leadership in organizations. Pressures on employment from automation and robotics as well as the intrusive technology that has arisen in the digital era have also driven individual employees to work 24/7 and to try to demonstrate in extreme forms of personal and organizational-oriented citizenship behavior, they are worthy of continued employment. These twin sources of pressure encouraged by toxic leadership have driven individual employees towards OCE through burnout and withdrawal which have helped create the toxic organizational climate and which they are themselves affected by (depicted by two-way arrows in
Figure 1
). Energy wastages and disorder created by ECB can ultimately lead to entropy of the organization itself. The model indicated in
Figure 1
goes further than Einarsen et al.'s [
49
] earlier descriptive model of 'destructive leadership'. Destructive leadership is defined by Einarson et al. [
49
] as systematic and repeated behavior by a leader to undermine or sabotage the organization's goals and the well-bring and job satisfaction of employees. The definition recognizes that destructive leaders can display destructive and constructive behavior simultaneously, however, their descriptive model [
49
] does not present an explanation of
how
destructive leadership tendencies might be developed. Additinally, Einarsen et al.'s model [
49
] does not consider how destructive leaders might arise from the relentless drive for what might at first sight appear to be perfectly legitimate goals aimed at contributing to organizational and/or socio-environmental objectives. However, the secondary data analysis has indicated how fixated organizational and environmental goals strongly motivated in company employees by toxic leaders can lead to organizational crises and even catastrophe.
6. Conclusions
This paper has indicated through secondary data analysis and the development of a novel theoretical modular framework, interrelationships between 4th revolution pressures that promote leadership toxicity, employee entropic citizenship behavior, employee and organizational toxicity and, ultimately, organizational entropy. The paper contributes to the literature by presenting a theoretical framework built from extant secondary data that articulates testable relationships for future primary data empirical research. It has also shown how pressures emanating from, but not necessarily unique to, the 4th industrial revolution have impacted on the workplace and, in some cases, generated extreme forms of personal and organizational-oriented citizenship behavior that lead to energy wastages, disorder, and organizational entropy.
The model suggests that management and stakeholders need to be alert to toxic leadership and to avoid recruiting company leaders who show toxic tendencies in their overriding fixations on community/environmental or profitability goals often arising through 4th industrial revolution pressures. The model also alerts management to possible digital era pressures on employees that drive them, sometimes through threats of redundancy and unemployment, to 'go the extra mile' for the company by extreme forms of citizenship behavior. The model shows how extreme forms of employee citizenship behavior can emerge from toxic leadership pressure and/or the erosion of job security and work/life balances associated with the digital era. From a practical point of view, instances of burnout, depression, and general mental illness need to be carefully monitored by management. Prescriptive remedial steps need to be taken by management through the implementation of specifically designed training programs to alleviate stress. Management needs to be alert to identifying, reporting, and responding to toxic behavior [
35
] and, when considered necessary, the active intervention of mental health providers.
The paper is limited by the fact that it is
conceptual
and further testing of the modular framework presented using primary research data is called for before the model can be considered generalizable. In this regard it is recommended that further primary research should use qualitative and quantitative analyses to establish the validity and generalizability of the model. The paper has also depended on secondary data reports that are the perceptions and interpretations of second party investigators which have then been further interpreted by the current researcher. As mentioned earlier this tertiary data interpretation remains tentative and open to change. The paper has focused on negative influences of toxic leadership and extreme forms of citizenship behavior that can disrupt a company's performance and threaten its survival. This can occur, as we have seen in the secondary data discussed in the paper, but in many cases, it occurs through breakdowns in organizational checks and balances. As Chen and Beers [
50
] point out "By separating the duties of various employees into clearly defined roles, businesses, and organizations are better able to ensure that rogue employees or executives cannot harm a business without the intervention of other employees. Having these types of internal controls in a business can help improve operational efficiency". However, it is nevertheless true that effective checks and balances are more prevalent in the government than private sector where rogue forms of leadership and employee behavior are more evident.
The paper has suggested that there are twin sources of stress in the workplace generated by unique pressures created by the rapidity of change in the 4th industrial revolution. The first source of pressure towards extreme forms of citizenship behavior is intrinsic to the employee. The digital era has created technology that allows no respite for employees from the responsibilities of the workplace; they, in effect, continue working in the office even when away from the office, 24/7. This has created extreme forms of compulsory-type citizenship behavior [
18
], aided and abetted by the constant threat of redundancy which has led inexorably to increases in problems of employee well-being and mental health evidenced in cases of withdrawals from the workplace and withdrawals from work while being at work (presenteeism) and complete burnout. The second source of extreme forms of citizenship behavior emerging in the workplace has been, the paper suggests, from toxic leadership, themselves driven by the competitive pressures of the 4th industrial revolution of automation, efficiency, and corporate social responsibility. These two primary sources of digital era pressure create fertile ground for extreme forms of citizenship behavior, disorder, and entropy.
Funding
This research received no external funding.
Acknowledgments
The author has nothing to acknowledge.
Conflicts of Interest
The authors declare no conflict of interest.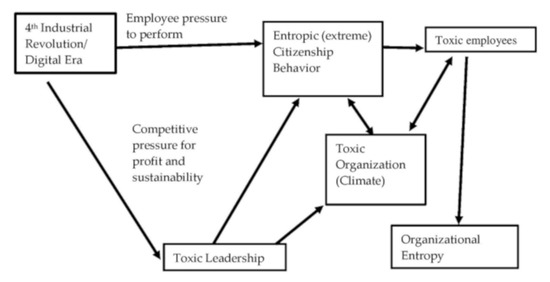 Figure 1. A theoretical model of negative influences of the fourth industrial revolution on workplace citizenship behavior.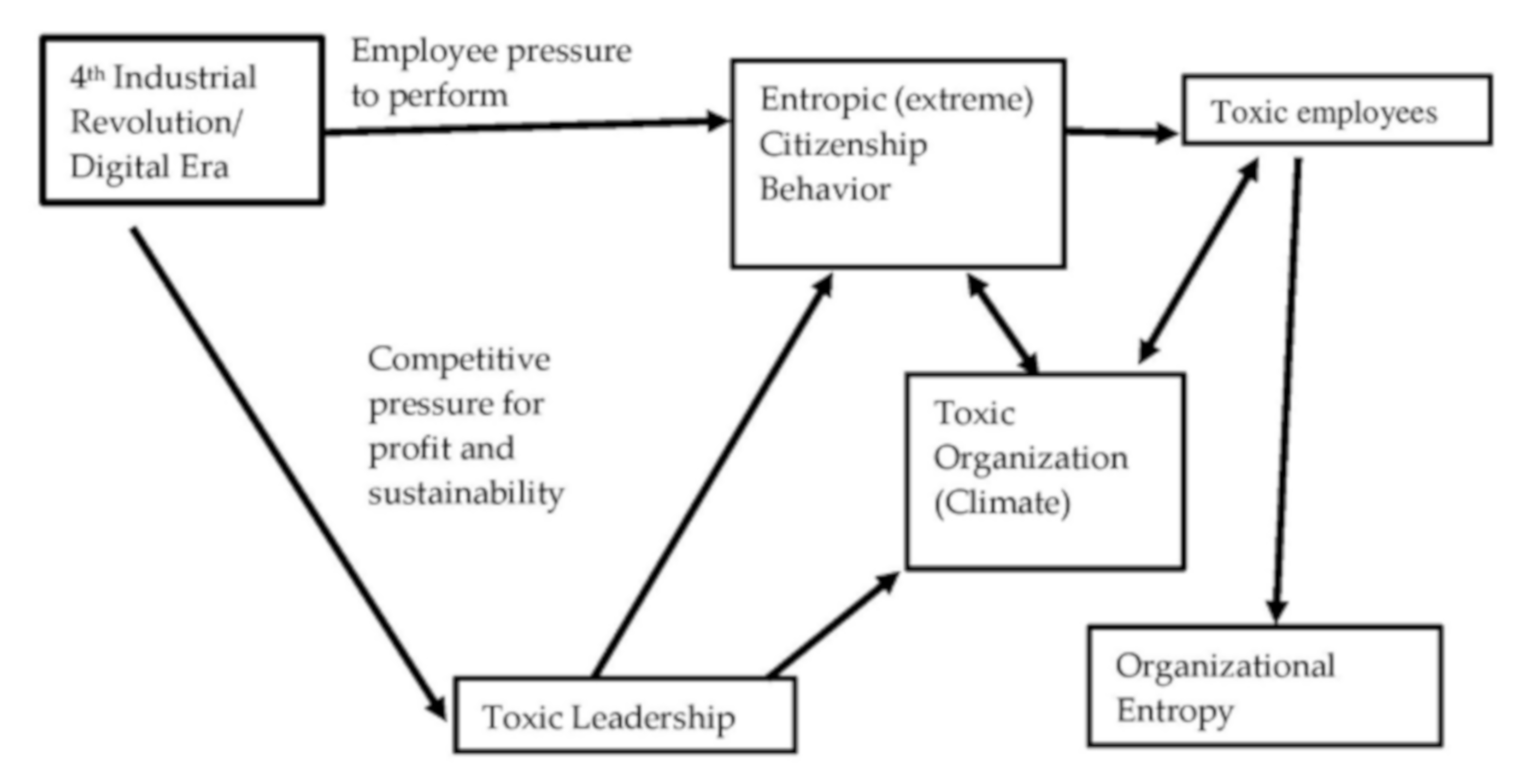 © 2019 by the author. Licensee MDPI, Basel, Switzerland. This article is an open access article distributed under the terms and conditions of the Creative Commons Attribution (CC BY) license (http://creativecommons.org/licenses/by/4.0/).