Open Access This article is
freely available
re-usable
Article
Serious Games and Their Effect Improving Attention in Students with Learning Disabilities
1
Department of Psychology, Faculty of Psychology, University of Oviedo, 33003 Oviedo, Spain
2
Department of Education, University School of Education Padre Ossó, 33008 Oviedo, Spain
*
Author to whom correspondence should be addressed.
Received: 4 June 2019 / Accepted: 8 July 2019 / Published: 11 July 2019
Abstract
:
Previous studies have shown the positive effects of educational video games (serious games) in improving motivation, attention and other cognitive components in students with learning disabilities. This study analyzes the effects on attention of a serious game based on multiple intelligences in a sample of 44 students (age range = 6–16 years; experimental group = 24; control group = 20) with attention deficit hyperactivity disorder (ADHD) and specific learning disorder (SLD). Performance and observation measures of attention were used. The intervention consisted of 28 sessions (10 min each), in which the participants trained with 10 games based on multiple intelligences. A significant improvement in attention performance measures (visual attention) was found after the intervention, with the experimental and the control groups significantly differing in the posttest. These results invite consideration of the applicability of boosting different intelligences, talents or unique abilities through educational videogames as an important bridge to improving areas of deficit-in this case attention-in students with learning disabilities.
Keywords:
serious games; multiple intelligences; attention; intervention; learning disabilities
1. Introduction
The continuous advance in new technologies poses great challenges and opportunities for today's society. New technologies allow immediate, easy, up-to-date access to information and entertainment. The increasing generation of digital resources has led to the emergence of new ways of thinking, learning, and interacting with each other, the social, and physical environment. On the other hand, the customization of resources and services linked to the digital era is making personal characteristics—such as an individual's abilities or talents—increasingly important in our society. One of the questions that arises is: Do new technologies have the potential to improve cognitive processes through increasingly adapted resources?
The ToI Method: Serious Games Based on Multiple Intelligences
The present study aims to analyze the effect of playing "Boogies Academy" and "Cuibrain" on attentional variables in a sample with learning difficulties, in particular ADHD and specific learning disorders (SLD). For this purpose, a quasi-experimental study with two groups (experimental and control groups) was carried out using performance-based and observation measures (questionnaires) to analyze and compare the attentional profiles of the groups. After the intervention, we expected to find significant improvement in attentional variables (assessed by means of both observation and performance-based measures) in the experimental group. Once pretest levels in attentional variables were controlled for, we also expected statistically significant differences between the control and the experimental groups after the intervention in favor of the experimental group.
3. Results
Change in Attentional Variables after the Intervention
Table 1
shows descriptive statistics for the different groups in each of the variables examined, as well as between-group differences in posttest.
The means of the performance measures of attention (D2) indicated a general improvement in each group in the posttest, with an increase in the total effectiveness of the test (TOT), concentration (CON), and accuracy, established in terms of correct responses (CR). This increase was greater in the experimental group (
Figure 3
). A statistical analysis of between-group differences showed that, although the groups did not differ significantly in the pretest, there were statistically significant differences in the posttest in all variables, favoring the experimental group. Effect sizes were large, with the highest effect size in CR. The covariate age did not have a statistically significant effect in any of the comparisons made.
In the case of observation measures (EDAH administered to families), there were no statistically significant differences between the groups either at pretest or posttest. Looking at each group separately, the means indicate that there was no significant reduction in the symptoms over time.
4. Discussion
Today, videogames have become indispensable entertainment for children and adults. At the same time, the Theory of Multiple Intelligences has progressively gained popularity, although critical positions in terms of its existence and conceptualization are also present. However, there is little research focusing on the relationship between videogames, multiple intelligences, and learning processes to date.
5. Conclusions
The main conclusion arising from these findings is the need to broaden the study of educational videogames and their possible benefits to different cognitive variables and diverse populations, especially those with difficulties in the automation or control of cognitive processes, such as attention. The great popularity of these tools makes them exceptional alternatives for applications with intervention and therapeutic objectives, as long as they are well defined in terms of objectives to achieve, content to work with, assessment procedures, and skills and competences to develop [
7
,
33
]. Their benefits lie in the potential to create more realistic and interactive environments that promote cognitive processes through increasingly adapted resources that can be progressively integrated with the variety of intervention approaches available today, mainly pharmacological and behavioral interventions. For instance, the use of game-based neurofeedback systems, in combination with pharmacological support, has been shown to help improve executive control in subjects with ADHD to a greater extent than pharmacological support alone [
49
].
Finally, there are some limitations in the study that should be acknowledged. Frist, the small sample size and the heterogeneous nature of the sample must be taken into consideration in relation to the generalization and scope of the findings. The absence of a control group of students without learning disabilities is also a limitation. Additional studies, controlling for the presence or absence of a diagnosis, are needed in order to better determine the potential of the intervention. Along similar lines, widening the sample by considering additional diagnostic groups, such as autistic spectrum disorder or students with affective-motivational disorders would be interesting, as previous research indicates that SGs can have potential effects on variables such as motivation, affect, and cognitive flexibility. In addition, the possible effect of the game must be considered. Both games, "Boogies Academy" and "Cuibrain" share the ToI methodology, and the mechanics of the games are similar. However, the aesthetics vary. "Boogies" is intended for children, and "Cuibrain" is intended for adolescents. "Cuibrain" is more difficult than "Boogies" in order to adapt to the attentional demands of the participants´ developmental levels. The possible effect of both variables (aesthetics and difficulty) must be analyzed in future studies. When it comes to effects on attention found in the study, the number of attentional measures could be increased in future studies, especially in the case of observation measures. While one of the findings from the study was that there is no correspondence between the results from performance and observation measures, including reports from other informants such as teachers would have helped to better determine any such correspondence and possible sources of the lack of agreement. Lastly, as follow-up measures were not taken either in the experimental or the control group, the long-term effects of the intervention could not be analyzed. Further research is necessary in order to better determine the potential of new technologies—especially SGs—for learning and rehabilitation.
Author Contributions
Conceptualization, all authors.; methodology, P.G.-R. and T.G.; formal analysis, D.A. and J.C.N.; investigation, T.G. and C.R.; resources, J.C.N. and C.R.; data curation, P.G.-R. and T.G.; writing—original draft preparation, P.G.-R.; writing—review and editing, T.G, D.A. and C.R.; supervision, J.C.N. and C.R.; project administration, T.G.; funding acquisition, C.R. and J.C.N.
Funding
This research partially was funded by Principality of Asturias, regional project with reference FC-GRUPIN-IDI/2018/000199; a predoctoral grant from the Spanish Ministry of Education, Culture and Sports through the National Program FPU with reference FPU15/01525; and a crowdfunding program from the Spanish National Goverment with reference MINECO-18-FCT-PRECIPITA.
Acknowledgments
The authors acknowledge participants, families and institutions that collaborated to make this study possible.
Conflicts of Interest
The authors declare no conflict of interest.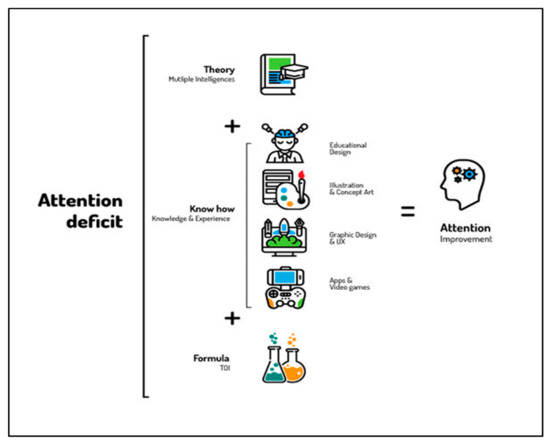 Figure 2. Graphic representation of the Tree of Intelligences (ToI) method applied to attention intervention.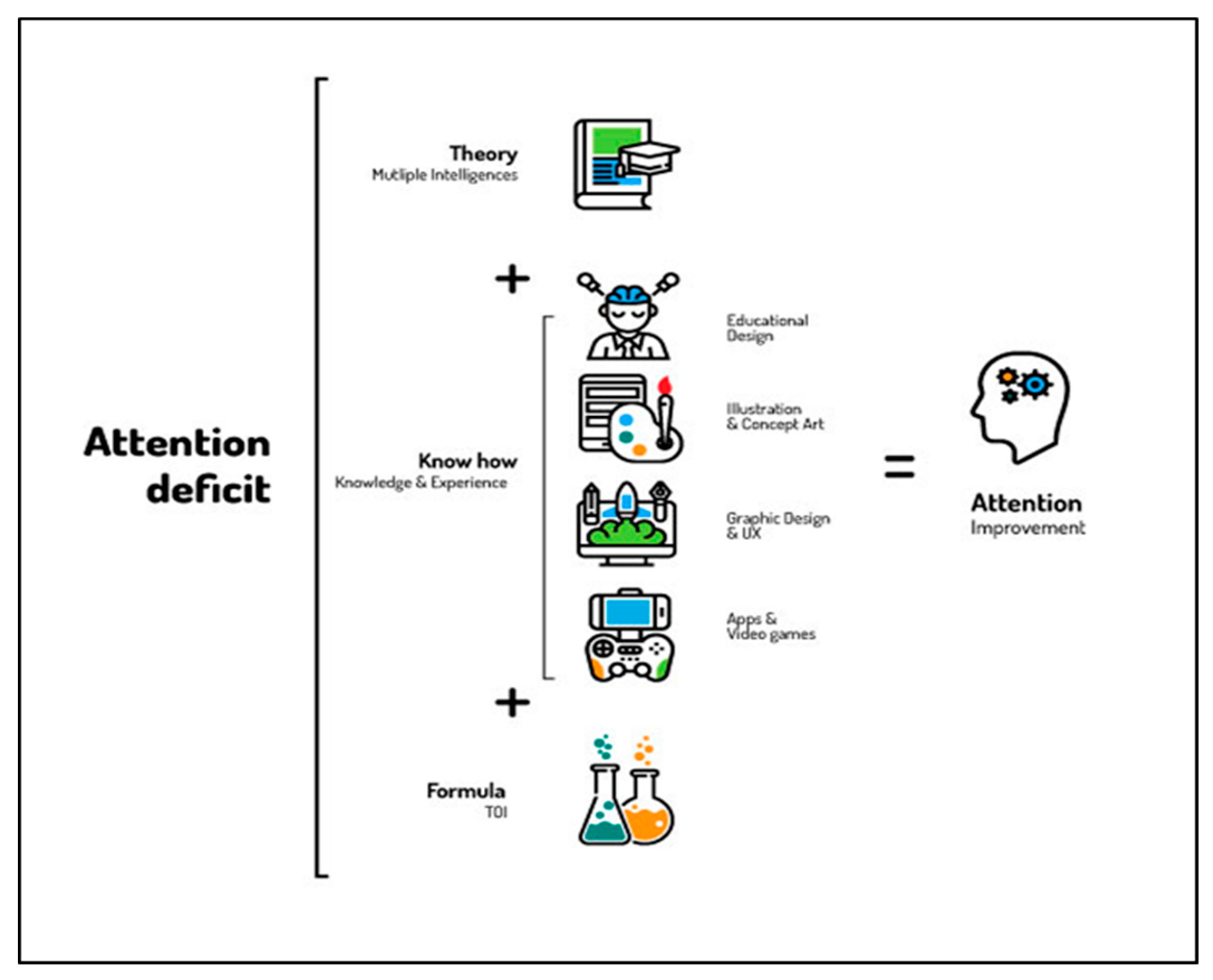 Figure 3. Change in attentional variables (D2 test) over time. PRE = Pretest; POST = Posttest, EG = Experimental group; CG = Control Group.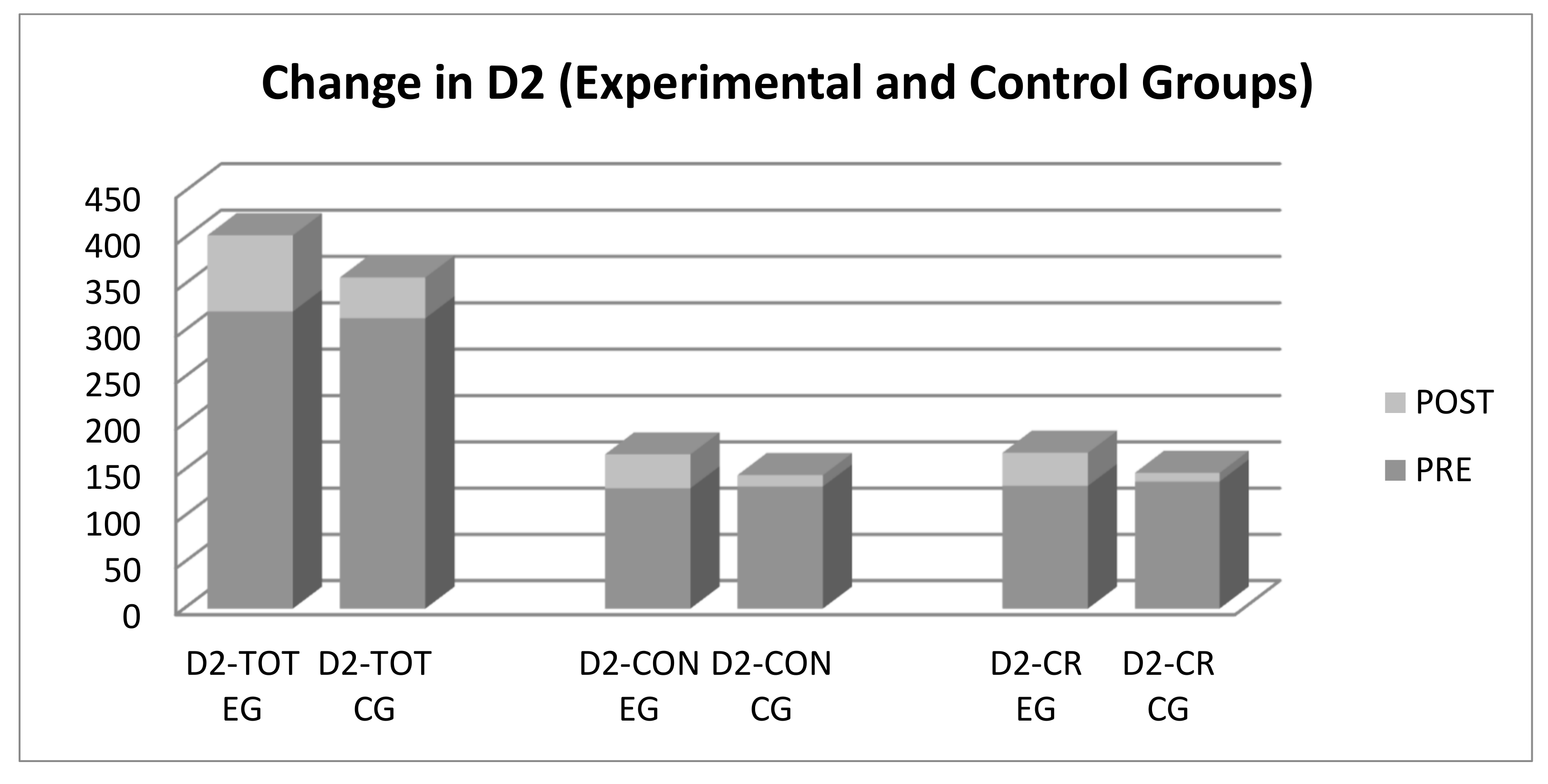 Experimental Group (

n

= 24)
Control Group (

n

= 20)
Differences
M
SD
M
SD

p

η2
Performance measures
D2-TOT
PRE
321.05
75.71
313.81
76.03
0.754
0.002
POST
403.25
102.02
357.80
91.45
0.013
0.145
D2-CON
PRE
130.40
31.77
132.33
49.75
0.877
0.001
POST
166.97
45.64
144.56
37.17
0.009
0.157
D2-CR
PRE
132.97
31.69
137.71
49.82
0.704
0.003
POST
168.69
45.23
147.07
36.15
0.002
0.210
Observation measures
EDAH-AD
PRE
7.06
3.198
7.60
3.033
0.573
0.008
POST
7.23
2.859
7.23
2.859
0.668
0.005
EDAH-H/I
PRE
6.75
3.674
7.40
3.424
0.550
0.009
POST
5.98
3.116
6.78
3.636
0.881
0.001
EDAH-ADHD
PRE
13.21
5.703
15.00
5.794
0.309
0.025
POST
13.21
5.099
13.61
3.306
0.999
<0.001
Note. D2-TOT = Total-quality of attention; D2-CON = Concentration; D2-CR = Correct responses; EDAH-AD = Attention deficit symptoms; EDAH-H/I = Hyperactivity/impulsivity symptoms; EDAH-ADHD = Attention deficit and hyperactivity/impulsivity symptoms; PRE = Pretest; POST = Posttest.

© 2019 by the authors. Licensee MDPI, Basel, Switzerland. This article is an open access article distributed under the terms and conditions of the Creative Commons Attribution (CC BY) license (http://creativecommons.org/licenses/by/4.0/).