Emotional Intelligence, Motivational Climate and Levels of Anxiety in Athletes from Different Categories of Sports: Analysis through Structural Equations
1
Department of Didactics of Musical, Plastic and Corporal Expression, University of Almería, 04120 Almería, Spain
2
Department of Didactics of Musical, Plastic and Corporal Expression, University of Granada, 18071 Granada, Spain
3
Department of Integrated Didactics, University of Huelva, 21007 Huelva, Spain
4
Kinesiology School, University Santo Tomas, 837003 Santiago de Chile, Chile
*
Author to whom correspondence should be addressed.
Received: 3 April 2018 / Revised: 26 April 2018 / Accepted: 27 April 2018 / Published: 1 May 2018
Abstract
(1) Background: Psychological factors can strongly affect the athletes' performance. Therefore, currently the role of the sports psychologist is particularly relevant, being in charge of training the athlete's psychological factors. This study aims at analysing the connections between motivational climate in sport, anxiety and emotional intelligence depending on the type of sport practised (individual/team) by means of a multigroup structural equations analysis. (2) 372 semi-professional Spanish athletes took part in this investigation, analysing motivational climate (PMCSQ-2), emotional intelligence (SSRI) and levels of anxiety (STAI). A model of multigroup structural equations was carried out which fitted accordingly (χ
2
= 586.77; df = 6.37;
p
< 0.001; Comparative Fit Index (CFI) = 0.951; Normed Fit Index (NFI) = 0.938; Incremental Fit Index (IFI) = 0.947; Root Mean Square Error of Approximation (RMSEA) = 0.069). (3) Results: A negative and direct connection has been found between ego oriented climate and task oriented climate, which is stronger and more differentiated in team sports. The most influential indicator in ego oriented climate is intra-group rivalry, exerting greater influence in individual sports. For task-oriented climate the strongest indicator is having an important role in individual sports, while in team sports it is cooperative learning. Emotional intelligence dimensions correlate more strongly in team sports than in individual sports. In addition, there was a negative and indirect relation between task oriented climate and trait-anxiety in both categories of sports. (4) Conclusions: This study shows how the task-oriented motivational climate or certain levels of emotional intelligence can act preventively in the face of anxiety states in athletes. Therefore, the development of these psychological factors could prevent anxiety states and improve performance in athletes.
View Full-Text
►

▼

Figures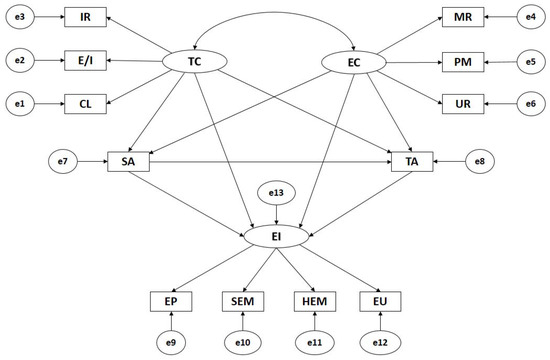 Figure 1
This is an open access article distributed under the
Creative Commons Attribution License
which permits unrestricted use, distribution, and reproduction in any medium, provided the original work is properly cited (CC BY 4.0).

Share & Cite This Article
MDPI and ACS Style
Castro-Sánchez, M.; Zurita-Ortega, F.; Chacón-Cuberos, R.; López-Gutiérrez, C.J.; Zafra-Santos, E. Emotional Intelligence, Motivational Climate and Levels of Anxiety in Athletes from Different Categories of Sports: Analysis through Structural Equations. Int. J. Environ. Res. Public Health 2018, 15, 894.
Note that from the first issue of 2016, MDPI journals use article numbers instead of page numbers. See further details here.
Related Articles
Comments
[Return to top]