Dialysis Membranes Influence Perfluorochemical Concentrations and Liver Function in Patients on Hemodialysis
1
Division of Nephrology, Department of Medicine, Taipei City Hospital, Zhongxing Branch, Taipei 10466, Taiwan
2
School of Medicine, National Yang-Ming University, Taipei 10466, Taiwan
3
Institute of Environmental and Occupational Health Sciences, School of Medicine, National Yang-Ming University, Taipei 10466, Taiwan
4
College of Science and Engineering, Fu Jen Catholic University, New Taipei city 24451, Taiwan
5
Department of Child Psychiatry, Chang Gung Memorial Hospital and University, Taoyuan 33043, Taiwan
6
Department of Physical Medicine and Rehabilitation, National Taiwan University Hospital Hsin-Chu Branch, Hsinchu 30041, Taiwan
7
Department of Nursing, Yuanpei University, Hsinchu 30041, Taiwan
8
Division of Nephrology and Department of Medicine, Taipei Veterans General Hospital, Taipei 10466, Taiwan
9
College of Medicine and Graduate Institute of Business Administration, Fu Jen Catholic University, New Taipei City 24451, Taiwan
10
Institute of Food Safety and Health Risk Assessment, National Yang-Ming University, Taipei 10466, Taiwan
*
Author to whom correspondence should be addressed.
†
These authors contributed equally to this manuscript.
Received: 21 October 2018 / Revised: 13 November 2018 / Accepted: 15 November 2018 / Published: 17 November 2018
Abstract
Introduction
: Perfluoro-octanesulfonate (PFOS) and perfluoro-octanoic acid (PFOA) are two toxic perfluorochemicals (PFCs) commonly used as surfactants. PFCs are difficult to be eliminated from the body. We investigated the influence of different dialysis membranes on the concentrations of PFCs in patients under hemodialysis.
Method
: We enrolled 98 patients. Of these, 58 patients used hydrophobic polysulfone (PS) dialysis membranes, and the other 40 had hydrophilic membranes made by poly-methyl methacrylate (PMMA) or cellulose triacetate (CTA). Liquid chromatography tandem mass spectrometry coupled was used with isotope dilution to quantify PFOA and PFOS.
Results
: The predialysis concentrations of PFOA and PFOS in patients with hydrophobic PS dialysis membranes were 0.50 and 15.77 ng/mL, respectively, lower than the concentrations of 0.81 and 22.70 ng/mL, respectively, in those who used hydrophilic membranes (such as CTA or PMMA). Older patients have higher PFOS and poorer body function, with lower Karnofsky Performance Status Scale (KPSS) scores. The demographic data of the two groups were similar. However, patients with hydrophobic PS dialysis membranes had lower predialysis aspartate transaminase (AST) (
p
= 0.036), lower glucose levels (
p
= 0.017), and better body function (nonsignificantly higher KPSS scores,
p
= 0.091) compared with patients who used other membranes. These differences may be associated with the effects of different membranes, because PFOA positively correlated with AST, while PFOS negatively correlated with body function.
Conclusions
: This is the first study comparing PFC levels in uremic patients with different dialysis membrane. PS membrane may provide better clearance of PFCs and may, therefore, be beneficial for patients.
View Full-Text
►

▼

Figures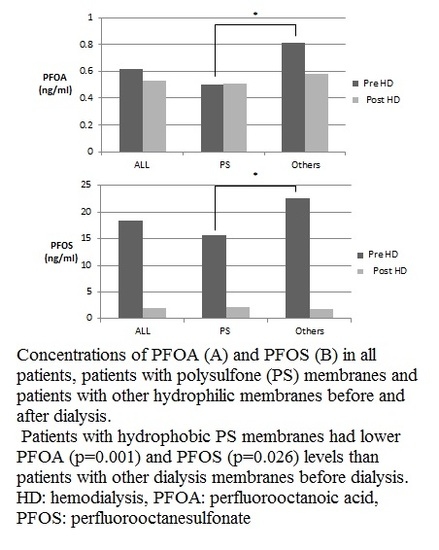 Graphical abstract
This is an open access article distributed under the
Creative Commons Attribution License
which permits unrestricted use, distribution, and reproduction in any medium, provided the original work is properly cited (CC BY 4.0).
Supplementary material
Externally hosted supplementary file 1
Doi: 10.6084/m9.figshare.7233716
Description: PFOA & PFOS concentration in patients with different dialysis membrane

Share & Cite This Article
MDPI and ACS Style
Liu, W.-S.; Chan, H.L.; Lai, Y.-T.; Lin, C.-C.; Li, S.-Y.; Liu, C.-K.; Tsou, H.-H.; Liu, T.-Y. Dialysis Membranes Influence Perfluorochemical Concentrations and Liver Function in Patients on Hemodialysis. Int. J. Environ. Res. Public Health 2018, 15, 2574.
Note that from the first issue of 2016, MDPI journals use article numbers instead of page numbers. See further details here.
Related Articles
Comments
[Return to top]