Endocrine Disruptors and Pregnancy: Knowledge, Attitudes and Prevention Behaviors of French Women
1
INSERM, University Hospital of Poitiers, University of Poitiers, Clinical Investigation Center 1402, 2 rue de la Milétrie, 86021 Poitiers CEDEX, France
2
Faculty of Medicine and Pharmacy, University of Poitiers, 6 rue de la Milétrie, 86000 Poitiers, France
3
Department of Public Health, BioSPharm Pole, University Hospital of Poitiers, 2 rue de la Milétrie, 86021 Poitiers CEDEX, France
4
UMR CNRS 7285, IC2MP, 86073 Poitiers CEDEX 9, France
5
INSERM U1246, University of Nantes, 44035 Nantes, France
*
Author to whom correspondence should be addressed.
Received: 27 July 2017 / Revised: 26 August 2017 / Accepted: 31 August 2017 / Published: 6 September 2017
Abstract
Endocrine disrupting chemicals (EDC) are environmental exposure factors that are rarely reported in clinical practice, particularly during pregnancy. This study aimed to describe women's knowledge, attitudes and behaviors towards EDC exposure. A study was conducted in the French Department of Vienne between 2014 and 2016 and comprised semi-structured interviews with pregnant women, a focus group of professionals in perinatology and environmental health, and the administration of a psychosocial questionnaire comprising scores in 300 pregnant or in postpartum period women. The mean score of knowledge was 42.9 ± 9.8 out of 100 (from 13.5 to 75.7). Exposure attitude was determined by risk perception. Mean level of cues to action to reduce their EDC exposure was estimated at 56.9 ± 22.5 out of 100 (from 0 to 100). Anxiety was significantly increased after the questionnaire. Anxiety about EDC was associated with a high score of knowledge (OR = 2.30, 95% CI (1.12–4.71)) and with no pregnancy anxiety (OR = 0.57, 95% CI (0.34–0.95)). Our findings suggest that healthcare providers should consider pregnant women's knowledge and perceptions, possibilities of action, and be careful not to increase their anxiety when advising them about EDC and environmental exposure.
View Full-Text
►

▼

Figures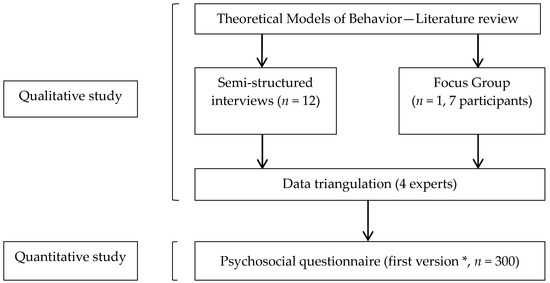 Figure 1
This is an open access article distributed under the
Creative Commons Attribution License
which permits unrestricted use, distribution, and reproduction in any medium, provided the original work is properly cited (CC BY 4.0).

Share & Cite This Article
MDPI and ACS Style
Rouillon, S.; Deshayes-Morgand, C.; Enjalbert, L.; Rabouan, S.; Hardouin, J.-B.; Group DisProSE; Migeot, V.; Albouy-Llaty, M. Endocrine Disruptors and Pregnancy: Knowledge, Attitudes and Prevention Behaviors of French Women. Int. J. Environ. Res. Public Health 2017, 14, 1021.
Note that from the first issue of 2016, MDPI journals use article numbers instead of page numbers. See further details here.
Related Articles
Comments
[Return to top]