Comparison of Individual and Combined Effects of Four Endocrine Disruptors on Estrogen Receptor Beta Transcription in Cerebellar Cell Culture: The Modulatory Role of Estradiol and Triiodo-Thyronine
1
Department of Physiology and Biochemistry, Szent Istvan Faculty University of Veterinary Sciences, Budapest 1078, Hungary
2
Section of Comparative Medicine, Yale University School of Medicine, New Haven, CT 06520, USA
3
Department of Animal Physiology and Animal Health, Szent Istvan Faculty University of Agriculture and Environmental Sciences, Godollo 2100, Hungary
*
Author to whom correspondence should be addressed.
Academic Editor: Huixiao Hong
Received: 22 April 2016 / Revised: 14 June 2016 / Accepted: 16 June 2016 / Published: 22 June 2016
Abstract
Background
: Humans and animals are continuously exposed to a number of environmental substances that act as endocrine disruptors (EDs). While a growing body of evidence is available to prove their adverse health effects, very little is known about the consequences of simultaneous exposure to a combination of such chemicals;
Methods
: Here, we used an
in vitro
model to demonstrate how exposure to bisphenol A, zearalenone, arsenic, and 4-methylbenzylidene camphor, alone or in combination, affect estrogen receptor β (ERβ) mRNA expression in primary cerebellar cell cultures. Additionally, we also show the modulatory role of intrinsic biological factors, such as estradiol (E2), triiodo-thyronine (T3), and glial cells, as potential effect modulators;
Results
: Results show a wide diversity in ED effects on ERβ mRNA expression, and that the magnitude of these ED effects highly depends on the presence or absence of E2, T3, and glial cells;
Conclusion
: The observed potency of the EDs to influence ERβ mRNA expression, and the modulatory role of E2, T3, and the glia suggests that environmental ED effects may be masked as long as the hormonal milieu is physiological, but may tend to turn additive or superadditive in case of hormone deficiency.
View Full-Text
►

▼

Figures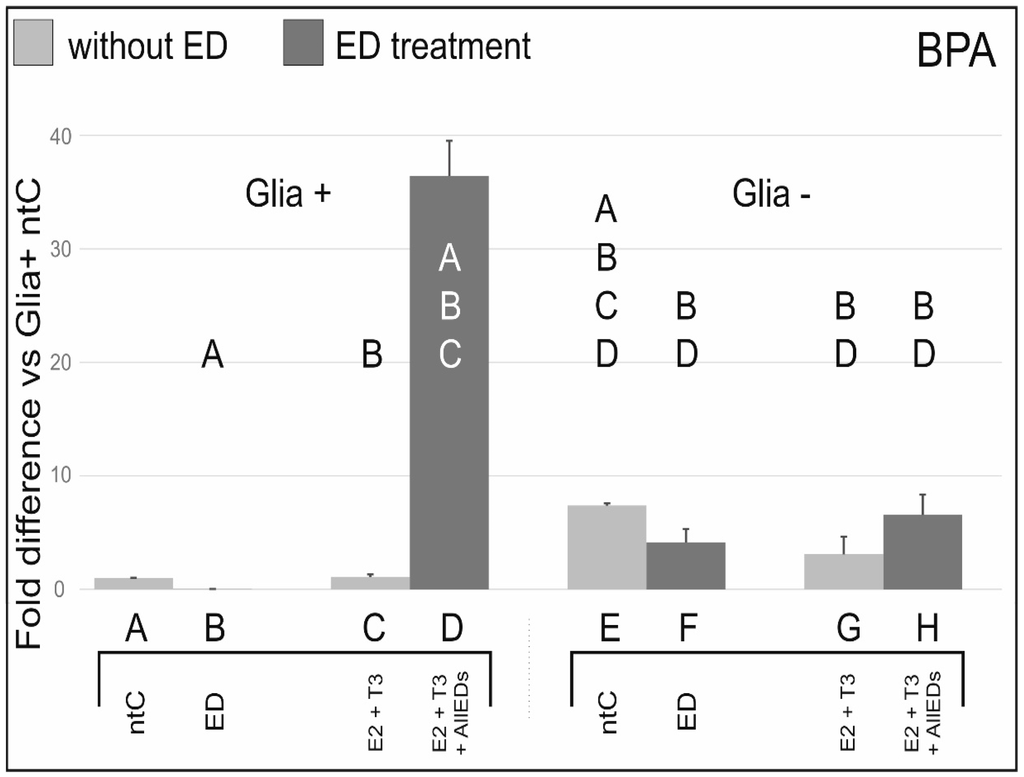 Figure 1
This is an open access article distributed under the
Creative Commons Attribution License
which permits unrestricted use, distribution, and reproduction in any medium, provided the original work is properly cited (CC BY 4.0).

Share & Cite This Article
MDPI and ACS Style
Jocsak, G.; Kiss, D.S.; Toth, I.; Goszleth, G.; Bartha, T.; Frenyo, L.V.; Horvath, T.L.; Zsarnovszky, A. Comparison of Individual and Combined Effects of Four Endocrine Disruptors on Estrogen Receptor Beta Transcription in Cerebellar Cell Culture: The Modulatory Role of Estradiol and Triiodo-Thyronine. Int. J. Environ. Res. Public Health 2016, 13, 619.
Note that from the first issue of 2016, MDPI journals use article numbers instead of page numbers. See further details here.
Related Articles
Comments
[Return to top]