WHO European Childhood Obesity Surveillance Initiative: School Nutrition Environment and Body Mass Index in Primary Schools
1
Division of Noncommunicable Diseases and Life-Course, WHO Regional Office for Europe, UN City, Marmorvej 51, DK-2100 Copenhagen ø, Denmark
2
Centre for Nutrition, Prevention and Health Services, National Institute for Public Health and the Environment, P.O. Box 1, 3720 BA Bilthoven, The Netherlands
3
Division of Human Nutrition, Wageningen University, P.O. Box 8129, 6700 EV Wageningen, The Netherlands
4
Department of Food and Nutrition and Sport Science, University of Gothenburg, P.O. Box 300, SE-405 30 Gothenburg, Sweden
5
Health Promotion Department, Health Service Executive, Railway Street, Navan, County Meath, Ireland
6
National Nutrition Surveillance Centre, School of Public Health, Physiotherapy & Population Science, University College Dublin, Belfield, Dublin 4, Ireland
7
School of Hospitality, Culinary Arts and Meal Science, Örebro University, Campus Grythyttan, P.O. Box 1, SE-712 60 Grythyttan, Sweden
8
Obesity Management Centre, Institute of Endocrinology, Narodni 8, 11694 Prague 1, Czech Republic
9
Faculty of Sport, University of Ljubljana, Gortanova 22, 1000 Ljubljana, Slovenia
10
National Health Institute Doutor Ricardo Jorge, Av. Padre Cruz, 1649-016 Lisbon, Portugal
11
Department of Food and Nutrition, National Centre of Public Health and Analyses, 15 Akad. Ivan Evstatiev Geshov Blvd., 1431 Sofia, Bulgaria
12
Department of Nutrition and Dietetics, Alexander Technological Educational Institute of Thessaloniki, P.O. Box 14561, 54101 Thessaloniki, Greece
13
National Institute for Food and Nutrition Science, Albert Florian Út 3/a, 1097 Budapest, Hungary
14
Centre for Disease Prevention and Control, 22 Duntes Street, LV-1005 Riga, Latvia
15
Department of Preventive Medicine, Lithuanian University of Health Sciences, Eiveniu Str. 4, 50009 Kaunas, Lithuania
16
Primary Health Care Department, 7 Harper Lane, Floriana FLR 1940, Malta
17
Department of Health Statistics, Norwegian Institute of Public Health, P.O. Box 4404, Nydalen, N-0403 Oslo, Norway
*
Author to whom correspondence should be addressed.
Received: 3 June 2014 / Revised: 14 October 2014 / Accepted: 20 October 2014 / Published: 30 October 2014
Abstract
Background:
Schools are important settings for the promotion of a healthy diet and sufficient physical activity and thus overweight prevention.
Objective:
To assess differences in school nutrition environment and body mass index (BMI) in primary schools between and within 12 European countries.
Methods
: Data from the World Health Organization (WHO) European Childhood Obesity Surveillance Initiative (COSI) were used (1831 and 2045 schools in 2007/2008 and 2009/2010, respectively). School personnel provided information on 18 school environmental characteristics on nutrition and physical activity. A school nutrition environment score was calculated using five nutrition-related characteristics whereby higher scores correspond to higher support for a healthy school nutrition environment. Trained field workers measured children's weight and height; BMI-for-age (BMI/A) Z-scores were computed using the 2007 WHO growth reference and, for each school, the mean of the children's BMI/A Z-scores was calculated.
Results
: Large between-country differences were found in the availability of food items on the premises (e.g., fresh fruit could be obtained in 12%-95% of schools) and school nutrition environment scores (range: 0.30-0.93). Low-score countries (Bulgaria, Czech Republic, Greece, Hungary, Latvia and Lithuania) graded less than three characteristics as supportive. High-score (≥0.70) countries were Ireland, Malta, Norway, Portugal, Slovenia and Sweden. The combined absence of cold drinks containing sugar, sweet snacks and salted snacks were more observed in high-score countries than in low-score countries. Largest within-country school nutrition environment scores were found in Bulgaria, Czech Republic, Greece, Hungary, Latvia and Lithuania. All country-level BMI/A Z-scores were positive (range: 0.20-1.02), indicating higher BMI values than the 2007 WHO growth reference. With the exception of Norway and Sweden, a country-specific association between the school nutrition environment score and the school BMI/A Z-score was not observed.
Conclusions
: Some European countries have implemented more school policies that are supportive to a healthy nutrition environment than others. However, most countries with low school nutrition environment scores also host schools with supportive school environment policies, suggesting that a uniform school policy to tackle the "unhealthy" school nutrition environment has not been implemented at the same level throughout a country and may underline the need for harmonized school policies.
View Full-Text
►

▼

Figures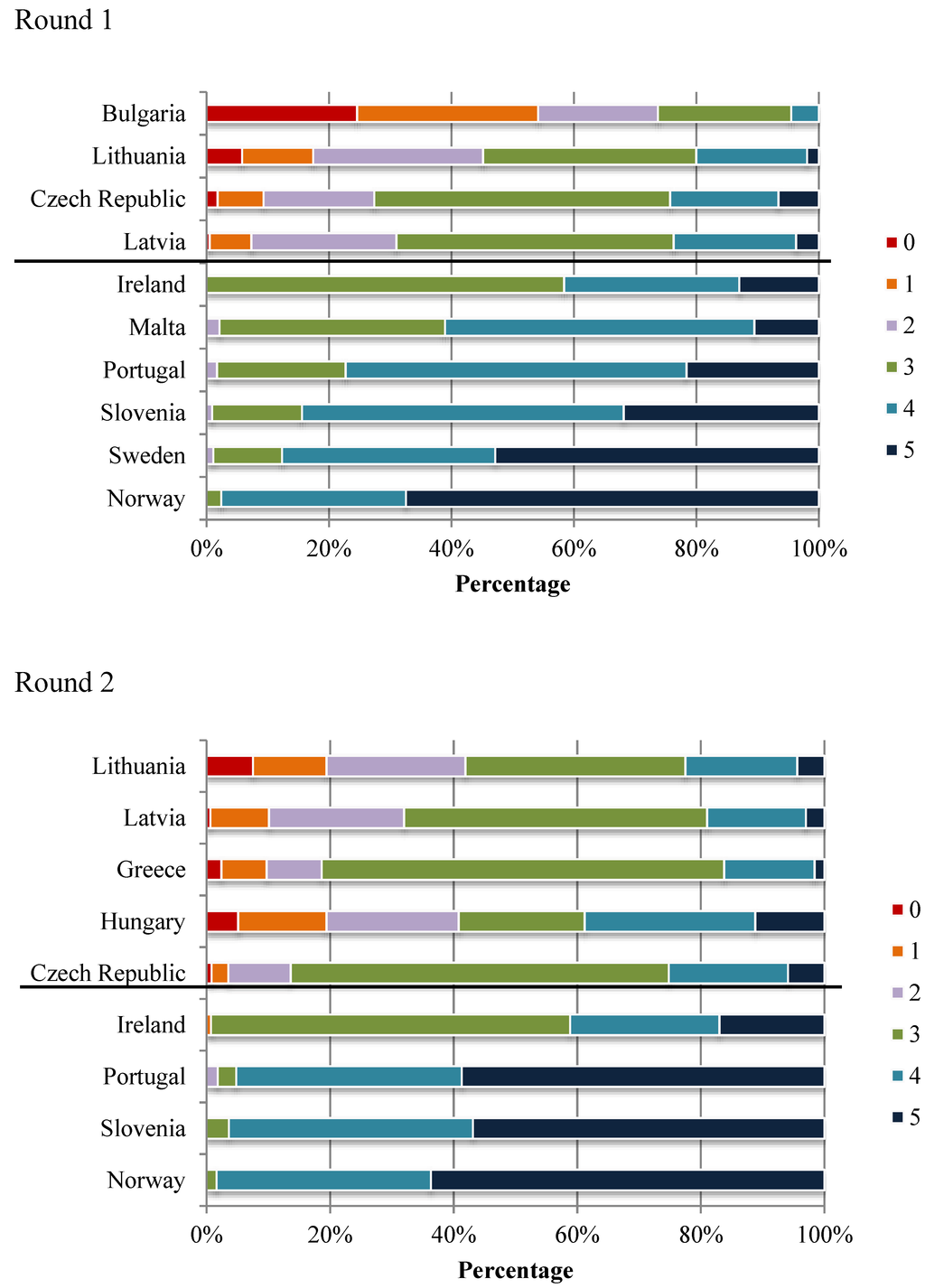 Figure 1
This is an open access article distributed under the
Creative Commons Attribution License
which permits unrestricted use, distribution, and reproduction in any medium, provided the original work is properly cited (CC BY 4.0).

Share & Cite This Article
MDPI and ACS Style
Wijnhoven, T.M.; Van Raaij, J.M.; Sjöberg, A.; Eldin, N.; Yngve, A.; Kunešová, M.; Starc, G.; Rito, A.I.; Duleva, V.; Hassapidou, M.; Martos, É.; Pudule, I.; Petrauskiene, A.; Sant'Angelo, V.F.; Hovengen, R.; Breda, J. WHO European Childhood Obesity Surveillance Initiative: School Nutrition Environment and Body Mass Index in Primary Schools. Int. J. Environ. Res. Public Health 2014, 11, 11261-11285.
Related Articles
Comments
[Return to top]