New Discorhabdin Alkaloids from the Antarctic Deep-Sea Sponge
Latrunculia biformis
1
GEOMAR Centre for Marine Biotechnology (GEOMAR-Biotech), Research Unit Marine Natural Products Chemistry, GEOMAR Helmholtz Centre for Ocean Research Kiel, Am Kiel-Kanal 44, 24106 Kiel, Germany
2
Pharmaceutical Chemistry, Kiel University, Gutenbergstraße 76, 24118 Kiel, Germany
3
Senckenberg Research Institute and Natural History Museum, Senckenberganlage 25, D-60325 Frankfurt, Germany
4
Faculty of Mathematics and Natural Sciences, Kiel University, Christian-Albrechts-Platz 4, 24118 Kiel, Germany
*
Author to whom correspondence should be addressed.
Received: 14 June 2019 / Revised: 17 July 2019 / Accepted: 22 July 2019 / Published: 25 July 2019
Abstract
The sponge genus
Latrunculia
is a prolific source of discorhabdin type pyrroloiminoquinone alkaloids. In the continuation of our research interest into this genus, we studied the Antarctic deep-sea sponge
Latrunculia biformis
that showed potent in vitro anticancer activity. A targeted isolation process guided by bioactivity and molecular networking-based metabolomics yielded three known discorhabdins, (−)-discorhabdin L (
1
), (+)-discorhabdin A (
2
), (+)-discorhabdin Q (
3
), and three new discorhabdin analogs (−)-2-bromo-discorhabdin D (
4
), (−)-1-acetyl-discorhabdin L (
5
), and (+)-1-octacosatrienoyl-discorhabdin L (
6
) from the MeOH-soluble portion of the organic extract. The chemical structures of
1
–
6
were elucidated by extensive NMR, HR-ESIMS, FT-IR, [α]
D
, and ECD (Electronic Circular Dichroism) spectroscopy analyses. Compounds
1
,
5,
and
6
showed promising anticancer activity with IC
50
values of 0.94, 2.71, and 34.0 µM, respectively. Compounds
1
–
6
and the enantiomer of
1
((+)-discorhabdin L,
1e
) were docked to the active sites of two anticancer targets, topoisomerase I-II and indoleamine 2,3-dioxygenase (IDO1), to reveal, for the first time, the binding potential of discorhabdins to these proteins. Compounds
5
and
6
are the first discorhabdin analogs with an ester function at C-1 and
6
is the first discorhabdin bearing a long-chain fatty acid at this position. This study confirms
Latrunculia
sponges to be excellent sources of chemically diverse discorhabdin alkaloids.
View Full-Text
►

▼

Figures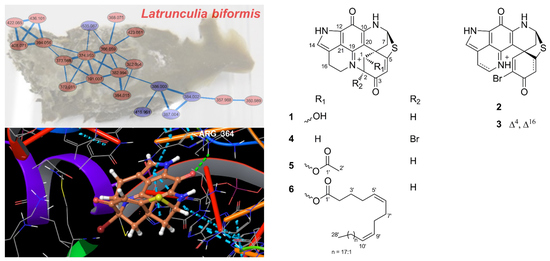 Graphical abstract
This is an open access article distributed under the
Creative Commons Attribution License
which permits unrestricted use, distribution, and reproduction in any medium, provided the original work is properly cited (CC BY 4.0).

Share & Cite This Article
MDPI and ACS Style
Li, F.; Peifer, C.; Janussen, D.; Tasdemir, D. New Discorhabdin Alkaloids from the Antarctic Deep-Sea Sponge Latrunculia biformis. Mar. Drugs 2019, 17, 439.
Note that from the first issue of 2016, MDPI journals use article numbers instead of page numbers. See further details here.
Related Articles
Comments
[Return to top]