Mannose-Specific Lectins from Marine Algae: Diverse Structural Scaffolds Associated to Common Virucidal and Anti-Cancer Properties
1
Institut de Recherche et Développement, Faculté de Pharmacie, UMR 152 PharmaDev, Université Paul Sabatier, 35 Chemin des Maraîchers, 31062 Toulouse, France
2
Department of Biotechnology, Faculty of Bioscience Engineering, Ghent University, Coupure links 653, B-9000 Ghent, Belgium
*
Author to whom correspondence should be addressed.
Received: 1 July 2019 / Revised: 23 July 2019 / Accepted: 24 July 2019 / Published: 26 July 2019
Abstract
To date, a number of mannose-specific lectins have been isolated and characterized from seaweeds, especially from red algae. In fact, man-specific seaweed lectins consist of different structural scaffolds harboring a single or a few carbohydrate-binding sites which specifically recognize mannose-containing glycans. Depending on the structural scaffold, man-specific seaweed lectins belong to five distinct structurally-related lectin families, namely (1) the griffithsin lectin family (β-prism I scaffold); (2) the
Oscillatoria agardhii
agglutinin homolog (OAAH) lectin family (β-barrel scaffold); (3) the legume lectin-like lectin family (β-sandwich scaffold); (4) the
Galanthus nivalis
agglutinin (GNA)-like lectin family (β-prism II scaffold); and, (5) the MFP2-like lectin family (MFP2-like scaffold). Another algal lectin from
Ulva pertusa
, has been inferred to the methanol dehydrogenase related lectin family, because it displays a rather different GlcNAc-specificity. In spite of these structural discrepancies, all members from the five lectin families share a common ability to specifically recognize man-containing glycans and, especially, high-mannose type glycans. Because of their mannose-binding specificity, these lectins have been used as valuable tools for deciphering and characterizing the complex mannose-containing glycans from the glycocalyx covering both normal and transformed cells, and as diagnostic tools and therapeutic drugs that specifically recognize the altered high-mannose
N
-glycans occurring at the surface of various cancer cells. In addition to these anti-cancer properties, man-specific seaweed lectins have been widely used as potent human immunodeficiency virus (HIV-1)-inactivating proteins, due to their capacity to specifically interact with the envelope glycoprotein gp120 and prevent the virion infectivity of HIV-1 towards the host CD4+ T-lymphocyte cells in vitro.
View Full-Text
►

▼

Figures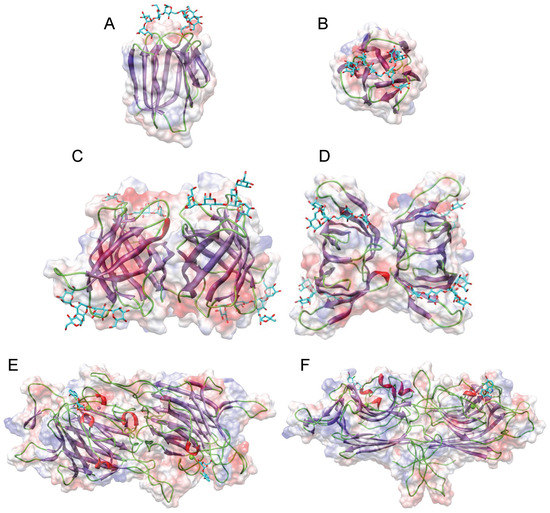 Figure 1
This is an open access article distributed under the
Creative Commons Attribution License
which permits unrestricted use, distribution, and reproduction in any medium, provided the original work is properly cited (CC BY 4.0).

Share & Cite This Article
MDPI and ACS Style
Barre, A.; Simplicien, M.; Benoist, H.; Van Damme, E.J.; Rougé, P. Mannose-Specific Lectins from Marine Algae: Diverse Structural Scaffolds Associated to Common Virucidal and Anti-Cancer Properties. Mar. Drugs 2019, 17, 440.
Note that from the first issue of 2016, MDPI journals use article numbers instead of page numbers. See further details here.
Related Articles
Comments
[Return to top]