Amphidinol 22, a New Cytotoxic and Antifungal Amphidinol from the Dinoflagellate
Amphidinium carterae
1
Department of Marine Biotechnology, Stazione Zoologica Anton Dohrn, 80121 Naples, Italy
2
Marine Biodiscovery Centre, Department of Chemistry, University of Aberdeen, Aberdeen AB24 3UE, Scotland, UK
3
The Rowett Institute, University of Aberdeen, Aberdeen AB25 2ZD, Scotland, UK
4
Fundación MEDINA, Centro de Excelencia en Investigación de Medicamentos Innovadores en Andalucía, Avda. del Conocimiento 34, 18016 Granada, Spain
*
Author to whom correspondence should be addressed.
†
The two authors contributed equally to this work.
‡
The two authors also contributed equally to this work.
Received: 31 May 2019 / Revised: 20 June 2019 / Accepted: 24 June 2019 / Published: 27 June 2019
Abstract
Due to the unique biodiversity and the physical-chemical properties of their environment, marine microorganisms have evolved defense and signaling compounds that often have no equivalent in terrestrial habitats. The aim of this study was to screen extracts of the dinoflagellate
Amphidinium carterae
for possible bioactivities (i.e., anticancer, anti-inflammatory, anti-diabetes, antibacterial and antifungal properties) and identify bioactive compounds. Anticancer activity was evaluated on human lung adenocarcinoma (A549), human skin melanoma (A2058), human hepatocellular carcinoma (HepG2), human breast adenocarcinoma (MCF7) and human pancreas carcinoma (MiaPaca-2) cell lines. Antimicrobial activities were evaluated against Gram-positive bacteria (
Staphylococcus aureus
MRSA and MSSA), Gram-negative bacteria (i.e.,
Escherichia coli
and
Klebsiella pneumoniae
),
Mycobacterium tuberculosis
and the fungus
Aspergillus fumigatus
. The results indicated moderate biological activities against all the cancer cells lines and microorganisms tested. Bioassay-guided fractionation assisted by HRMS analysis allowed the detection of one new and two known amphidinols that are potentially responsible for the antifungal and cytotoxic activities observed. Further isolation, purification and structural elucidation led to a new amphidinol, named amphidinol 22. The planar structure of the new compound was determined by analysis of its HRMS and 1D and 2D NMR spectra. Its biological activity was evaluated, and it displayed both anticancer and antifungal activities.
View Full-Text
►

▼

Figures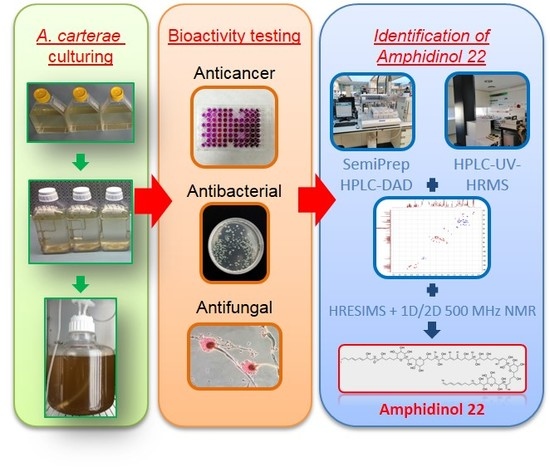 Graphical abstract
This is an open access article distributed under the
Creative Commons Attribution License
which permits unrestricted use, distribution, and reproduction in any medium, provided the original work is properly cited (CC BY 4.0).

Share & Cite This Article
MDPI and ACS Style
Martínez, K.A.; Lauritano, C.; Druka, D.; Romano, G.; Grohmann, T.; Jaspars, M.; Martín, J.; Díaz, C.; Cautain, B.; de la Cruz, M.; Ianora, A.; Reyes, F. Amphidinol 22, a New Cytotoxic and Antifungal Amphidinol from the Dinoflagellate Amphidinium carterae. Mar. Drugs 2019, 17, 385.
Note that from the first issue of 2016, MDPI journals use article numbers instead of page numbers. See further details here.
Related Articles
Comments
[Return to top]