Flaccidoxide-13-Acetate-Induced Apoptosis in Human Bladder Cancer Cells is through Activation of p38/JNK, Mitochondrial Dysfunction, and Endoplasmic Reticulum Stress Regulated Pathway
1
Department of Nursing, Meiho University, Pingtung 91202, Taiwan
2
Department of Biological Technology, Meiho University, Pingtung 91202, Taiwan
3
Antai Medical Care Cooperation Antai Tian-Sheng Memorial Hospital, Pingtung 92842, Taiwan
4
Yu Jun Biotechnology Co., Ltd., Kaohsiung 81363, Taiwan
5
National Museum of Marine Biology and Aquarium, Pingtung 94450, Taiwan
*
Author to whom correspondence should be addressed.
†
These authors contributed equally to this work.
Received: 6 April 2019 / Revised: 1 May 2019 / Accepted: 5 May 2019 / Published: 13 May 2019
Abstract
Flaccidoxide-13-acetate, an active compound isolated from cultured-type soft coral
Sinularia gibberosa
, has been shown to have inhibitory effects against invasion and cell migration of RT4 and T24 human bladder cancer cells. In our study, we used an 3-(4,5-dimethyl-2-thiazolyl)-2,5-diphenyl-2-H-tetrazolium bromide (MTT), colony formation assay, and flow cytometry to determine the mechanisms of the anti-tumor effect of flaccidoxide-13-acetate. The MTT and colony formation assays showed that the cytotoxic effect of flaccidoxide-13-acetate on T24 and RT4 cells was dose-dependent, and the number of colonies formed in the culture was reduced with increasing flaccidoxide-13-acetate concentration. Flow cytometry analysis revealed that flaccidoxide-13-acetate induced late apoptotic events in both cell lines. Additionally, we found that flaccidoxide-13-acetate treatment upregulated the expressions of cleaved caspase 3, cleaved caspase 9, Bax, and Bad, and down-regulated the expressions of Bcl-2,
p
-Bad, Bcl-x1, and Mcl-1. The results indicated that apoptotic events were mediated by mitochondrial dysfunction via the caspase-dependent pathway. Flaccidoxide-13-acetate also provoked endoplasmic reticulum (ER) stress and led to activation of the PERK-eIF2
α
-ATF6-CHOP pathway. Moreover, we examined the PI3K/AKT signal pathway, and found that the expressions of phosphorylated PI3K (
p
-PI3K) and AKT (
p
-AKT) were decreased with flaccidoxide-13-acetate concentrations. On the other hand, our results showed that the phosphorylated JNK and p38 were obviously activated. The results support the idea that flaccidoxide-13-acetate-induced apoptosis is mediated by mitochondrial dysfunction, ER stress, and activation of both the p38 and JNK pathways, and also relies on inhibition of PI3K/AKT signaling. These findings imply that flaccidoxide-13-acetate has potential in the development of chemotherapeutic agents for human bladder cancer.
View Full-Text
►

▼

Figures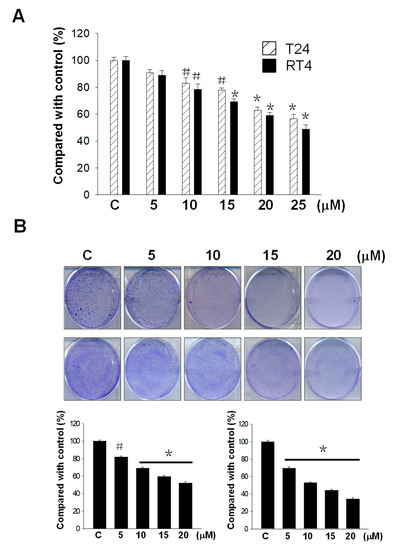 Figure 1
This is an open access article distributed under the
Creative Commons Attribution License
which permits unrestricted use, distribution, and reproduction in any medium, provided the original work is properly cited (CC BY 4.0).

Share & Cite This Article
MDPI and ACS Style
Wu, Y.-J.; Su, T.-R.; Dai, G.-F.; Su, J.-H.; Liu, C.-I. Flaccidoxide-13-Acetate-Induced Apoptosis in Human Bladder Cancer Cells is through Activation of p38/JNK, Mitochondrial Dysfunction, and Endoplasmic Reticulum Stress Regulated Pathway. Mar. Drugs 2019, 17, 287.
Note that from the first issue of 2016, MDPI journals use article numbers instead of page numbers. See further details here.
Related Articles
Comments
[Return to top]