Activation Studies of the γ-Carbonic Anhydrases from the Antarctic Marine Bacteria
Pseudoalteromonas haloplanktis

and

Colwellia psychrerythraea

with Amino Acids and Amines

1

Dipartimento Neurofarba, Sezione di Scienze Farmaceutiche e Nutraceutiche, Università degli Studi di Firenze, Via U. Schiff 6, Sesto Fiorentino, 50019 Florence, Italy

2

Istituto di Bioscienze e Biorisorse, CNR, Via Pietro Castellino 111, 80131 Napoli, Italy

3

Department of Chemistry, College of Science, King Saud University, P.O. Box 2455 Riyadh 11451, Saudi Arabia

4

School of Chemistry, University of New South Wales, Dalton Building, Sydney, New South Wales 2052, Australia

*

Authors to whom correspondence should be addressed.

Received: 25 March 2019 / Revised: 3 April 2019 / Accepted: 17 April 2019 / Published: 22 April 2019
Abstract
The γ-carbonic anhydrases (CAs, EC 4.2.1.1) present in the Antarctic marine bacteria
Pseudoalteromonas haloplanktis
and
Colwellia psychrerythraea
, herein referred to as PhaCA and CpsCA, respectively, were investigated for their activation with a panel of 24 amino acids and amines. Both bacteria are considered Antarctic models for the investigation of photosynthetic and metabolic pathways in organisms adapted to live in cold seawater. PhaCA was much more sensitive to activation by these compounds compared to the genetically related enzyme CpsCA. The most effective PhaCA activators were
d
-Phe,
l
-/
d
-DOPA,
l
-Tyr and 2-pyridyl-methylamine, with the activation constant K
A
values of 0.72–3.27 µM.
d
-His,
l
-Trp,
d
-Tyr, histamine, dopamine, serotonin anddicarboxylic amino acids were also effective activators of PhaCA, with K
A
values of 6.48–9.85 µM. CpsCA was activated by
d
-Phe,
d
-DOPA,
l
-Trp,
l
-/
d
-Tyr, 4-amino-
l
-Phe, histamine, 2-pyridyl-methylamine and
l
-/
d
-Glu with K
A
values of 11.2–24.4 µM. The most effective CpsCA activator was
l
-DOPA (K
A
of 4.79 µM). Given that modulators of CAs from Antarctic bacteria have not been identified and investigated in detail for their metabolic roles to date, this research sheds some light on these poorly understood processes.
View Full-Text
►

▼

Figures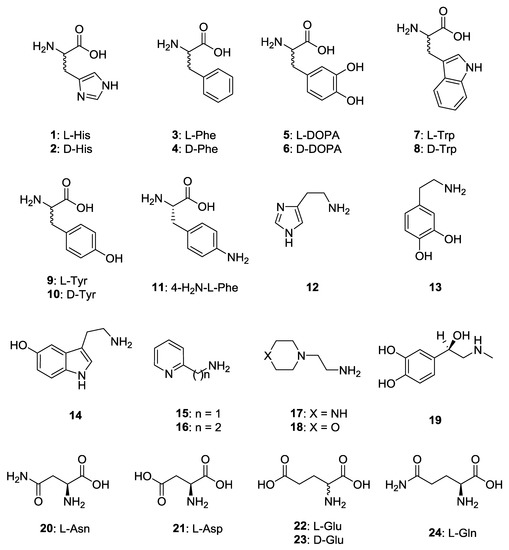 Figure 1
This is an open access article distributed under the
Creative Commons Attribution License
which permits unrestricted use, distribution, and reproduction in any medium, provided the original work is properly cited (CC BY 4.0).

Share & Cite This Article
MDPI and ACS Style
Angeli, A.; Del Prete, S.; Osman, S.M.; AlOthman, Z.; Donald, W.A.; Capasso, C.; Supuran, C.T. Activation Studies of the γ-Carbonic Anhydrases from the Antarctic Marine Bacteria Pseudoalteromonas haloplanktis and Colwellia psychrerythraea with Amino Acids and Amines. Mar. Drugs 2019, 17, 238.
Note that from the first issue of 2016, MDPI journals use article numbers instead of page numbers. See further details here.
Related Articles
Comments
[Return to top]