Phomaketide A Inhibits Lymphangiogenesis in Human Lymphatic Endothelial Cells
1
School of Medicine, Fu-Jen Catholic University, New Taipei City 242, Taiwan
2
Department of Urology, Fu-Jen Catholic University Hospital, New Taipei City 242, Taiwan
3
Institute of Fisheries Science, National Taiwan University, Taipei 106, Taiwan
4
Chinese Medicine Research Center, China Medical University, Taichung 404, Taiwan
5
Department of Pharmacology, School of Medicine, China Medical University, Taichung 404, Taiwan
6
Department of Biotechnology, College of Health Science, Asia University, Taichung 413, Taiwan
7
Department of Orthopaedics, MacKay Memorial Hospital, Taipei 104, Taiwan
8
Ph.D. Degree Program of Biomedical Science and Engineering, National Chiao Tung University, Hsinchu 300, Taiwan
9
Department of Medicine, Mackay Medical College, New Taipei City 252, Taiwan
10
Department of Medical Research, MacKay Memorial Hospital, New Taipei City 251, Taiwan
11
Department of Radiation Oncology, MacKay Memorial Hospital, Taipei 104, Taiwan
12
Division of Colon and Rectal Surgery, Department of Surgery, MacKay Memorial Hospital, Taipei 104, Taiwan
13
Division of Urology, Taipei City Hospital HepingFuyou Branch, Taipei 100, Taiwan
14
Commission for General Education, National United University, Miaoli 360, Taiwan
15
Institute of Molecular Medicine and Bioengineering, National Chiao Tung University, Hsinchu 300, Taiwan
16
Department of Biotechnology and Bioindustry Sciences, National Cheng Kung University, Tainan 300, Taiwan
17
Department of Pharmacology, Graduate Institute of Medicine, College of Medicine, Kaohsiung Medical University, Kaohsiung 807, Taiwan
18
Department of Medical Research, Kaohsiung Medical University Hospital, Kaohsiung 807, Taiwan
19
Graduate Institute of Natural Products, College of Pharmacy, Kaohsiung Medical University, Kaohsiung 807, Taiwan
*
Authors to whom correspondence should be addressed.
†
These authors contributed equally to this work.
Received: 27 February 2019 / Revised: 29 March 2019 / Accepted: 2 April 2019 / Published: 6 April 2019
Abstract
Lymphangiogenesis is an important biological process associated with cancer metastasis. The development of new drugs that block lymphangiogenesis represents a promising therapeutic strategy. Marine fungus-derived compound phomaketide A, isolated from the fermented broth of
Phoma
sp. NTOU4195, has been reported to exhibit anti-angiogenic and anti-inflammatory effects. However, its anti-lymphangiogenic activity has not been clarified to date. In this study, we showed that phomaketide A inhibited cell growth, migration, and tube formation of lymphatic endothelial cells (LECs) without an evidence of cytotoxicity. Mechanistic investigations revealed that phomaketide A reduced LECs-induced lymphangiogenesis via vascular endothelial growth factor receptor-3 (VEGFR-3), protein kinase Cδ (PKCδ), and endothelial nitric oxide synthase (eNOS) signalings. Furthermore, human proteome array analysis indicated that phomaketide A significantly enhanced the protein levels of various protease inhibitors, including cystatin A, serpin B6, tissue factor pathway inhibitor (TFPI), and tissue inhibitor matrix metalloproteinase 1 (TIMP-1). Importantly, phomaketide A impeded tumor growth and lymphangiogenesis by decreasing the expression of LYVE-1, a specific marker for lymphatic vessels, in tumor xenograft animal model. These results suggest that phomaketide A may impair lymphangiogenesis by suppressing VEGFR-3, PKCδ, and eNOS signaling cascades, while simultaneously activating protease inhibitors in human LECs. We document for the first time that phomaketide A inhibits lymphangiogenesis both
in vitro
and
in vivo
, which suggests that this natural product could potentially treat cancer metastasis.
View Full-Text
►

▼

Figures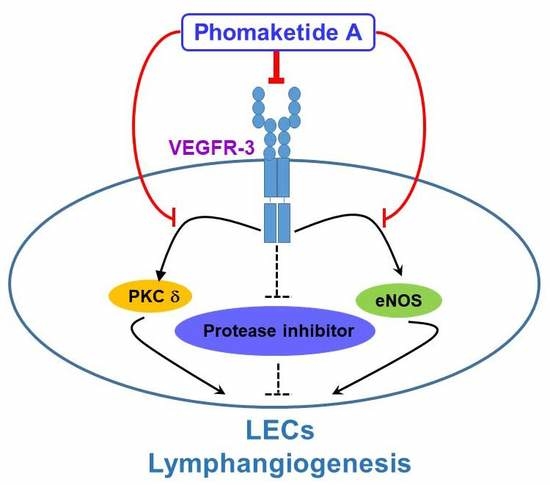 Graphical abstract
This is an open access article distributed under the
Creative Commons Attribution License
which permits unrestricted use, distribution, and reproduction in any medium, provided the original work is properly cited (CC BY 4.0).

Share & Cite This Article
MDPI and ACS Style
Tai, H.-C.; Lee, T.-H.; Tang, C.-H.; Chen, L.-P.; Chen, W.-C.; Lee, M.-S.; Chen, P.-C.; Lin, C.-Y.; Chi, C.-W.; Chen, Y.-J.; Lai, C.-T.; Chen, S.-S.; Liao, K.-W.; Lee, C.-H.; Wang, S.-W. Phomaketide A Inhibits Lymphangiogenesis in Human Lymphatic Endothelial Cells. Mar. Drugs 2019, 17, 215.
Note that from the first issue of 2016, MDPI journals use article numbers instead of page numbers. See further details here.
Related Articles
Comments
[Return to top]