A Multi-screening Evaluation of the Nutritional and Nutraceutical Potential of the Mediterranean Jellyfish
Pelagia noctiluca
1
Dipartimento di Scienze Biomediche, Odontoiatriche, e delle Immagini Morfologiche e Funzionali (Biomorf), University of Messina, Viale Annunziata, 98168 Messina, Italy
2
Dipartimento di Scienze Chimiche, Biologiche, Farmaceutiche ed Ambientali (ChiBioFarAm), University of Messina, Viale Annunziata, 98168 Messina, Italy
3
Science4Life s.r.l., a Spin-Off of the University of Messina, 98168 Messina, Italy
*
Authors to whom correspondence should be addressed.
Received: 30 January 2019 / Revised: 8 March 2019 / Accepted: 13 March 2019 / Published: 17 March 2019
Abstract
The phylum Cnidaria is one of the most important contributors in providing abundance of bio- and chemodiversity. In this study, a comprehensive chemical investigation on the nutritional and nutraceutical properties of Mediterranean jellyfish
Pelagia noctiluca
was carried out. Also, compositional differences between male and female organisms, as well as between their main anatomical parts, namely bell and oral arms, were explored in an attempt to select the best potential sources of nutrients and/or nutraceuticals from jellyfish. With the exception of higher energy densities and total phenolic contents observed in females than males, no statistically significant differences related to the specimen's sex were highlighted for the other compound classes. Rather, the distribution of the investigated chemical classes varied depending on the jellyfish's body parts. In fact, crude proteins were more abundant in oral arms than bells; saturated fatty acids were more concentrated in bells than oral arms, whereas polyunsaturated fatty acids were distributed in the exact opposite way. On the other hand, major elements and trace elements demonstrated an opposite behavior, being the latter most accumulated in oral arms than bells. Additionally, important nutraceuticals, such as eicosapentaenoic and docosahexaenoic acids, and antioxidant minerals, were determined. Overall, obtained data suggest the potential employment of the Mediterranean
P. noctiluca
for the development of natural aquafeed and food supplements.
View Full-Text
►

▼

Figures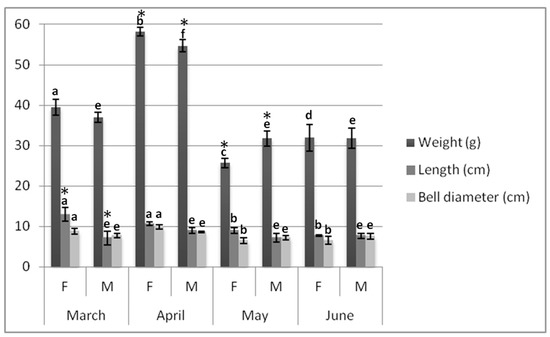 Figure 1
This is an open access article distributed under the
Creative Commons Attribution License
which permits unrestricted use, distribution, and reproduction in any medium, provided the original work is properly cited (CC BY 4.0).

Share & Cite This Article
MDPI and ACS Style
Costa, R.; Capillo, G.; Albergamo, A.; Li Volsi, R.; Bartolomeo, G.; Bua, G.; Ferracane, A.; Savoca, S.; Gervasi, T.; Rando, R.; Dugo, G.; Spanò, N. A Multi-screening Evaluation of the Nutritional and Nutraceutical Potential of the Mediterranean Jellyfish Pelagia noctiluca. Mar. Drugs 2019, 17, 172.
Note that from the first issue of 2016, MDPI journals use article numbers instead of page numbers. See further details here.
Related Articles
Comments
[Return to top]