A Novel Mutant of rLj-RGD3 (rLj-112) Suppressed the Proliferation and Metastasis of B16 Cells through the EGFR Signaling Pathway
1
School of Life Sciences, Liaoning Normal University, Dalian 116081, China
2
Department of Pharmacology, Dalian Medical University, Dalian 116044, China
†
These authors contributed equally.
*
Authors to whom correspondence should be addressed.
Received: 10 December 2018 / Revised: 14 January 2019 / Accepted: 17 January 2019 / Published: 23 January 2019
Abstract
Lj-RGD3, which contains three Arg–Gly–Asp (RGD) motifs, was first identified from the buccal glands of
Lampetra japonica
and has been shown to suppress the tumor progression in the previous studies. Apart from the three RGD motifs, Lj-RGD3 is also characterized by its high content of histidine in its amino acid sequence. In order to clarify whether the histidine-rich characterization of Lj-RGD3 is also associated with its anti-tumor activity, mutants were designed in which the three RGD motifs (Lj-112), or all histidines (Lj-27) or both (Lj-26) were deleted. Furthermore, a mutant (Lj-42) in which all histidines and three RGD motifs were respectively substituted with alanines and three Ala–Gly–Asp (AGD) motifs, as well as a mutant (Lj-41) in which all histidines were substituted with alanines was synthesized to avoid alterations in structure which might further cause changes in the peptides' functions. After recombination and purification, recombinant Lj-112 (rLj-112), recombinant Lj-27 (rLj-27), recombinant Lj-41 (rLj-41), and recombinant Lj-RGD3 (rLj-RGD3) exhibited anti-proliferative activity in B16 cells, respectively; while recombinant Lj-26 (rLj-26) and recombinant Lj-42 (rLj-42) did not affect the proliferation of B16 cells significantly. In addition, the anti-proliferative activity of rLj-112 in B16 cells was due to apoptosis. Typical apoptosis features were observed, including chromatin condensation, fragmented DNA, and increased levels of cleaved caspase 3/caspase 7/nuclear enzyme poly (ADP-ribose) polymerase (PARP) in B16 cells. Similar to rLj-RGD3, rLj-112 was also capable of suppressing the migration and invasion of B16 cells by disturbing the F-actin arrangement. After labeling with FITC, rLj-112 was found localized in the cytoplasm of B16 cells, which induced the internalization of epidermal growth factor receptor (EGFR), suggesting that rLj-112 might block the EGFR mediated signaling pathway. Actually, the phosphorylation level of EGFR and its downstream signal molecules including Akt, PI3K, p38, and ERK1/2 was reduced in the rLj-112 treated B16 cells. In vivo, rLj-112 also inhibited the growth, weight, and volume of the tumors in B16 xenografted C57BL/6 mice without reducing their body weight, indicating that rLj-112 might be safe and might be used as an effective anti-tumor drug in the near future.
View Full-Text
►

▼

Figures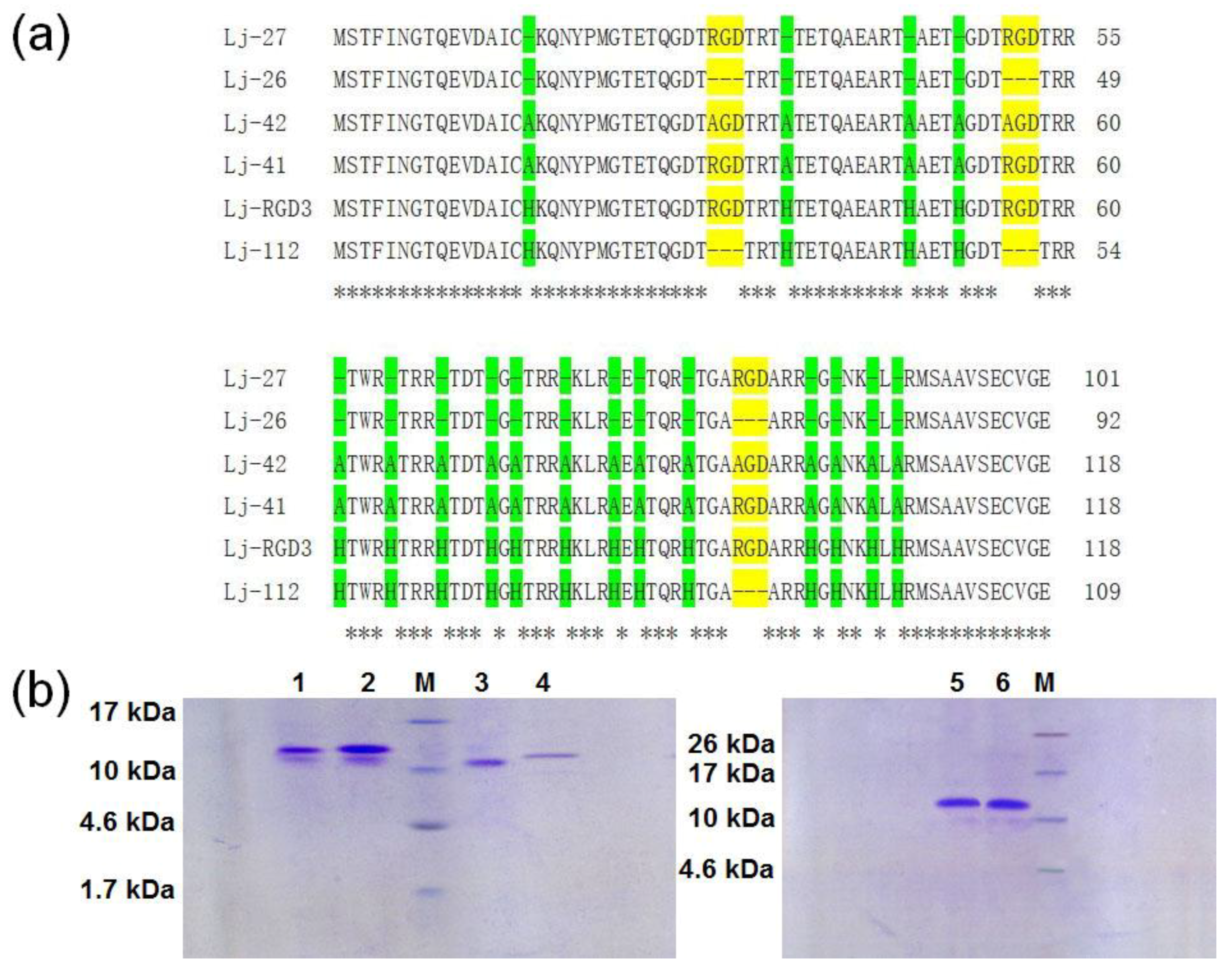 Figure 1
This is an open access article distributed under the
Creative Commons Attribution License
which permits unrestricted use, distribution, and reproduction in any medium, provided the original work is properly cited (CC BY 4.0).

Share & Cite This Article
MDPI and ACS Style
Zheng, Y.-Y.; Xiao, R.; Zhang, L.-X.; Yan, H.-J.; Wang, J.-H.; Lv, L. A Novel Mutant of rLj-RGD3 (rLj-112) Suppressed the Proliferation and Metastasis of B16 Cells through the EGFR Signaling Pathway. Mar. Drugs 2019, 17, 75.
Note that from the first issue of 2016, MDPI journals use article numbers instead of page numbers. See further details here.
Related Articles
Comments
[Return to top]