Barrel Jellyfish (
Rhizostoma pulmo

) as Source of Antioxidant Peptides

1

Istituto di Scienze delle Produzioni Alimentari, Consiglio Nazionale delle Ricerche (CNR-ISPA) Unit of Lecce, Via Monteroni, 73100 Lecce, Italy

2

Dipartimento di Biotecnologia, Chimica e Farmacia (DBCF), Università Degli Studi Di Siena, Via A. Moro, 2, 53100 Siena, Italy

3

Département des Sciences et Technologies, Université de Lille, Cité Scientifique, F-59655 Villeneuve d'Ascq, France

4

Dipartimento di Scienze e Tecnologie Biologiche ed Ambientali (DiSTeBA), University of Salento, 73100 Lecce, Italy

5

Consorzio Nazionale Interuniversitario per le Scienze del Mare (CoNISMa), Local Unit of Lecce, Via Monteroni, 73100 Lecce, Italy

*

Author to whom correspondence should be addressed.

Received: 31 January 2019 / Revised: 15 February 2019 / Accepted: 19 February 2019 / Published: 23 February 2019
Abstract
The jellyfish
Rhizostoma pulmo
, Macrì 1778 (Cnidaria, Rhizostomae) undergoes recurrent outbreaks in the Mediterranean coastal waters, with large biomass populations representing a nuisance or damage for marine and maritime activities. A preliminary overview of the antioxidant activity (AA) of
R. pulmo
proteinaceous compounds is provided here based on the extraction and characterization of both soluble and insoluble membrane-fractioned proteins, the latter digested by sequential enzymatic hydrolyses with pepsin and collagenases. All jellyfish proteins showed significant AA, with low molecular weight (MW) proteins correlated with greater antioxidant activity. In particular, collagenase-hydrolysed collagen resulted in peptides with MW lower than 3 kDa, ranging 3–10 kDa or 10–30 kDa, with AA inversely proportional to MW. No cytotoxic effect was detected on cultured human keratinocytes (HEKa) in a range of protein concentration 0.05–20 μg/mL for all tested protein fractions except for soluble proteins higher than 30 kDa, likely containing the jellyfish venom compounds. Furthermore, hydrolyzed jellyfish collagen peptides showed a significantly higher AA and provided a greater protective effect against oxidative stress in HEKa than the hydrolyzed collagen peptides from vertebrates. Due to a high reproductive potential, jellyfish may represent a potential socioeconomic opportunity as a source of natural bioactive compounds, with far-reaching beneficial implications. Eventually, improvements in processing technology will promote the use of untapped marine biomasses in nutraceutical, cosmeceutical, and pharmaceutical fields, turning marine management problems into a more positive perspective.
View Full-Text
►

▼

Figures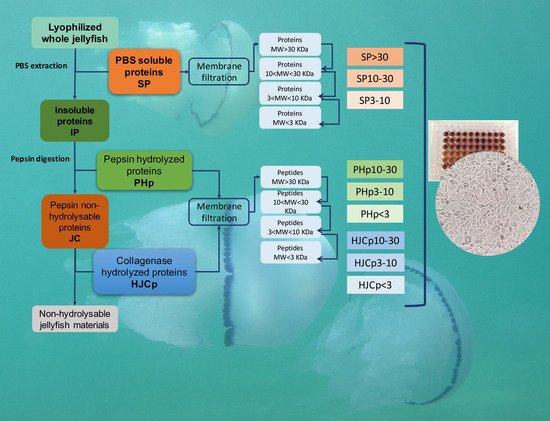 Graphical abstract
This is an open access article distributed under the
Creative Commons Attribution License
which permits unrestricted use, distribution, and reproduction in any medium, provided the original work is properly cited (CC BY 4.0).

Share & Cite This Article
MDPI and ACS Style
De Domenico, S.; De Rinaldis, G.; Paulmery, M.; Piraino, S.; Leone, A. Barrel Jellyfish (Rhizostoma pulmo) as Source of Antioxidant Peptides. Mar. Drugs 2019, 17, 134.
Note that from the first issue of 2016, MDPI journals use article numbers instead of page numbers. See further details here.
Related Articles
Comments
[Return to top]