Microcarriers Based on Glycosaminoglycan-Like Marine Exopolysaccharide for TGF-β1 Long-Term Protection
1
Ifremer, Laboratoire Ecosystèmes Microbiens et Molécules Marines pour les Biotechnologies, F-44311 Nantes, France
2
INRA, UR1268 Biopolymères Interactions Assemblages, F-44300 Nantes, France
3
Inserm, UMR 1229, RMeS, Regenerative Medicine and Skeleton, Université de Nantes, ONIRIS, F-44042 Nantes, France
4
UFR Odontologie, Université de Nantes, F-44042 Nantes, France
5
CHU Nantes, PHU 4 OTONN, F-44093 Nantes, France
6
Institut des Matériaux Jean Rouxel (IMN), Université de Nantes-CNRS, 44322 Nantes, France
*
Author to whom correspondence should be addressed.
Received: 19 December 2018 / Revised: 10 January 2019 / Accepted: 18 January 2019 / Published: 19 January 2019
Abstract
Articular cartilage is an avascular, non-innervated connective tissue with limited ability to regenerate. Articular degenerative processes arising from trauma, inflammation or due to aging are thus irreversible and may induce the loss of the joint function. To repair cartilaginous defects, tissue engineering approaches are under intense development. Association of cells and signalling proteins, such as growth factors, with biocompatible hydrogel matrix may lead to the regeneration of the healthy tissue. One current strategy to enhance both growth factor bioactivity and bioavailability is based on the delivery of these signalling proteins in microcarriers. In this context, the aim of the present study was to develop microcarriers by encapsulating Transforming Growth Factor-β1 (TGF-β1) into microparticles based on marine exopolysaccharide (EPS), namely GY785 EPS, for further applications in cartilage engineering. Using a capillary microfluidic approach, two microcarriers were prepared. The growth factor was either encapsulated directly within the microparticles based on slightly sulphated derivative or complexed firstly with the highly sulphated derivative before being incorporated within the microparticles. TGF-β1 release, studied under in vitro model conditions, revealed that the majority of the growth factor was retained inside the microparticles. Bioactivity of released TGF-β1 was particularly enhanced in the presence of highly sulphated derivative. It comes out from this study that GY785 EPS based microcarriers may constitute TGF-β1 reservoirs spatially retaining the growth factor for a variety of tissue engineering applications and in particular cartilage regeneration, where the growth factor needs to remain in the target location long enough to induce robust regenerative responses.
View Full-Text
►

▼

Figures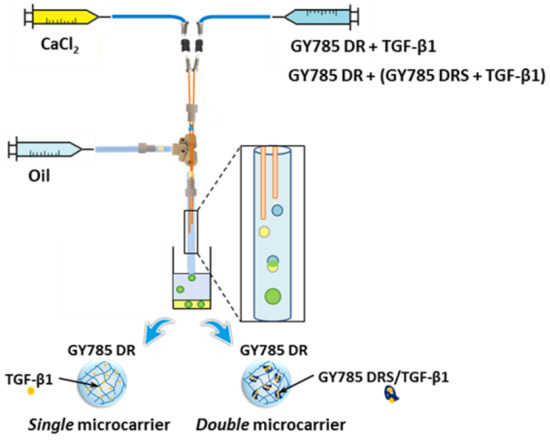 Graphical abstract
This is an open access article distributed under the
Creative Commons Attribution License
which permits unrestricted use, distribution, and reproduction in any medium, provided the original work is properly cited (CC BY 4.0).

Share & Cite This Article
MDPI and ACS Style
Zykwinska, A.; Marquis, M.; Godin, M.; Marchand, L.; Sinquin, C.; Garnier, C.; Jonchère, C.; Chédeville, C.; Le Visage, C.; Guicheux, J.; Colliec-Jouault, S.; Cuenot, S. Microcarriers Based on Glycosaminoglycan-Like Marine Exopolysaccharide for TGF-β1 Long-Term Protection. Mar. Drugs 2019, 17, 65.
Note that from the first issue of 2016, MDPI journals use article numbers instead of page numbers. See further details here.
Related Articles
Comments
[Return to top]