Processing Optimization and Characterization of Angiotensin-Ι-Converting Enzyme Inhibitory Peptides from Lizardfish (
Synodus macrops

) Scale Gelatin

1

Marine Biological Resource Comprehensive Utilization Engineering Research Center of the State Oceanic Administration, the Third Institute of Oceanography of the State Oceanic Administration, Xiamen 361005, China

2

Jiangsu Collaborative Innovation Center of Chinese Medicinal Resources Industrialization, and National and Local Collaborative Engineering Center of Chinese Medicinal Resources Industrialization and Formulae Innovative Medicine, Nanjing University of Chinese Medicine, Nanjing 210023, China

*

Author to whom correspondence should be addressed.

Received: 21 May 2018 / Revised: 25 June 2018 / Accepted: 29 June 2018 / Published: 4 July 2018
Abstract
Hypertension can cause coronary heart disease. Synthetic angiotensin-converting enzyme (ACE) inhibitors are effective antihypertensive drugs but often cause side effects. The aim of this study was to prepare potential ACE inhibitors from scales. Gelatin was extracted from lizardfish scales. Then, scale gelatin was enzymolyzed to prepare ACE inhibitory peptides using response surface methodology. Proteolytic conditions after optimization were as follows: pH 7.0, enzyme substrate ratio 3.2%, temperature 47 °C, and proteolysis lasting 2 h and 50 min. The experimental ACE inhibitory activity under optimal conditions was 86.0 ± 0.4%. Among the 118 peptides identified from gelatin hydrolysates, 87.3% were hydrophilic and 93.22% had a molecular weight <2000 Da. Gelatin peptides had high stability upon exposure to high temperature and pH as well as gastrointestinal tract enzymes. Gelatin peptides showed an antihypertensive effect in spontaneously hypertensive rats at a dosage of 2 g/kg in the long-term experiments. A new ACE inhibitory peptide was isolated from gelatin hydrolysates, and was identified as AGPPGSDGQPGAK with an IC
50
value of 420 ± 20 μM. In this way, ACE inhibitory peptides derived from scale gelatin have the potential to be used as healthy ACE-inhibiting drug raw materials.
View Full-Text
►

▼

Figures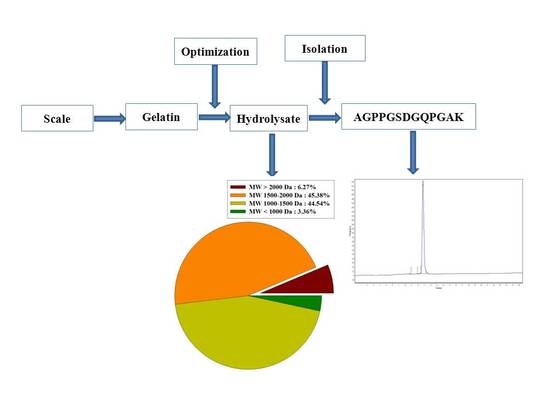 Graphical abstract
This is an open access article distributed under the
Creative Commons Attribution License
which permits unrestricted use, distribution, and reproduction in any medium, provided the original work is properly cited (CC BY 4.0).

Share & Cite This Article
MDPI and ACS Style
Chen, J.; Liu, Y.; Wang, G.; Sun, S.; Liu, R.; Hong, B.; Gao, R.; Bai, K. Processing Optimization and Characterization of Angiotensin-Ι-Converting Enzyme Inhibitory Peptides from Lizardfish (Synodus macrops) Scale Gelatin. Mar. Drugs 2018, 16, 228.
Note that from the first issue of 2016, MDPI journals use article numbers instead of page numbers. See further details here.
Related Articles
Comments
[Return to top]