Preparation, Physicochemical and Antioxidant Properties of Acid- and Pepsin-Soluble Collagens from the Swim Bladders of Miiuy Croaker (
Miichthys miiuy

)

1

Zhejiang Provincial Engineering Technology Research Center of Marine Biomedical Products, School of Food and Pharmacy, Zhejiang Ocean University, Zhoushan 316022, China

2

National and Provincial Joint Laboratory of Exploration and Utilization of Marine Aquatic Genetic Resources, National Engineering Research Center of Marine Facilities Aquaculture, School of Marine Science and Technology, Zhejiang Ocean University, Zhoushan 316022, China

*

Authors to whom correspondence should be addressed.

Received: 1 April 2018 / Revised: 2 May 2018 / Accepted: 9 May 2018 / Published: 12 May 2018
Abstract
Collagen is one of the most useful biomaterials and widely applied in functional food and cosmetics. However, some consumers have paid close attention to the safety of mammalian collagens because of the outbreaks of bovine spongiform encephalopathy (BSE), foot-and-mouth disease (FMD), and other prion diseases. Therefore, there is a strong demand for developing alternative sources of collagen, with one promising source being from the process by-products of commercial fisheries. In this report, acid-soluble collagen (ASC-SB) and pepsin-soluble collagen (PSC-SB) from swim bladders of miiuy croaker (
Miichthys miiuy
) were isolated with yields of 1.33 ± 0.11% and 8.37 ± 0.24% of dry swim bladder weight. Glycine was the major amino acid present, with a content of 320.5 (ASC-SB) and 333.6 residues/1000 residues (PSC-SB). ASC-SB and PSC-SB had much lower denaturation temperatures compared to mammalian collagen, a consequence of low imino acid contents (196.7 and 199.5 residues/1000 residues for ASC-SB and PSC-SB, respectively). The data of amino acid composition, SDS-PAGE pattern, UV and FTIR spectra confirmed that ASC-SB and PSC-SB were mainly composed of type I collagen. FTIR spectra data indicated there were more hydrogen bonding and intermolecular crosslinks in ASC-SB. These collagens showed high solubility in the acidic pH ranges and low NaCl concentrations (less than 2%). The Zeta potential values of ASC-SB and PSC-SB were 6.74 and 6.85, respectively. ASC-SB and PSC-SB presented irregular, dense, sheet-like films linked by random-coiled filaments under scanning electron microscopy. In addition, ASC-SB and PSC-SB could scavenge DPPH radical, hydroxyl radical, superoxide anion radical, and ABTS radical in a dose-dependent manner. Overall, the results indicate that collagens from the swim bladders of miiuy croaker are a viable substitute for mammalian collagen, with potential functional food and cosmeceutical applications.
View Full-Text
►

▼

Figures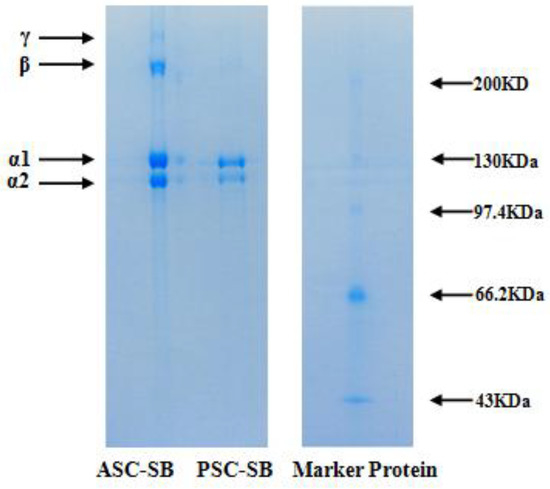 Figure 1
This is an open access article distributed under the
Creative Commons Attribution License
which permits unrestricted use, distribution, and reproduction in any medium, provided the original work is properly cited (CC BY 4.0).

Share & Cite This Article
MDPI and ACS Style
Zhao, W.-H.; Chi, C.-F.; Zhao, Y.-Q.; Wang, B. Preparation, Physicochemical and Antioxidant Properties of Acid- and Pepsin-Soluble Collagens from the Swim Bladders of Miiuy Croaker (Miichthys miiuy). Mar. Drugs 2018, 16, 161.
Note that from the first issue of 2016, MDPI journals use article numbers instead of page numbers. See further details here.
Related Articles
Comments
[Return to top]