Open Access This article is
freely available
re-usable
Review
Marine Compound Xyloketal B as a Potential Drug Development Target for Neuroprotection
1
Department of Surgery, Faculty of Medicine, University of Toronto, Toronto, ON M5S 1A8, Canada
2
Department of Physiology, Faculty of Medicine, University of Toronto, Toronto, ON M5S 1A8, Canada
3
Department of Pharmacology, Zhongshan School of Medicine, Sun Yat-Sen University, Guangzhou 510080, China
4
Key Laboratory of Functional Molecules from Oceanic Microorganisms (Sun Yat-Sen University), Department of Education of Guangdong Province, Guangzhou 510080, China
5
Department of Pharmacology and Toxicology, Faculty of Medicine, University of Toronto, Toronto, ON M5S 1A8, Canada
6
Institute of Medical Science, Faculty of Medicine, University of Toronto, Toronto, ON M5S 1A8, Canada
*
Authors to whom correspondence should be addressed.
Received: 27 November 2018 / Accepted: 14 December 2018 / Published: 19 December 2018
Abstract
:
Xyloketal B is a natural compound isolated from the mangrove fungus,
Xylaria
sp. in the South China Sea. In the past decade, studies have shown that xyloketal B exhibits anti-oxidative, anti-inflammatory, and anti-apoptotic abilities and may serve as a treatment for ischemic stroke. Xyloketal B has been shown to interact with both neurons and residential microglial cells and regulate a number of proteins involved in the apoptotic events during ischemia. Such mechanisms include inhibition of specific NADPH oxidase subunits, upregulation of HO-1, increase of Bcl-1/Bax ratio, and downregulation of TLR4 receptor. Both
in vitro
and
in vivo
stroke models have validated its potential in preventing ischemia-induced neuronal cell death. This review summarizes our current understanding of the effects of xyloketal B in ischemic conditions. As stroke ranks second in the causes of mortality worldwide and still lacks effective treatment, it is necessary to seek novel therapeutic options. Understanding the role of xyloketal B in ischemic stroke could reveal a new aspect of stroke treatment.
Keywords:
marine compound; xyloketal B; neuroprotection; antioxidative; drug development
2. The Anti-Oxidative and Anti-Apoptotic Effects of Xyloketal B in Endothelial Cells
3. The ROS-Scavenging and Mitochondrial-Protective Abilities of Xyloketal B in Neurons
Later in 2009, Zhao and colleagues tested the neuroprotective potential of xyloketal B [
18
]. First, they demonstrated the ability of xyloketal B to scavenge free oxygen radicals using the 2,2-Diphenyl-1-picrylhydrazyl (DPPH) assay, confirming its anti-oxidative activity. In order to observe xyloketal B's effects on neuronal cells, PC12 neuronal cell line was exposed to oxygen and glucose deprivation (OGD), a widely used model to mimic ischemic conditions in the brain [
30
]. While the MTT (3-(4, 5-dimethylthiazolyl-2)-2, 5-diphenyltetrazolium bromide) assay detected a significant reduction in the number of viable cells after OGD insult, pretreatment of xyloketal B yielded higher cell viability concentration-dependently from 12.5 to 200 µM [
18
]. Using DAPI (4′,6-diamidino-2-phenylindole) staining, a significantly lesser extent of nuclear abnormality was also observed in the xyloketal B-treated group compared to those in the vehicle controls [
18
]. The level of protein carbonylation was used as another indicator for oxidative stress as oxidized protein side chains contain carbonyl groups [
31
]. Oxiblot results showed no significant difference in the level of carbonylation between the control and xyloketal B-treated groups, while the vehicle group displayed a significantly higher level [
18
]. All of which have first established xyloketal B's anti-apoptotic therapeutic potential for stroke in a neuronal setting.
The experiment then focused on xyloketal B's influence on mitochondrial function during OGD insult [
18
]. The disturbance of cellular respiration due to a glucose shortage during ischemia results in the accumulation of NADH in the mitochondria. Excessive reduction by NADH over-produces ROS, which further leads to mitochondrial damage [
32
]. Through events including the breakdown of mitochondrial membrane and decreases in mitochondrial membrane potential (MMP), cytochrome c is released into the cytoplasm which onsets apoptosis [
32
,
33
]. In this study, mitochondrial ROS production was detected to be significantly increased after OGD by MitoSOX assay [
18
]. Xyloketal B-treated group, on the other hand, had the MitoSOX signal intensity decreased by 27%. Using fluorescence microscopy, Zhao and colleagues observed a significant increase in the number of fragmented mitochondria post-OGD as a result of oxidative stress, which was reduced by the treatment of xyloketal B. Consistently, xyloketal B was also found to bring the increased level of Drp1 back to normal level after OGD [
18
]. Drp1 is a protein that promotes excessive mitochondrial fission when the pro-apoptotic protein Bax is over-expressed during OGD. Drp1-dependent mitochondrial fragmentation also leads to the release of cytochrome c and apoptosis [
34
,
35
]. Moreover, OGD-induced decreases in MMP was reversed by xyloketal B treatment as well. These experiments have concluded that the mitochondrion is the potential target in the anti-apoptotic effect of xyloketal B in neurons.
4. Xyloketal B Promotes Expression of HO-1 by Regulating the Upstream Signaling Pathway
Next, Li and colleagues examined the underlying mechanism of the regulation of HO-1 activity by xyloketal B. When incubated with xyloketal B, HUVACs displayed significantly increased HO-1 mRNA levels up to 24 h and progressively increased HO-1 expression levels up to 36 h. Remarkably, the nuclear accumulation of Nrf2 and its binding activity to the antioxidant response element (ARE) were found to be higher in the treatment group compared to the control in HUVECs.
5. Xyloketal B's Neuroprotective Effect in Neonatal Hypoxic-Ischemic Brain Injury Model
6. The Neuroprotective Potential of Xyloketal B in Adult Ischemia Model
7. Conclusions
Evidence showed that the marine compound xyloketal B has anti-oxidative and neuroprotective effects in preventing ischemic neuronal cell death mediating few different signaling pathways, concluded in
Figure 1
. Studies have compiled considerable indications of its anti-oxidative and anti-apoptotic potentials in ischemic conditions both
in vitro
and
in vivo
, which are summarized in
Table 1
. Xyloketal B is capable of regulating expression of a number of proteins that participate in post-ischemic apoptotic events. Further investigations of the full therapeutic mechanism of action are expected. Regardless, xyloketal B's neuroprotective effects may allow it to serve as a novel treatment alternative for ischemic stroke and improve stroke outcome.
Author Contributions
All authors contributed to the manuscript preparation and revision.
Funding
This work was supported by operating grants to HSS from Canadian Institutes of Health Research (CIHR), China-Canada Joint Health Research Initiative (CIHR, FRN #132571), and by a General Program to GLW from National Natural Science Foundation of China (No 81773722). Also supported by the 111 Project, Grant No. B13037.
Conflicts of Interest
The authors declare no conflict of interest.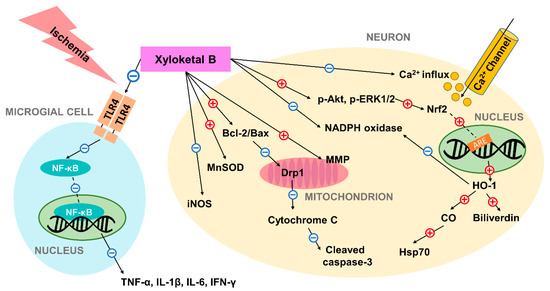 Figure 1. Schematic diagram of the neuroprotective mechanism of action of xyloketal B in ischemic condition. Previous studies have suggested that xyloketal B may prevent ischemic neuronal death via (1) decreasing ROS and RNS levels through regulation of enzymes including iNOS, MnSOD, NADPH oxidase; (2) controlling Bcl-2/Bax ratio and preventing subsequent mitochondrial damage and apoptosis; (3) increasing the expression of the stress protein HO-1 through Nrf2/ARE pathway, and thus producing cytoprotective compounds; (4) reducing excessive calcium influx; and (5) inhibiting expression of pro-inflammatory cytokines by decreasing TLR4 and NF-κB expression in residential microglial cells. In the figure, the red plus sign (+) indicates stimulation while the blue subtraction sign (−) indicates inhibition. Dashed lines are used to represent nuclear translocation. Abbreviations: ARE: antioxidant response element; HO-1: heme oxygenase-1; Hsp70: heat shock protein 70; iNOS: inducible NO synthase; MnSOD: manganese superoxide dismutase; MMP: mitochondrial membrane potential; TLR4: toll-like receptor 4; NF-κB: nuclear factor-κB; ROS: reactive oxygen species; RNS: reactive nitrogen species.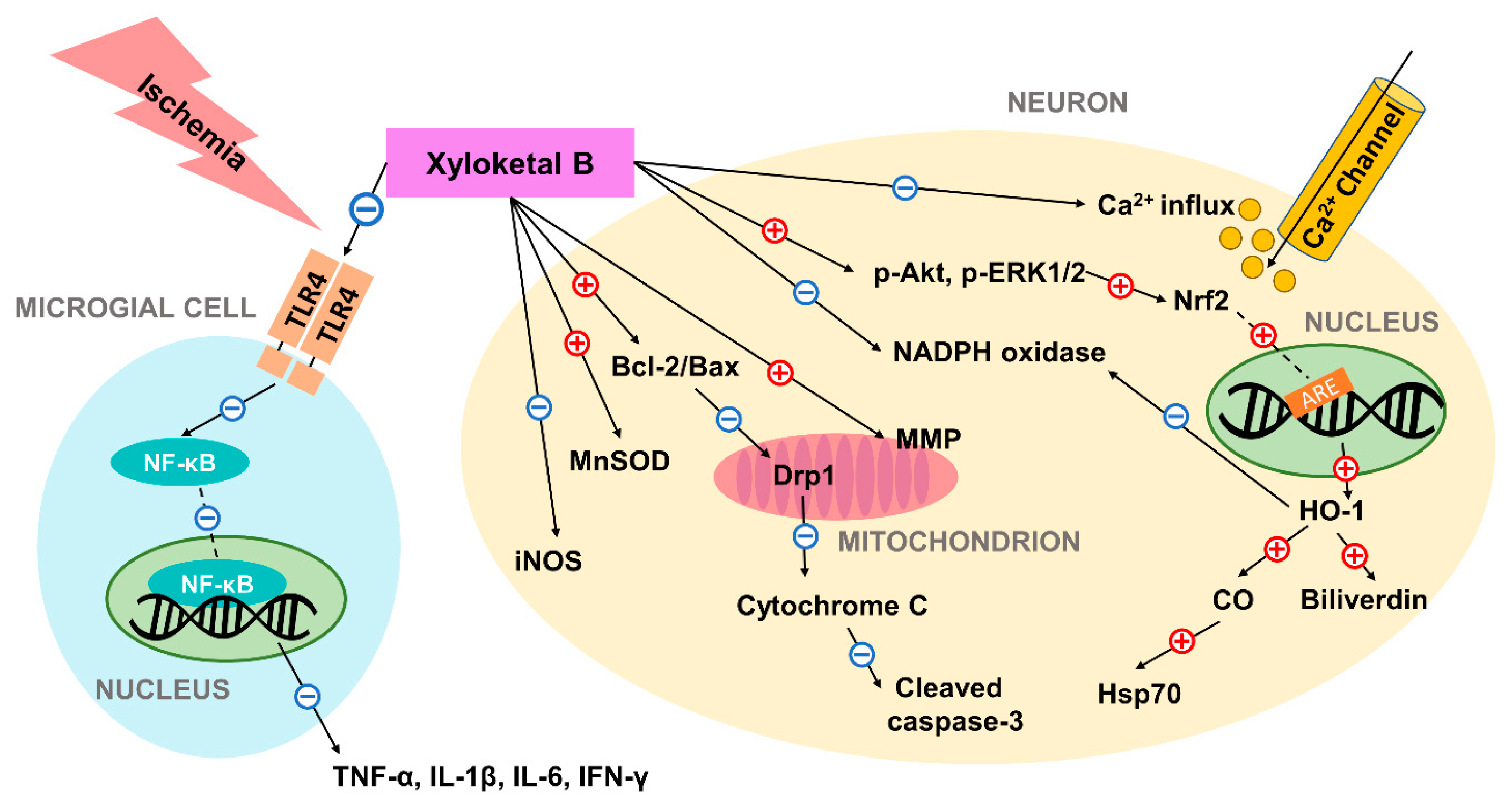 In Vitro

/

In Vivo

Cells/Animals
Model
Dose/Concentration
Major Findings

In vitro

HUVECs
OxLDL induced oxidative injury
0.3 to 40 μM
Cytoprotective effect; Decreased ROS generation; Increased NO generation [17]

In vitro

PC12
OGD model of ischemic stroke
12.5 to 800 μM
ROS-scavenging and mitochondrial-protective abilities [18]
Both
PC12 and

C. elegans

MPP+-induced neurotoxicity
25 to 250 μM
Reduction of ROS generation and restoration of anti-oxidant glutathione level [36]
Both
HUVECs and zebrafish
AngII-Induced HUVEC apoptosis and PMA-induced respiratory burst of zebrafish embryos
0.2 to 80 μM
Increase in HO-1 expression through PI3K/Akt signaling pathway [21]
Both
Mouse primary cortical cells and CD1 mice
OGD in cortical cells and neonatal hypoxic-ischemic brain injury
10 to 100 μM

in vitro

; 5 mg/kg body weight

in vivo

Neuro-protection in neonatal ischemic brain injury [20]

In vitro

HUVECs
H2O2-induced HUVEC injury
20 and 25 μM
Xyloketal B and its two derivatives inhibited H2O2-induced HUVEC injury [26]
Both
HUVECs and apolipoprotein E-deficient mice
High-fat diet-induced atherosclerosis
10 to 80 μM

in vitro

; 7, 14, and 28 mg/kg/day

in vivo

Reduction of aortic atherosclerotic lesion area and improved endothelia function via increasing NO generation [29]

In vivo

C57 mice
Transient middle cerebral artery occlusion (tMCAO)
50 mg/kg body weight
Pretreatment reduced infarction volume dose-dependently [19]

In vivo

C. elegans

Heat stress
100 μM
Xyl-B derivative increased the expression of Hsp70 by upregulating HSF1 activity [39]

In vivo

Sprague Dawley rats
Two-kidney, two-clip renovascular hypertensive model
20 μM in aortic ring function; 20 mg/kg body weight
Reduced blood pressure and enhanced relaxation of aortic rings in 2K2C renovascular hypertensive rats [50]
Abbreviations: HUVECs: human umbilical vein endothelial cell; oxLDL: oxidized low-density lipoprotein; ROS: reactive oxygen species; NO: nitrogen oxide; OGD: oxygen and glucose deprivation;

C. elegans

:

Caenorhabditis elegans

; MPP+: 1-methyl-4-phenylpyridinium; AngII: angiotensin II; PMA: phorbol 12-myristate 13-acetate; HO-1: Heme oxygenase 1; Hsp70: heat shock protein 70; HSF1: heat shock factor 1; 2K2C: 2-kidney, 2 clip.

© 2018 by the authors. Licensee MDPI, Basel, Switzerland. This article is an open access article distributed under the terms and conditions of the Creative Commons Attribution (CC BY) license (http://creativecommons.org/licenses/by/4.0/).