Heteronemin Induces Anti-Proliferation in Cholangiocarcinoma Cells via Inhibiting TGF-β Pathway
1
Graduate Institute of Cancer Molecular Biology and Drug Discovery, College of Medical Science and Technology, Taipei Medical University, Taipei 11031, Taiwan
2
Taipei Cancer Center, Taipei Medical University, Taipei 11031, Taiwan
3
TMU Research Center of Cancer Translational Medicine, Taipei Medical University, Taipei 11031, Taiwan
4
Traditional Herbal Medicine Research Center of Taipei Medical University Hospital, Taipei Medical University, Taipei 11031, Taiwan
5
Pharmaceutical Research Institute, Albany College of Pharmacy and Health Sciences, Albany, NY 12208, USA
6
Department of Pediatrics, E-DA Hospital, Kaohsiung 824, Taiwan
7
School of Medicine, I-Shou University, Kaohsiung 824, Taiwan
8
School of Pharmacy, Taipei Medical University, Taipei 11031, Taiwan
9
Cancer Center, Wan Fang Hospital, Taipei Medical University, Taipei 11031, Taiwan
10
Graduate Institute of Nanomedicine and Medical Engineering, College of Medical Engineering, Taipei Medical University, Taipei 11031, Taiwan
11
The Ph.D. Program for Cancer Biology and Drug Discovery, China Medical University and Academia Sinica, Taichung 404, Taiwan
12
Division of Hematology-Oncology, Department of Internal Medicine, Kaohsiung Medical University Hospital, Kaohsiung 807, Taiwan
13
Department of Internal Medicine, Faculty of Medicine, College of Medicine, Kaohsiung Medical University, Kaohsiung 807, Taiwan
14
Joint Biobank, Office of Human Research, Taipei Medical University, Taipei 11031, Taiwan
*
Author to whom correspondence should be addressed.
†
These authors contributed equally to this work.
Received: 3 November 2018 / Revised: 26 November 2018 / Accepted: 30 November 2018 / Published: 6 December 2018
Abstract
A marine sesterterpenoid-type natural product, heteronemin, retains anticancer effects. In the current study, we investigate the antitumor mechanism of heteronemin in cholangiocarcinoma cells and further explore its molecular targets. Initially, heteronemin exhibited potent cytotoxic effects against cholangiocarcinoma HuccT1 and SSP-25 cells. In vitro, heteronemin altered the abilities of cell adhesion and cell migration in HuccT1 and SSP-25 cell lines. It repressed messenger ribonucleic acid (mRNA) expression levels of transforming growth factor (TGF)-β, mothers against decapentaplegic homolog (SMAD) and Myc, whose protein products play important roles in regulating cell growth, angiogenesis, and metastasis. In addition, heteronemin altered several signaling pathways. The results indicate that heteronemin was able to modulate cell adhesion, the expression of extracellular matrix (ECM) receptors, the TGF-β pathway, cell motility, the membrane integration, metastasis response, matrix metalloproteinase (MMP) remodeling, the regulation of metabolism, sprouting angiogenesis, transcription factors, and vasculogenesis in cholangiocarcinoma cell lines. The results also suggest that it activated multiple signal transduction pathways to induce an anti-proliferation effect and anti-metastasis in cholangiocarcinoma. In conclusion, heteronemin may be used as a potential medicine for anticancer therapy.
View Full-Text
►

▼

Figures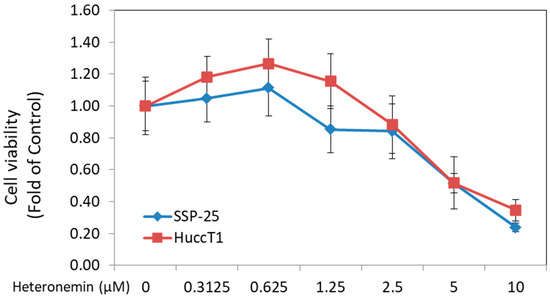 Figure 1
This is an open access article distributed under the
Creative Commons Attribution License
which permits unrestricted use, distribution, and reproduction in any medium, provided the original work is properly cited (CC BY 4.0).

Share & Cite This Article
MDPI and ACS Style
Lin, H.-Y.; Tey, S.-L.; Ho, Y.; Chin, Y.-T.; Wang, K.; Whang-Peng, J.; Shih, Y.-J.; Chen, Y.-R.; Yang, Y.-N.; Chen, Y.-C.; Liu, Y.-C.; Tang, H.-Y.; Yang, Y.-C.S. Heteronemin Induces Anti-Proliferation in Cholangiocarcinoma Cells via Inhibiting TGF-β Pathway. Mar. Drugs 2018, 16, 489.
Note that from the first issue of 2016, MDPI journals use article numbers instead of page numbers. See further details here.
Related Articles
Comments
[Return to top]