Fucoidan Inhibits Radiation-Induced Pneumonitis and Lung Fibrosis by Reducing Inflammatory Cytokine Expression in Lung Tissues
1
Institute of Clinical Medicine, College of Medicine, National Cheng Kung University, Tainan 701, Taiwan
2
Division of General Surgery, Department of Surgery, Wan Fang Hospital, Taipei Medical University, Taipei 116, Taiwan
3
School of Dentistry, College of Dental Medicine, Kaohsiung Medical University, Kaohsiung 807, Taiwan
4
Division of Oral and Maxillofacial Surgery, Kaohsiung Medical University Hospital, Kaohsiung 807, Taiwan
5
Department of FUJISOFT Cartilage and Bone Regeneration, Tissue Engineering, The University of Tokyo, Tokyo 113-0033, Japan
6
Department of Hemato-Oncology, Wan Fang Hospital, Taipei Medical University, Taipei 116, Taiwan
7
Department of Internal Medicine, School of Medicine, College of Medicine, Taipei Medical University, Taipei 11031, Taiwan
8
Department of Otorhinolaryngology, Wan Fang Hospital, Taipei Medical University, Taipei 116, Taiwan
9
Ph.D. Program for Translational Medicine, Taipei Medical University, Taipei 11031, Taiwan
10
Department of Surgery, National Cheng Kung University Hospital, College of Medicine, National Cheng Kung University, Tainan 701, Taiwan
11
Department of Radiation Oncology, Wan Fang Hospital, Taipei Medical University, Taipei 116, Taiwan
*
Authors to whom correspondence should be addressed.
†
These authors have contributed equally to this study.
Received: 5 July 2018 / Revised: 7 October 2018 / Accepted: 15 October 2018 / Published: 19 October 2018
Abstract
Purpose
: Radiotherapy is a crucial treatment approach for many types of cancer. Radiation pneumonitis (RP) is one of the major complications in chest irradiation. Fucoidan is a sulfated polysaccharide found mainly in various species of brown seaweed. Recent studies have demonstrated the anti-inflammatory effects of fucoidan. However, no study has reported a well-established prophylactic agent for RP. Therefore, we investigated the effects of fucoidan on RP and radiotherapy (RT)-induced lung fibrosis.
Materials and Methods
: We compared RP and RT-induced fibrosis in lung tissue specimens obtained from irradiated (10 Gy/shot) C57BL/6 mice with or without fucoidan administration (200 mg/kg/day, oral gavage for 14 days). The expression patterns of cytokines in the pleural fluid were determined using a cytokine array and confirmed through enzyme immunoassays.
Results
: Fucoidan administration attenuated RP and RT-induced fibrosis in lung tissues. Decreased neutrophil and macrophage accumulation was observed in irradiated lung tissues, and radiation-induced lung fibrosis, as demonstrated by Masson trichrome staining, was attenuated. We investigated the expression patterns of inflammatory cytokines in the irradiated lung pleural fluid through the protein array; results revealed that fucoidan administration changed the expression patterns of inflammatory cytokines in irradiated lung tissues. Furthermore, the expression levels of TIMP-1, CXCL1, MCP-1, MIP-2, and interleukin-1Ra were substantially enhanced in the pleural fluid, but fucoidan administration significantly reduced their expression.
Conclusions
: Fucoidan changes the expression patterns of inflammatory cytokines, which may consequently attenuate RP and RT-induced lung fibrosis.
View Full-Text
►

▼

Figures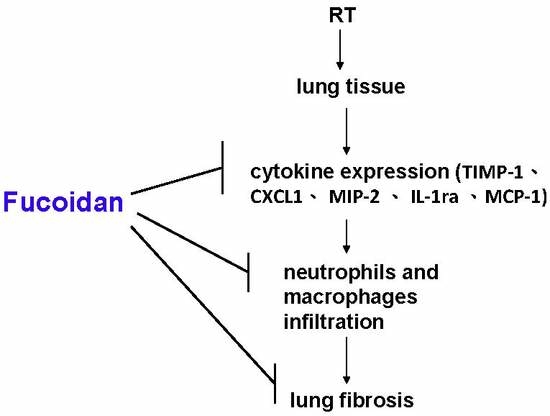 Graphical abstract
This is an open access article distributed under the
Creative Commons Attribution License
which permits unrestricted use, distribution, and reproduction in any medium, provided the original work is properly cited (CC BY 4.0).

Share & Cite This Article
MDPI and ACS Style
Yu, H.-H.; Chengchuan KO, E.; Chang, C.-L.; Yuan, K.S.-P.; Wu, A.T.H.; Shan, Y.-S.; Wu, S.-Y. Fucoidan Inhibits Radiation-Induced Pneumonitis and Lung Fibrosis by Reducing Inflammatory Cytokine Expression in Lung Tissues. Mar. Drugs 2018, 16, 392.
Note that from the first issue of 2016, MDPI journals use article numbers instead of page numbers. See further details here.
Related Articles
Comments
[Return to top]