Open Access This article is
freely available
re-usable
Review
Antibiotics from Deep-Sea Microorganisms: Current Discoveries and Perspectives
1
Institute of Protein Biochemistry, National Research Council, I-80131 Naples, Italy
2
Laboratoire d'Ingénierie des Systèmes Biologiques et des Procédés, INSA, 31400 Toulouse, France
3
Stazione Zoologica "Anthon Dorn", Villa Comunale, I-80121 Naples, Italy
4
Department of Biology, University of Florence, Sesto Fiorentino, I-50019 Florence, Italy
5
Marine Biodiscovery Centre, Department of Chemistry, University of Aberdeen, Aberdeen, Scotland AB24 3UE, UK
†
These authors equally contributed to the work.

Received: 23 July 2018 / Accepted: 27 September 2018 / Published: 29 September 2018
Abstract
:
The increasing emergence of new forms of multidrug resistance among human pathogenic bacteria, coupled with the consequent increase of infectious diseases, urgently requires the discovery and development of novel antimicrobial drugs with new modes of action. Most of the antibiotics currently available on the market were obtained from terrestrial organisms or derived semisynthetically from fermentation products. The isolation of microorganisms from previously unexplored habitats may lead to the discovery of lead structures with antibiotic activity. The deep-sea environment is a unique habitat, and deep-sea microorganisms, because of their adaptation to this extreme environment, have the potential to produce novel secondary metabolites with potent biological activities. This review covers novel antibiotics isolated from deep-sea microorganisms. The chemical classes of the compounds, their bioactivities, and the sources of organisms are outlined. Furthermore, the authors report recent advances in techniques and strategies for the exploitation of deep-sea microorganisms.
Keywords:
antibiotics; deep-sea; marine microorganisms; extreme habitat; marine sediments
1. Introduction
The deep-sea is one of the less explored and extreme environments on Earth [
1
]. The characteristics of the deep-sea that make it an extreme environment include (i) pressure increases by one atmosphere (atm) for every 10-m increase in water depth, so pressure varies from 20 atm at the shelf-slope break to >1000 atm in the deepest parts of the trenches; (ii) temperature generally drops with increasing depth reaching values around 2 °C on the abyssal plain; (iii) the oxygen concentration in the bottom waters can be much less than that of the surrounding region, or even zero, depending on the balance between the rate at which oxygen is supplied (by exchange with the atmosphere and as a byproduct of photosynthesis by marine plants in the euphotic zone) and the rate at which it is consumed; and (iv) light intensity declines exponentially with depth in the water column because incident photons are absorbed or scattered, and total darkness prevails below 250 m deep [
2
]. The definition of deep-sea environment is still variable. Older designations describe the deep-sea as having a depth above 200 m, but more commonly, it is considered a depth ≤1000 m as standard. For many years, the difficulty to reach the bottom of the ocean has been the main issue for studying deep-sea life. Recently, thanks to the improved acoustic technology and the improved access by Remotely Operated Vehicles (ROV) and submersibles, deep ocean environments became more accessible, unveiling the presence of biological activity [
3
]. The access to deep-sea organic material combined with the application of culture-dependent and -independent methods demonstrated the presence of an unexpected microbial biodiversity [
4
,
5
,
6
]. Microorganisms inhabiting these harsh environments developed unique strategies to survive, especially to the high pressure. In fact, most of them are piezotolerant and piezophilic microorganisms [
7
], but the lack of appropriate instrumentation limits the cultivation of these strains. Their adaptation to biochemical and physiological processes is mirrored in modifications to gene regulation and primary/secondary metabolic pathways that result in the expression of novel natural products (NPs).
In the last 50 years, over 30,000 marine natural products (NPs) have been found and approximately 2% of those have been isolated from deep-sea organisms [
8
]. Among microbial NPs, antibiotics are one of the most interesting molecules, especially for biotechnological and pharmaceutical applications. The discovery of novel antibiotics is necessary to counteract the spread of multidrug-resistant (MDR) bacteria [
9
], and the exploitation of unexplored deep-sea microorganisms, such as bacteria and fungi, and their related products, could lead to the isolation of new antibiotics.
This review reports on novel bioactive compounds with antibiotic activity isolated from deep-sea bacteria and fungi. We also provide an update on the current state-of-the-art of deep-sea bioprospecting, discussing bottlenecks and current advances in the field, from sampling techniques and cultivation to metagenomic approaches.
2. Antimicrobial Compounds from Marine Microorganisms
2.1. Antimicrobial Compounds from Bacteria
2.2. Antimicrobial Compounds from Fungi
3. Improving the Biodiscovery Pipeline for Deep-Sea Antibiotics
As shown in
Section 2
, several antimicrobial compounds have been discovered thus far from deep-sea environments. Nonetheless, we are very likely scratching the surface of a wider reservoir of molecular scaffolds. The discovery of novel antibiotics is per se linked to the discovery of novel biological resources (microorganisms and/or their genetic material) but there are still many bottlenecks limiting the success of biodiscovery campaigns for antimicrobials, and more generally for bioactive compounds, from this extreme ecosystem(s). To improve the current situation, innovations aimed at realizing the exploitation of deep-sea microorganisms are essential. In this section, we deal with the major limitations for deep-sea microbial investigations and report current knowledge and innovations available to researchers.
3.1. Sampling Techniques
Marine sediments experience extremely high pressures, with approximately 58% of the seafloor's surface being at of 4000 m and above, with up to 40 MPa of pressure. One of the major limitations of deep-sea sampling for bacteria isolation is that most of microorganisms inhabiting these sites are obligate piezophiles, unable to grow at atmospheric pressure but especially sensitive to shifts in pressure [
55
,
56
,
57
,
58
]. Hence, pressurized transport and treatment of sub-sea floor sediments to the surface is a crucial step to preserve microbial viability and diversity. In 2002, the German Project OMEGA developed a Multiple Autoclave Corer (MAC) able to collect four 0.6 m cores maintaining in situ conditions (e.g., pressure and temperature) for geological and microbiological purposes. The cores, collected at −776 m in the North Pacific Ocean, were still pressurized after two months [
59
]. Further efforts developed a Dynamic Autoclave Piston Corer (DAPC) designed for a maximum water depth of 2000 m. The research group of Parkes and colleagues established a complete system, which includes a 'hydrate autoclave coring equipment' (HYACE), a pressurized core subsampling and extrusion system (PRESS), and pressurized chambers for prokaryotic enrichment and isolation (DeepIsoBUG) [
60
]. After the core is taken from the sea-floor and brought on the vessel without depressurization (up to 25 MPa), it passes to subcoring and slicing system to obtain a sample subcore (20 mm) that is further sliced. The slice is then transferred to a low-pressure vessel (max 25 MPa), which, through shaking, produces a slurry that can be used as an inoculum. The slurry is then transferred to high-pressure culture vessels at different pressures (up to 100 Mpa) containing enrichment media. The isolation chamber has 12 agar plates attached to a motor-driven chain, to select individual plates [
60
]. Thus, sediments never experience depressurization, helping to maintain the integrity and the value of the samples. The most recent development in deep-sea sampling involves utilization of robots, which is defined as "Soft robotic grippers" [
61
]. Galloway et al. have built a remotely operated vehicle (ROV) equipped with a robotic-hand able to delicately handle marine microorganisms. In their pilot study, the Deep Reef ROV and the soft robotic grippers were brought to the Gulf of Eilat in the northern Red Sea. The device was employed at depths between 100 and 170 m and proved to be able to grab soft specimen without damage. Despite its current limitations (it can operate at limited depths and only with macroorganisms), this device could significantly help in the study and exploration of the deep-sea. Future developments, as foreseen by Galloway, can include technical modification to add complete robotic-hands and perform experiments underwater, and the possibility to add RNA preservers (e.g., RNAlater) to facilitate transcriptomic experiments. This can aid the research on marine symbionts, known producers of metabolites, and help in the discovery of novel genes involved in the production of antimicrobial compounds.
3.2. Isolation and Cultivation Techniques
Cultivation of hyperthermophilic and piezophilic bacteria inhabiting deep-sea hydrothermal vents proved to be even more challenging, as predominant strains are often chemolithoautotrophs.
4. Conclusions
Technologies developed over the last ten years have enabled a focus on microbial communities for the search for novel natural bioactive compounds from deep-sea habitats. Recent reports show that deep-sea microorganism-derived natural compounds may provide a new source for the development of drugs against cancer, infectious diseases, and other human ailments.
The first step for the discovery of novel compounds should be the isolation of novel strains, which can be studied by polyphasic taxonomy. For the initial isolation, low nutrient media can be used to mimic the low nutrient content of deep-sea environments. However, it is quite possible that not all the biosynthetic gene clusters (BGC) will be expressed under laboratory conditions. Therefore, one of the most important research areas is the activation of cryptic gene clusters. Dereplication employing advanced techniques such as MS and NMR [
86
] improved the speed and reliability of natural product based drug discovery program. Next-generation DNA sequencing (NGS) [
79
] and advanced bioinformatics tools, including AntiSMASH, BAGEL, SBSPKS, and SMURF, allow the discovery and analysis of BGCs quickly. This approach, combined with new heterologous expression and pathway engineering methods, would pave a new way for the production of novel metabolites and eventually drug leads. Given the ongoing interest in deep-sea-derived natural products, it is also important to study the mechanism of actions of novel compounds discovered. Identification and manipulation of deep-sea gene clusters will make it possible for combinatorial biosynthesis to expand structural diversity.
Increased interests in natural product drug discovery over the last decade can be accelerated via academic and biotechnology industry collaboration. Commercialization of deep-sea-derived natural products and derivatives is in its infancy but some are approaching clinical trials. Therefore, it is imperative to catalogue deep-sea habitat microorganisms for the development of new drug leads for future drugs to treat human diseases.
Author Contributions
E.T., F.P.E., P.T., G.G.J., R.F., and M.J.: Writing-Review & Editing the review article; D.d.P.: Final supervision.
Funding
This research was funded by the MarPipe project: Improving the flow in the pipeline of the next generation of marine biodiscovery scientists, funded through the European Commission H2020-MSCA-ITN-ETN scheme, GA721421.
Conflicts of Interest
The authors declare no conflict of interest.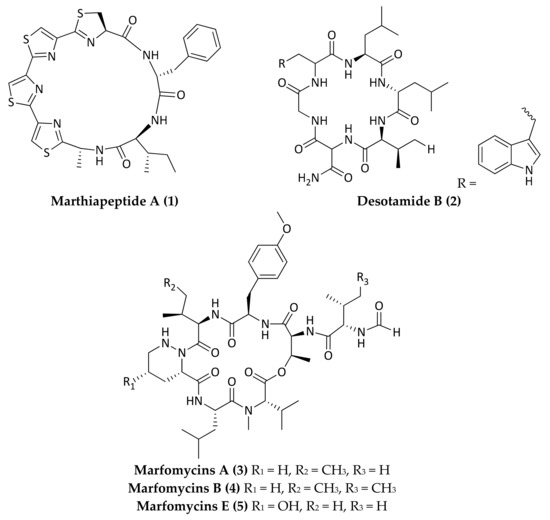 Figure 1.
Molecular structure of new cyclic peptides with antimicrobial activity isolated from deep-sea bacteria. Compound (
1
), marthiapeptide A, is a polythiazole cyclic peptide isolated from
M. thermotolerans
SCSIO 00652. Compound (
2
), desotamide B, is a cyclic hexapeptide isolated from
Streptomyces scopuliridis
SCSIO ZJ46. Compounds (
3
–
5
), marfomycins A, B, and E, are cyclic hepta-depsipeptides isolated from
Streptomyces drozdowiczii
SCSIO 10141.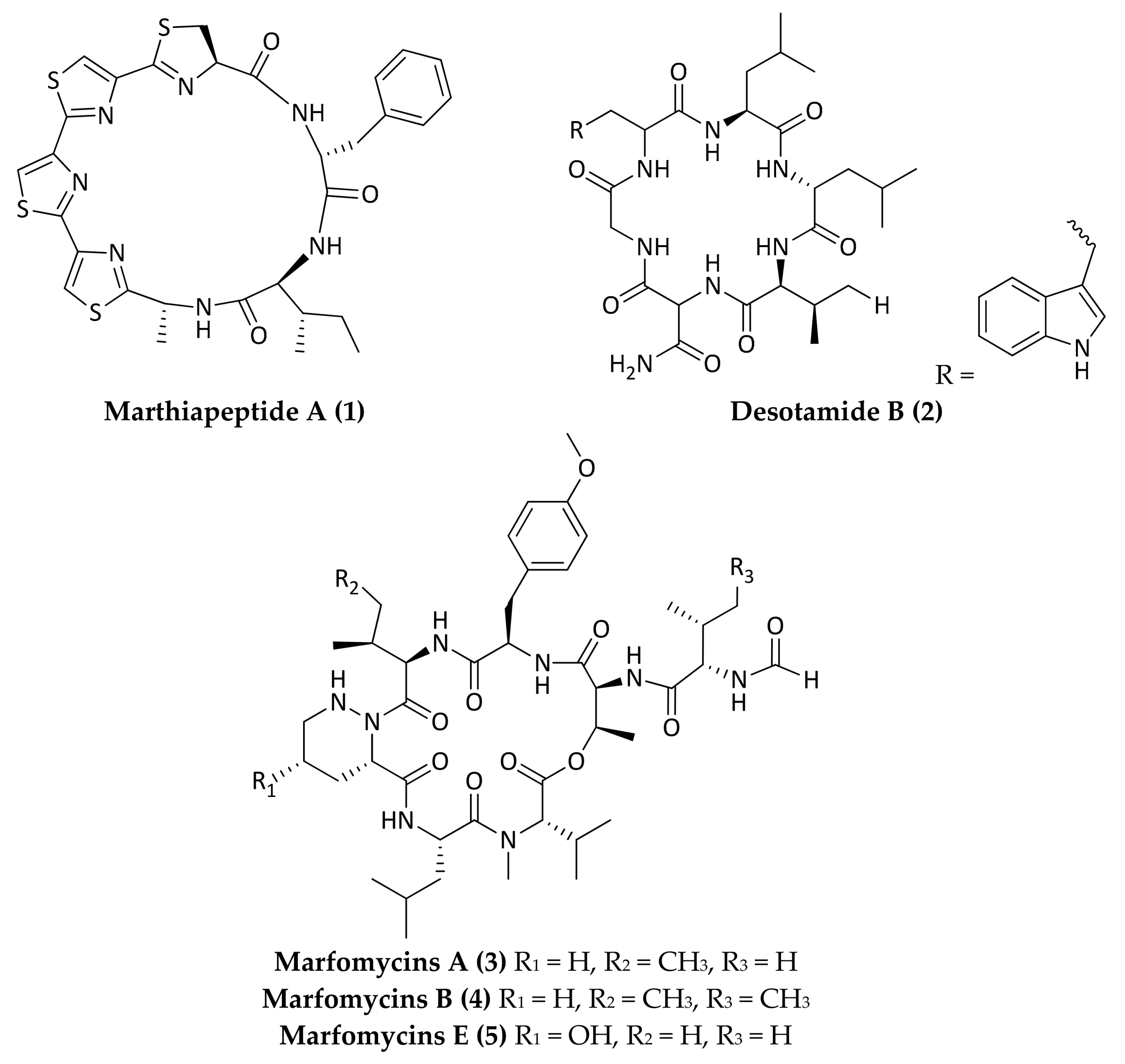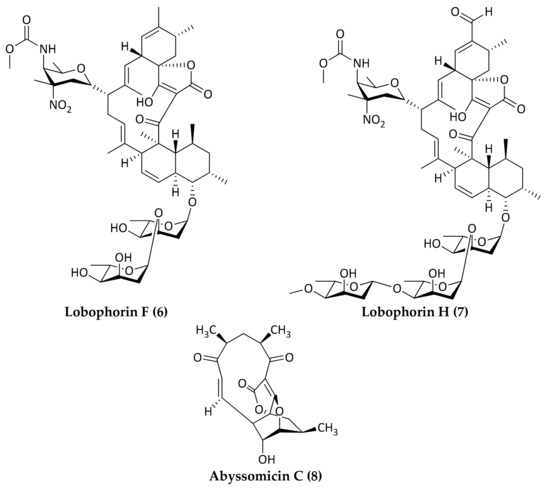 Figure 2.
Structures of new spirotetronate polyketides with antimicrobial activities isolated from deep-sea bacteria. Lobophorin F (
6
) was isolated from
Streptomyces
SCSIO 01127. Lobophorin H (
7
) was isolated from
Streptomyces
sp. 12A35
S
; Abyssomicin C (
8
) was isolated from
Verrucosispora
strain AB 18-032.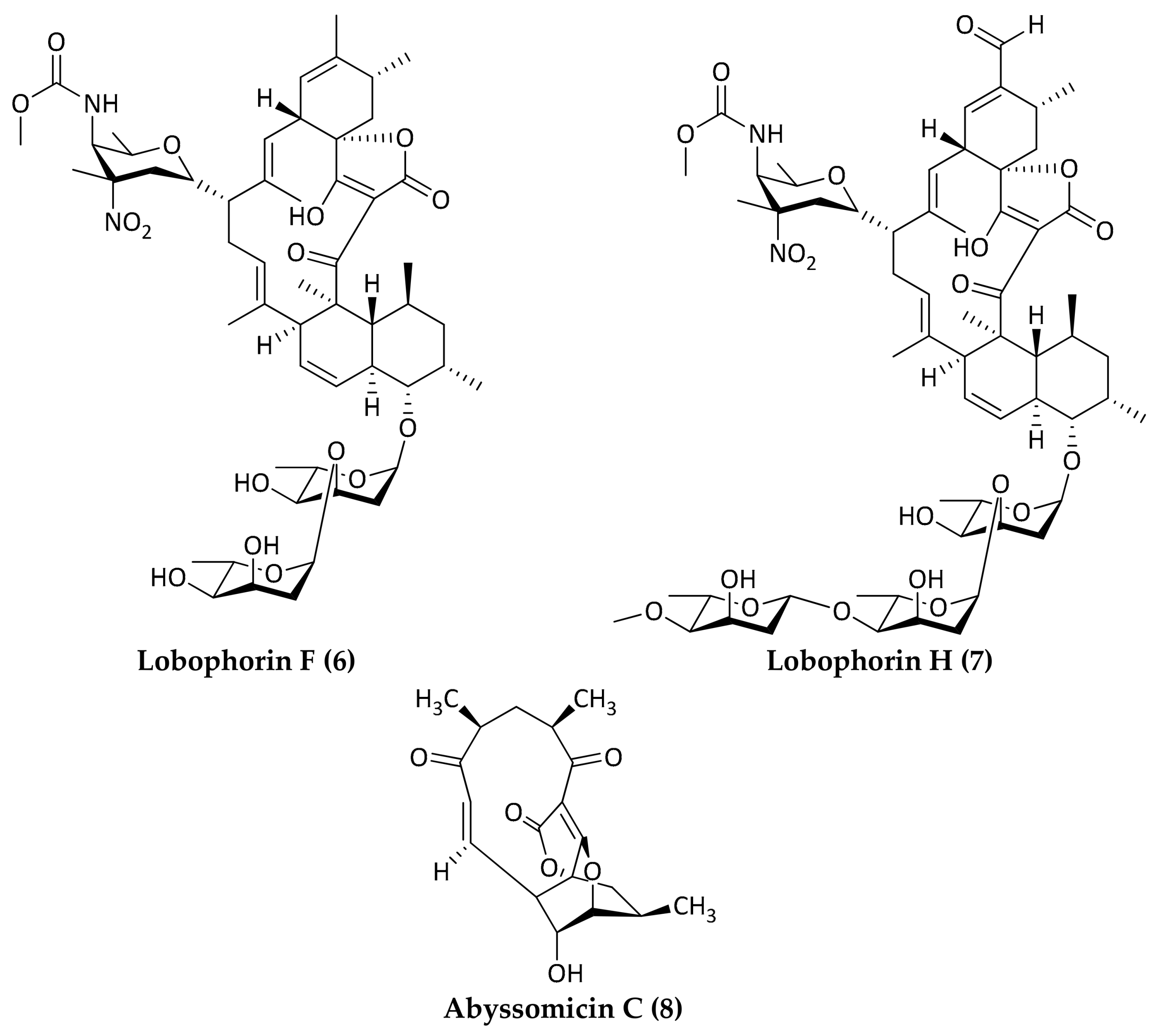 Figure 3.
Structures of Marfuraquinocins A (
9
), C (
10
), and D (
11
) isolated from
Streptomyces niveus
SCSIO 3406.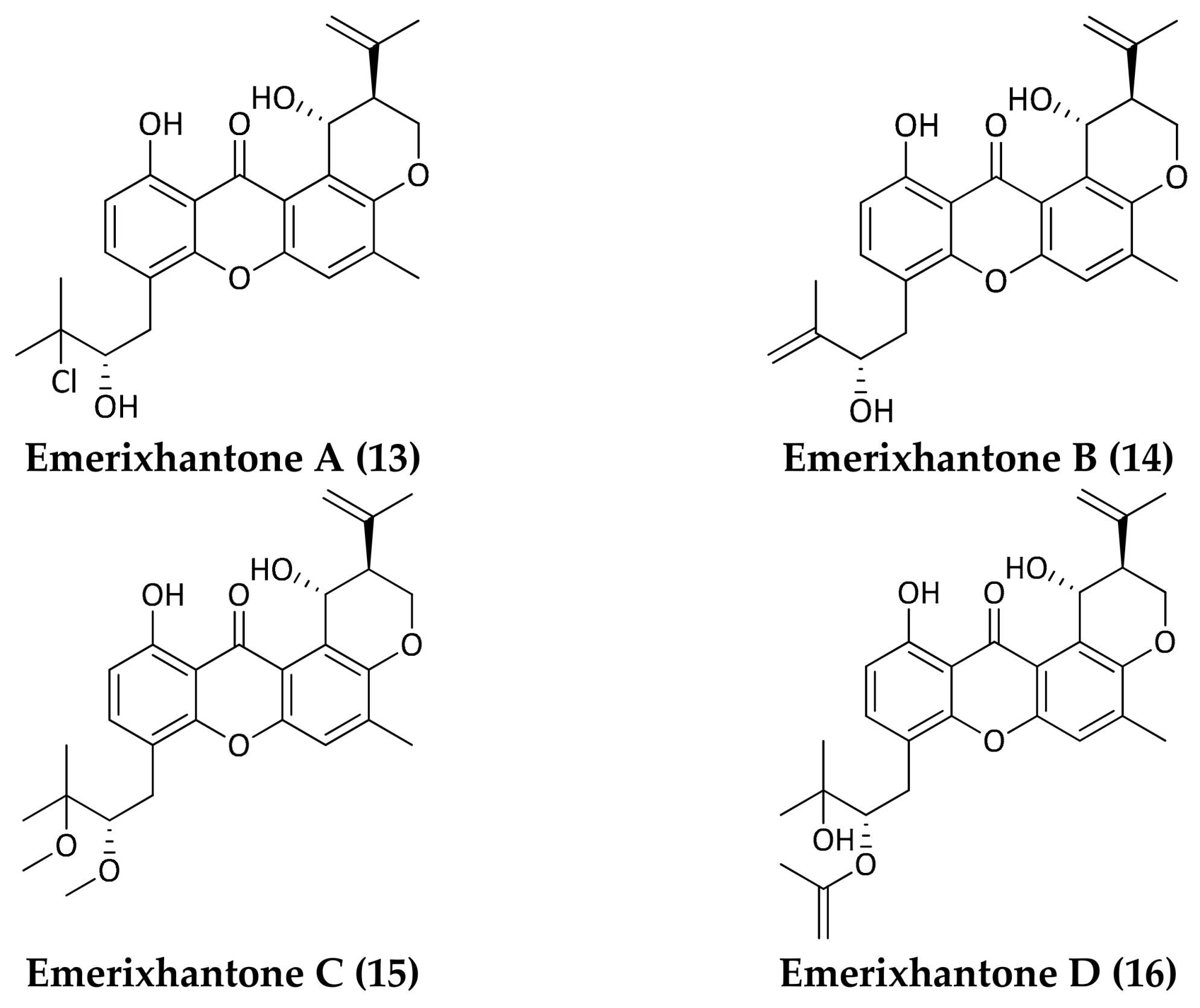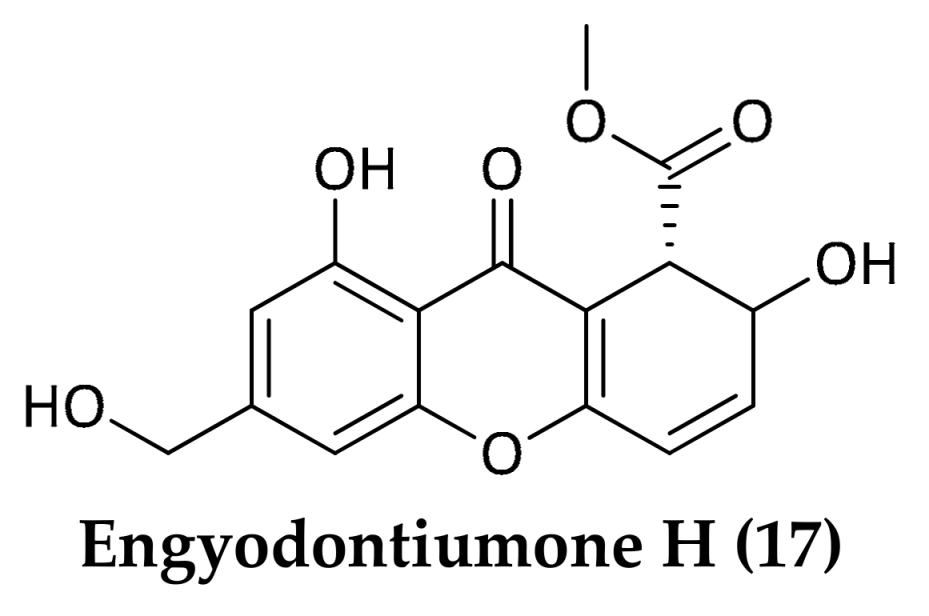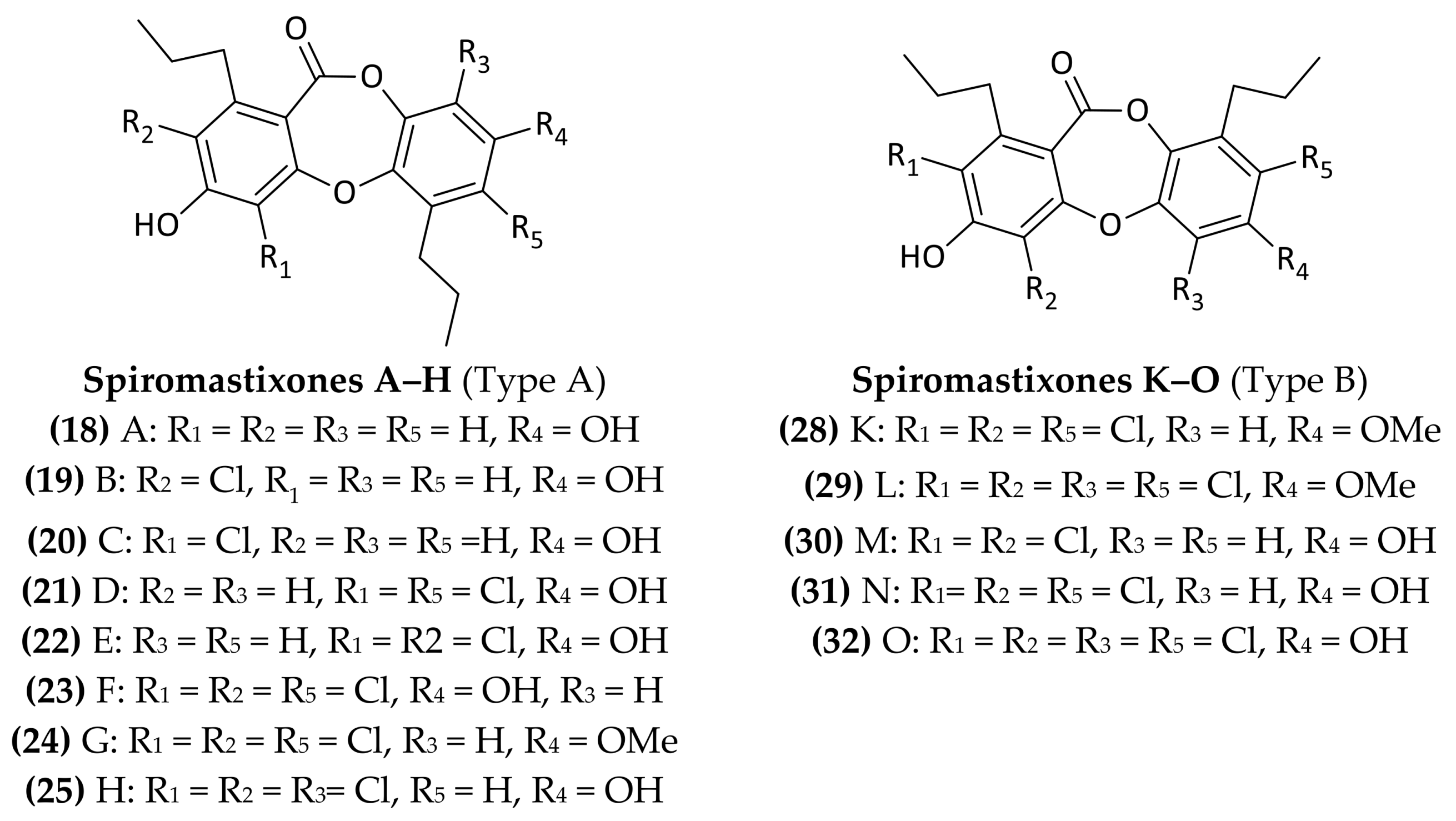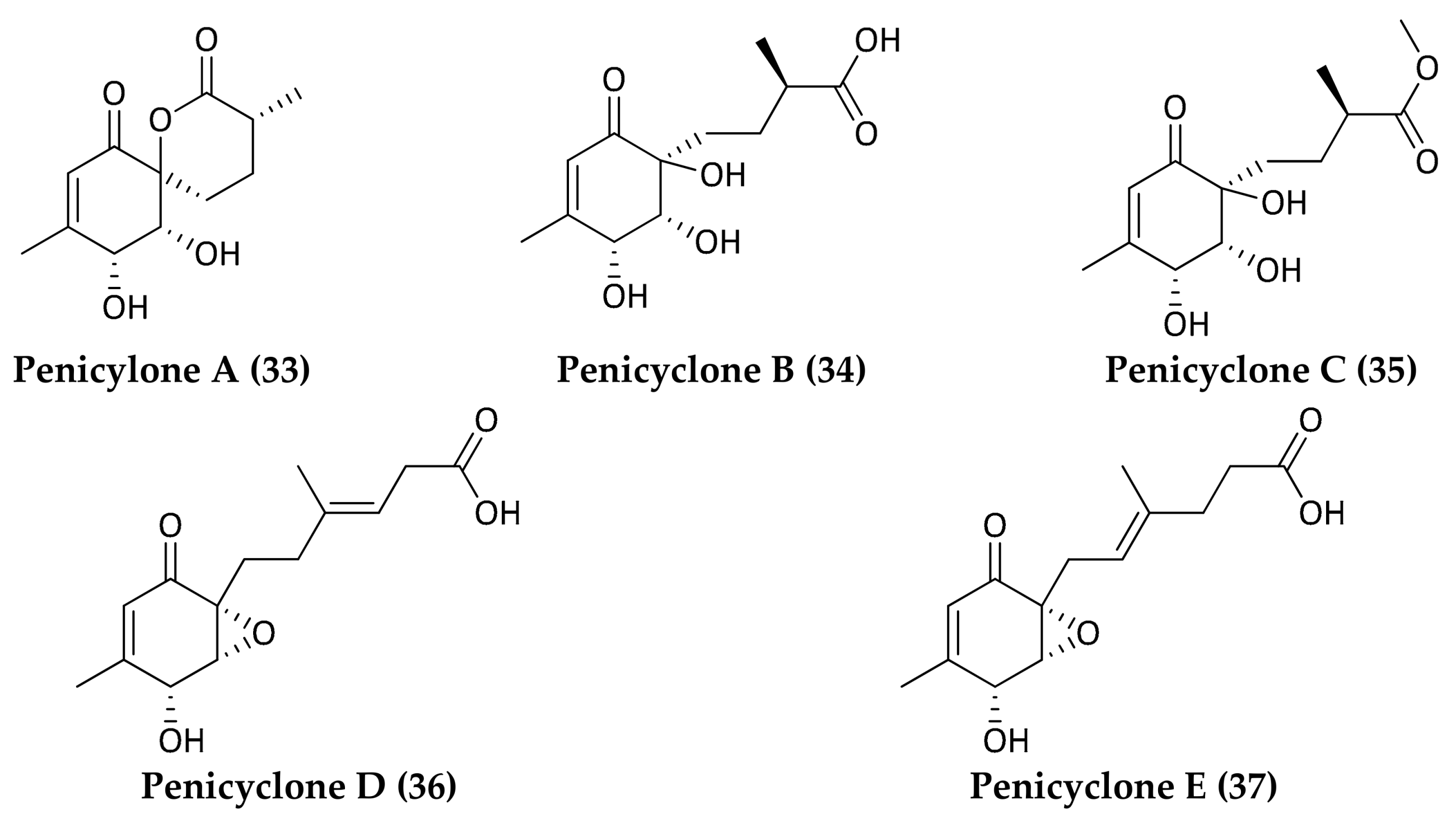 Table 1. A schematic summary of the new compounds with antimicrobial activity isolated from deep-sea derived microorganisms. Details are reported in the text.
Organism
Depth
Geographic Location
Compound
Molecular Class
Antimicrobial Activity Against
Ref.
Bacteria

Marinactinospora thermotolerans

(SCSIO 00652)
3865 m
South China Sea, People's Republic of China
Marthiapeptide A
(1)
Cyclic peptide

M. luteus; S. aureus; B. subtilis; B. thuringiensis

Zhou et al., 2012

Streptomyces scopuliridis

(SCSIO ZJ46)
3536 m
South China Sea, People's Republic of China
Desotamide B
(2)
Cyclic peptide

S. aureus

;

S. pneumoniae;

MRSE shhs-E1
Song et al., 2014

Streptomyces drozdowiczii

(SCSIO 10141)
1396 m
South China Sea, People's Republic of China
Marfomycins A, B, E
(3,4,5)
Cyclic peptide

M. luteus

Zhou et al., 2014

Streptomyces

sp. (SCSIO 01127)
1350 m
South China Sea, People's Republic of China
Lobophorin F
(6)
Spirotetronate poliketides

S. aureus; E. faecalis

Niu et al., 2011

Streptomyces

sp. (12A35)
2134 m
South China Sea, People's Republic of China
Lobophorin H
(7)
Spirotetronate poliketides

B. subtilis

Pan et al., 2013

Verrucosispora

sp. (AB 18-032)
289 m
Japanese Sea
Abyssomicin C
(8)
Spirotetronate poliketides
MRSA; vancomycin-resistant

S. aureus

Bister et al., 2004

Streptomyces niveus

(SCSIO 3406)
3536 m
South China Sea, People's Republic of China
Marfuraquinocins A, C, D
(9,10,11)
Sesquiterpene derivative

S.aureus;

MRSE shhs-E1
Song et al., 2013

Streptomyces

sp. (NTK 937)
3814 m
Saharan debris flow near the Canary Islands
Caboxamycin
(12)
Alkaloid

B. subtilis; S. lentus; S. epidermidis

Hohmann et al., 2009
Fungi

Emericella

sp. (SCSIO 05240)
3258 m
South China Sea, People's Republic of China
Emerixanthones A, B, C, D
(13,14,15,16)
Xanthone-derivative

E. coli

;

K. pneumoniae; S. aureus; E. faecalis; A. baumannii; A. hydrophila

Fredimoses et al., 2014

Engyodontium album (DFFSCS021)

3739 m
South China Sea, People's Republic of China
Engyodontiumone H
(17)
Xanthone-derivative

E. coli; B. subtilis

Yao et al., 2014

Spiromastix

sp.
2869 m
South Atlantic Ocean
Spiromastixones A, B, C, D, E, F, G, H, K, L, M, N, O
(18,19,20,21,22,23,24,25,26,27,28,29,30,31,32)
Depsidone analogs

S. aureus; B. thuringiensis

;

B. subtilis;

MRSA; MRSE;

E. faecalis; E. faecium

Niu et al., 2014

Penicillium

sp. (F23-2)
5080 m
Chinese Sea, People's Republic of China
Penicyclones A, B, C, D, E, F
(33,34,35,36,37)
Ambuic acid analogs

S.aureus

Guo et al., 2015

© 2018 by the authors. Licensee MDPI, Basel, Switzerland. This article is an open access article distributed under the terms and conditions of the Creative Commons Attribution (CC BY) license (http://creativecommons.org/licenses/by/4.0/).