Marine-Derived 2-Aminoimidazolone Alkaloids. Leucettamine B-Related Polyandrocarpamines Inhibit Mammalian and Protozoan DYRK & CLK Kinases
1
ManRos Therapeutics, Perharidy Research Center, 29680 Roscoff, Bretagne, France
2
Station Biologique de Roscoff, CNRS, 'Protein Phosphorylation and Human Disease' Group, Place G. Teissier, 29680 Roscoff, Bretagne, France
3
Griffith Institute for Drug Discovery, Griffith University, Brisbane, QLD 4111, Australia
4
Universidade Federal do Rio de Janeiro, Instituto de Biologia—Departamento de Zoologia, Av. Carlos Chagas Filho 373-CCS-Bloco A-Sala A0-100, Ilha do Fundão, 21941-902 Rio de Janeiro, Brasil
5
Molécules de Communication et Adaptation des Micro-Organismes, UMR 7245 CNRS, Muséum National d' Histoire Naturelle, 57 rue Cuvier (C.P. 54), 75005 Paris, France
6
Institut für Pharmazeutische Biologie und Biotechnologie, Universitätsstr. 1, 40225 Düsseldorf, Germany
7
Université de Rennes 1, Institut des Sciences Chimiques de Rennes, ISCR UMR CNRS 6226, Groupe Chimie Organique et Interfaces (CORINT), Bât. 10A, Campus de Beaulieu, Avenue du Général Leclerc, CS 74205, 35042 Rennes CEDEX, Bretagne, France
*
Authors to whom correspondence should be addressed.
Received: 30 August 2017 / Revised: 28 September 2017 / Accepted: 12 October 2017 / Published: 17 October 2017
Abstract
A large diversity of 2-aminoimidazolone alkaloids is produced by various marine invertebrates, especially by the marine Calcareous sponges
Leucetta
and
Clathrina
. The phylogeny of these sponges and the wide scope of 2-aminoimidazolone alkaloids they produce are reviewed in this article. The origin (invertebrate cells, associated microorganisms, or filtered plankton), physiological functions, and natural molecular targets of these alkaloids are largely unknown. Following the identification of leucettamine B as an inhibitor of selected protein kinases, we synthesized a family of analogues, collectively named leucettines, as potent inhibitors of DYRKs (dual-specificity, tyrosine phosphorylation regulated kinases) and CLKs (cdc2-like kinases) and potential pharmacological leads for the treatment of several diseases, including Alzheimer's disease and Down syndrome. We assembled a small library of marine sponge- and ascidian-derived 2-aminoimidazolone alkaloids, along with several synthetic analogues, and tested them on a panel of mammalian and protozoan kinases. Polyandrocarpamines A and B were found to be potent and selective inhibitors of DYRKs and CLKs. They inhibited cyclin D1 phosphorylation on a DYRK1A phosphosite in cultured cells. 2-Aminoimidazolones thus represent a promising chemical scaffold for the design of potential therapeutic drug candidates acting as specific inhibitors of disease-relevant kinases, and possibly other disease-relevant targets.
View Full-Text
►

▼

Figures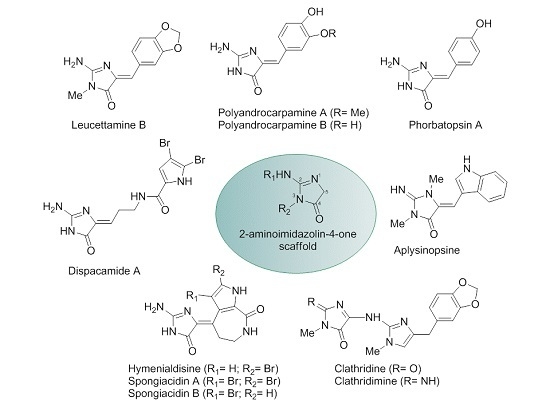 Graphical abstract
This is an open access article distributed under the
Creative Commons Attribution License
which permits unrestricted use, distribution, and reproduction in any medium, provided the original work is properly cited (CC BY 4.0).

Share & Cite This Article
MDPI and ACS Style
Loaëc, N.; Attanasio, E.; Villiers, B.; Durieu, E.; Tahtouh, T.; Cam, M.; Davis, R.A.; Alencar, A.; Roué, M.; Bourguet-Kondracki, M.-L.; Proksch, P.; Limanton, E.; Guiheneuf, S.; Carreaux, F.; Bazureau, J.-P.; Klautau, M.; Meijer, L. Marine-Derived 2-Aminoimidazolone Alkaloids. Leucettamine B-Related Polyandrocarpamines Inhibit Mammalian and Protozoan DYRK & CLK Kinases. Mar. Drugs 2017, 15, 316.
Note that from the first issue of 2016, MDPI journals use article numbers instead of page numbers. See further details here.
Related Articles
Comments
[Return to top]