Stomach Chitinase from Japanese Sardine
Sardinops melanostictus

: Purification, Characterization, and Molecular Cloning of Chitinase Isozymes with a Long Linker

Department of Marine Science and Resources, College of Bioresource Sciences, Nihon University, Fujisawa, Kanagawa 252-0880, Japan

*

Author to whom correspondence should be addressed.

Academic Editor: Takao Ojima

Received: 15 December 2015 / Revised: 9 January 2016 / Accepted: 13 January 2016 / Published: 20 January 2016
Abstract
Fish express two different chitinases, acidic fish chitinase-1 (AFCase-1) and acidic fish chitinase-2 (AFCase-2), in the stomach. AFCase-1 and AFCase-2 have different degradation patterns, as fish efficiently degrade chitin ingested as food. For a comparison with the enzymatic properties and the primary structures of chitinase isozymes obtained previously from the stomach of demersal fish, in this study, we purified chitinase isozymes from the stomach of Japanese sardine
Sardinops melanostictus
, a surface fish that feeds on plankton, characterized the properties of these isozymes, and cloned the cDNAs encoding chitinases. We also predicted 3D structure models using the primary structures of
S. melanostictus
stomach chitinases. Two chitinase isozymes, SmeChiA (45 kDa) and SmeChiB (56 kDa), were purified from the stomach of
S. melanostictus
. Moreover, two cDNAs,
SmeChi-1
encoding SmeChiA, and
SmeChi-2
encoding SmeChiB were cloned. The linker regions of the deduced amino acid sequences of
SmeChi-1
and
SmeChi-2
(SmeChi-1 and SmeChi-2) are the longest among the fish stomach chitinases. In the cleavage pattern groups toward short substrates and the phylogenetic tree analysis, SmeChi-1 and SmeChi-2 were classified into AFCase-1 and AFCase-2, respectively. SmeChi-1 and SmeChi-2 had catalytic domains that consisted of a TIM-barrel (β/α)
8
–fold structure and a deep substrate-binding cleft. This is the first study showing the 3D structure models of fish stomach chitinases.
View Full-Text
►

▼

Figures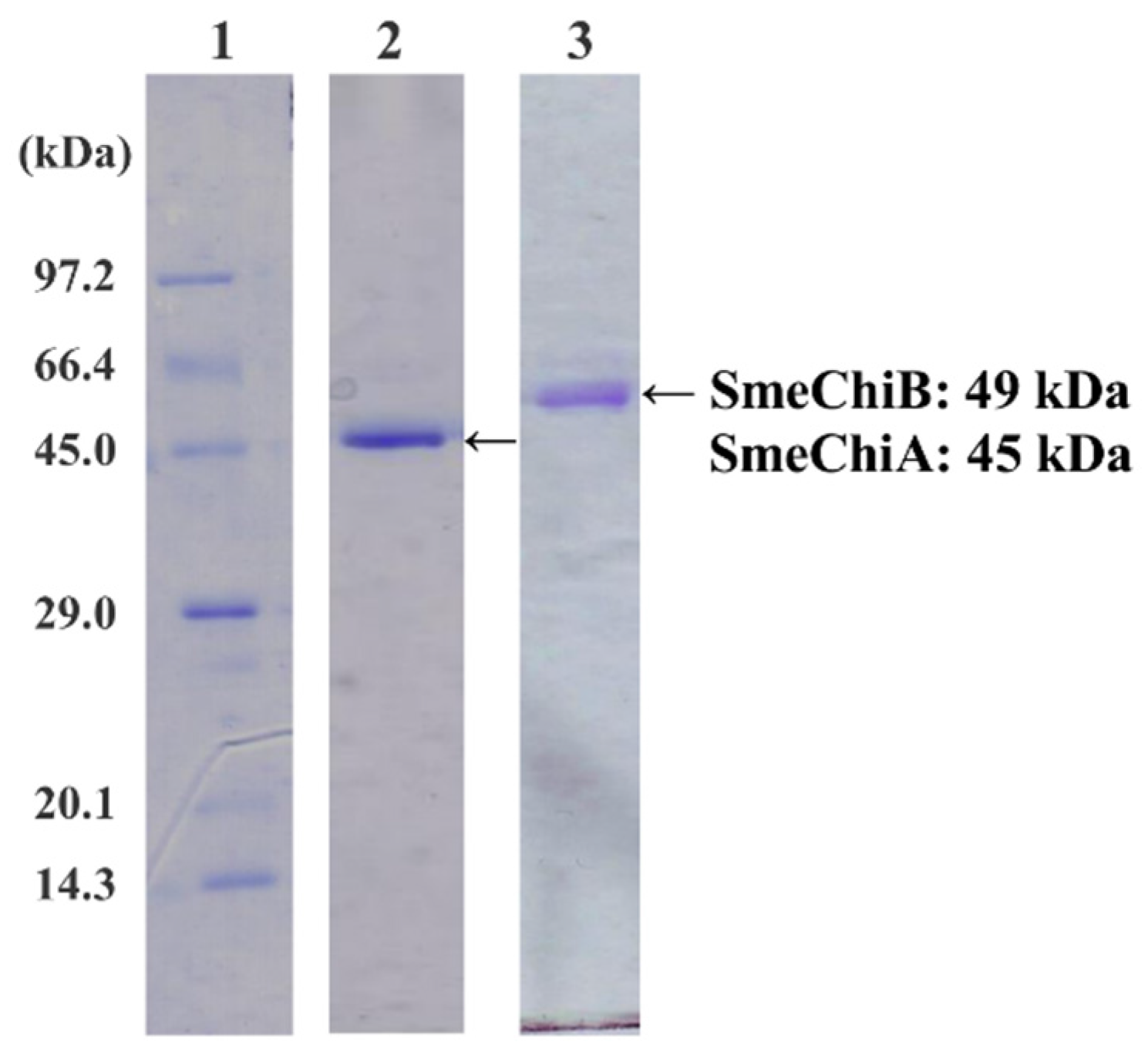 Figure 1
This is an open access article distributed under the
Creative Commons Attribution License
which permits unrestricted use, distribution, and reproduction in any medium, provided the original work is properly cited (CC BY 4.0).

Share & Cite This Article
MDPI and ACS Style
Kawashima, S.; Ikehata, H.; Tada, C.; Ogino, T.; Kakizaki, H.; Ikeda, M.; Fukushima, H.; Matsumiya, M. Stomach Chitinase from Japanese Sardine Sardinops melanostictus: Purification, Characterization, and Molecular Cloning of Chitinase Isozymes with a Long Linker. Mar. Drugs 2016, 14, 22.
Note that from the first issue of 2016, MDPI journals use article numbers instead of page numbers. See further details here.
Related Articles
Comments
[Return to top]