Angiotensin I Converting Enzyme Inhibitory Peptides Derived from Phycobiliproteins of Dulse
Palmaria palmata
1
Laboratory of Marine Chemical Resource Development, Graduate School of Fisheries Sciences, Hokkaido University, Hakodate, Hokkaido 041-8611, Japan
2
Laboratory of Humans and the Ocean, Faculty of Fisheries Sciences, Hokkaido University, Hakodate, Hokkaido 041-8611, Japan
3
Department of Research and Development, Hokkaido Industrial Technology Center, Kikyo 379, Hakodate, Hokkaido 041-0801, Japan
4
Laboratory of Marine Chemical Resource Development, Faculty of Fisheries Sciences, Hokkaido University, Hakodate, Hokkaido 041-8611, Japan
*
Author to whom correspondence should be addressed.
Academic Editor: Takao Ojima
Received: 25 October 2015 / Revised: 14 January 2016 / Accepted: 25 January 2016 / Published: 4 February 2016
Abstract
We examined the inhibitory activity of angiotensin I converting enzyme (ACE) in protein hydrolysates from dulse,
Palmaria palmata
. The proteins extracted from dulse were mainly composed of phycoerythrin (PE) followed by phycocyanin (PC) and allophycocyanin (APC). The dulse proteins showed slight ACE inhibitory activity, whereas the inhibitory activity was extremely enhanced by thermolysin hydrolysis. The ACE inhibitory activity of hydrolysates was hardly affected by additional pepsin, trypsin and chymotrypsin treatments. Nine ACE inhibitory peptides (YRD, AGGEY, VYRT, VDHY, IKGHY, LKNPG, LDY, LRY, FEQDWAS) were isolated from the hydrolysates by reversed-phase high-performance liquid chromatography (HPLC), and it was demonstrated that the synthetic peptide LRY (IC
50
: 0.044 μmol) has remarkably high ACE inhibitory activity. Then, we investigated the structural properties of dulse phycobiliproteins to discuss the origin of dulse ACE inhibitory peptides. Each dulse phycobiliprotein possesses α-subunit (Mw: 17,477–17,638) and β-subunit (Mw: 17,455–18,407). The sequences of YRD, AGGEY, VYRT, VDHY, LKNPG and LDY were detected in the primary structure of PE α-subunit, and the LDY also exists in the APC α- and β-subunits. In addition, the LRY sequence was found in the β-subunits of PE, PC and APC. From these results, it was suggested that the dulse ACE inhibitory peptides were derived from phycobiliproteins, especially PE. To make sure the deduction, we carried out additional experiment by using recombinant PE. We expressed the recombinant α- and β-subunits of PE (rPEα and rPEβ, respectively), and then prepared their peptides by thermolysin hydrolysis. As a result, these peptides showed high ACE inhibitory activities (rPEα: 94.4%; rPEβ: 87.0%). Therefore, we concluded that the original proteins of dulse ACE inhibitory peptides were phycobiliproteins.
View Full-Text
►

▼

Figures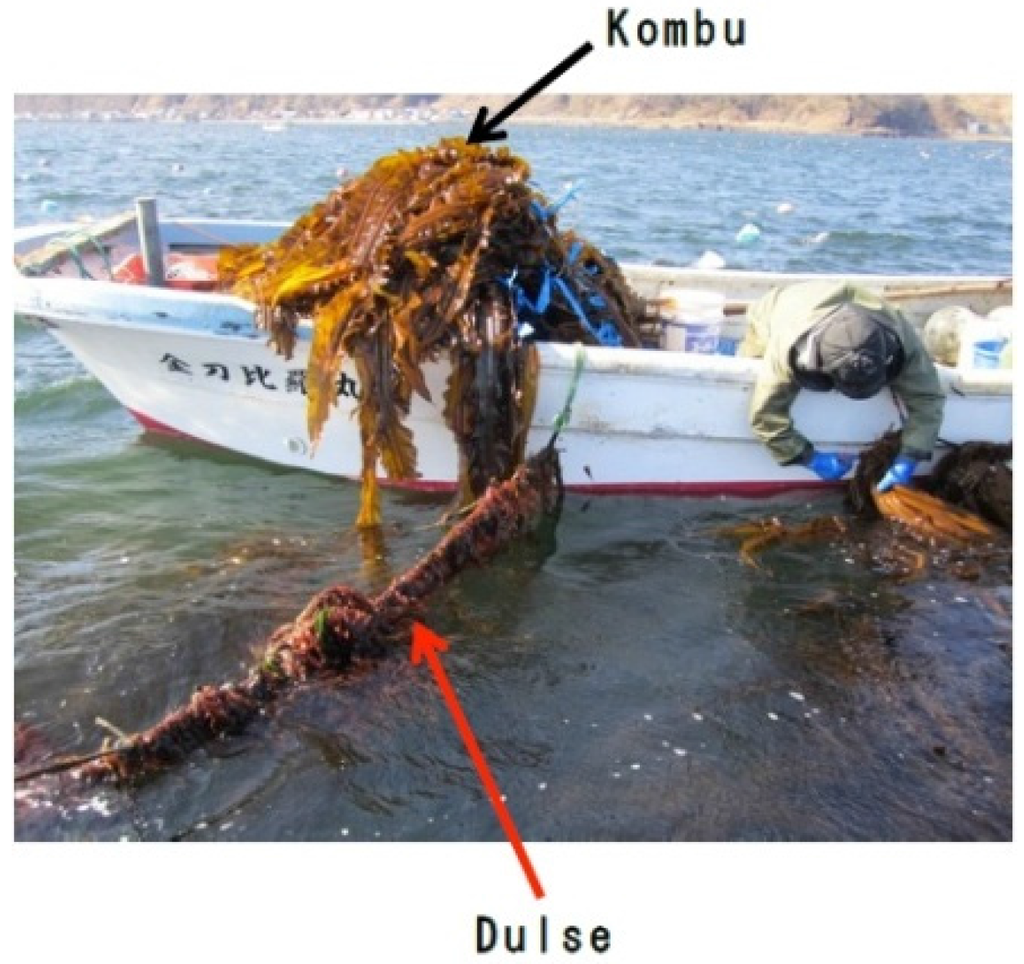 Figure 1
This is an open access article distributed under the
Creative Commons Attribution License
which permits unrestricted use, distribution, and reproduction in any medium, provided the original work is properly cited (CC BY 4.0).

Share & Cite This Article
MDPI and ACS Style
Furuta, T.; Miyabe, Y.; Yasui, H.; Kinoshita, Y.; Kishimura, H. Angiotensin I Converting Enzyme Inhibitory Peptides Derived from Phycobiliproteins of Dulse Palmaria palmata. Mar. Drugs 2016, 14, 32.
Note that from the first issue of 2016, MDPI journals use article numbers instead of page numbers. See further details here.
Related Articles
Comments
[Return to top]