Open Access This article is
freely available
re-usable
Article
ZeOncoTest: Refining and Automating the Zebrafish Xenograft Model for Drug Discovery in Cancer
ZeClinics SL, IGTP Edifici Muntanya (c/de Can Ruti, Camí de les Escoles s/n; 08916 BDN, Lab P0-8), 08916 Barcelona, Spain
*
Authors to whom correspondence should be addressed.
Received: 28 September 2019 / Accepted: 23 December 2019 / Published: 24 December 2019
Abstract
:
The xenograft of human cancer cells in model animals is a powerful tool for understanding tumor progression and metastatic potential. Mice represent a validated host, but their use is limited by the elevated experimental costs and low throughput. To overcome these restrictions, zebrafish larvae might represent a valuable alternative. Their small size and transparency allow the tracking of transplanted cells. Therefore, tumor growth and early steps of metastasis, which are difficult to evaluate in mice, can be addressed. In spite of its advantages, the use of this model has been hindered by lack of experimental homogeneity and validation. Considering these facts, the aim of our work was to standardize, automate, and validate a zebrafish larvae xenograft assay with increased translatability and higher drug screening throughput. The ZeOncoTest reliability is based on the optimization of different experimental parameters, such as cell labeling, injection site, automated individual sample image acquisition, and analysis. This workflow implementation finally allows a higher precision and experimental throughput increase, when compared to previous reports. The approach was validated with the breast cancer cell line MDA-MB-231, the colorectal cancer cells HCT116, and the prostate cancer cells PC3; and known drugs, respectively RKI-1447, Docetaxel, and Mitoxantrone. The results recapitulate growth and invasion for all tested tumor cells, along with expected efficacy of the compounds. Finally, the methodology has proven useful for understanding specific drugs mode of action. The insights gained bring a step further for zebrafish larvae xenografts to enter the regulated preclinical drug discovery path.
Keywords:
zebrafish larvae; cancer; xenograft; drug discovery; automation; throughput
1. Introduction
Cancer is the second leading cause of death worldwide, accounting for 9.6 million estimated deceases in 2018 [
1
]. It is also the primary indication for pharmaceutical investment and medical care expenditure. During the last few decades, a better understanding of tumor biology has led to the development of therapies that increased the survival rate for multiple cancer types [
2
]. However, most common treatments consist of systemic administration of chemotherapeutics that target proliferating cells in neoplasms, but also in normal tissues with high regeneration capacity, causing severe side effects. Moreover, chemotherapies do not affect quiescent cells (i.e., cancer stem cells; CSCs), which may play an important role in drug resistance, relapse, and metastatic dissemination [
3
]. Finally, some types of cancer remain deadly because they are not responsive to available treatments. All of these drawbacks reflect the need for discovering more precise, safe, and efficacious therapies [
1
].
The drug discovery process in oncology is traditionally initiated by the use of fast in vitro systems for high throughput screenings. However, cell cultures are oversimplified tools due to the absence of tumor heterogeneity, microenvironment components, and anatomical structures for proper growth and metastatic potential evaluation [
4
]. In order to validate, and filter out in vitro results, drugs are tested in more biologically relevant in vivo models before entering clinical phases. Mouse xenografts of human cancer cells have become the prevailing translational tool in preclinical studies [
5
]. The use of rodents is recommended based on the high resemblance of transplanted tumors to the original ones. In addition, chick chorioallantonic membrane xenografts might be useful, although poorly validated, for studying metastatic events [
6
]. Despite their translational value, the high cost and low throughput of these models hamper their use for screening large numbers of possible therapies. Moreover, individual cancer genotype is emerging as a crucial factor leading therapeutic decisions. Thus, patient derived xenografts (PDXs) are potentially powerful tools, but the high amount of tissue needed for transplants in rodents is a major issue [
7
]. These flaws in the current preclinical models might partially explain the high costs and elevated drug attrition rate (95%) during the progression of anti-cancer treatments through the subsequent clinical phases [
8
,
9
]. Therefore, the use of innovative screening systems, including alternative animal models, could reduce costs and time and allow for assessing more compounds. This would indeed increase the chances of success in clinical trials and, hence, reduce drug attrition rates.
Zebrafish is an established animal model for academic research, but a more recent addition in the pharmaceutical drug development toolbox. However, its use is expanding as a fast and economical alternative to rodents for disease understanding, target validation, and drug discovery in multiple indications [
10
,
11
,
12
,
13
,
14
]. In regard to oncology, zebrafish displays a variety of features of a great translational value. First, it develops tumors if exposed to carcinogenic substances [
15
,
16
,
17
]. Second, oncogenes, tumor suppressors, and the main molecular pathways involved in cancer progression are highly conserved between zebrafish and humans [
18
]. In fact, embryos can be genetically manipulated for understanding the role of specific genes in diseases and, in particular, in tumor development [
19
,
20
,
21
]. Third, the immature larvae immune system allows transplantation and survival of human cancer cells with no need of immunosuppression [
22
,
23
]. In addition, it is important to note that all paracrine signaling pathways important in cancer development—WNT, EGF, FGF, VEGF, etc.—are well conserved and known to be involved in cancer progression in zebrafish [
13
]. The same occurs with the endocrine system, where androgen, estrogen, and thyroid systems are mature from 48 hpf, as implied by their response to canonical ligands and chemical disruptors [
24
]. Finally, larvae optical transparency and small size grant in vivo tracking of xenotransplanted fluorescent cells through standard and confocal imaging for measuring tumor growth and detecting early metastatic events, such as intravasation and extravasation, which are difficult to uncover in murine xenografts [
25
]. Based on these translational advantages, human tumor cells' xenograft in zebrafish larvae have been implemented as a potentially useful tool for drug discovery [
26
,
27
,
28
]. The method conceivably allows for comparing cancer development with or without candidate therapies in just a few days, at a lower cost and higher throughput than equivalent murine experimental assays. Moreover, the low amount of material needed for the transplants makes the use of zebrafish larvae possibly amenable for PDXs and precision medicine [
29
,
30
]. Despite these benefits, previous reports have displayed contrasting results due to technical differences, mostly in terms of incubation times, image acquisition and analysis methods, cell labeling and site of injection. The lack of experimental standardization and validation might have led to a lower-than-expected exploitation of this screening tool in a pharma industry setting.
In order to increase drug screening throughput, while providing robust biological translatability, it has been established an optimized and standardized xenograft system in zebrafish larvae, the ZeOncoTest. To this end, different available procedures were reviewed, tested, and compared. As such, robust settings for cell labeling, injection into larvae, and automated imaging and image analysis were implemented. Finally, the accuracy of the method was validated by assessing the behavior of a battery of tumor cell lines and the impact of different compounds on their growth.
2. Results
Close to 250 articles focusing on the use of zebrafish larvae cancer xenografts were reviewed to define the best experimental approach (
Table S1
). The majority of the studies were consistent on the cell injection timing, with 86% showing larvae injection at 48 h post fertilization (hpf). However, we detected a great variability in most of the other experimental settings and conditions. As such, the incubation temperature for xenotransplanted larvae ranged from 28.5 °C, standard for fish development, to 36 °C, closer to the ideal temperature for human cells growth of 37 °C. Individualization of animals throughout the experiment was only performed in 10% of the reports. The most common cell labeling methods were represented by fluorescent dyes, in 70% of the studies, compared to 30% using cells stably expressing fluorescent proteins. In addition, 82% of the dyes employed was membrane-specific. Among those, a chloromethylbenzamido derivative of octadecylindocarbocyanine (CMDiI) was utilized in 64% of the cases. As for the injection site, the yolk was the standard choice in half of the reports, followed by the perivitelline space (pvs) used in the 25% of the studies. Injections in the vasculature, brain ventricle, and heart were performed in the remaining 25% of the cases. Finally, the use of zebrafish larvae xenotransplants to address drugs mechanism of action (MoA) was only shown in half of the studies (
Table S1
). Based on these data and our own expertise, we tested and compared different experimental conditions to define the most adequate settings for the ZeOncoTest.
3. Discussion
In the context of a growing cancer incidence, the search for biologically relevant, faster, and more affordable methods to discover new antitumoral drugs represents a medical priority. In order to increase the chance of finding novel effective drugs, zebrafish is imposing as an in vivo rational bridge between in vitro cell culture systems—cost-efficient and high throughput, but poorly predictive—and in vivo mammal models—more predictive, but expensive and time-consuming. Indeed, the final aim of the ZeOncoTest is to help choosing the best candidates, previously selected from in vitro experiments, to be subsequently tested in mice. This proposed pipeline would hopefully lead to a better clinical outcome and a lower attrition rate.
4. Materials and Methods
4.1. Cell Lines and Zebrafish Handling
All cell lines were obtained from collaborators: MDA-MB-231 breast cancer cell line from Simon Schwartz Navarro (VHIR), HCT116 colorectal cancer cell line from Melinda Halasz (UCD), PhoenixA retroviral packaging cells, and PC3 prostate cancer cells from Bill Keyes (IGBMC) and BJ non-transformed foreskin fibroblasts from Maria Aurelia Ricci (CRG). They were cultured in Dulbecco's Modified Medium (DMEM, BE12-614F, Lonza, Cultek, Basel, Switzerland) implemented with 10% Fetal Bovine Serum (FBS, 10270106, GIBCO, Termofisher, Waltham, MA, USA) 1% L-Glutamine (BE17-605E, Lonza, Cultek, Basel, Switzerland) and 1% Penicillin/Streptomycin (DE17-602E, Lonza, Cultek, Basel, Switzerland), and kept at 37 °C with 5% CO2 in a humidified incubator.
Adult Casper fish, obtained from the European Zebrafish Resource Center, were grown at 28.5 ± 1 °C in a 14:10 h light:dark cycle in a recirculating tank system. Embryos were obtained by mating adult fish through standard methods [
70
] and kept in an incubator at 28.5 °C until 2 days in and at 35 °C just after injections until the end of the experiment.
This study was performed under the ethical approval code 10567, provided by the Generalitat of Catalunya.
4.2. Infection and Dye Staining of Human Cell Lines
Phoenix A were transfected with a MSCV-GFP-Puro vector through the calcium phosphate method. After 48 and 72 h, the supernatant containing the retroviral particles was collected and filtered through a 22 μm filter (SLGP033RS, Merck, Readington, N.J., U.S.A.). HCT116, PC3, MDA-MB-231, and BJ cells were subjected to 2 rounds and 1 round of incubation with the supernatant containing the retroviral particles plus 8 μg/mL of polybrene (H9268-5G, Sigma-Aldrich, Saint Louis, MO, USA), respectively at the 2 time points. In addition, 48 h after the last round of infection, cells were selected using 2 µg/mL puromycin (P8833-10MG, Sigma-Aldrich, Saint Louios, MO, USA) and left to recover for 2 days. Finally, cells were detached, washed, and resuspended in Phosphate Buffered Saline (PBS) with 5% FBS. The brightest GFP+ cells were sorted by flow cytometry and kept in culture.
For dye staining, cells were detached with trypsin-versene EDTA 0.25% (H3BE17-161E, Lonza, Cultek), washed in PBS and incubated with CMDiI and CFSE at the concentrations of 1, 2, and 5 µM in PBS, respectively, for 5 and 20 min at 37 °C, followed by 15 min at 4 °C for CMDiI. Cells were finally washed twice with PBS 10% FBS.
4.3. Induction of Cell Death and Hexosaminidase Assay
For hexosaminidase assay [
71
], 6000 cells were plated in 96 well plates: 2 replicates of 3 wells each were done for every condition studied. Moreover, 24 h later, media was removed from 1 of the replicates per condition and cells were washed with PBS twice. In addition, 60 μl of substrate solution was added for an hour at 37 °C. Afterwards, 90 μl developer solution was added before recording absorbance at 410 nm. These same passages were then repeated at 96 h. The number of cells was extrapolated through a calibration curve, obtained through plating the cells in numbers of 6000, 12,000, 24,000, 48,000, and 96,000 and performing the hexosaminidase assay 24 h later, just after attachment. Cell death was induced by o/n exposure to 10% DMSO.
4.4. Zebrafish Injection
In addition, 48 hpf larvae were manually dechorionated and anesthetized by immersion in 0.48 mM tricaine methanesulfonate (A4050, Sigma-Aldrich, Saint Louis, MO, USA) in E3 medium. Around 200–400 cells were injected in the perivitelline space using standard micro-injecting instrumentation. An hour later, larvae were screened at the stereomicroscope to discard non-injected larvae and those injected in a non-specific site or with tumor cells already in circulation.
4.5. Drug Treatment
Prior to the incubation of injected larvae with the different selected drugs, the Non-Observed Effect Concentration (NOEC) was established (
Table 1
and
Figure S3
). Sixteen larvae per treatment were exposed individually to at least 5 concentrations of the compound of interest, at the same conditions as in the ZeOncoTest: from 48 to 192 hpf at 35 °C in 96 well plates. Each larva was analyzed for mortality, body deformity, scoliosis, yolk size, heart edema, heartbeat, and movement at 24 and 144 h post incubation (hpi). The NOEC was calculated as the highest concentration at which both mortality and teratogenic scores were below 20% at 144 hpi, and then used for the treatment of the injected larvae. DMSO was used as the negative control. In parallel, cells in culture were treated with the NOEC of the compound to ensure its chemotherapeutic effect in vitro (data not shown).
4.6. Automated Confocal Imaging and Analysis
In order to enable lateral positioning of injected larvae and restrict the area to be imaged, 3D printed orientation molds [
72
,
73
] and low melting agarose (8092.11, Conda, Pronadisa, Madrid, Spain) were used to shape the wells of 96 well plates (265301, Thermo Scientific, Nunc, Waltham, MA, USA). Injected larvae were anesthetized by immersion in 0.48 mM tricaine methanesulfonate in E3 medium and transferred in the wells. Xenografts were imaged at 2 different timepoints using a Leica True Confocal Scanning-Spectral Photometric 5 (TCS SP5) inverted confocal microscope system with an automated plate and the Matrix Screener software. Due to different growth and invasion capabilities of distinct cancers, we defined specific experimental time frames for every tumor cell type of interest, by injection, and live imaging observation until a maximum of 144 h post injection (hpi). Growth and invasion were measured by comparing cell masses volume and dispersion between tp1 and tp2 for each individual larva.
Images were processed and volumes and dispersion of cells evaluated using in-house macros and the FIJI Is Just ImageJ (FIJI) software. Finally, tumor growth was calculated as the ratio between the volumes at tp2 and tp1 for each individualized larva. Cell dispersion was assessed with the Statistical Package for Social Science (SPSS) software (IBM). A minimum of 16 animals were used per condition, and 1 or 2 experiments were performed.
4.7. Statistical Analysis
Results were analyzed using GraphPad Prism v 7.04 (GraphPad Software Inc., La Jolla, CA, USA). Prior to the analysis, the ROUT method (Q = 1%) was applied to identify outliers and remove them. Then, the D'Agostino-Pearson omnibus normality test was used to assess if data were normally distributed. For 2 groups' comparison, Student's
t
-test was used when values were normally distributed, whereas Wilcoxon or and Mann–Whitney tests were used respectively for paired and unpaired non-parametric data. Statistical analysis for multiple comparisons was performed using One-Way ANOVA, followed by Tukey or Sidak tests, for data with a parametric distribution. A Kruskal–Wallis test was instead performed for multiple comparisons of non-parametric values. Differences were considered statistically significant when
p
< 0.05. In figures, 1 asterisk (*) indicates
p
< 0.05, 2 (**) means
p
< 0.01, 3 (***) signify
p
< 0.001, and 4 (****) stays for
p
< 0.0001. No statistical significance is indicated by "ns". Results are presented as mean ± standard deviation (SD).
5. Conclusions
The ZeOncoTest standardizes, automates and validates the zebrafish larvae xenograft system as a bridge between cell culture methods and mice models in cancer drug discovery. We propose it as an intermediate reliable assay for choosing the best compounds, previously selected from
in vitro
experiments, to be subsequently tested in rodents. Such pipeline would hopefully lead to a better clinical outcome and a lower attrition rate. Moreover, we show that the use of zebrafish larvae xenografts can be complementary to mouse studies for understanding early phases of metastatic progression. Our results move the zebrafish larvae xenograft model closer to the regulated preclinical drug discovery path.
Supplementary Materials
The following are available online at
https://www.mdpi.com/1424-8247/13/1/1/s1
, Figure S1: Evaluation of growth and dispersion in BJ non-transformed control cell xenografts. Figure S2: Representative images of fishes injected with the three cell lines and treated with the respective drugs. Figure S3: Mortality and teratogenicity scores for NOEC calculations. Video S1: 360° rotation of a 3D image of a xenografted tumor.
Table S1
: Collection of parameters used in published literature for drug discovery in zebrafish xenografts' models.
Author Contributions
Conceptualization, J.T. and V.D.G.; Methodology, V.D.G. and C.C.; Software, S.D.; Validation, V.D.G. and C.C.; Formal Analysis, C.C. and V.D.G.; Investigation, V.D.G. and C.C.; Resources, J.T., V.D.G., and C.C.; Data Curation, C.C and V.D.G.; Original Draft Preparation, V.D.G. and C.C.; Writing—Review and Editing, V.D.G, C.C., J.T., and S.D.; Visualization, V.D.G., C.C., and J.T.; Supervision, V.D.G. and J.T., Project Administration, V.D.G. and J.T.; Funding Acquisition, J.T., V.D.G., C.C., and S.D.All authors have read and agreed to the published version of the manuscript.
Funding
This work was supported by European Union's Horizon 2020 research and innovation program under Grant No. 755988. In addition, the research was funded by the Spanish Ministry of Economy and Competitiveness through an Industrial Doctorate Fellowship to Carles Cornet (DI-14-06969) and Torres Quevedo Fellowships to Valeria Di Giacomo and Sylvia Dyballa (VDG: PTQ-07220; SD: PTQ-15-07995). Finally, a crowdfunding campaign launched in 2015 partially financed the project.
Acknowledgments
We thank the microscope facility of the PRBB (Barcelona Biomedical Research Park), in particular Xavier Sanjuan Samarra, for the support in optimizing the automation of the imaging process. We also thank Rafael Miñana for his contribution to the in vitro work and the rest of ZeClinics scientific team for their intellectual and experimental support during the development of this project.
Conflicts of Interest
All authors are currently employed by ZeClinics S.L.

Figure 1. ZeOncoTest pipeline. Fluorescently labeled cells are injected in 48 hpf larvae, subsequently imaged at tp1. After the first imaging, xenotransplanted larvae are incubated at 35 °C with the NOEC of candidate drugs, previously calculated. Subsequent imaging is performed at tp2. The evaluation of drug impact on tumor growth and metastatic potential is given by the calculation and comparison of tumor mass and dispersion of cells at the 2 time points, in treated and untreated animals.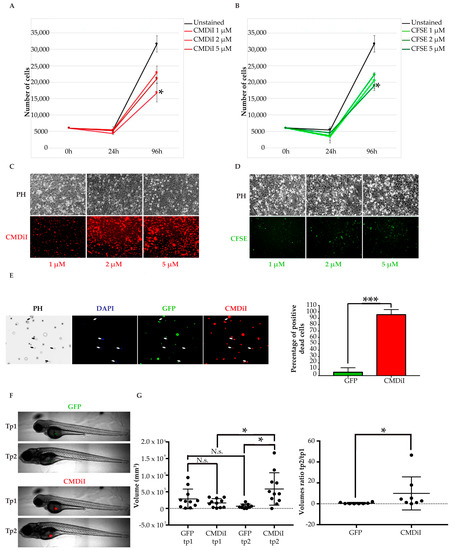 Figure 2.
Fluorescent cell labelling methods coparison. (
A,B
) analysis of the toxicity of fluorescent dyes. CMDiI (
A
) and CFSE (
B
) dyes are toxic at different concentrations in MDA-MB-231 (growth curves). Mean and standard deviation of three counts are represented for every condition at each time point; (
C, D
) evaluation of cell staining homogeneity of fluorescent dyes. Representative images of cells stained with CMDiI (
C
) and CFSE (
D
) at day 4; (
E
) assessment of fluorescence retention in dead cells. MDA-MB-231 cells stably expressing GFP were stained with CMDiI and exposed to a high dose of DMSO. Dead cells were detected through DAPI staining. They are indicated by white arrows in the representative pictures on the left and quantified in the graph on the right. Six fields of view were analyzed for quantification. Results are represented as mean +/− standard deviation; (
F
) representative images of GFP+ and CMDiI+ tumors in the same injected fish at the two time points; (
G
) measurements of tumor volumes corresponding to the same GFP expressing cells and CMDiI labelled cells transplanted in each larva, at tp1 and tp2 (graph on the left). GFP+ and CMDiI+ tumor masses ratios between tp2 and tp1 (graph on the right). Each dot in the graphs represents the measurement of a fish. * indicates
p
< 0.05, ** means
p
< 0.01, 3 *** signify
p
< 0.001, and **** stays for
p
< 0.0001. No statistical significance is indicated by ns.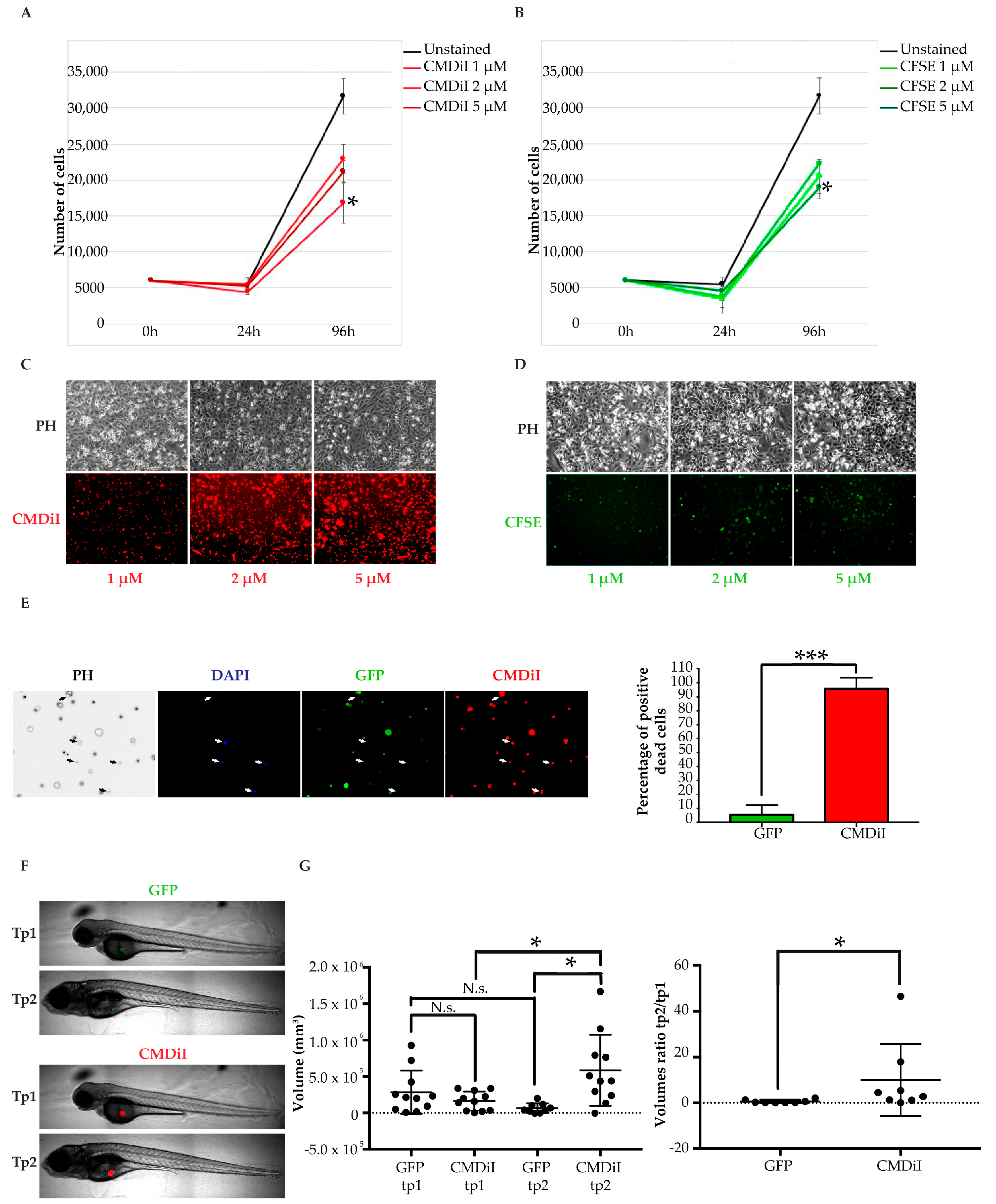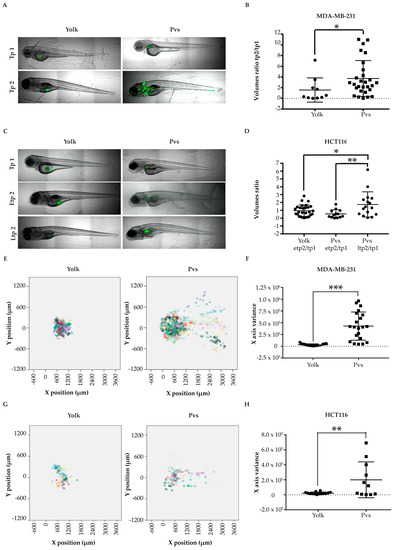 Figure 3.
Injection sites comparison. (
A
) representative images of larvae injected with MDA-MB-231 cells in the yolk and in the pvs, at two different timepoints; (
B
) scatter dot plot of the tumor masses ratios between tp2 and tp1, for each larva. Tp1 corresponds to 2 hpi and tp2 to 96 hpi; (
C)
representative images of larvae injected with HCT116 cells in the yolk and in the pvs, at three different timepoints; (
D
) scatter dot plot of the volume ratios etp2/tp1 and ltp2/tp1 for each larva. Tp1 corresponds to 24 hpi, etp2 to 96 hpi and ltp2 to 144 hpi. (
E
,
G
) Dot plots showing MDA-MB-231 (
E
) and HCT116 cells (
G
) dissemination in injected larvae in the yolk and pvs at tp2. Each larva is depicted by a different color. Each dot corresponds to the location of a given segmented tumor mass related to the position of zebrafish eye. (
F
,
H
) scatter plots of tumor masses x variance at tp2 in larvae injected in the yolk and in the pvs with MDA-MB-231 (
F
) and HCT116 (
H
). Each dot or square in the graphs represents the measurement of a fish. * indicates
p
< 0.05, ** means
p
< 0.01, 3 *** signify
p
< 0.001, and **** stays for
p
< 0.0001. No statistical significance is indicated by ns.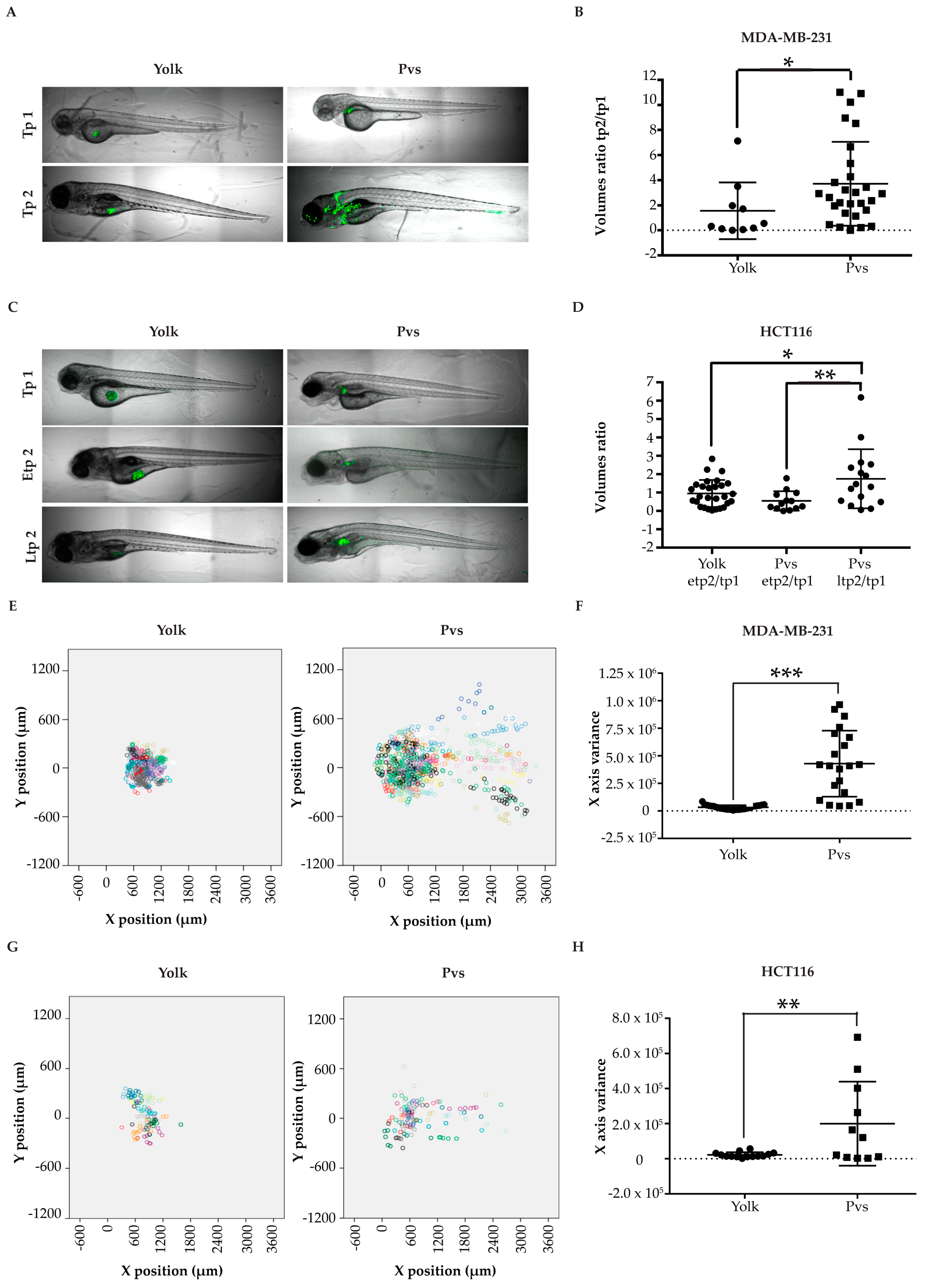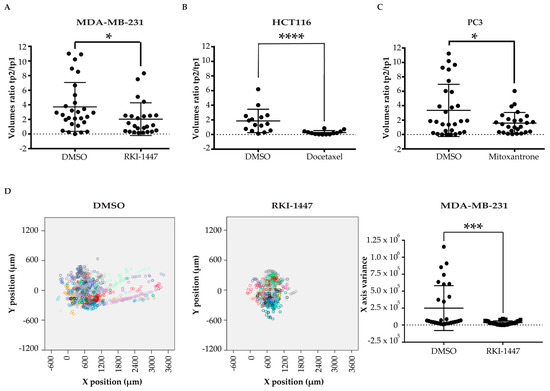 Figure 4.
Pharmacological validation (
A–C
) scatter plots of the ratios between the tumor volumes at tp2 and tp1 of MDA-MB-231 (
A
), HCT116 (
B
), and PC3 (
C
) injected cells treated with RKI-1447, docetaxel, and mitoxantrone, respectively, vs. DMSO control. Tp1 refers to 2 hpi for MDA-MB-231 and 24 hpi for HCT116 and PC3. Tp2 corresponds to 96 hpi for MDA-MB-231 and PC3 and 144 hpi for HCT116; (
D
) combined scatter plots, on the left, and scatter dot plot, on the right, of the variance in the
x
-axis at tp2 of secondary tumor foci in MDA-MB-231 injected larvae, treated with control DMSO and RKI-1447. Each dot or square in the graphs represents the measurement of a fish. * indicates
p
< 0.05, ** means
p
< 0.01, 3 *** signify
p
< 0.001, and **** stays for
p
< 0.0001. No statistical significance is indicated by ns.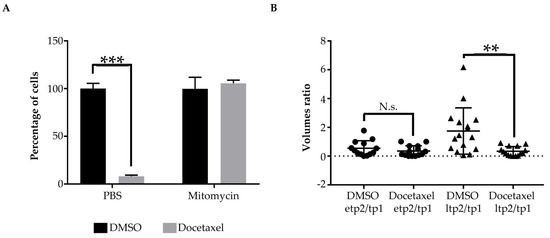 Figure 5.
Addressing drugs MoA (
A
) bar graphs showing percentages of HCT116 cells surviving after incubation with mitomycin C or PBS control and subsequent treatment with docetaxel or DMSO control. Three cell counts were performed per condition. Results are represented as mean +/− standard deviation; (
B
) scatter dot plot of the tumor volume ratios between etp2 and tp1 and ltp2 and tp1 of HCT116 xenografts treated with Docetaxel or DMSO control. Tp1 corresponds to 24 hpi, etp2 to 96 hpi and ltp2 to 144 hpi. Each dot or triangle in the graphs represents the measurement of a fish. * indicates
p
< 0.05, ** means
p
< 0.01, 3 *** signify
p
< 0.001, and **** stays for
p
< 0.0001. No statistical significance is indicated by ns.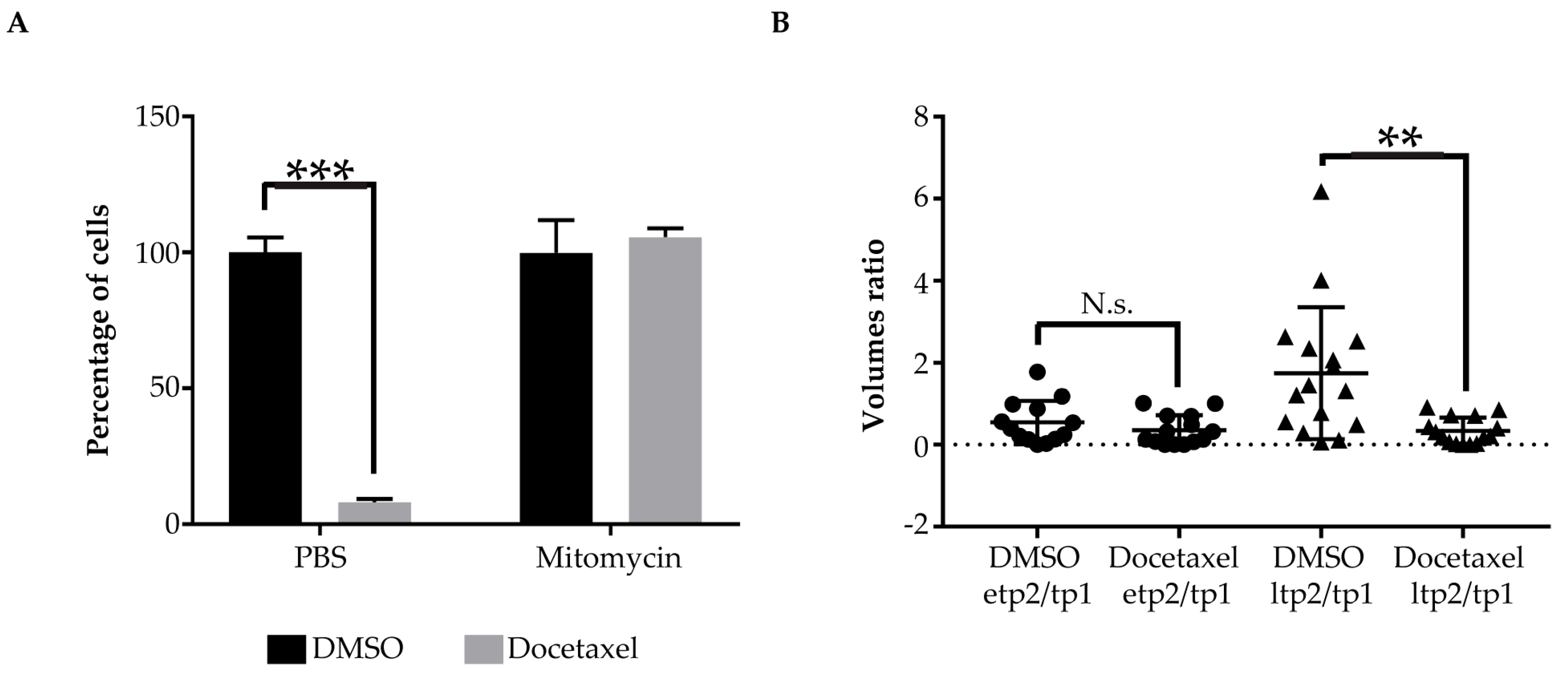 | Drug | NOEC |
| --- | --- |
| Docetaxel | 10 µM |
| Mitoxantrone | 3 µM |
| RKI-1447 | 10 µM |

© 2019 by the authors. Licensee MDPI, Basel, Switzerland. This article is an open access article distributed under the terms and conditions of the Creative Commons Attribution (CC BY) license (http://creativecommons.org/licenses/by/4.0/).