Open Access This article is
freely available
re-usable
Review
Matrix Metalloproteinase in Abdominal Aortic Aneurysm and Aortic Dissection
1
Centre for Clinical Pharmacology, William Harvey Research Institute, Barts and The London School of Medicine and Dentistry, Queen Mary University of London, London EC1M 6BQ, UK
2
Barts Health NHS Trust and the Barts NIHR Biomedical Research Centre, William Harvey Research Institute, Barts and The London School of Medicine and Dentistry, Queen Mary University of London, London EC1M 6BQ, UK
*
Author to whom correspondence should be addressed.
Received: 14 May 2019 / Accepted: 2 August 2019 / Published: 6 August 2019
Abstract
:
Abdominal Aortic Aneurysm (AAA) affects 4–5% of men over 65, and Aortic Dissection (AD) is a life-threatening aortic pathology associated with high morbidity and mortality. Initiators of AAA and AD include smoking and arterial hypertension, whilst key pathophysiological features of AAA and AD include chronic inflammation, hypoxia, and large modifications to the extra cellular matrix (ECM). As it stands, only surgical methods are available for preventing aortic rupture in patients, which often presents difficulties for recovery. No pharmacological treatment is available, as such researchers are attempting to understand the cellular and molecular pathophysiology of AAA and AD. Upregulation of matrix metalloproteinase (MMPs), particularly MMP-2 and MMP-9, has been identified as a key event occurring during aneurysmal growth. As such, several animal models of AAA and AD have been used to investigate the therapeutic potential of suppressing MMP-2 and MMP-9 activity as well as modulating the activity of other MMPs, and TIMPs involved in the pathology. Whilst several studies have offered promising results, targeted delivery of MMP inhibition still needs to be developed in order to avoid surgery in high risk patients.
Keywords:
matrix metalloproteinase; abdominal aortic aneurysm; aortic dissection; aortic disease; inflammation
1. Introduction
Abdominal aortic aneurysms (AAA) and aortic dissection (AD) are devastating conditions occurring within the aortic wall, which if left unchecked, lead to extensive dilatation of the major blood vessel and eventually aortic rupture. Aortic rupture can lead to adverse consequences, with low survival rates and elevated mortality rates for survivors of aortic rupture [
1
,
2
]. Importantly, the term 'aneurysm' refers to the abnormal enlargement of the aorta, whereas the term 'aortic dissection' refers to the process of intimal tearing within the aortic wall. This last process allows blood to pool within the region, creating recirculating blood flow and forming a 'false lumen' [
3
]. Aneurysm formation and aortic dissection occur as a result of drastic changes to the structure of the aortic wall. These changes occur due to steady degradation of the extracellular matrix (ECM) proteins, chronic inflammation and oxidative stress [
4
]. However, the underlying pathophysiological processes responsible for these two conditions have not yet been fully elucidated. As our understanding improves, new drugs targets may develop to tackle these pathophysiological events. Tissue sections and blood samples taken from AAA and AD patients have helped researchers to identify key member of the matrix metalloproteinase (MMP) family, which become upregulated in these diseases [
5
]. Studies in mice have helped us to gain a greater knowledge of how these MMPs are regulated and how they operate in situ to bring about extensive changes in ECM composition of the aorta. This Review will examine how research into the role of MMPs in AAA and AD may offer a new pharmacological route for reducing the rate of development of these pathologies, and avoid the calamitous consequences of aortic rupture.
2. Epidemiology of AAA and AD
As it stands, pharmacological means of treating AAA are sorely lacking, in part due to a poor understanding in how aneurysm formation and/or AD is initiated and progresses.
3. Cellular and Molecular Pathophysiology of AAA and AD
4. MMP and TIMPs Overview
MMPs are a class of zinc-dependent endopeptidase proteins [
77
], with roles in both physiological processes, such as angiogenesis [
78
], and pathological diseases such as cancer [
79
] and cardiovascular disease [
80
]. The MMP family consists of 28 endopeptidases, which must be enzymatically activated before they can begin degrading various components of the ECM either through cleavage by other MMPs and proteinases or activation through their catalytic domain via thiol modifying agents and ROS [
81
].
Originally categorized based on the substrate they degrade, namely collagenases (MMP-1, MMP-8, MMP-13, MMP-18), stromolysins (MMP-3 and MMP-10), gelatinases (MMP-2 and MMP-9) and matrilysins (MMP-7 and MMP-26), the discovery of more MMP family members paved the way for a new numbering system, based on molecular structure [
82
]. Each MMP contains a conserved signal peptide along with a pro-domain and a catalytic domain, differing within each sub-group. Added regions are present and required for the breakdown of specific substrates and are often a determining factor in the localization and function of the MMP. For instance, the hinge region of MT-MMP1 (MMP-14) plays a key role in pericellular proteolysis by enabling autocatalytic processing of MT-MMP1 [
83
]. MMP substrates include ECM proteins (type I/IV collagen, gelatin, laminin, fibronectin), cell adhesion molecules (E-cadherin), inflammatory cytokines (monocyte chemoattractant protein 1/3) and breakdown products (IL-1β degradation) [
84
]. Importantly, MMP expression is regulated by endogenous tissue inhibitors of MMPs (TIMPs). Appropriate MMP activity hinges on adequate TIMP expression, and an irregular MMP/TIMP ratio may lead to excessive ECM breakdown, as is the case in AAA and AD pathology [
85
].
In particular, MMP-9 and MMP-1 levels were found to be significantly upregulated in aneurysmal aortic specimens compared to healthy aortic tissues. Moreover, the ratio of MMP to TIMP expression was found to be higher in diseased specimens [
86
]. Of greater interest is the relationship between aneurysm size and the abundance of specific MMPs at different stages of disease progression. Intriguingly, MMP-9 expression was found to be correlated with aneurysm diameter (over 5 cm), implying a role for this MMP in later stages of the pathology. Equally another gelatinase, MMP-2, has been implicated in AAA pathology, as elevated expressions of its activated form were found bound to the ECM of tissues isolated from AAA patients [
87
]. As such, both MMPs have been of considerable interest in the pathology of AAA and AD, and may offer pharmacological means of preventing or slowing these pathologies.
5. Clinical and GWAS Studies: MMPs in AAA and AD
As evidenced above, AAA and AD are complex pathologies whose outcome relies on cell-mediated processes regulating MMP activity and behavior. In addition to which, underlying genetic risk factors also play an important role in influencing AAA and AD likelihood and outcome. Increased susceptibility for AAA has been determined for several gene variants including in the DAB2IP gene, which encodes an inhibitor of cell growth and survival [
88
], and low-density lipoprotein receptor (LDLR) [
89
]. Both of these variants showed association with additional cardiovascular conditions such as peripheral artery disease and coronary artery disease, respectively. By contrast, the single nucleotide polymorphism (SNP) in the low-density-lipoprotein receptor-related protein 1 (LRP1), rs1466535, was found to be specifically associated with AAA only [
90
].
This finding points to a pathological deviation of AAA and AD from other CVD diseases, which share similar pathologies. Gene variants in sortilin-1 (SORT1) [
91
] and interleukin-6 receptor (IL-6R) [
92
] have also been identified as risk variants for AAA, pointing to possible impairment of macrophage function with respect to LDL handling [
93
] and 'alternative' phenotype switching [
94
]. As an abundant source of MMP-9, impaired macrophage function could prove vital in determining levels of MMP-9 release and therefore aneurysm growth. Unfortunately, GWAS findings have only identified a weak link between a variant in a region (20q13.12) which maps closely to the MMP-9 gene. However, an alternative hypothesis has been put forward based on the discovered association between the genetic variant at 20q13.12 and the
PLTP
gene nearby, which plays a vital role in high density lipoprotein metabolism (HDL) [
95
].
It is important to acknowledge the difficulty in determining genetic risk variants and their relevance for MMPs in AAA and AD, due to the redundant nature of various members of the MMP family. Particularly when shared, overlapping substrates exist between MMPs and allows for compensatory mechanisms to take over in the event of specific MMP loss [
96
]. As such, studies investigating the potential of AAA-relevant MMPs, such as MMP-2 and MMP-9, should focus instead on animal models and clinical trials rather than genetic association.
6. MMP2 and MMP9 in AAA and AD
7. Other MMPs or TIMPS in AAA and AD
It is clear from the literature that multiple signaling pathways converge to regulate MMP-2 and MMP-9 activity within their respective cells (
Figure 1
). It is worth noting, however, that although much effort has been devoted to understanding their roles in AAA and AD pathology, many other MMPs are upregulated and enhance pathological processes under these conditions (
Table 1
). For instance, MMP-8 in conjunction with cathepsins K, L and S were found to be significantly upregulated in tissues sections isolated from asymptomatic and ruptured aneurysms. Importantly, these collagenases were identified as the key culprits of aneurysmal growth and rupture in which collagen turnover plays a huge part [
115
]. As such, pharmacological inhibition of lysosomal cathepsin proteases should also be considered for future pharmacological inhibition of AAA and AD [
116
]. Similarly, TIMPs play a key role in modulating MMP expression, as well as regulating leukocyte and VSMC behavior in AAA pathologies. However, conflicting findings add to the confusion arising from a complex and dynamic network of proteases [
117
,
118
,
119
,
120
]. Therefore, future studies are required, using comparable animal models, cell types, and experimental conditions, to determine the true role for each MMP and TIMP protein involved AAA and AD pathology.
8. Potential Applications of MMP Inhibition
As it stands, most pharmacological means of targeting MMP activity in AAA have consisted of targeting global MMP expression rather than through MMP-specific attenuation. Doxycycline has long been considered an effective non-selective MMP inhibitor by reducing gene expression [
143
], resulting in a reduced incidence of AAA in mice [
144
] and aortic growth in humans [
145
]. Interestingly salvianolic acid A has been shown to achieve similar levels of improved vascular integrity and decreased aortic diameter in ApoE
-/-
mice infused with angiotensin II, however with reduced hepatoxocity levels compared to doxycycline treatment [
146
]. Moreover, the 3-hydroxy-3-methylglutaryl coenzyme A reductase inhibitor, cerivastatin, has been shown to suppress MMP-9 production in the aortic wall in humans [
147
] and prevent aneurysm formation in an elastase-induced AAA model in rats [
148
]. Conversely, the calcium channel blocker, amlodipine, has been shown to enhance MMP-9 activity and elastin degradation in porcine aortic segments [
149
]. Despite this, amlodipine was found to halt aortic dilatation in an angiotensin II-induced model of aortic aneurysm formation, however the absence of any MMP activity measurements in this study may suggest an alternative mechanism, such as blood pressure lowering, was responsible for reduced dilatation [
150
]. Another study found that in combination with the 3-hydroxy-3-methylglutaryl coenzyme A reductase inhibitor, atorvastatin and amlodipine could reduce MMP-2 activity in an angiotensin II infusion animal model of AAA [
151
]. Finally, imidapril, an angiotensin-converting enzyme inhibitor, has also been shown to attenuate aortic expansion in an elastase-induced model of AAA both in wildtype mice and further in angiotensin II type I (AT1) receptor knock out mice. Imidapril was found to achieve this without affecting blood pressure. As evidenced above, a number of pre-existing drugs have been tested for their efficacy at targeting aneurysm formation, with varied success. Future work should focus on MMP-specific attenuation, for instance, using synthesized molecules such as small molecular weight MMP inhibitors (MMPis) which work through chelation of the MMP ZN
2+
ion active site and may offer potential therapeutic tools for targeting specific MMP activity during aneurysm formation [
152
].
9. Conclusions and Future Perspectives
First described in 1962, MMPs have been a huge source of interest as new functions and catalytic mechanisms become assigned to them in various physiological and pathological conditions [
153
]. Due to their abundance and multi-faceted nature, they offer a large scope for modulating key pathological processes in AAA and AD, particularly with regards to ECM turnover. As discussed previously, the cellular source of MMP-2 and MMP-9 in aneurysmal development differs at different locations [
113
,
114
], suggesting a distinct or in some occasions even an opposite contributions of different cellular sources of MMPs to AAA or AD. Unfortunately, MMP gene global knockout mice were used to examine the potential contribution of individual MMP to AAA and/or AD in the majority of studies. Although some researchers attempted to use alternative strategies (e.g., bone marrow transplantation [
98
,
124
,
144
] and cellular depletion [
46
]) to address above issue, cell lineage conditional MMP gene knockout mice would be more desirable tool for us to confirm the cell-specific roles of carious MMPs in AAA or AD. Moreover, under normal conditions, MMP-mediated ECM turnover allows cell migration within healthy tissues, vital for maintaining structural integrity of the aorta. As such, effects observed through global interference of MMPs in murine models of AAA provide a somewhat unrealistic portrayal of outcomes to be expected in humans, since localized MMP inhibition is more desirable. Hence, future investigations using drug-eluting grafts or flow diverting stents following EVAR procedures may present one localized method of preventing aneurysmal growth and aortic rupture following AD [
154
]. However, this still does not offer a substantial solution to preventing enlargement of small aneurysms, reducing the need for patients to undergo surgery in the first place.
As such, alternative methods have been investigated including delivery of rapamycin via nanoparticles in an elastase infusion model of AAA. Accumulation of rapamycin was found to successfully target aortic aneurysms and reduce the expression of MMPs and inflammatory cytokines [
155
]. Similarly, delivery of nanoparticles loaded with batimastat (a hydroxamate-based MMP inhibitor) was found to be more effective at reducing MMP activity, elastin degradation and aortic wall expansion in a CaCl
2
murine model of AAA compared with batimastat administration alone. Nanoparticle-based MMP inhibition studies have demonstrated numerous benefits in the treatment of AAA including improved drug delivery, reduced off-target effects and in some cases a reversal of disease pathology [
156
,
157
].
Future studies using a similar delivery system but targeting specific MMP gene expression through oligonucleotide-based therapy may prove to be an ideal method of understanding localized, MMP-specific responses to the highly inflammatory and hypoxic environment in the aorta during AAA and AD [
158
]. It is clear from the literature that protease contributions to AAA and AD pathology are immense and targeted inhibition could significantly improve the prognosis for aneurysm patients. However, significantly more work must be carried out to improve our understanding of specific MMP and TIMP involvement, particularly with regards to their signaling pathways and temporal influence on disease progression. Once their contributions have been clearly established, appropriate delivery methods for modulating their activity will need to be considered as well.
Author Contributions
Conceptualisation, E.M.M. and Q.X.; investigation and data curation, E.M.M. and S.W.A.P.; writing—original draft preparation, E.M.M. and S.W.A.P.; writing—review and editing, E.M.M., R.X., A.Y.O. and Q.X.; supervision, Q.X.; funding acquisition, Q.X.
Funding
This work was supported by British Heart Foundation (FS/09/044/28007, PG/11/40/28891, PG/13/45/30326, PG/15/11/31279, PG/15/86/31723 and PG/16/1/31892). This work forms part of the research portfolio for the National Institute for Health Research Biomedical Research Centre at Barts.
Conflicts of Interest
The authors declare no conflict of interest.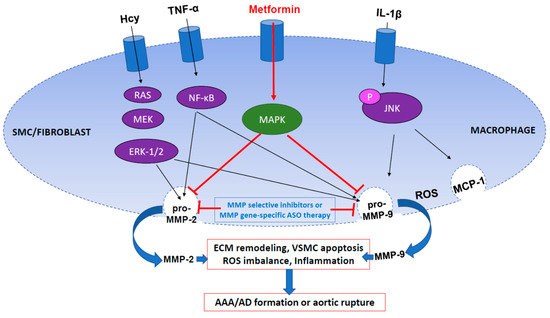 Figure 1. Signaling pathways involved in regulating MMP-2 and MMP-9 activity in VSMC/fibroblasts and macrophage, respectively. ASO: antisense oligonucleotide, Hcy: homocysteine, TNF-α: tumor necrosis alpha, IL-1β: interleukin 1 beta, MCP-1: monocyte chemoattractant protein 1, ROS: reactive oxygen species.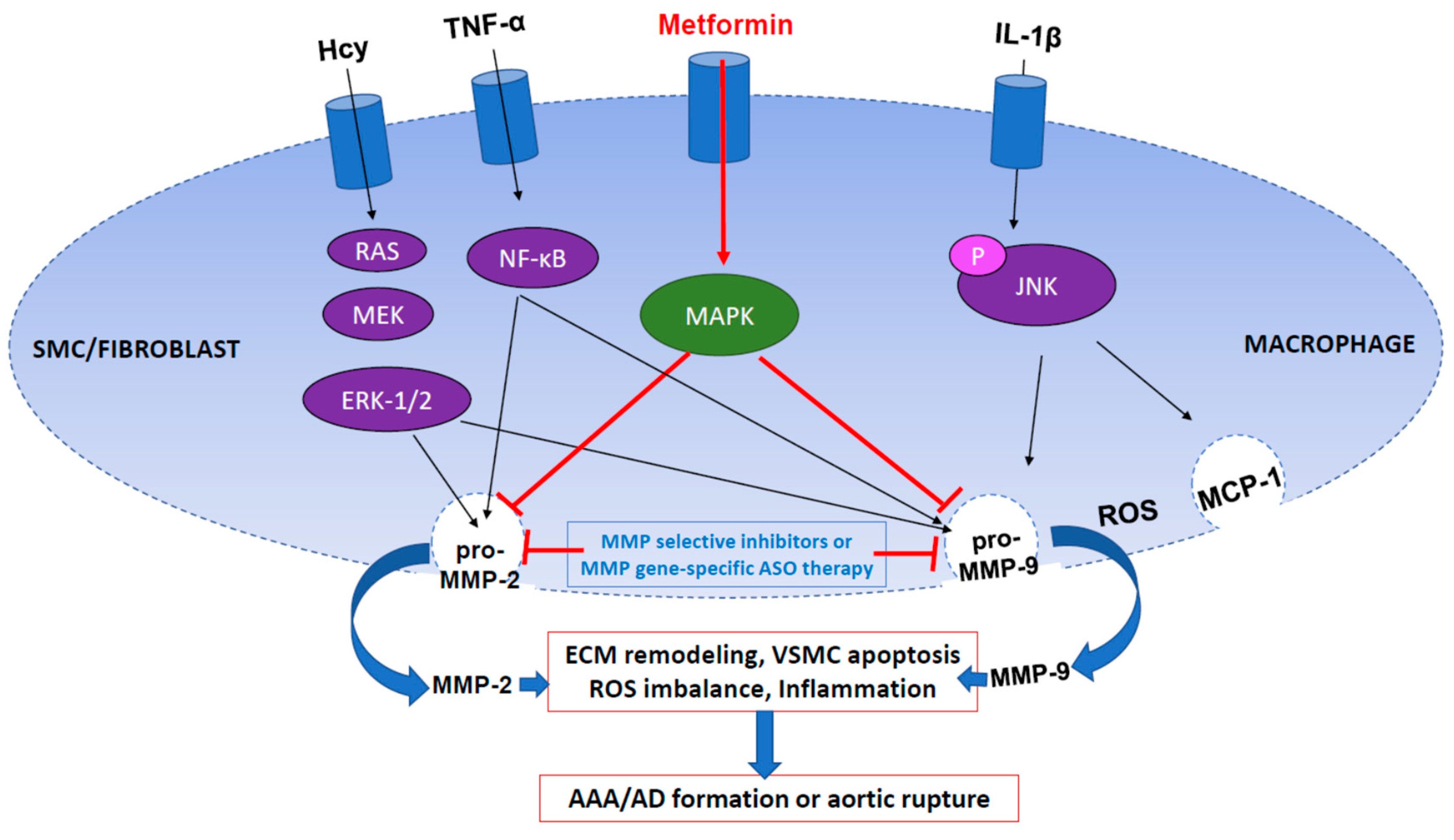 Role within AAA, AD or Rupture
Substrate
Stimulus
Known Signaling Pathways
Ref.
MMP-1
Associated with increased rates of aneurysmal rupture and reduced survival, and aortic dissection
Collagen triple helix
TNF-α
IL-1
(MAPK family) JNK, ERK and p38 kinase-induced activation of MMP-1
[121,122,123]
MMP-3
Activity promotes AAA
Elastin
Netrin-1
Netrin-1 binds neogenin-1 receptors on VSMCs to activate MMP3
[124]
MMP-7
Increased expression in AAA
N-cadherin
PI-3 kinase/Akt
VSMC apoptosis and proliferation
[125]
MMP-8
Elevated expression in growing and rupture AAA, released by neutrophils
Collagen triple helix
Cystatin C
Ox-LDL
IL-1
[115,126]
MMP-12
Promotes AAA growth by regulating leukocyte recruitment
Promotes AD formation
Elastin
CXC-chemokine ligand 2 and 3
IFNγ
IL-3
MMP-12 cleaves N-cadherin, triggering ß-catenin signalling and VSMC proliferation
[127,128,129,130,131]
MMP-13
Elevated expression in AAA sections and thoracic aortic dissection tissues, predominantly localised to VSMCs
Collagen triple helix
TNF-α
IL-1
(MAPK family) JNK, ERK and p38 kinase-induced activation of MMP-13
[132,133]
MMP-14 (MT1-MMP)
Modest increase in tissues of ruptured AAA
Collagen triple helix
[134]
MMP-17 (MT4-MMP)
Inhibits AAA formation
Osteopontin in VSMCs
c-Jun N-terminal kinase signalling, VSMC maturation
[135]
MMP-19
Expression is associated with aneurysms
[134]
TIMP-1
Increased levels in AAA
Overexpression leads to ablation of AAA within experimental rodent model
Deletion enhances aneurysm formation
MMP-1, MMP-9 and MMP-3
TNF-α
Inhibits MMP-1, MMP-9 and MMP-3
[97,136,137,138,139]
TIMP-2
TIMP-2 promotes aortic growth through activation of MMP-2 in murine model of AAA
Reduced expression of TIMP-2 in late stage cerebral aneurysm formation
MMP-2
Regulates MMP-2
[117,118]
TIMP-3
Increased expression in response to MMP over activity, with heightened expression in human AAA end stage tissues
Loss of TIMP-3 leads to worsening of the AAA pathology
Reduces VSMC proliferation and migration
MMP-2, MMP-9, TNF-α
TGF-ß
[140,141,142]

© 2019 by the authors. Licensee MDPI, Basel, Switzerland. This article is an open access article distributed under the terms and conditions of the Creative Commons Attribution (CC BY) license (http://creativecommons.org/licenses/by/4.0/).