Larvicidal and Enzymatic Inhibition Effects of
Annona Muricata

Seed Extract and Main Constituent Annonacin against

Aedes Aegypti

and

Aedes Albopictus

(Diptera: Culicidae)

1

Departamento de Ensino, Ciências e Formação de Professores, Instituto Federal de Educação, Ciência e Tecnologia do Pará, Avenida Almirante Barroso, 1155, Belém 66093-020, Pará, Brazil

2

Programa de Pós-Graduação em Biotecnologia, RENORBIO, Universidade Estadual do Ceará, Avenida Doutor Silas Munguba, 1700, Fortaleza 60741-000, Ceará, Brazil

3

Programa de Pós-Graduação em Farmacologia, Universidade Federal do Ceará, Rua Coronel Nunes de Melo, 1127, Fortaleza 60430-275, Ceará, Brazil

4

Laboratório de Química de Produtos Naturais, Universidade Estadual do Ceará, Avenida Doutor Silas Munguba, 1700, Fortaleza 60741-000, Ceará, Brazil

5

Vertrauen Diagnosis, Avenida Washington Soares, 655, Fortaleza 60810-000, Ceará, Brazil

6

Instituto de Ciências Exatas e da Natureza, Universidade da Integração Internacional da Lusofonia Afro-Brasileira (Unilab), Campus das Auroras, Rua José Franco de Oliveira s/n, Redenção 62790-970, Ceará, Brazil

7

Departamento de Química, Universidade Estadual do Ceará, Avenida Doutor Silas Munguba, 1700, Fortaleza 60741-000, Ceará, Brazil

*

Authors to whom correspondence should be addressed.

Received: 19 June 2019 / Revised: 13 July 2019 / Accepted: 20 July 2019 / Published: 26 July 2019
Abstract
The mosquitoes
Aedes aegypti
and
Aedes albopictus
are vectors of arboviruses that cause dengue, zika and chikungunya. Bioactive compounds from plants are environmentally sustainable alternatives to control these vectors and thus the arboviruses transmitted by them. The present study evaluated the larvicidal activity of an acetogenin-rich fraction (ACERF) and its main constituent annonacin obtained from
Annona muricata
seeds on
Ae. aegypti
and
Ae. albopictus
. The larvicidal assays were performed using different concentrations to calculate the LC
50
and LC
90
values observed 24 h after exposure to the treatment. Annonacin was more active against
Ae. aegypti
(LC
50
2.65 μg·mL
−1
) in comparison with
Ae. albopictus
(LC
50
8.34 μg·mL
−1
). In contrast, the acetogenin-rich fraction was more active against
Ae. albopictus
(LC
50
3.41 μg·mL
−1
) than
Ae. aegypti
(LC
50
12.41 μg·mL
−1
). ACERF and annonacin treated larvae of
Ae. aegypti
and
Ae. albopictus
showed significant differences in the inhibition of their metabolic enzymes when compared to untreated larvae. The results demonstrate the relevant larvicidal action of the acetogenin-rich fraction and annonacin showing the potential to develop new products for the control of
Ae. aegypti
and
Ae. albopictus
.
View Full-Text
►

▼

Figures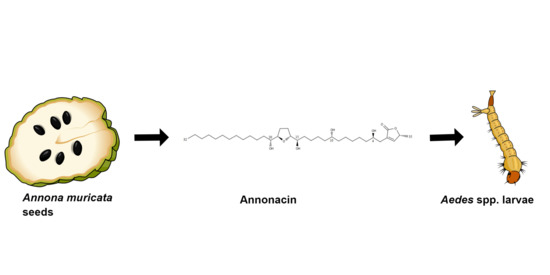 Graphical abstract
This is an open access article distributed under the
Creative Commons Attribution License
which permits unrestricted use, distribution, and reproduction in any medium, provided the original work is properly cited (CC BY 4.0).

Share & Cite This Article
MDPI and ACS Style
Rodrigues, A.M.; Silva, A.A.S.; Pinto, C.C.C.; Santos, D.L.; Freitas, J.C.C.; Martins, V.E.P.; Morais, S.M. Larvicidal and Enzymatic Inhibition Effects of Annona Muricata Seed Extract and Main Constituent Annonacin against Aedes Aegypti and Aedes Albopictus (Diptera: Culicidae). Pharmaceuticals 2019, 12, 112.
Note that from the first issue of 2016, MDPI journals use article numbers instead of page numbers. See further details here.
Related Articles
Comments
[Return to top]