Camphor, Applied Epidermally to the Back, Causes Snout- and Chest-Grooming in Rats: A Response Mediated by Cutaneous TRP Channels
1
Graduate Program in Neuroscience and Cognition, Federal University of ABC, São Bernardo do Campo 09606-070, SP, Brazil
2
Thermoregulation and Systemic Inflammation Laboratory (FeverLab), Trauma Research, St. Joseph's Hospital and Medical Center, Phoenix, AZ 85013, USA
3
Center for Natural and Human Sciences, Federal University of ABC, São Bernardo do Campo 09606-070, SP, Brazil
*
Author to whom correspondence should be addressed.
†
These authors contributed equally to this work.
Received: 1 December 2018 / Revised: 21 January 2019 / Accepted: 31 January 2019 / Published: 2 February 2019
Abstract
Thermoregulatory grooming, a behavioral defense against heat, is known to be driven by skin-temperature signals. Because at least some thermal cutaneous signals that drive heat defenses are likely to be generated by transient receptor potential (TRP) channels, we hypothesized that warmth-sensitive TRPs drive thermoregulatory grooming. Adult male Wistar rats were used. We showed that camphor, a nonselective agonist of several TRP channels, including vanilloid (V) 3, when applied epidermally to the back (500 mg/kg), caused a pronounced self-grooming response, including paw-licking and snout- and chest-"washing". By the percentage of time spent grooming, the response was similar to the thermoregulatory grooming observed during exposure to ambient warmth (32 °C). Ruthenium red (a non-selective antagonist of TRP channels, including TRPV3), when administered intravenously at a dose of 0.1 mg/kg, attenuated the self-grooming behavior induced by either ambient warmth or epidermal camphor. Furthermore, the intravenous administration of AMG8432 (40 mg/kg), a relatively selective TRPV3 antagonist, also attenuated the self-grooming response to epidermal camphor. We conclude that camphor causes the self-grooming behavior by acting on TRP channels in the skin. We propose that cutaneous warmth signals mediated by TRP channels, possibly including TRPV3, drive thermoregulatory self-grooming in rats.
View Full-Text
►

▼

Figures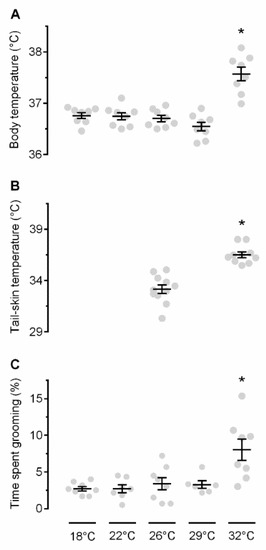 Figure 1
This is an open access article distributed under the
Creative Commons Attribution License
which permits unrestricted use, distribution, and reproduction in any medium, provided the original work is properly cited (CC BY 4.0).

Share & Cite This Article
MDPI and ACS Style
Ishikawa, D.T.; Vizin, R.C.L.; Souza, C.O.; Carrettiero, D.C.; Romanovsky, A.A.; Almeida, M.C. Camphor, Applied Epidermally to the Back, Causes Snout- and Chest-Grooming in Rats: A Response Mediated by Cutaneous TRP Channels. Pharmaceuticals 2019, 12, 24.
Note that from the first issue of 2016, MDPI journals use article numbers instead of page numbers. See further details here.
Related Articles
Comments
[Return to top]