Anemia and Iron Deficiency in Cancer Patients: Role of Iron Replacement Therapy
Department of Medicine, Section of Internal Medicine, University of Verona, and EuroBloodNet Referral Center for Iron Disorders, Azienda Ospedaliera Universitaria Integrata Verona, Policlinico G.B. Rossi, 37134 Verona, Italy
*
Author to whom correspondence should be addressed.
Received: 31 August 2018 / Revised: 27 September 2018 / Accepted: 28 September 2018 / Published: 30 September 2018
Abstract
Anemia in cancer patients is quite common, with remarkable negative impacts on quality of life and overall prognosis. The pathogenesis is complex and typically multifactorial, with iron deficiency (ID) often being a major and potentially treatable contributor. In turn, ID in cancer patients can be due to multiple concurring mechanisms, including bleeding (e.g., in gastrointestinal cancers or after surgery), malnutrition, medications, and hepcidin-driven iron sequestration into macrophages with subsequent iron-restricted erythropoiesis. Indeed, either absolute or functional iron deficiency (AID or FID) can occur. While for absolute ID there is a general consensus regarding the laboratory definition (that is ferritin levels <100 ng/mL ± transferrin saturation (TSAT) <20%), a shared definition of functional ID is still lacking. Current therapeutic options in cancer anemia include iron replacement, erythropoietic stimulating agents (ESAs), and blood transfusions. The latter should be kept to a minimum, because of concerns regarding risks, costs, and limited resources. Iron therapy has proved to be a valid approach to enhance efficacy of ESAs and to reduce transfusion need. Available guidelines focus mainly on patients with chemotherapy-associated anemia, and generally suggest intravenous (IV) iron when AID or FID is present. However, in the case of FID, the upper limit of ferritin in association with TSAT <20% at which iron should be prescribed is a matter of controversy, ranging up to 800 ng/mL. An increasingly recognized indication to IV iron in cancer patients is represented by preoperative anemia in elective oncologic surgery. In this setting, the primary goal of treatment is to decrease the need of blood transfusions in the perioperative period, rather than improving anemia-related symptoms as in chemotherapy-associated anemia. Protocols are mainly based on experiences of Patient Blood Management (PBM) in non-oncologic surgery, but no specific guidelines are available for oncologic surgery. Here we discuss some possible approaches to the management of ID in cancer patients in different clinical settings, based on current guidelines and recommendations, emphasizing the need for further research in the field.
View Full-Text
►

▼

Figures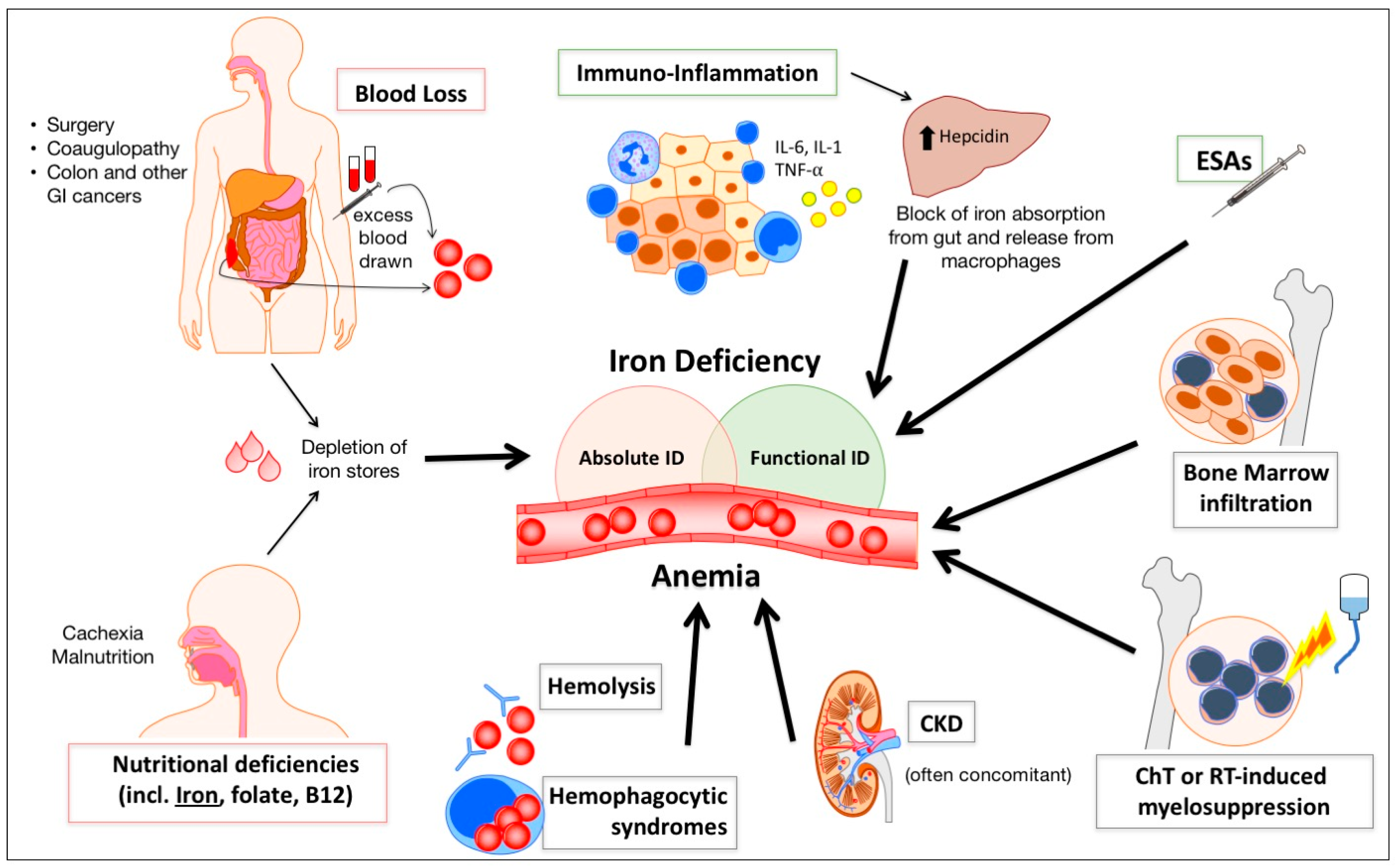 Figure 1
This is an open access article distributed under the
Creative Commons Attribution License
which permits unrestricted use, distribution, and reproduction in any medium, provided the original work is properly cited (CC BY 4.0).

Share & Cite This Article
MDPI and ACS Style
Busti, F.; Marchi, G.; Ugolini, S.; Castagna, A.; Girelli, D. Anemia and Iron Deficiency in Cancer Patients: Role of Iron Replacement Therapy. Pharmaceuticals 2018, 11, 94.
Note that from the first issue of 2016, MDPI journals use article numbers instead of page numbers. See further details here.
Related Articles
Comments
[Return to top]