Altered Proteins in the Hippocampus of Patients with Mesial Temporal Lobe Epilepsy
1
Departamento de Neurologia/Neurocirurgia, Escola Paulista de Medicina, Universidade Federal de São Paulo–UNIFESP, Rua Pedro de Toledo, 669, CEP, São Paulo 04039-032, Brazil
2
Department of Medicinal Chemistry, College of Pharmacy, University of Dohuk-UoD, Kurdistan Region 1006AJ, Iraq
3
INSERM U1114, Neuropsychologie Cognitive et Physiopathologie de la Schizophrenie, 1 pl de l'Hopital, 67091 Strasbourg, France
4
Departamento de Micro-Imuno-Parasito, Disciplina de Biologia Celular, Escola Paulista de Medicina, UNIFESP, São Paulo 04039-032, Brasil
5
Instituto do Coração (INCOR), Departamento de Anatomia Patológica, Faculdade de Medicina da Universidade de São Paulo (FMUSP), São Paulo 04039-032, Brasil
*
Author to whom correspondence should be addressed.
Received: 22 August 2018 / Revised: 18 September 2018 / Accepted: 26 September 2018 / Published: 30 September 2018
Abstract
Mesial temporal lobe epilepsy (MTLE) is usually associated with drug-resistant seizures and cognitive deficits. Efforts have been made to improve the understanding of the pathophysiology of MTLE for new therapies. In this study, we used proteomics to determine the differential expression of proteins in the hippocampus of patients with MTLE compared to control samples. By using the two-dimensional electrophoresis method (2-DE), the proteins were separated into spots and analyzed by LC-MS/MS. Spots that had different densitometric values for patients and controls were selected for the study. The following proteins were found to be up-regulated in patients: isoform 1 of serum albumin (ALB), proton ATPase catalytic subunit A (ATP6V1A), heat shock protein 70 (HSP70), dihydropyrimidinase-related protein 2 (DPYSL2), isoform 1 of myelin basic protein (MBP), and dihydrolipoamide S-acethyltransferase (DLAT). The protein isoform 3 of the spectrin alpha chain (SPTAN1) was down-regulated while glutathione S-transferase P (GSTP1) and protein DJ-1 (PARK7) were found only in the hippocampus of patients with MTLE. Interactome analysis of the nine proteins of interest revealed interactions with 20 other proteins, most of them involved with metabolic processes (37%), presenting catalytic activity (37%) and working as hydrolyses (25%), among others. Our results provide evidence supporting a direct link between synaptic plasticity, metabolic disturbance, oxidative stress with mitochondrial damage, the disruption of the blood–brain barrier and changes in CNS structural proteins with cell death and epileptogenesis in MTLE. Besides this, the presence of markers of cell survival indicated a compensatory mechanism. The over-expression of GSTP1 in MTLE could be related to drug-resistance.
View Full-Text
►

▼

Figures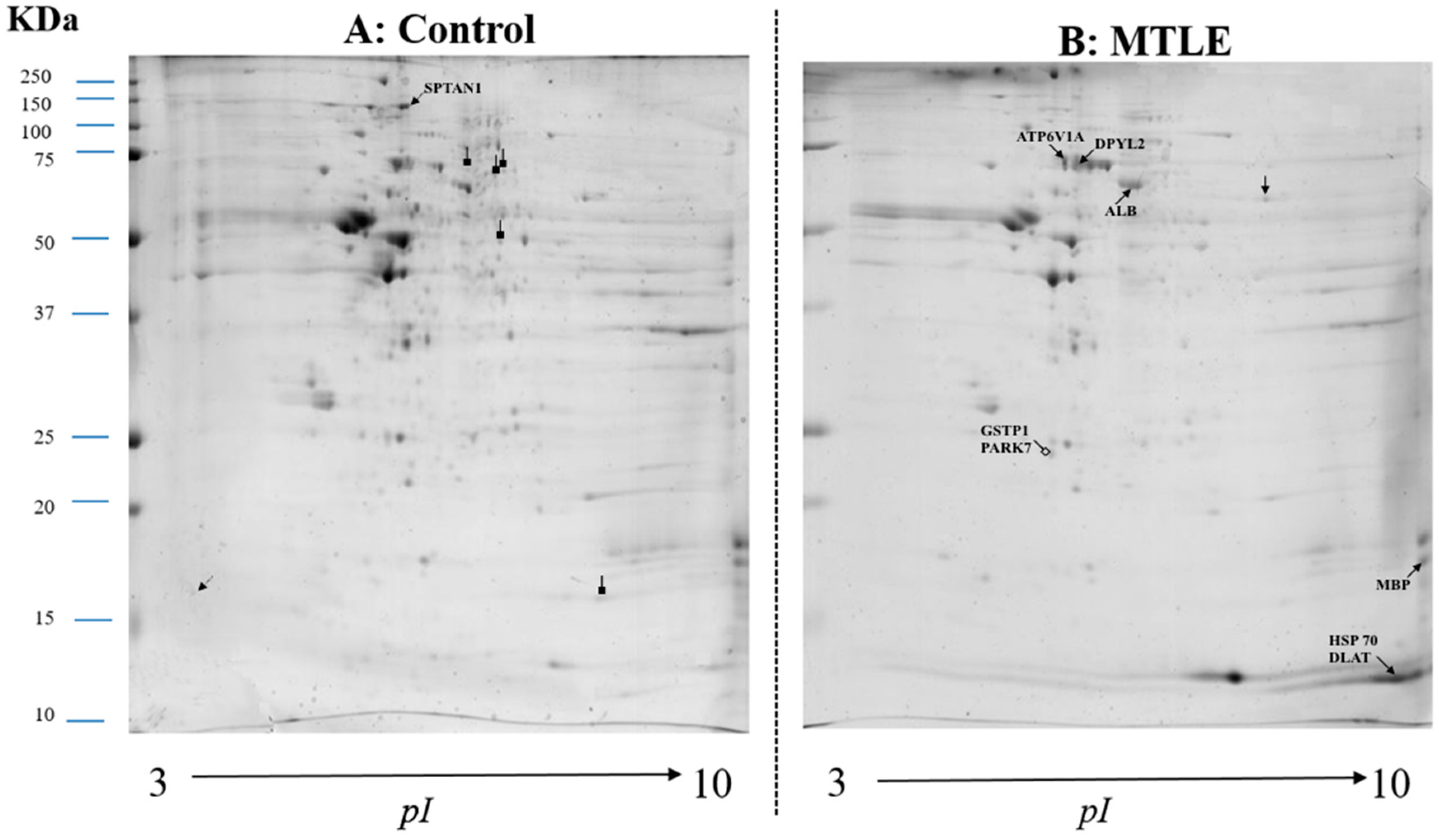 Figure 1
This is an open access article distributed under the
Creative Commons Attribution License
which permits unrestricted use, distribution, and reproduction in any medium, provided the original work is properly cited (CC BY 4.0).

Share & Cite This Article
MDPI and ACS Style
Persike, D.S.; Marques-Carneiro, J.E.; Stein, M.L.L.; Yacubian, E.M.T.; Centeno, R.; Canzian, M.; Fernandes, M.J.S. Altered Proteins in the Hippocampus of Patients with Mesial Temporal Lobe Epilepsy. Pharmaceuticals 2018, 11, 95.
Note that from the first issue of 2016, MDPI journals use article numbers instead of page numbers. See further details here.
Related Articles
Comments
[Return to top]