Evaluation of Radiolabeled Girentuximab In Vitro and In Vivo
1
Department of Chemistry and Biochemistry, University of Bern, 3012 Bern, Switzerland
2
Laboratory of Radiochemistry, Paul Scherrer Institute (PSI), 5232 Villigen PSI, Switzerland
3
Clinic for Nuclear Medicine, University Medical Center Mainz, 55131 Mainz, Germany
4
Department for Biomedical Research (DBMR), University of Bern, 3010 Bern, Switzerland
5
Institute of Pathology, University of Bern, 3010 Bern, Switzerland
6
Institute of Pharmacology (PKI), University of Bern, 3010 Bern, Switzerland
*
Author to whom correspondence should be addressed.
Received: 26 October 2018 / Revised: 21 November 2018 / Accepted: 26 November 2018 / Published: 28 November 2018
Abstract
Girentuximab (cG250) targets carbonic anhydrase IX (CAIX), a protein which is expressed on the surface of most renal cancer cells (RCCs). cG250 labeled with
177
Lu has been used in clinical trials for radioimmunotherapy (RIT) of RCCs. In this work, an extensive characterization of the immunoconjugates allowed optimization of the labeling conditions with
177
Lu while maintaining immunoreactivity of cG250, which was then investigated in in vitro and in vivo experiments. cG250 was conjugated with S-2-(4-isothiocyanatobenzyl)-1,4,7,10-tetraazacyclododecane tetraacetic acid (DOTA(SCN)) by using incubation times between 30 and 90 min and characterized by mass spectrometry. Immunoconjugates with five to ten DOTA(SCN) molecules per cG250 molecule were obtained. Conjugates with ratios less than six DOTA(SCN)/cG250 had higher in vitro antigen affinity, both pre- and postlabeling with
177
Lu. Radiochemical stability increased, in the presence of sodium ascorbate, which prevents radiolysis. The immunoreactivity of the radiolabeled cG250 tested by specific binding to SK-RC-52 cells decreased when the DOTA content per conjugate increased. The in vivo tumor uptake was < 10% ID/g and independent of the total amount of protein in the range between 5 and 100 µg cG250 per animal. Low tumor uptake was found to be due to significant necrotic areas and heterogeneous CAIX expression. In addition, low vascularity indicated relatively poor accessibility of the CAIX target.
View Full-Text
►

▼

Figures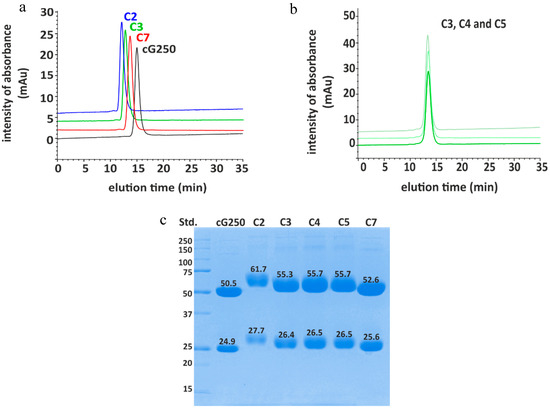 Figure 1
This is an open access article distributed under the
Creative Commons Attribution License
which permits unrestricted use, distribution, and reproduction in any medium, provided the original work is properly cited (CC BY 4.0).

Share & Cite This Article
MDPI and ACS Style
Basaco, T.; Pektor, S.; Bermudez, J.M.; Meneses, N.; Heller, M.; Galván, J.A.; Boligán, K.F.; Schürch, S.; Von Gunten, S.; Türler, A.; Miederer, M. Evaluation of Radiolabeled Girentuximab In Vitro and In Vivo. Pharmaceuticals 2018, 11, 132.
Note that from the first issue of 2016, MDPI journals use article numbers instead of page numbers. See further details here.
Related Articles
Comments
[Return to top]