Pretargeted Imaging with Gallium-68—Improving the Binding Capability by Increasing the Number of Tetrazine Motifs
1
Department of Nuclear Medicine, Medical University Innsbruck, Anichstrasse 35, A-6020 Innsbruck, Austria
2
Institute of Molecular and Translational Medicine, Faculty of Medicine and Dentistry, Palacky University, CZE-77900 Olomouc, Czech Republic
3
Biocenter—Division of Developmental Immunology, Medical University of Innsbruck, Innrain 80/82, A-6020 Innsbruck, Austria
4
Institute of Pharmacy, Pharmaceutical Chemistry, University of Innsbruck, Center for Chemistry and Biomedicine (CCB), Innrain 80/82, A-6020 Innsbruck, Austria
*
Author to whom correspondence should be addressed.
Received: 3 September 2018 / Revised: 8 October 2018 / Accepted: 9 October 2018 / Published: 11 October 2018
Abstract
The inverse electron-demand Diels-Alder reaction between 1,2,4,5-tetrazine (Tz) and
trans
-cyclooct-2-ene (TCO) has gained increasing attraction among extensive studies on click chemistry due to its exceptionally fast reaction kinetics and high selectivity for in vivo pretargeting applications including PET imaging. The facile two-step approach utilizing TCO-modified antibodies as targeting structures has not made it into clinics yet. An increase in the blood volume of humans in comparison to mice seems to be the major limitation. This study aims to show if the design of multimeric Tz-ligands by chelator scaffolding can improve the binding capacity and may lead to enhanced PET imaging with gallium-68. We utilized for this purpose the macrocyclic siderophore Fusarinine C (FSC) which allows conjugation of up to three Tz-residues due to three primary amines available for site specific modification. The resulting mono- di- and trimeric conjugates were radiolabelled with gallium-68 and characterized in vitro (logD, protein binding, stability, binding towards TCO modified rituximab (RTX)) and in vivo (biodistribution- and imaging studies in normal BALB/c mice using a simplified RTX-TCO tumour surrogate). The
68
Ga-labelled FSC-based Tz-ligands showed suitable hydrophilicity, high stability and high targeting specificity. The binding capacity to RTX-TCO was increased according to the grade of multimerization. Corresponding in vivo studies showed a multimerization typical profile but generally suitable pharmacokinetics with low accumulation in non-targeted tissue. Imaging studies in RTX-TCO tumour surrogate bearing BALB/c mice confirmed this trend and revealed improved targeting by multimerization as increased accumulation in RTX-TCO positive tissue was observed.
View Full-Text
►

▼

Figures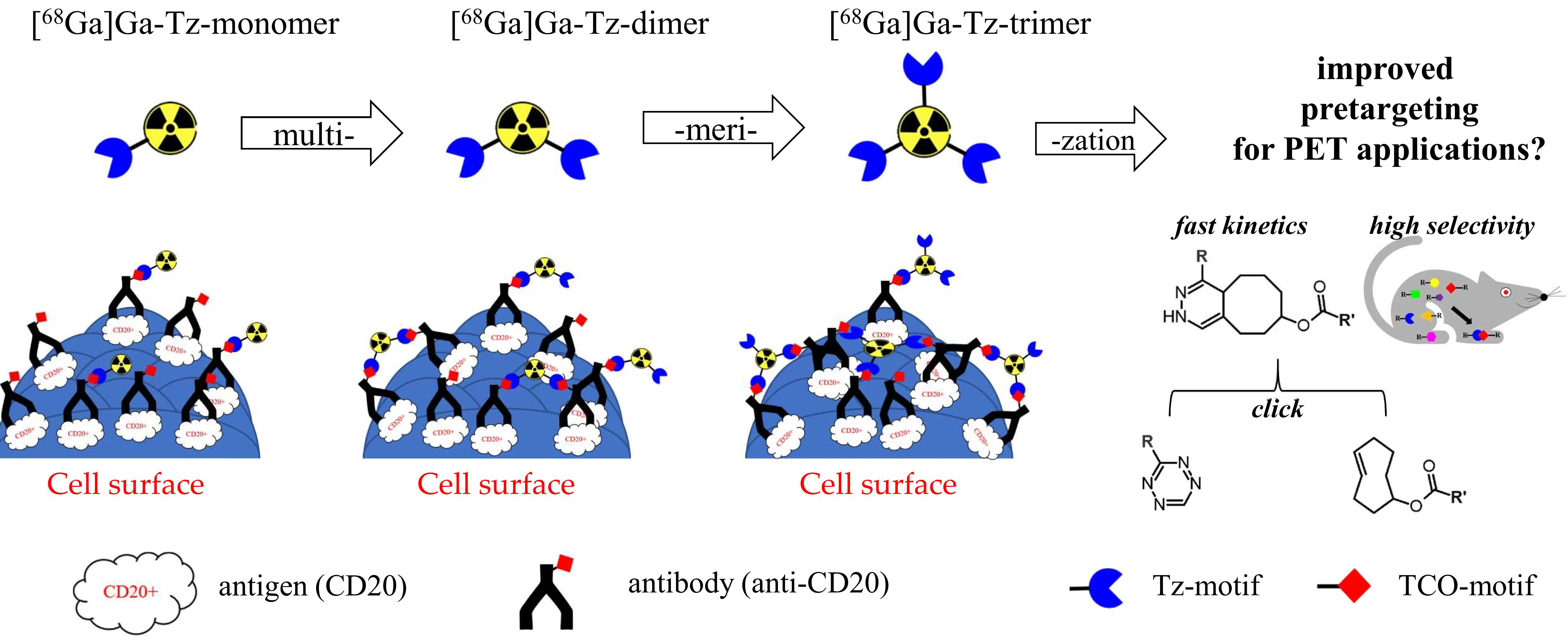 Graphical abstract
This is an open access article distributed under the
Creative Commons Attribution License
which permits unrestricted use, distribution, and reproduction in any medium, provided the original work is properly cited (CC BY 4.0).

Share & Cite This Article
MDPI and ACS Style
Summer, D.; Mayr, S.; Petrik, M.; Rangger, C.; Schoeler, K.; Vieider, L.; Matuszczak, B.; Decristoforo, C. Pretargeted Imaging with Gallium-68—Improving the Binding Capability by Increasing the Number of Tetrazine Motifs. Pharmaceuticals 2018, 11, 102.
Note that from the first issue of 2016, MDPI journals use article numbers instead of page numbers. See further details here.
Related Articles
Comments
[Return to top]