Open Access This article is
freely available
re-usable
Review
TRPM Family Channels in Cancer
1
Laboratory of Cell Physiology, INSERM U1003, Laboratory of Excellence Ion Channels Science and Therapeutics, Department of Biology, Faculty of Science and Technologies, University of Lille, 59650 Villeneuve d'Ascq, France
2
FONDATION ARC, 9 rue Guy Môquet 94830 Villejuif, France
*
Authors to whom correspondence should be addressed.
Received: 25 April 2018 / Accepted: 1 June 2018 / Published: 7 June 2018
Abstract
:
Members of the TRPM ("Melastatin") family fall into the subclass of the TRP channels having varying permeability to Ca2+ and Mg2+, with three members of the TRPM family being chanzymes, which contain C-terminal enzyme domains. The role of different TRPM members has been shown in various cancers such as prostate cancer for mostly TRPM8 and TRPM2, breast cancer for mostly TRPM2 and TRPM7, and pancreatic cancer for TRPM2/7/8 channels. The role of TRPM5 channels has been shown in lung cancer, TRPM1 in melanoma, and TRPM4 channel in prostate cancer as well. Thus, the TRPM family of channels may represent an appealing target for the anticancer therapy.
Keywords:
TRPM channels; cancer; target; therapy
1. Molecular Biology of TRPM Ion Channels Family
The N-terminal domain with a TRPM homology region seems to be crucial for the self-assembly and trafficking of TRPM family channels. Moreover, it was shown that the splice variants of the TRPM1 and TRPM2 channels contain only the N-termini, without the C-termini and most or all of the transmembrane domains. This is enough to suppress the channel activity of the full-length isoform.
2. TRPM Channels in Cancer
2.2. Pancreatic Cancer
The main TRPM channel involved in pancreatic cancer is TRPM7. Indeed it is 13-fold overexpressed in cancer tissues compared to healthy ones, and its expression correlates with the PDAC progression. Importantly, TRPM7 expression is inversely related to patient survival. The mechanism by which TRPM7 modules BxPC-3 cell migration is Mg
2+
-dependent [
62
]. TRPM7 increases PDAC cell invasion through the regulation of the proteolytic axis, Hsp90α/uPA/MMP-2 pathway [
63
]. This axis is significantly decreased in TRPM7-deficient PDAC cells.
TRPM2 is also negatively correlated with patient survival rate, compared with the control group. In fact, the moreTRPM2 is expressed in cancerous tissue, the shorter the survival times displayed by PDAC patients. The overexpression of TRPM2 has been shown to be associated with an increase incell proliferation and invasive ability. Therefore, the expression level of TRPM2 is noticeably linked with proliferation, invasive ability, and poor prognosis in patients with PDAC [
64
].
Finally, TRPM8 expression is also markedly up-regulated in human pancreatic adenocarcinoma cell lines and tissues, and is important for cellular proliferation. When TRPM8 is deficient in pancreatic cancer cells, a reduced ability of proliferation and cell cycle progression with elevated levels of cyclin-dependent kinase inhibitors is observed [
65
].
2.4. Breast Cancer
TRPM7 and TRPM8 expression was shown to be correlated with breast cancer. Dhennin-Duthille et al. [
70
] observed high levels of TRPM7 and TRPM8 expression in human breast ductal adenocarcinoma (hBDA) tissue compared to adjacent non-tumor tissue. TRPM7 and TRPM8 expression is importantly correlated with the Scarff-Bloom-Richardson (SBR) grade, Ki67 proliferation index, and tumor size. TRPM7 impacts several processes in cancer development. The positive correlation between the Ki67 mitosis marker and the up-regulated TRPM7 channel in breast carcinoma tissue suggests the role of this channel in breast cancer cell proliferation. TRPM7 can also influence cell adhesion and migration via the regulation of myosin-IIA filament stability, and it influences protein localization by phosphorylating the heavy chain [
22
]. TRPM7-mediated migration and invasion of MDA-MB-435 breast cancer cells especially involved the mitogen-activated protein kinase (MAPK) signaling pathways. Silencing TRPM7 induces a significant reduction in the migration and invasion potential of MDA-MB-435 breast cancer cells, in addition to a decrease in the levels of phosphorylated Src and MAPK.
Concerning TRPM8 channels, they are highly expressed at both the mRNA and protein levels in the MCF-7 breast cancer cell line, as well as in breast adenocarcinomas, and are especially correlated with estrogen receptor positive (ER+) tumors [
66
].
2.5. Melanoma
TRPM1 (also called melastatin) involvement in melanoma is undeniable. This channel was first discovered in the B-16 mouse melanoma cell line. TRPM1 expression steadily decreases during the progression of primary cutaneous and vertical growth phase melanomas. In fact, TRPM1 mRNA is almost or totally absent in around 80% of invasive primary melanomas. Thus, the TRPM1 gene is considered to bea tumor suppressor. In murine cell lines, Duncan et al. [
73
] showed that TRPM1 was expressed at high levels in poorly metastatic variants of the melanoma cell line, and expressed at very low levels in the highly metastatic melanoma cell line. In similar human melanoma experiments, Deeds et al. [
74
] found high levels of TRPM1 mRNA in melanocytic nevi, and noTRPM1 mRNA in melanoma metastases. In conclusion, the decreased expression of TRPM1 in melanoma development correlates with the melanoma cell transition from a low to a high metastatic phenotype, as well as with patient prognosis. For example, patients with stage I tumors, who display a diffuse expression of TRPM1, have an 8-year disease-free survival rate of 100%, while patients at the same stage but with no expression of TRPM1 have an 8-year disease-free survival rate of 77 ± 15%. The assessment is the same for patients with stage II disease with no TRPM1 expression: these patients have an 8-year disease-free survival rate that is significantly lower than that of patients at the same stage but who are expressing TRPM1. According to some studies, TRPM1 transcription regulation seems to occur via the binding of microphthalmia transcription factor (MITF), which is an essential transcription factor for the development of melanoma. Actually, depending on changes in MITF levels, TRPM1 mRNA expression is positively up- or down-regulated.
TRPM7 channels also act as protectors in both melanocyte physiology and in melanoma cells by acting as detoxifiers [
66
].
As for TRPM2, it is cited as a factor that can induce melanoma apoptosis and necrosis.
In normal cells, TRPM8 inhibits pigmentation of the melanocyte. However, in G-361 human melanoma cell line, menthol-mediated TRPM8 activity caused a prolonged increase in both the intracellular Ca
2+
concentration and the amplitude of the current, drastically reduced the survival of melanoma cells. Therefore, TRPM8 channels play a role in melanoma proliferation [
75
].
2.6. Gastric Cancer
TRPM7 channels have been shown to be predominant actors in the growth and survival of human gastric adenocarcinoma cells. Kim et al. [
76
] noticed an abundant expression of TRPM7 messenger RNA and protein in AGS gastric cancer cells, the most commonly used line of human gastric adenocarcinoma cells. The blocking of TRPM7 channels with La
3+
and 2-APB, or silencing TRPM7 expression with siRNA, inhibited the growth and survival of these cells. Kim et al. [
76
] later found that ginsenoside Rg3 inhibits the growth and survival of gastric cancer cells by blocking TRPM7 channel activity.
TRPM2 regulates autophagy through a c-Jun N-terminal kinase (JNK)-dependent and mechanistic target of rapamycin-independent pathway. Indeed, the lack of the TRPM2 channel down-regulates the JNK-signaling pathway, and impairs autophagy, ultimately causing the accumulation of damaged mitochondria, and the death of gastric cancer cells. Thus, TRPM2 knockdown inhibits cell proliferation, and promotes apoptosis in gastric cancer cells [
77
].
2.7. Nasopharyngeal Carcinoma
Only TRPM7 has been reported as playing a role in nasopharyngaeal carcinoma. In fact, the impairment of TRPM7 channel function in NPC cells causes a significant reduction of cellular migratory potential. On the contrary, increased TRPM7 activity by TRPM7 activator (Bradykinin), and overexpression of the channel, promote migration in 5-8F and 6-10B cells. That is in favor of a pro-migratory role of TRPM7 in these cells. An extracellular Ca
2+
chelator (EGTA), TRPM7 inhibitors (La
3+
and 2-APB), as well as TRPM7 knockdown, significantly reduce the migratory potential of 5-8F and 6-10B cells [
66
]. Thus, TRPM7 channels enhance growth, but especially migration, by mediating Ca
2+
influx in human head and neck carcinoma.
3. Conclusions
TRPM channels are largely represented in many human pathologies included cancer. Having variable permeability to Ca
2+
and Mg
2+
makes them non-selective cationic channels, while three of them, TRPM2/6/7, are chanzymes, a feature which is presently unknown in ion channels. The role of different TRPM members has been shown in various cancers, such as prostate, breast, pancreatic, lung, and melanoma, and is summarized in
Figure 2
.
Author Contributions
A.G.: Writing—Original Draft Preparation. A.H.: Writing—Review Editing. N.P.: Review Editing. V.L.: Editing Supervision.
Funding
This work has been funded by "Association sur la Recherche sur le Cancer", grant no. PJA 20161204599.
Conflicts of Interest
The authors declare no conflict of interest.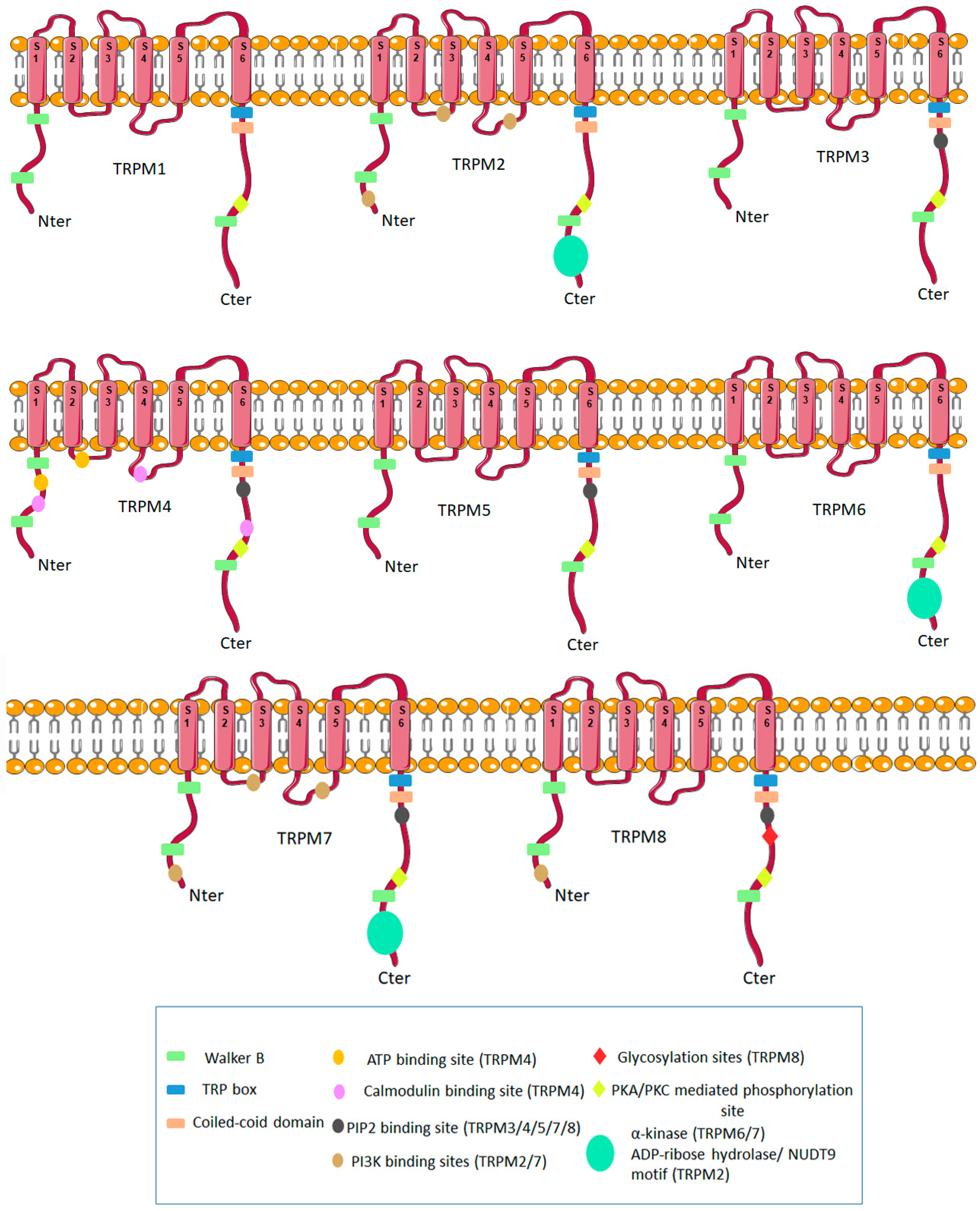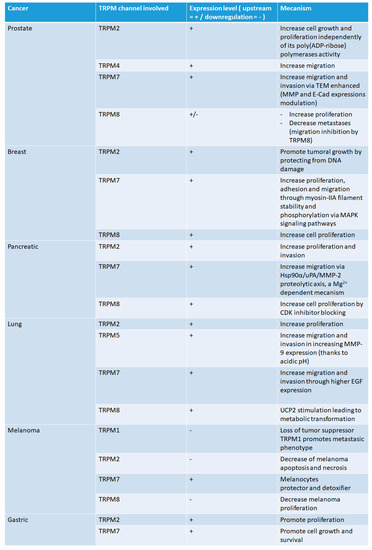 Figure 2. Role of different TRPM channels in cancer. (+) for the increase of function, (−) for the decrease of function.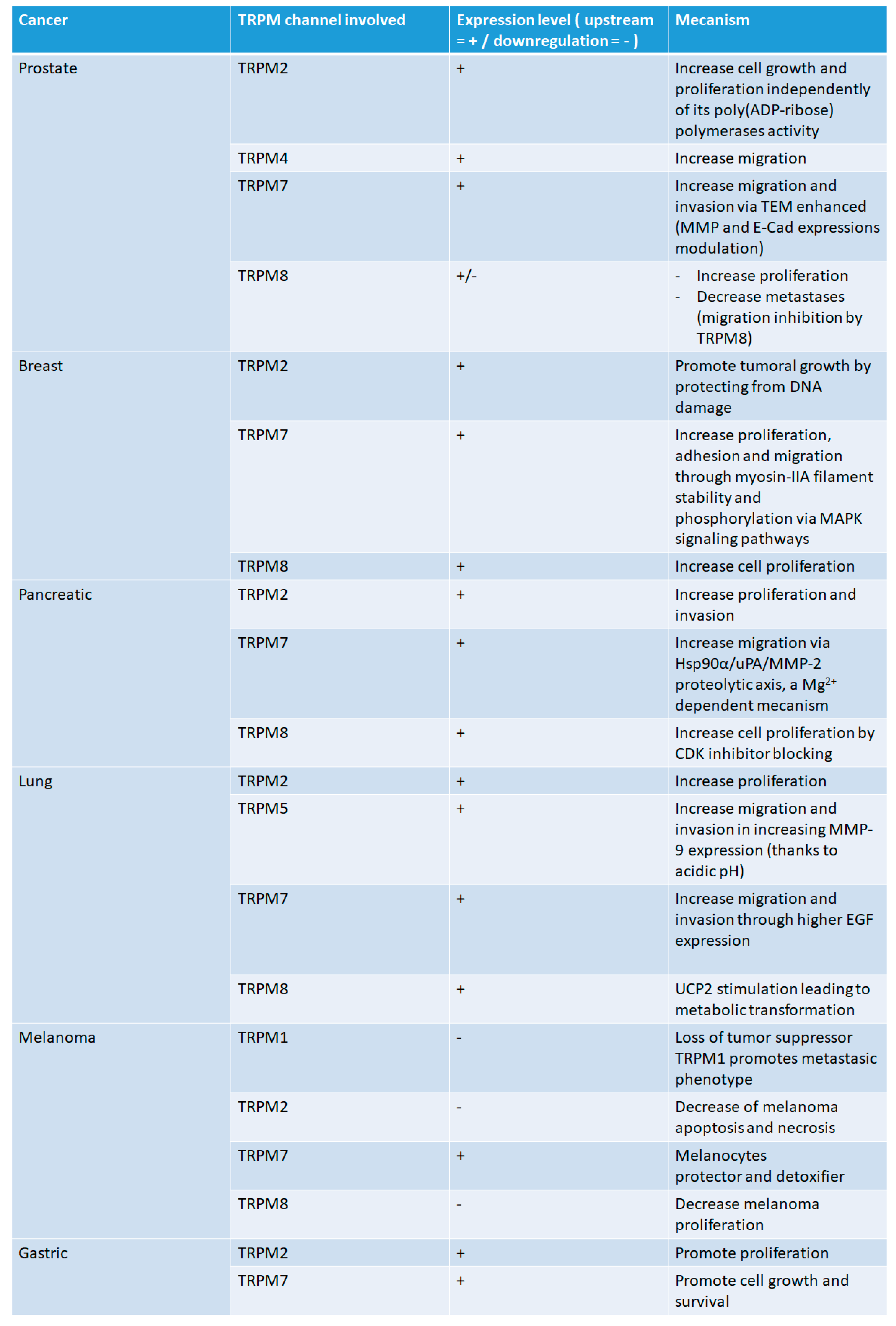 © 2018 by the authors. Licensee MDPI, Basel, Switzerland. This article is an open access article distributed under the terms and conditions of the Creative Commons Attribution (CC BY) license (http://creativecommons.org/licenses/by/4.0/).