Open Access This article is
freely available
re-usable
Review
Interactions Between Epilepsy and Plasticity
1
Cellular Neurobiology Laboratory, Cell and Molecular Biology Department, CUCBA, University of Guadalajara, 45220 Zapopan, Jalisco, Mexico
2
Neurotransmission Biology Laboratory, Cell and Molecular Biology Department, CUCBA, University of Guadalajara, 45220 Zapopan, Jalisco, Mexico
3
Development and Neural Regeneration Laboratory, Cell and Molecular Biology Department, CUCBA, University of Guadalajara, 45220 Zapopan, Jalisco, Mexico
†
Deceased, 2 August 2017.

Received: 24 November 2017 / Accepted: 6 February 2018 / Published: 7 February 2018
Abstract
:
Undoubtedly, one of the most interesting topics in the field of neuroscience is the ability of the central nervous system to respond to different stimuli (normal or pathological) by modifying its structure and function, either transiently or permanently, by generating neural cells and new connections in a process known as neuroplasticity. According to the large amount of evidence reported in the literature, many stimuli, such as environmental pressures, changes in the internal dynamic steady state of the organism and even injuries or illnesses (e.g., epilepsy) may induce neuroplasticity. Epilepsy and neuroplasticity seem to be closely related, as the two processes could positively affect one another. Thus, in this review, we analysed some neuroplastic changes triggered in the hippocampus in response to seizure-induced neuronal damage and how these changes could lead to the establishment of temporal lobe epilepsy, the most common type of focal human epilepsy.
Keywords:
seizures; hippocampus; granular cells; plasticity; epilepsy
1. Introduction
Despite the many physiological implications of neuroplasticity, the aim of this review is to analyse some of the neuroplastic changes triggered in the hippocampus as a response to cell death generated by seizures and how those could lead to the establishment of TLE.
2. Neuroplasticity in the Epileptogenic Hippocampus
3. Axonal Sprouting: Hippocampal Cell Response to Epileptic Seizures
The neuroplastic mechanisms involved in the recovery from lesions or illnesses are not always positive; and in some cases, they are responsible for initiating or enhancing the pathological processes [
62
]. When a massive loss of neuronal cells occurs, generating deafferentiation of a brain area, axonal sprouting arises as a widespread plastic response in part of the CNS to reorganize itself and try to restore the damage [
67
]. Nevertheless, the axonal sprouting process has also been described as a sign of different disorders of the CNS in which neuronal death occurs. Particularly in TLE, the prominent neuronal death produced by the seizures in the hippocampus (CA1 and CA3 subfields) and the amygdala, promotes the sprouting of new axons in the surviving dentate granular cells, which attempt to reinnervate the affected brain area, and produces an aberrant synaptic reorganization, which has been implicated in the pathogenesis of this disease [
68
,
69
]. In a clinical study, Scheimeiser and collaborators (2017) analysed 319 samples of TLE patients and observed that there was a correlation between the extent of mossy fibre sprouting and neuronal loss [
70
], but other evidence has suggested that neuronal degeneration is not strictly necessary for the sprouting to begin [
71
]. On the other hand, the aberrant function of axonal sprouting has also been considered as a consequence of granular cell ageing. Althaus and colleagues (2017) injected retroviruses carrying a synaptophysin-yellow fluorescent protein in a model of TLE in rats (SE induced by pilocarpine administration) and demonstrated that, in both neonatal and adult animals, the newly born granular cells contributed to the aberrant axonal reorganization to a similar extent, at least in this experimental model [
72
]. These and other results suggest that there is a more complex relationship between granular cells age and their participation in seizure-related plasticity.
The synaptic reorganization of the CNS and neuroanatomical description of the axonal sprouting process involves a very complicated series of events that are difficult to be reproduced in vitro; however, some of them have been characterized in samples of human brains and animal models of TLE [
60
,
73
]. Timm's staining method [
74
,
75
] has evidenced important structural changes in dentate granular cells with the sprouting of new axonal collaterals [
54
,
76
] that establish functional synapses with the dendrites of granular cells inside the inner molecular layer [
45
,
74
,
77
]. The neuronal reorganization of networks may occur in different brain areas generating numerous aberrant connections that promote TLE [
46
,
76
].
On the other hand, axonal sprouting is a mechanism regulated by different molecules that play an important role in brain development and in epileptogenesis. In this sense, it is known that the expression of some proteins, such as MAPs (microtubule-associated proteins) [
62
] and the GAP-43, are essential for this process. In particular, the GAP-43 protein, which is abundant in the neuronal growth cones and is required for growth and restructuration of neuronal axons, it is widely utilized as a specific marker of axonal sprouting [
78
,
79
,
80
,
81
,
82
,
83
]. Other critical molecules capable of promoting or inhibiting axonal growth are found outside of the cell, such as extracellular matrix molecules and cell adhesion molecules, as well as diffusible molecules such as cytokines produced by glial (reactive) or neuronal cells around the injured region [
83
]. These molecules also have other important functions, pointing the way that a new axon has to follow to reach to the target regions and cells.
Despite the different approaches that have so far contributed to the understanding of neuroplasticity and epileptogenesis processes, the identification of more participating molecules that are involved and a detailed description of the neuroanatomical profile of axonal sprouting at the level of individual cells are necessary to improve the treatment of this and other neuronal diseases.
4. Transcriptional Changes Related to Seizures and the Neuroplasticity Process
During development or during a pathological event, the neuroplastic process is highly influenced by extrinsic environmental experiences. Through different studies, it has been shown that short- and long-term synaptic plasticity responses may change substantially in the hippocampus and cerebral cortex after epileptic seizures [
84
,
85
,
86
]. However, the underlying mechanisms of these changes are still generally unclear because of contradictory results that currently exist. Immediate early genes (IEGs) are among the first changes induced in response to different physiological or pathological events. Specifically, changes in the gene expression levels of c-Fos, FosB, c-Jun, Egr1, Egr2, Egr4, FoxP2, Homer-1, Nacc-1, Nurr77, Arc and ApoE among others have been observed; these expression changes have been implicated in both the neuroplastic process and in the establishment of neurological disorders, such as epilepsy [
87
,
88
,
89
,
90
,
91
,
92
,
93
,
94
,
95
,
96
,
97
,
98
]. Subsequently, it has been proposed that IEGs are activated by the excessive synaptic activation that is generated in hippocampal and neocortical tissues [
97
,
99
,
100
] by high levels of Glu released to the extracellular space [
101
]. Glu overactivates its specific receptors, promoting excessive neuronal excitation and the overload of cytosolic free-Ca
2+
, followed by cell death via excitotoxicity [
102
,
103
]. Glu-mediated signalling activates kinase cascades, such as the ERK pathway [
104
,
105
], that are responsible for phosphorylating several transcription factors that may translocate to the cell nucleus and regulate gene transcription processes [
106
].
On the other hand, previous studies have documented a complex pattern of long-term changes in plasticity-associated protein expression after seizure activity [
107
]. Neurotrophins, brain-derived neurotrophic factor (BDNF), insulin-like growth factor (IGF), and vascular endothelial growth factor (VEGF), are just some of the affected proteins [
108
,
109
]. In some cases, the low protein expression may be confused with the ageing process, which is known to alter the time course of gene expression, similar to that after seizures activity [
110
,
111
]. Additionally, differential changes in the expression of neurotransmitter receptors and modifications to the expression levels of neuropeptides in hippocampal cells, are induced by seizures [
112
,
113
,
114
,
115
,
116
,
117
], such as neuropeptide Y (NPY) in DG cells (Y1, Y2, and Y5), which has been found to be related to memory, learning and epilepsy.
Although we do not know enough of the specific genes that are involved in the neuroplasticity associated with epilepsy, it has been considered that each stimulus may initiate its own molecular pathway activation in the brain depending on the damage intensity generated to the neural networks [
118
]. The results of studies regarding changes in the expression of genes and the modifications of proteins in a temporal profile to determine its variability could have important implications for the development of new treatments for seizures disorders.
5. Changes in the Neurotransmission Systems by Seizures Related to Neuroplasticity
Two important aspects should be noted. First, all statements mentioned above are based on the analysis of experimental acute and chronic epilepsy models, and of surgically TLE samples; second, not only have Glu and GABA been implicated in the plastic changes that mediate epileptogenesis, but also synaptic strength is highly susceptible to growth factors, other neurotransmitters, neuromodulators and hormones, which cannot be fully detailed in this review.
6. Neuronal and Glial Responses in the Hippocampus after Epileptic Seizures
Because neurons are not alone into the brain, one of the difficulties in the study of neuroplasticity and epilepsy, as in other neurological processes, was identifying all changes that occur in different cells in the orchestration of whatever process is being studied. However, in this section, we focused on the cells most closely related to synapses efficacy: neurons, astrocytes, and microglial cells. In addition to the modifications mentioned above, neurons that survive the degenerative process triggered by seizures modify the expression pattern and secretion of different neuropeptides and the density and distribution of their receptors, which may reduce the damage but also may reduce neuronal activation of GABA neurons or may increase Glu neurons activation [
136
], such as NPY and its receptors Y1 and Y2, whose expression is increased in both mossy fibres and GABAergic interneurons of the rat hippocampus in response to recurrent seizures. Similarly, the expression of those receptors also appears to be increased in surgically resected TLE samples, apparently reducing Glu release and neuronal excitation [
113
,
137
]. It should be mentioned that, even though interneurons are more vulnerable to the damage caused by seizures in comparison to dentate granular cells, dentate mossy cells are more sensitive than interneurons, and they respond to seizures extremely quickly and it is very complicated to identify the early changes produced in them [
138
]. Although some neuropeptides may reduce excitability, the progressive interneuron loss associated with seizures may promote a hyperexcitable state that complicates the control of them [
139
,
140
].
On the other hand, glial cells also respond to seizures and neuronal damage through a process known as "glial reactivity", which comprises both morphological and biochemical changes. The morphological changes include cell proliferation and ramification of the cell processes of both astrocytes and microglial cells [
141
]; additionally, reactive astrocytes have shown a reduced capacity to maintain extracellular homeostasis at the level of ions, nutrients, and neurotransmitters, improving the hyperexcitable state [
142
], and even releasing Glu [
126
]. In addition, the BBB can be dramatically damaged, not only by changes in the functional expression of transport proteins expressed by the astrocyte but also because the astroglial feet retract and lose contact with endothelial cells [
141
]. Consequently, glial reactivity has a strong influence on neuronal functioning, particularly in the plastic changes related to epileptogenesis [
143
,
144
,
145
,
146
]. Furthermore, reactive glial cells increase the synthesis and secretion of chemokines and cytokines [
147
,
148
], which may improve astrocytes and microglial cells activation in a positive feedback signalling process. For example, pro-inflammatory cytokines, such as NF-κB and interleukin (IL)-1β, as well as its signalling receptor IL-1R1, are highly expressed by neurons and glial cells in TLE [
149
,
150
]. Recent studies carried out in different experimental models of epileptogenesis showed that epileptic seizures may induce glial reactivity [
151
,
152
,
153
,
154
] and increase pro-inflammatory cytokine levels, particularly in cerebral regions involved in the processes of both epileptogenesis and neuroplasticity [
155
,
156
,
157
]. These and other data allow the suggestion that seizures induce a strong inflammatory response that significantly modifies the functional interactions among microglial cells, astrocytes and neurons, which could be an important link between the two boarded processes here.
7. Neurogenic and Synaptogenic Responses to Epileptic Seizures
As was described earlier in this review, a large variety of plastic changes are generated in response to neuronal damage, especially after prolonged or repetitive seizures. Although, differential effects of the neurogenic role in epilepsy establishment are present and dependent on multiple factors, generally it is accepted that the outcome depends on synaptogenesis of the new neurons.
8. Conclusions
The neuroplastic process has been considered both a cause and consequence of epilepsy, which represents more complexity than only the CNS restructuring. After seizure activity in the hippocampus not only does neuronal death occurs but also cell and molecular events that restructure and modify neuronal networks and synaptic communication occur; these modifications can reestablish normal functions or contribute to the development of neuronal illnesses, such as TLE. Growing evidence obtained through both experimental models and human brain samples has tried to explain some of the mechanisms involved in this type of illness, although many of them are contradictory. Specifically, in animal models, different factors must be considered, such as the mechanisms of damage induction, the animal species used, ages, genders, among others. Nevertheless, many groups of investigators continue to research the mechanisms implicated in neuroplasticity associated with epilepsy at different levels, especially in brain areas such as the hippocampus, which has a very important role in these processes (
Figure 3
).
Finally, one of the most important goals is to accomplish a clearly identification and understanding of the mechanisms and signalling pathways involved in neuronal death, plasticity, and epilepsy to identify new targets that may be used to develop therapeutic strategies to prevent or decrease the damages that lead to the establishment of neurological illnesses such as epilepsy.
Acknowledgments
This work was supported by the Guadalajara University (Lab_130 Research Strengthening Project); and CONACYT grant #177594. México. Additionally the authors express gratitude for language editing to Macias-Veles R.J.
Author Contributions
J.J.J.-B. and Y.G.-M. responsible for conception and design of this review. M.C.R.-C. and M.E.U.-G. integration and interpretation of information. A.I.F.-V. and C.B.-Z. editing and revising critically this work and contributing with important intellectual content. All authors contributed to and approved the final version of the manuscript.
Conflicts of Interest
The authors declare no conflict of interest.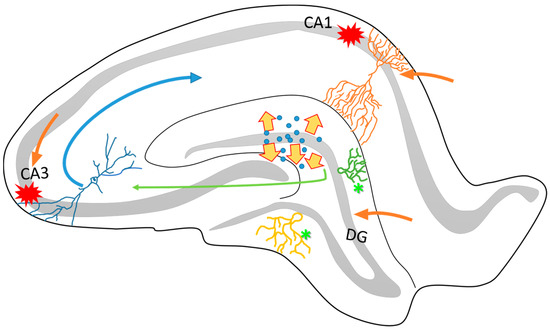 Figure 1. Schematic representation of the structural organization of the rat hippocampus. It is known that the hippocampus is connected to the entorhinal cortex through different anatomical circuitries that have been well described. Particularly, the perforant pathway projects from the DG and the CA3 to the CA1 (green and blue arrows). One of the characteristics of this circuitry is its directionality between the different neuronal layers. The DG, CA3 and the apical layers of CA1 (orange arrows) project mainly via the superficial layers of the entorhinal cortex (II and III). On the other hand, many pieces of evidence have reported that the hippocampus is highly vulnerable to cell loss via seizure activity, particularly in the CA1 and CA3 subfields (red marks). The dispersion of dentate granular cells (yellow arrows) and intense axonal sprouting (asterisks) are common in epileptogenesis process. These structural changes affects the organization and function of hippocampal circuitry and contribute to the establishment of the TLE.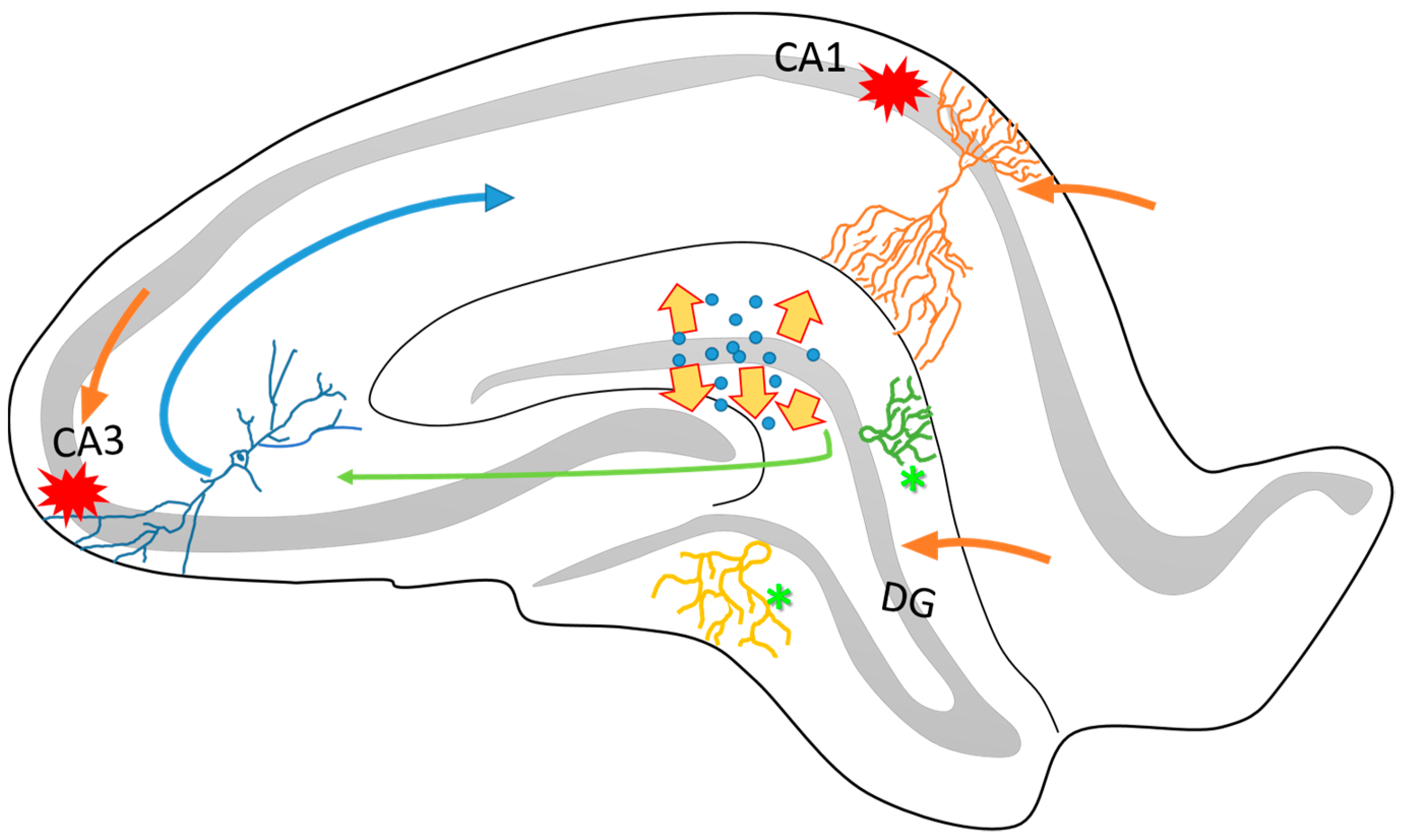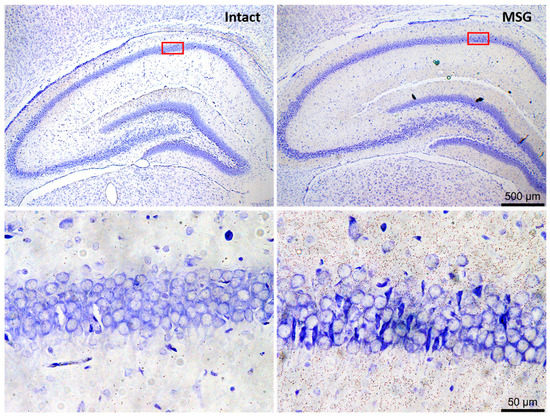 Figure 2.
Representative images of neuronal excitotoxic damage in rat hippocampus after subcutaneous monosodium glutamate neonatally administered. Photomicrographs were taken at the level of the dorsal hippocampus, with a focus on the CA1 area (square red). Nissl stain. Scale bars correspond to 500 and 50 µm in upper and lower panels, respectively (for methodological details see: Rivera-Cervantes [
131
]).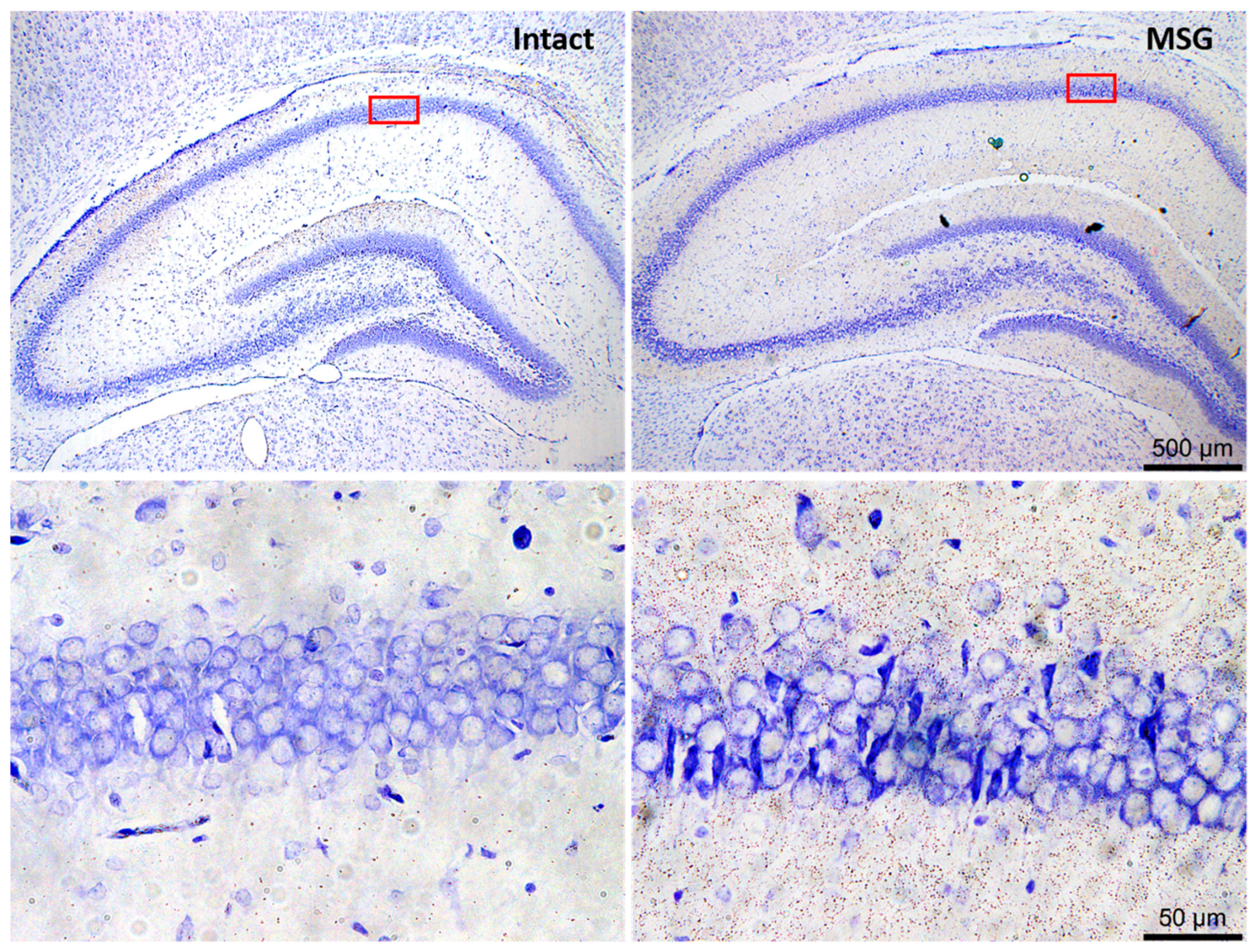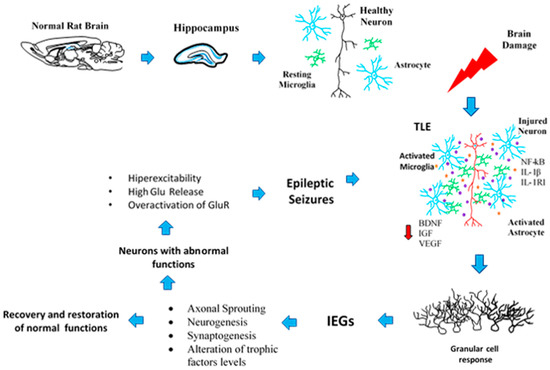 Figure 3. Schematic representation of the progressive events that lead to neuroplasticity and epileptogenic processes. First, the upper images refer to the undamaged hippocampus (blue colour) in a rat brain with most of the diverse cell populations (layers) represented (neuron: black colour; astrocytes: blue colour; and microglial cells: green colour). After non-lethal damage to the brain (red ray), reactive glial cells release pro-inflammatory chemokines and cytokines and modify neuronal activity (neuron: red colour; astrocytes: blue colour, and microglial cells: green colour; released pro-inflammatory molecules: purple colour; trophic factors levels are altered: red arrow). Then, through IEGs transcription, dentate granular cells respond to the damage through plastic changes that try to restore normal function but can also contribute to epileptogenesis, in a global process where in the mechanisms could affect on another.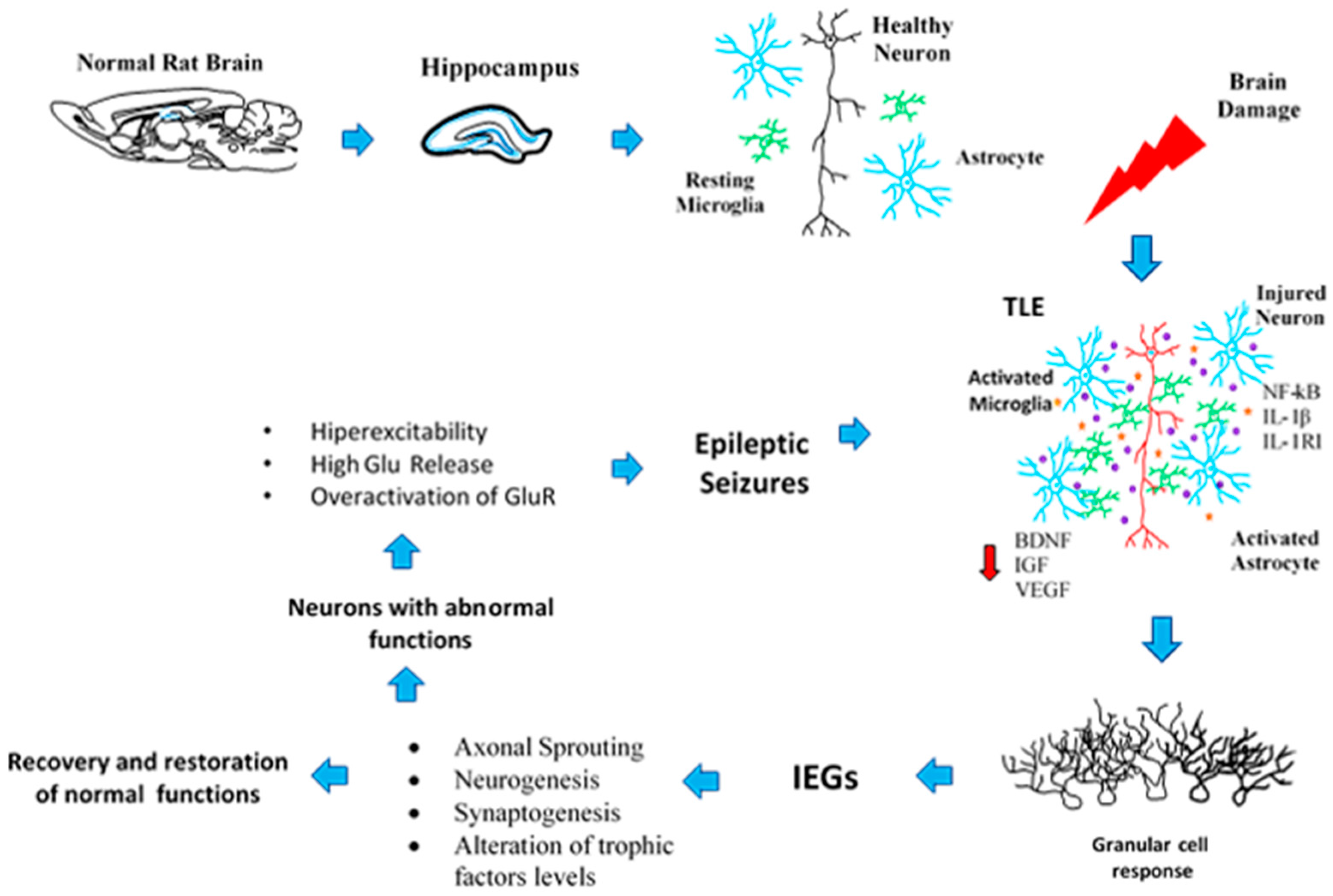 © 2018 by the authors. Licensee MDPI, Basel, Switzerland. This article is an open access article distributed under the terms and conditions of the Creative Commons Attribution (CC BY) license (http://creativecommons.org/licenses/by/4.0/).