Alpha-Secretase ADAM10 Regulation: Insights into Alzheimer's Disease Treatment
1
Department of Gerontology, Federal University of São Carlos, São Carlos 13565-905, Brazil
2
Departament de Farmacologia, Toxicologia i Química Terapèutica, Facultat de Farmàcia i Ciències de l'Alimentació, Universitat de Barcelona, 08028 Barcelona, Spain
3
Biomedical Research Networking Centre in Neurodegenerative Diseases (CIBERNED), 28031 Madrid, Spain
4
Institut de Neurociències, Universitat de Barcelona, 08035 Barcelona, Spain
*
Author to whom correspondence should be addressed.
Received: 27 December 2017 / Revised: 23 January 2018 / Accepted: 23 January 2018 / Published: 29 January 2018
Abstract
ADAM (a disintegrin and metalloproteinase) is a family of widely expressed, transmembrane and secreted proteins of approximately 750 amino acids in length with functions in cell adhesion and proteolytic processing of the ectodomains of diverse cell-surface receptors and signaling molecules. ADAM10 is the main α-secretase that cleaves APP (amyloid precursor protein) in the non-amyloidogenic pathway inhibiting the formation of β-amyloid peptide, whose accumulation and aggregation leads to neuronal degeneration in Alzheimer's disease (AD). ADAM10 is a membrane-anchored metalloprotease that sheds, besides APP, the ectodomain of a large variety of cell-surface proteins including cytokines, adhesion molecules and notch. APP cleavage by ADAM10 results in the production of an APP-derived fragment, sAPPα, which is neuroprotective. As increased ADAM10 activity protects the brain from β-amyloid deposition in AD, this strategy has been proved to be effective in treating neurodegenerative diseases, including AD. Here, we describe the physiological mechanisms regulating ADAM10 expression at different levels, aiming to propose strategies for AD treatment. We report in this review on the physiological regulation of ADAM10 at the transcriptional level, by epigenetic factors, miRNAs and/or translational and post-translational levels. In addition, we describe the conditions that can change ADAM10 expression in vitro and in vivo, and discuss how this knowledge may help in AD treatment. Regulation of ADAM10 is achieved by multiple mechanisms that include transcriptional, translational and post-translational strategies, which we will summarize in this review.
View Full-Text
►

▼

Figures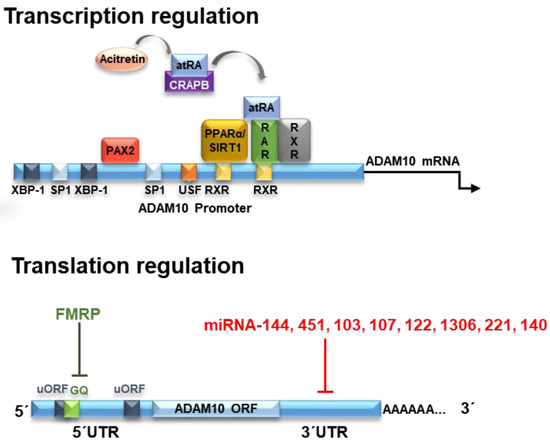 Figure 1
This is an open access article distributed under the
Creative Commons Attribution License
which permits unrestricted use, distribution, and reproduction in any medium, provided the original work is properly cited (CC BY 4.0).

Share & Cite This Article
MDPI and ACS Style
Peron, R.; Vatanabe, I.P.; Manzine, P.R.; Camins, A.; Cominetti, M.R. Alpha-Secretase ADAM10 Regulation: Insights into Alzheimer's Disease Treatment. Pharmaceuticals 2018, 11, 12.
Note that from the first issue of 2016, MDPI journals use article numbers instead of page numbers. See further details here.
Related Articles
Comments
[Return to top]