Open Access This article is
freely available
re-usable
Review
Antibiotic Persistence as a Metabolic Adaptation: Stress, Metabolism, the Host, and New Directions
Department of Molecular Microbiology and Immunology, Division of Biology and Medicine, Brown University, Providence, RI 02912, USA
†
These authors contributed equally to this work.

Received: 23 December 2017 / Accepted: 27 January 2018 / Published: 1 February 2018
Abstract
:
Persistence is a phenomenon during which a small fraction of a total bacterial population survives treatment with high concentrations of antibiotics for an extended period of time. In conjunction with biofilms, antibiotic persisters represent a major cause of recalcitrant and recurring infections, resulting in significant morbidity and mortality. In this review, we discuss the clinical significance of persister cells and the central role of bacterial metabolism in their formation, specifically with respect to carbon catabolite repression, sugar metabolism, and growth regulation. Additionally, we will examine persister formation as an evolutionary strategy used to tolerate extended periods of stress and discuss some of the response mechanisms implicated in their formation. To date, the vast majority of the mechanistic research examining persistence has been conducted in artificial in vitro environments that are unlikely to be representative of host conditions. Throughout this review, we contextualize the existing body of literature by discussing how in vivo conditions may create ecological niches that facilitate the development of persistence. Lastly, we identify how the development of next-generation sequencing and other "big data" tools may enable researchers to examine persistence mechanisms within the host to expand our understanding of their clinical importance.
Keywords:
persistence; tolerance; metabolism; biofilms; next-generation sequencing
1. Introduction
The discovery of antibiotics and their widespread use in the 20th century represent a significant milestone in human history. Commercial antibiotics have saved innumerable lives, but their efficacy has declined at an alarming rate due to the spread of antibiotic resistance. Within a decade of the first major utilization of penicillin therapy in soldiers during World War II [
1
], penicillin resistance became a significant clinical burden and signaled the beginning of an "arms race" between pathogenic bacteria and pharmaceutical development [
2
]. In addition to resistance, physicians such as Joseph Bigger were vexed by a concerning phenomenon; although penicillin was frequently and successfully used to treat
Staphylococcal
wound infections, therapies often failed to completely sterilize the infection site, ultimately resulting in severe infection relapse and mortality [
3
]. Bigger coined the term "persisters" to describe a minority subpopulation of bacterial cells that could survive antibiotic challenge in the absence of resistance [
3
,
4
]. Here, we define persisters as a small fraction of a total bacterial population that can survive long-term treatment with high concentrations of antibiotics. However, unlike resistant bacteria, most of these cells regain sensitivity after regrowth and new treatment typically results in the same small surviving fraction. Additionally, the phenomenon of tolerance is closely related to and often confused with persistence. Tolerance also enables bacterial cells to survive exposure to lethal concentrations of antibiotics; however, unlike persisters, tolerant cells make up a larger portion of the population and they are only temporarily protected from antibiotic exposure.
Over the last 60 years, an expansive body of work has focused on characterizing the genetic determinants, molecular mechanisms, and epidemiology of antibiotic resistance. Although the breadth of research on antibiotic persistence is less robust, the past decade has seen burgeoning interest in persistence as a cause of clinical therapeutic failure [
1
]. In recent years, the defining characteristics of persisters and their formation have been codified in primary literature and multiple reviews [
4
,
5
,
6
,
7
,
8
,
9
]. In this review, we aim to link work from the distinct fields of systems biology and in vivo clinical microbiology. Although these fields have been operating somewhat independently, we feel they are intrinsically related and together can help to decipher the heterogeneous phenomenon of antibiotic persistence. We will discuss antibiotic persistence as it relates to bacterial metabolism, specifically focusing on how carbon catabolite repression, sugar metabolism, and growth regulation are involved in persister formation. We will contextualize these findings by discussing how in vivo conditions create ecological niches that facilitate persistence development. Finally, we will discuss how persister formation represents a unique evolutionary strategy to combat antibiotic stress as well as some of the response mechanisms implicated in persister formation.
As we discuss this previous research, it is important to consider that a majority of mechanistic studies on persisters have been conducted under artificial conditions in vitro. In reality, antibiotics act on and induce persisters in complex polymicrobial communities that are themselves profoundly impacted by the host environment. Thus, the insight generated from this work may not be fully biologically relevant or clinically applicable. However, the development of new tools based on next-generation sequencing and "big data" analysis may allow us to study persistence and persistence-related processes in the host. Throughout this review, we will identify applications where these tools can be utilized to expand our understanding.
2. Persistence as an Evolutionary Adaptation
3. Biofilms Can Promote Antibiotic Persistence in Clinical Settings
4. Growth, Metabolism, and ATP Production
5. Carbon Catabolite Repression Systems Coordinate Antibiotic Persistence and Tolerance
6. Sugar Metabolism and the Eradication of Persisters
Within carbon catabolism, sugar metabolism has been shown to be of particular importance in persister development. For this reason, several studies have explored the therapeutic potential of exploiting bacterial sugar metabolism to increase the efficacy of existing antibiotics against persisters [
75
,
76
,
77
]. It has long been known that uptake of aminoglycoside antibiotics is driven by proton motive force (PMF) [
78
,
79
]. PMF is known to be significantly lower in metabolically quiescent persister cells, which significantly limits the uptake and effectiveness of aminoglycosides [
75
,
77
,
78
,
79
]. A study by Allison et al. demonstrated that supplementation with pyruvate or metabolites that enter upper glycolysis (namely glucose, mannitol, and fructose) increased PMF and the uptake of aminoglycosides in
S. aureus
and
E. coli
[
77
]. As a result, they found that supplementation with these metabolites increased killing of persisters by three orders of magnitude. Conversely, metabolites that enter in lower glycolysis or the pentose phosphate and Entner–Doudoroff pathways showed little potentiation. Additionally, mannitol and fructose increased the efficacy of gentamicin against biofilms in vitro and in vivo by 4 and 1.5 orders of magnitude, respectively. However, the same potentiating effect was not observed with β-lactams. Because β-lactams require active bacterial growth for efficacy, this finding demonstrates that the persister cells have not been induced into an actively growing state by the addition of the metabolites. Additionally, treatment with the protonophore carbonyl cyanide m-chlorophenyl hydrazine (CCCP), an uncoupler of oxidative phosphorylation that reduces PMF, abolished the potentiating effect seen with aminoglycoside treatment. Taken together, these findings suggest that supplementation with central carbon metabolites induces PMF and facilitates uptake of aminoglycosides, thus potentiating their efficacy against persisters [
66
,
77
].
Similar work has been recently published using
P. aeruginosa
[
75
,
76
]. In this case, metabolites from the lower TCA cycle and glycolysis, namely fumarate, succinate, pyruvate, and acetate, sensitized persister and biofilm cells to the aminoglycoside tobramycin [
75
]. Conversely, supplementation with the upper TCA cycle metabolite glyoxylate was found to have a protective effect. As demonstrated by Allison et al., these effects appear to be largely explained by the changes within central carbon metabolism [
75
,
77
]. Supplementation with fumarate stimulated the TCA cycle and electron transport chain activity, thus generating PMF and facilitating uptake of tobramycin. Conversely, glyoxylate decreased cellular respiration while having no significant impact on PMF. Interestingly, supplementing both fumarate and glyoxylate increases PMF and aminoglycoside uptake while decreasing respiration. These cells remain tolerant to aminoglycosides, indicating that decreased cellular respiration can reduce toxicity and compensate for increased uptake [
75
].
Based on these observations, it is clear that bacterial metabolism and nutrient availability, particularly of sugars and central carbon metabolites, are important determinants of antibiotic efficacy against persisters. Therefore, it is important to understand the availability of these nutrients within the host during infection and how they alter bacterial metabolism. The use of next-generation tools will undoubtedly aid in addressing multi-faceted and complex questions such as this (
Figure 1
A). For example, metabolomic techniques can be utilized to characterize the metabolites present within a given niche inside the host [
67
]. Pairing this metabolomic data with transcriptomic data from bacteria isolated from the microbiome or an infection may lend insights into the interplay between host and pathogen metabolism. Doing so may also help identify conditions within the host that are likely to foster the development of tolerance and persistence.
7. Cellular Permeability, Proton Motive Force, and Persistence
8. Stress Responses and Persistence: The Stringent Response
9. Stress Responses and Persistence: The SOS Response
10. Future Directions
The past decade has brought many advancements in the study of bacterial persistence. Despite these advances, persistent infections remain a major public health burden and work is needed to translate new discoveries to improved clinical outcomes. One potential area of research that could help bridge this gap is determining the role that host metabolism plays in bacterial persistence. To date, the vast majority of persistence research has been conducted in vitro under nutrient conditions that differ considerably from what is found in vivo. Human metabolism is a complex phenotypic trait that is dependent on a multitude of factors such as genetics, diet, and microbiome composition [
109
,
110
,
111
,
112
]. Further complicating the role of human metabolism is the fact that the human host comprises of a multitude of micro-niches that harbor vastly different nutrient conditions. A breadth of research has demonstrated that metabolic activity is a key factor in the development of bacterial persistence. Therefore, it is likely that nutrient availability in these micro-niches may act as a determinant of bacterial metabolism and thus persister formation. If so, understanding the impact that human metabolism plays in bacterial persistence and treatment efficacy is crucial to improving patient outcomes. Furthermore, uncovering the links between host metabolism and bacterial persistence could open the door to new therapeutic strategies that improve the efficacy of treatment by modulating host metabolism. Such strategies could lay the foundation for personalized medicine by allowing medical professionals to tailor treatment based on infection site and the patient's overall metabolic state.
Another untapped area of research is the potential link between persister formation and the microbiome. Most, if not all, pre-existing persister research has been conducted in vitro using human pathogens. However, it is unknown if persister formation occurs within the complex polymicrobial communities that comprise the microbiome. Though persistence is typically viewed negatively in the context of recurrent clinical infections, it is possible that it may serve a beneficial role in the context of the microbiome. Antibiotic treatment is known to decrease the diversity and count of bacteria in a number of niches within these communities, which, in turn are associated with dysbiosis and other negative health outcomes [
113
,
114
,
115
,
116
,
117
,
118
]. However, a form of persistence may enable beneficial microbes to survive perturbations such as antibiotic treatment, infection, or dietary shifts, thus allowing them to replenish a healthy microbiota. Conversely, these strategies could also explain the bloom of opportunistic pathogens following antibiotic therapy. In either case, it is crucial to understand if and how persistence mechanisms are utilized in the context of the microbiome.
Addressing these questions would have been logistically daunting in past decades due to the diversity of the microbiome and the inability to culture many of its resident microbes. However, the advance of next-generation sequencing technologies in the past decade has enabled new insights into the development of persistence. For example, experiments utilizing RNA-Seq demonstrated that persisters overexpress the TolC efflux pump, indicating a previously unknown role of drug efflux in this phenomenon [
90
]. Additionally, Henry et al. recently developed a platform that integrated fluorescence-activated cell sorting (FACS), traditional antibiotic susceptibility assays, and next-generation sequencing to assay persister physiology [
41
]. The extreme rarity of persisters within polymicrobial communities makes many in vivo analyses logistically difficult. The development of single-cell sequencing technologies, combined with persister enrichment protocols such as FACS and LCMD, present robust avenues for analysis in vitro and in vivo [
42
,
43
,
44
,
45
,
46
,
47
,
48
]. Critically, many of the methods that utilize these technologies are culture-independent. Therefore, they may serve as powerful tools that will allow researchers to determine the mechanisms underlying persistence in complex microbial communities or during infection.
Acknowledgments
This review was supported by funding received from the COBRE Center for Computational Biology of Human Disease (NIH P20 GM109035) and from the National Science Foundation Graduate Research Fellowship (Grant No. 1644760).
Author Contributions
J.I.W. and D.J.C. contributed equally to this work. J.I.W. and D.J.C. performed the literature review and wrote the manuscript. J.I.W. created the figure. P.B. and D.J.C. prepared the manuscript for publication. P.B. conceptualized the work. All authors reviewed and approved its final version.
Conflicts of Interest
The authors declare no conflict of interest. The funding sponsors had no role in the writing of the manuscript.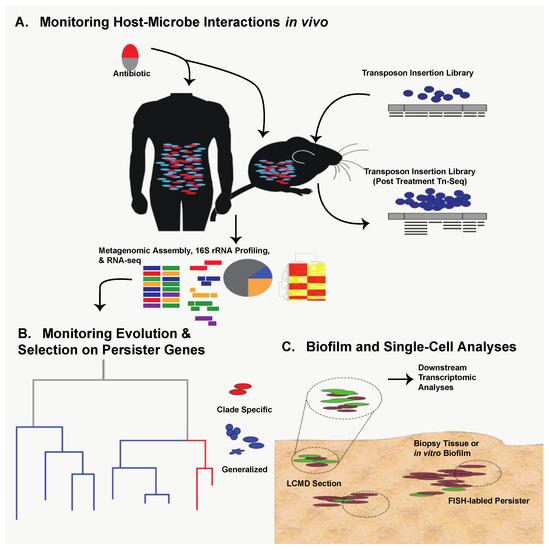 Figure 1. Utilization of next-generation technologies for studying persister cells. (A) Both human patients and murine models provide an opportunity to study in vivo persister formation via 16S rRNA profiling, community metagenomics, and RNA-Seq of the intestinal flora following antibiotic exposure. Single-organism persister formation can be studied in vivo through animal infection with high-density transposon insertion libraries and Tn-Seq. (B) Metagenomic and RNA-Seq data can be used to study selective pressure on persister genes in either closely related or divergent taxa. This can be done in retrospective clinical cohort groupings or in animal model infections over the course of antibiotic therapy, identifying how certain therapeutic regimens can select for the expression of specific (red) or ubiquitous (blue) persister elements. (C) Persisters can be studied from either in vitro-generated biofilms or patient biopsy-derived biofilms. Persister-specific Fluorescence In-Situ Hybridization (FISH) labeling can allow for visualization and study of persisters within the 3D context of the biofilm, and laser-capture microdissection (LCMD) sectioning can facilitate labeled cell extraction for downstream transcriptomic analyses.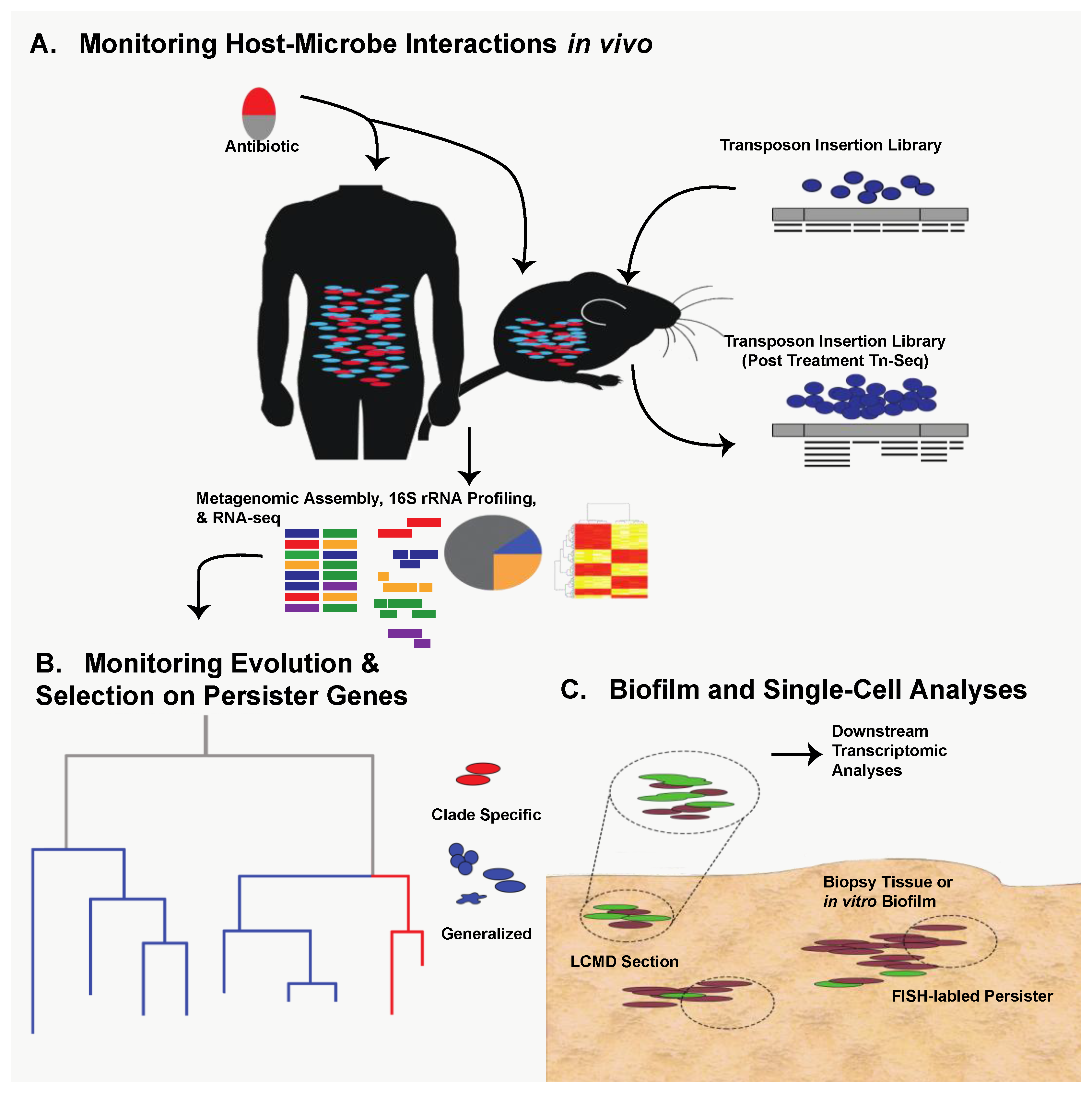 © 2018 by the authors. Licensee MDPI, Basel, Switzerland. This article is an open access article distributed under the terms and conditions of the Creative Commons Attribution (CC BY) license (http://creativecommons.org/licenses/by/4.0/).