Unexpected Binding Mode of a Potent Indeno[1,2-
b

]indole-Type Inhibitor of Protein Kinase CK2 Revealed by Complex Structures with the Catalytic Subunit CK2α and Its Paralog CK2α′

1

Department für Chemie, Institut für Biochemie, Universität zu Köln, Zülpicher Straße 47, D-50674 Köln, Germany

2

Institut für Pharmazeutische und Medizinische Chemie, PharmaCampus, Westfälische Wilhelms-Universität Münster, Corrensstraße 48, D-48149 Münster, Germany

3

EA4446 Bioactive Molecules and Medicinal Chemistry, SFR Santé Lyon-Est CNRS UMS3453-INSERM US7, Faculté de Pharmacie—ISPB, Université Claude Bernard Lyon 1, 8 avenue Rockefeller, F-69373 Lyon CEDEX 8, France

*

Author to whom correspondence should be addressed.

Received: 17 November 2017 / Revised: 8 December 2017 / Accepted: 11 December 2017 / Published: 13 December 2017
Abstract
Protein kinase CK2, a member of the eukaryotic protein kinase superfamily, is associated with cancer and other human pathologies and thus an attractive drug target. The indeno[1,2-
b
]indole scaffold is a novel lead structure to develop ATP-competitive CK2 inhibitors. Some indeno[1,2-
b
]indole-based CK2 inhibitors additionally obstruct ABCG2, an ABC half transporter overexpressed in breast cancer and co-responsible for drug efflux and resistance. Comprehensive derivatization studies revealed substitutions of the indeno[1,2-
b
]indole framework that boost either the CK2 or the ABCG2 selectivity or even support the dual inhibition potential. The best indeno[1,2-
b
]indole-based CK2 inhibitor described yet (IC
50
= 25 nM) is 5-isopropyl-4-(3-methylbut-2-enyl-oxy)-5,6,7,8-tetrahydroindeno[1,2-
b
]indole-9,10-dione (
4p
). Herein, we demonstrate the membrane permeability of
4p
and describe co-crystal structures of
4p
with CK2α and CK2α′, the paralogs of human CK2 catalytic subunit. As expected,
4p
occupies the narrow, hydrophobic ATP site of CK2α/CK2α′, but surprisingly with a unique orientation: its hydrophobic substituents point towards the solvent while its two oxo groups are hydrogen-bonded to a hidden water molecule. An equivalent water molecule was found in many CK2α structures, but never as a critical mediator of ligand binding. This unexpected binding mode is independent of the interdomain hinge/helix αD region conformation and of the salt content in the crystallization medium.
View Full-Text
►

▼

Figures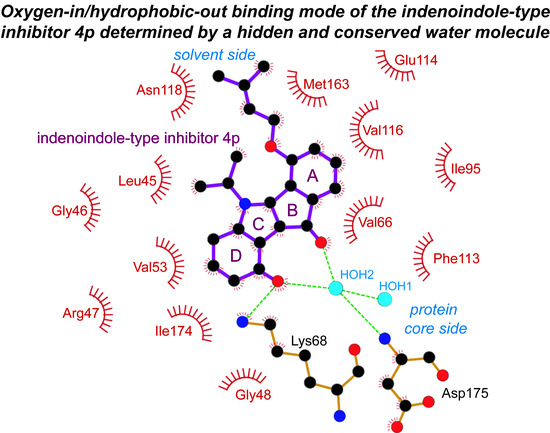 Graphical abstract
This is an open access article distributed under the
Creative Commons Attribution License
which permits unrestricted use, distribution, and reproduction in any medium, provided the original work is properly cited (CC BY 4.0).

Share & Cite This Article
MDPI and ACS Style
Hochscherf, J.; Lindenblatt, D.; Witulski, B.; Birus, R.; Aichele, D.; Marminon, C.; Bouaziz, Z.; Le Borgne, M.; Jose, J.; Niefind, K. Unexpected Binding Mode of a Potent Indeno[1,2-b]indole-Type Inhibitor of Protein Kinase CK2 Revealed by Complex Structures with the Catalytic Subunit CK2α and Its Paralog CK2α′. Pharmaceuticals 2017, 10, 98.
Note that from the first issue of 2016, MDPI journals use article numbers instead of page numbers. See further details here.
Related Articles
Comments
[Return to top]