A Triphenylphosphonium-Functionalized Mitochondriotropic Nanocarrier for Efficient Co-Delivery of Doxorubicin and Chloroquine and Enhanced Antineoplastic Activity
1
Institute of Nanoscience and Nanotechnology, NCSR ''Demokritos", 15310 Aghia Paraskevi, Greece
2
Ηoremeio Research Laboratory, First Department of Paediatrics, National and Kapodistrian University of Athens, 11527 Athens, Greece
3
Institute of Nuclear and Radiological Sciences and Technology Energy and Safety, NCSR ''Demokritos", 15310 Aghia Paraskevi, Greece
4
Institute of Biosciences and Applications, NCSR ''Demokritos", 15310 Aghia Paraskevi, Greece
5
Institute of Biology, Medicinal Chemistry and Biotechnology, National Hellenic Research Foundation, 11635 Athens, Greece
*
Author to whom correspondence should be addressed.
Received: 24 October 2017 / Revised: 14 November 2017 / Accepted: 18 November 2017 / Published: 21 November 2017
Abstract
Drug delivery systems that target subcellular organelles and, in particular, mitochondria are considered to have great potential in treating disorders that are associated with mitochondrial dysfunction, including cancer or neurodegenerative diseases. To this end, a novel hyperbranched mitochondriotropic nanocarrier was developed for the efficient co-delivery of two different (both in chemical and pharmacological terms) bioactive compounds. The carrier is based on hyperbranched poly(ethyleneimine) functionalized with triphenylphosphonium groups that forms ~100 nm diameter nanoparticles in aqueous media and can encapsulate doxorubicin (DOX), a well-known anti-cancer drug, and chloroquine (CQ), a known chemosensitizer with arising potential in anticancer medication. The anticancer activity of this system against two aggressive DOX-resistant human prostate adenocarcinoma cell lines and in in vivo animal studies was assessed. The co-administration of encapsulated DOX and CQ leads to improved cell proliferation inhibition at extremely low DOX concentrations (0.25 μΜ). In vivo experiments against DU145 human prostate cancer cells grafted on immunodeficient mice resulted in tumor growth arrest during the three-week administration period and no pervasive side effects. The findings put forward the potential of such targeted low dose combination treatments as a therapeutic scheme with minimal adverse effects.
View Full-Text
►

▼

Figures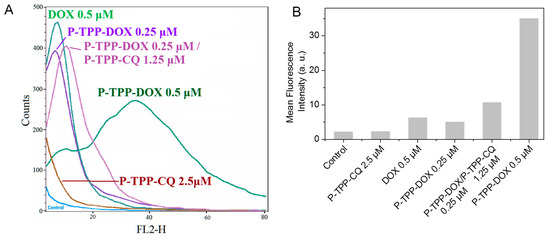 Figure 1
This is an open access article distributed under the
Creative Commons Attribution License
which permits unrestricted use, distribution, and reproduction in any medium, provided the original work is properly cited (CC BY 4.0).

Share & Cite This Article
MDPI and ACS Style
Panagiotaki, K.N.; Sideratou, Z.; Vlahopoulos, S.A.; Paravatou-Petsotas, M.; Zachariadis, M.; Khoury, N.; Zoumpourlis, V.; Tsiourvas, D. A Triphenylphosphonium-Functionalized Mitochondriotropic Nanocarrier for Efficient Co-Delivery of Doxorubicin and Chloroquine and Enhanced Antineoplastic Activity. Pharmaceuticals 2017, 10, 91.
Note that from the first issue of 2016, MDPI journals use article numbers instead of page numbers. See further details here.
Related Articles
Comments
[Return to top]