Chiral Derivatives of Xanthones: Investigation of the Effect of Enantioselectivity on Inhibition of Cyclooxygenases (COX-1 and COX-2) and Binding Interaction with Human Serum Albumin
1
Laboratório de Química Orgânica e Farmacêutica, Departamento de Ciências Químicas, Faculdade de Farmácia, Universidade do Porto, Rua Jorge Viterbo Ferreira nº 228, 4050-313 Porto, Portugal
2
Centro Interdisciplinar de Investigação Marinha e Ambiental (CIIMAR), Universidade do Porto, Edifício do Terminal de Cruzeiros do Porto de Leixões, Av. General Norton de Matos s/n, 4050-208 Matosinhos, Portugal
3
CESPU, Instituto de Investigação e Formação Avançada em Ciências e Tecnologias da Saúde, Rua Central de Gandra 1317, 4585-116 Gandra PRD, Portugal
4
REQUIMTE, Departamento de Ciências Químicas, Faculdade de Farmácia, Universidade do Porto, Rua de Jorge Viterbo Ferreira, 228, 4050‑313 Porto, Portugal
*
Author to whom correspondence should be addressed.
Academic Editor: Jean Jacques Vanden Eynde
Received: 22 April 2017 / Revised: 25 May 2017 / Accepted: 27 May 2017 / Published: 31 May 2017
Abstract
Searching of new enantiomerically pure chiral derivatives of xanthones (CDXs) with potential pharmacological properties, particularly those with anti-inflammatory activity, has remained an area of interest of our group. Herein, we describe in silico studies and in vitro inhibitory assays of cyclooxygenases (COX-1 and COX-2) for different enantiomeric pairs of CDXs. The evaluation of the inhibitory activities was performed by using the COX Inhibitor Screening Assay Kit. Docking simulations between the small molecules (CDXs; known ligands and decoys) and the enzyme targets were undertaken with AutoDock Vina embedded in PyRx—Virtual Screening Tool software. All the CDXs evaluated exhibited COX-1 and COX-2 inhibition potential as predicted. Considering that the (
S
)-(−)-enantiomer of the nonsteroidal anti-inflammatory drug ketoprofen preferentially binds to albumin, resulting in lower free plasma concentration than (
R
)-(+)-enantiomer, protein binding affinity for CDXs was also evaluated by spectrofluorimetry as well as in in silico. For some CDXs enantioselectivity was observed.
View Full-Text
►

▼

Figures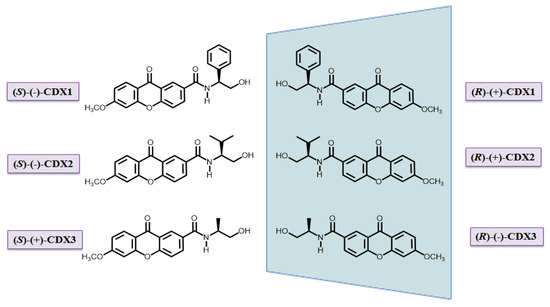 Figure 1
This is an open access article distributed under the
Creative Commons Attribution License
which permits unrestricted use, distribution, and reproduction in any medium, provided the original work is properly cited (CC BY 4.0).

Share & Cite This Article
MDPI and ACS Style
Fernandes, C.; Palmeira, A.; Ramos, I.I.; Carneiro, C.; Afonso, C.; Tiritan, M.E.; Cidade, H.; Pinto, P.C.; Saraiva, M.L.M.; Reis, S.; Pinto, M.M. Chiral Derivatives of Xanthones: Investigation of the Effect of Enantioselectivity on Inhibition of Cyclooxygenases (COX-1 and COX-2) and Binding Interaction with Human Serum Albumin. Pharmaceuticals 2017, 10, 50.
Note that from the first issue of 2016, MDPI journals use article numbers instead of page numbers. See further details here.
Related Articles
Comments
[Return to top]