Three-Dimensional Registration of Freehand-Tracked Ultrasound to CT Images of the Talocrural Joint
1
Department of Biomechanical Engineering, Delft University of Technology (TU Delft), Mekelweg 2, 2628 CD Delft, The Netherlands
2
Orthopaedic Research Center Amsterdam, Academic Medical Centre (AMC), Meibergdreef 9, 1105 AZ Amsterdam, The Netherlands
3
Department of Imaging Science and Technology, Quantitative Imaging Group, Delft University of Technology (TU Delft), Lorentzweg 1, 2628 CJ Delft, The Netherlands
4
Department of Radiology, Academic Medical Centre (AMC), Meibergdreef 9, 1105 AZ Amsterdam, The Netherlands
5
SINTEF Medical Technology, 7465 Trondheim, Norway
6
Zuyd University of Applied Sciences, Research Centre Smart Devices, Nieuw Eyckholt 300, 6419 DJ Heerlen, The Netherlands
*
Author to whom correspondence should be addressed.
Received: 6 June 2018 / Revised: 9 July 2018 / Accepted: 19 July 2018 / Published: 21 July 2018
Abstract
A rigid surface–volume registration scheme is presented in this study to register computed tomography (CT) and free-hand tracked ultrasound (US) images of the talocrural joint. Prior to registration, bone surfaces expected to be visible in US are extracted from the CT volume and bone contours in 2D US data are enhanced based on monogenic signal representation of 2D US images. A 3D monogenic signal data is reconstructed from the 2D data using the position of the US probe recorded with an optical tracking system. When registering the surface extracted from the CT scan to the monogenic signal feature volume, six transformation parameters are estimated so as to optimize the sum of monogenic signal features over the transformed surface. The robustness of the registration algorithm was tested on a dataset collected from 12 cadaveric ankles. The proposed method was used in a clinical case study to investigate the potential of US imaging for pre-operative planning of arthroscopic access to talar (osteo)chondral defects (OCDs). The results suggest that registrations with a registration error of 2 mm and less is achievable, and US has the potential to be used in assessment of an OCD' arthroscopic accessibility, given the fact that 51% of the talar surface could be visualized.
View Full-Text
►

▼

Figures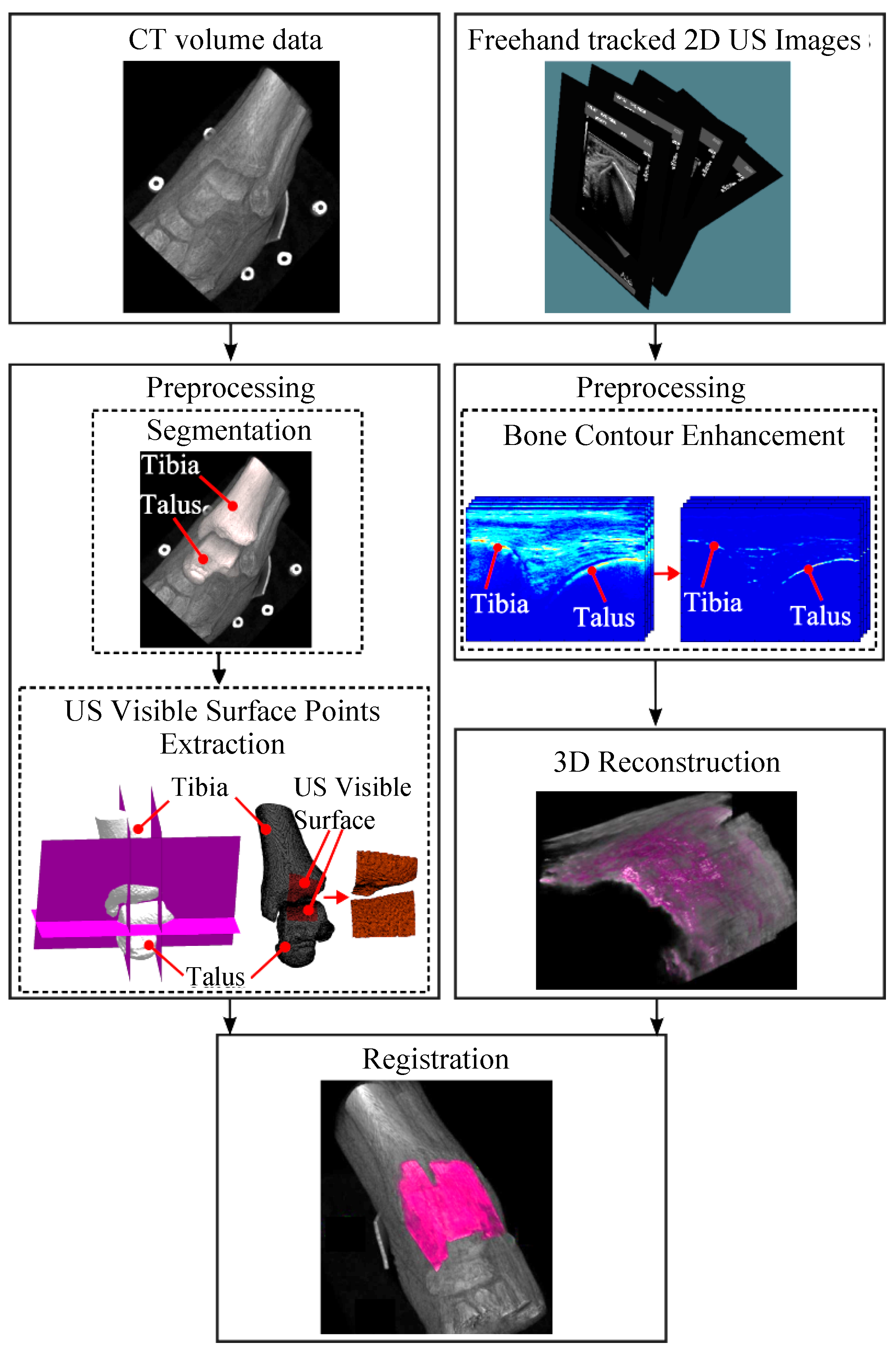 Figure 1
This is an open access article distributed under the
Creative Commons Attribution License
which permits unrestricted use, distribution, and reproduction in any medium, provided the original work is properly cited (CC BY 4.0).

Share & Cite This Article
MDPI and ACS Style
Tümer, N.; Kok, A.C.; Vos, F.M.; Streekstra, G.J.; Askeland, C.; Tuijthof, G.J.M.; Zadpoor, A.A. Three-Dimensional Registration of Freehand-Tracked Ultrasound to CT Images of the Talocrural Joint. Sensors 2018, 18, 2375.
Note that from the first issue of 2016, MDPI journals use article numbers instead of page numbers. See further details here.
Related Articles
Comments
[Return to top]