Open Access This article is
freely available
re-usable
Article
Ecosystem Engineering by Thalassinidean Crustaceans: Response Variability, Contextual Dependencies and Perspectives on Future Research
Marine Research Institute, Department of Biological Sciences, University of Cape Town, Private Bag X3, Rondebosch 7701, Cape Town, South Africa
Received: 18 March 2019 / Accepted: 15 April 2019 / Published: 19 April 2019
Abstract
:
Ecological functions in marine sedimentary habitats are greatly influenced by bio-engineering organisms. Thalassinidean crustaceans are particularly important in this regard, given their density, spatial occupancy and burrowing depths. These features coupled with high per capita engineering rates (bioturbation mainly) and the ability to modulate multiple resources simultaneously, place thalassinids amongst the most influential of ecosystem engineers in marine ecosystems. Research on these organisms has focused on mechanisms by which engineering effects are propagated, whilst drawing attention to the impact of ecosystem modification on ecological processes. However, disparities in the outcomes of global research suggest that complex dependencies underpin ecological responses to thalassinideans that we do not yet fully understand. It is in this context that this review draws attention to some of the dependencies in question, specifically by using existing models and hypotheses to (i) demonstrate how these dependencies can alter ecological responses to ecosystem engineering by thalassinids, and (ii) explain variability observed in outcomes of existing research. This review also shows the potential for explicit inclusion of such dependencies in future research to generate new knowledge on thalassinidean ecosystem engineering, from both fundamental and global change perspectives. More broadly, this review is a contribution towards advancing a predictive and mechanistic understanding of thalassinidean ecosystem engineering, in which biotic and abiotic dependencies are integrated.
Keywords:
bioengineering; soft-sediments; contextual dependencies; resource flows; community responses; endobenthic
2. Contextual Processes/Variables
The forthcoming sections discuss in detail some of the contextual processes and dependencies that are likely to influence responses to ecosystem engineering by thalassinidean crustaceans. These discussions focus on biological responses, but within a general framework of contemporary hypotheses and conceptual models that are used to explain biotic responses to thalassinid bioengineering. However, the central motivation for this review and the forthcoming discussion are equally applicable and relevant to understanding responses of abiotic processes to engineering by thalassinids. Thus, the ideas expressed in this review are relevant to all researchers interested in ecosystem engineering by burrowing thalassinids, not only to those with biological inclinations. The concepts presented in this review complement a prior review on thalassinid engineering [
6
], in which emphasis was placed on net engineering effects. This review builds on the above-mentioned review by drawing attention to contextual dependencies and processes that can impact thalassinidean ecosystem engineering.
2.1. Engineer Density
The points raised in this section regarding engineer density and non-linearity in the responses induced highlight a few important considerations for future research in the field. The first point is that findings of studies on biotic responses to thalassinid ecosystem engineering need to be contextualised against the known density ranges of engineering species being investigated (based on literature, for example). The advantage of contextualising thalassinid densities when interpreting findings is that it prevents liberal extrapolations and broad generalisations on ecological function. Contextualisation also develops an appreciation that ecological responses recorded under a particular density regime does not guarantee the same response under a different density regime even under similar environmental conditions. Secondly, future studies, particularly experimental ones, would benefit by shifting emphasis from testing thalassinid presence/absence effects to tests of responses across a density spectrum. This would provide robust data on ecological response patterns and thresholds, thus broadening understanding of the functional relevance of thalassinid species beyond presence alone.
2.3. Sediment Type and Wave Action
2.5. Productivity and Nutrients
Productivity and nutrient levels (hereafter productivity for convenience) in marine sedimentary ecosystems vary across multiple spatial and temporal scales [
72
]. At a global level, productivity varies latitudinally, with higher chlorophyll levels and production rates at the equator and high latitudes [
72
]. Productivity also varies between upwelling and downwelling coastlines, but upwelling intensity also varies seasonally [
73
,
74
]. Moreover, human activities in coastal watersheds, mainly in the form of agricultural activities, influence land-aquatic runoff and hence productivity levels in coastal ecosystems [
75
]. At a global level, variation in background nutrient levels is thus potentially a significant contextual variable that determines how systems respond to engineering by thalassinidean crustaceans, based on studies elsewhere that have demonstrated the importance of productivity in determining ecosystem function and organismal interactions [
73
,
74
].
Strengthening of bottom-up processes is one potential way in which increasing productivity can influence benthic community responses to thalassinideans. In thalassinid dominated sediments, such bottom-up effects are likely to occur not only at the sediment-water interface, but also deeper in sediments, due to overlying waters being actively pumped through burrows [
6
,
54
]. This would likely contrast with non-thalassinidean states, where bottom-up effects would probably manifest mainly at upper sediment layers. Therefore, one possible effect of increased water column productivity is that levels of trophic resources in burrow walls may increase, leading to stronger positive effects on infauna. Stronger facilitation of trophic resources in burrows with increasing productivity is likely to arise by blooming phytoplankton in overlying waters being adsorbed onto burrow walls during irrigation, or due to higher ambient nutrient levels magnifying thalassinid gardening activities. Increasing productivity is likely to also induce positive effects on epifauna, due to higher levels of surficial trophic resources. If this prediction is upheld, then increasing productivity would likely weaken amensalistic effects generated by thalassinids. In systems with lower productivity, sediment turnover by thalassinideans would probably reduce levels of microalgae, bacteria and other trophic resources available to consumers [
6
,
29
], accompanied by reduced surface consumer abundance due to resource limitation. However, this may be negated in more productive systems due to higher levels of trophic resources overcoming the amensalistic effects of sediment turnover, thus inducing stimulatory effects on surface consumers. In addition, metabolic costs incurred by filter-feeders due to turned over sediment impinging upon feeding time may be overcome by higher levels of ambient trophic resources. Thus, in systems with high productivity, thalassinidean ecosystem engineering is likely to generate stronger positive effects on infauna and weaker amensalistic effects on epifauna, assuming that differences in other biotic and abiotic variables are negligible. However, this prediction is complicated by the fact that nutrient addition experiments in marine sedimentary systems have had mixed results, with variable strengths of bottom-up effects reported [
76
,
77
,
78
,
79
]. In addition, shifts in microalgal community composition with increased nutrient levels can in some instances induce negative bottom-up effects [
80
].
Another dimension relevant to understanding how biotic responses to thalassinideans are altered by productivity is that productivity can theoretically influence thalassinid behavioural traits, which in turn has important implications for the strength of ecosystem engineering activities undertaken over-and-above the trophic effects outlined in the previous paragraph. This is an interesting idea that has been proposed previously [
59
], but is also one for which little empirical support exists. In an in situ study of sediment turnover rates, Berkenbusch and Rowden documented low turnover in low tide habitats inhabited by
Biffarius
(as
Callianassa
)
filholi
relative to sites further up the shore. Berkenbusch and Rowden suggested that in habitats where food availability is high, such as in the low shore where inundation times are high, the feeding rate of
B. filholi
may decrease due to high levels of trophic resources, causing sediment turnover rate to decline. If productivity does indeed alter thalassinid feeding traits and sediment turnover activities, as suggested by Berkenbusch and Rowden, then this mechanism needs to be considered along with the trophic effects highlighted in the preceding paragraph to develop a robust understanding of how productivity influences biotic responses to thalassinid ecosystem engineering.
2.6. Community and Organismal-Level Traits
Biological traits of sympatric assemblages are significant determinants of how they respond to disturbances induced by organisms [
47
,
61
,
62
,
81
] but understanding of this aspect is limited in the context of thalassinidean ecosystem engineering. Sensitivity to disturbance is one such trait that can influence biotic responses to ecosystem engineering by thalassinideans. Classical theory suggests that assemblages dominated by
r
-selected species are able to tolerate high levels of disturbance due to physiological traits that allow for persistence under high disturbance levels and high colonisation rates that can offset disturbance-induced mortality. In contrast, assemblages dominated by
K
-selected organisms are disturbance sensitive due to traits that negatively predispose them to disturbances, such as slow colonisation and growth rates [
62
]. Thus, depending on whether assemblages under investigation are dominated by
r
- or
K
-selected organisms, which in turn is a product of background disturbance levels, biotic responses to thalassinideans may be very different. Outcomes may be weak or negligible if responding assemblages are disturbance tolerant (i.e.,
r
-selected), but the opposite may be true for communities that are sensitive to disturbances (i.e.,
K
-selected). This idea is supported by work on estuarine benthos, where it has been suggested that highly dynamic and/or frequently disturbed systems are dominated by a set of core species that persist under a range of abiotic and biotic states. Thus, disturbance induced shifts in abiotic conditions does not radically change species composition because of the disposition to withstand disturbance [
82
,
83
].
At the level of individual species, behavioural traits and plasticity in those traits are also likely to influence responses to ecosystem engineering by thalassinideans, and can thus shed light on processes influencing variability in biotic responses to thalassinid engineering. This must also be viewed within the context of explanatory models in the field of thalassinid engineering research being largely trait-based. For example, the trophic-amensalism hypothesis [
30
] proposes that sediment reworking by deposit-feeders negatively affects surface suspension feeders due to resuspended sediment clogging filtration apparatus, leading to metabolic losses and potentially spatial displacement. Mobility and two-dimensional habitat utilisation within the sediment have also been invoked to explain organismal responses to thalassinideans, with sedentary surface groups being argued to be more affected by sediment turnover than mobile surface and infaunal groups [
23
]. However, the generality and applicability of these models to thalassinideans has been hindered by a limited understanding of behavioural traits and plasticity in responding organisms [
6
]. Studies have largely assumed the biological traits of response organisms based on morphology or studies elsewhere, without explicitly quantifying these traits. The problem with such an approach is that it ignores plasticity in behaviour, and hence the possibility that organisms may alter behaviour under different abiotic and biotic conditions. As shown by Needham et al., assigning biological and functional traits to organisms without understanding the plasticity thereof, runs the risk of oversimplifying complex organism-environment and organism-organism interactions [
63
]. In turn, this has implications for developing a predictive understanding of benthic responses to change [
63
], including that induced by thalassinidean ecosystem engineering. Thus, refining the understanding of biotic responses to thalassinidean engineering requires quantification of traits of responding organisms and the plasticity thereof under different contextual settings, including those highlighted in this review.
2.7. Novel/Emerging Determinants of Thalassinidean Ecosystem Engineering
The previous sections have alluded to the potential for variability in abiotic factors to impact the strength of biotic responses by altering trait-mediated processes influenced by thalassinids (principally sediment turnover). In this context, recent research has shed light on novel and less appreciated pathways by which trait-mediated processes involving thalassinideans can be affected. Studies by Dairain et al. for example, have shown that parasite and pollutant levels can influence the strength of thalassinidean ecosystem engineering [
84
]. Using a 14-day experiment in which parasitised (by the bopyrid isopod
Gyge branchialis
) and non-parasitised
Upogebia
cf.
pusilla
were exposed to cadmium contaminated and uncontaminated seawater, Dairain et al. demonstrated reductions in sediment reworking activity in parasitised
Upogebia
. Interestingly however, cadmium contamination elevated reworking [
84
]. This work raises the possibility that spatial variability in parasite and contaminant levels can impact the strength of abiotic modification, with potential ramifications for biotic assemblages.
In a different set of studies, Moyo et al. documented how interactions occurring within thalassinidean burrows can influence ecosystem engineering activities [
85
]. Using behavioural assessments, Moyo et al. highlighted complex processes and dependencies that influence the nature of interactions between the sandprawn
Callichirus
(as
Callianassa
)
kraussi
and a burrow symbiont, the alpheid shrimp
Betaeus jucundus
. Importantly, the outcomes of these interactions significantly influenced the amount of time spent by sandprawns on ecosystem engineering activities. Initial experiments indicated that sandprawn responses to
B. jucundus
were distinct, with individuals either tolerating the symbiont, semi-tolerating it, or being completely intolerant, in which case sandprawns ejected the symbiont out of burrows and sealed them. Importantly, intolerant sandprawns displayed a 50% increase in time spent on sediment turnover activities, but reduced time spent on irrigation by roughly 30%. In a second experiment, it was shown that male and female sandprawns displayed contrasting behavioural responses to
B. jucundus
, with male sandprawns reducing time spent on sediment turnover in the presence of
B. jucundus
, though this was not evident in females. However, individuals of both sexes reduced the time spent on burrow irrigation activity in the presence of the burrow symbiont [
84
]. Thus, the results of these experiments put into perspective how little we know about interactions occurring within burrows between thalassinideans and symbionts, and how they can influence the strength of ecosystem engineering activities.
3. Concluding Thoughts, Challenges and Directions for Future Research
One of the major impediments to growing research on the contingencies that underpin thalassinid engineering is the logistical difficulties associated with working with endobenthic organisms. The great depth to which thalassinids burrow allied with their spatial spread complicates experimental designs due to the sheer amount of sediment that needs to be processed. It is not unrealistic for such experiments to require the processing of close to a ton of sediment, if not more. However, if we are to grow our understanding of the contextual processes underlying ecological responses to thalassinidean ecosystem engineering, creative and innovative approaches and methodologies are needed to deal with logistical constraints.
Funding
This work was supported by the National Research Foundation (NRF) of South Africa.
Conflicts of Interest
The author declares no conflict of interest.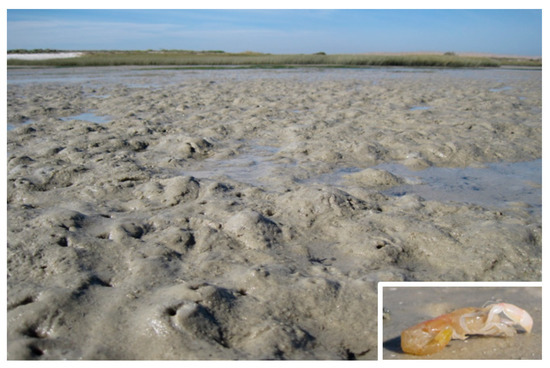 Figure 1.
Irregular sediment topography created by engineering activities of the sandprawn
Callichirus
[as
Callianassa
]
kraussi
in Langebaan Lagoon, on the west coast of South Africa. Mid-shore sandflats are shown in the foreground and high-shore marshes in the background. Photos courtesy of Jessica Dawson.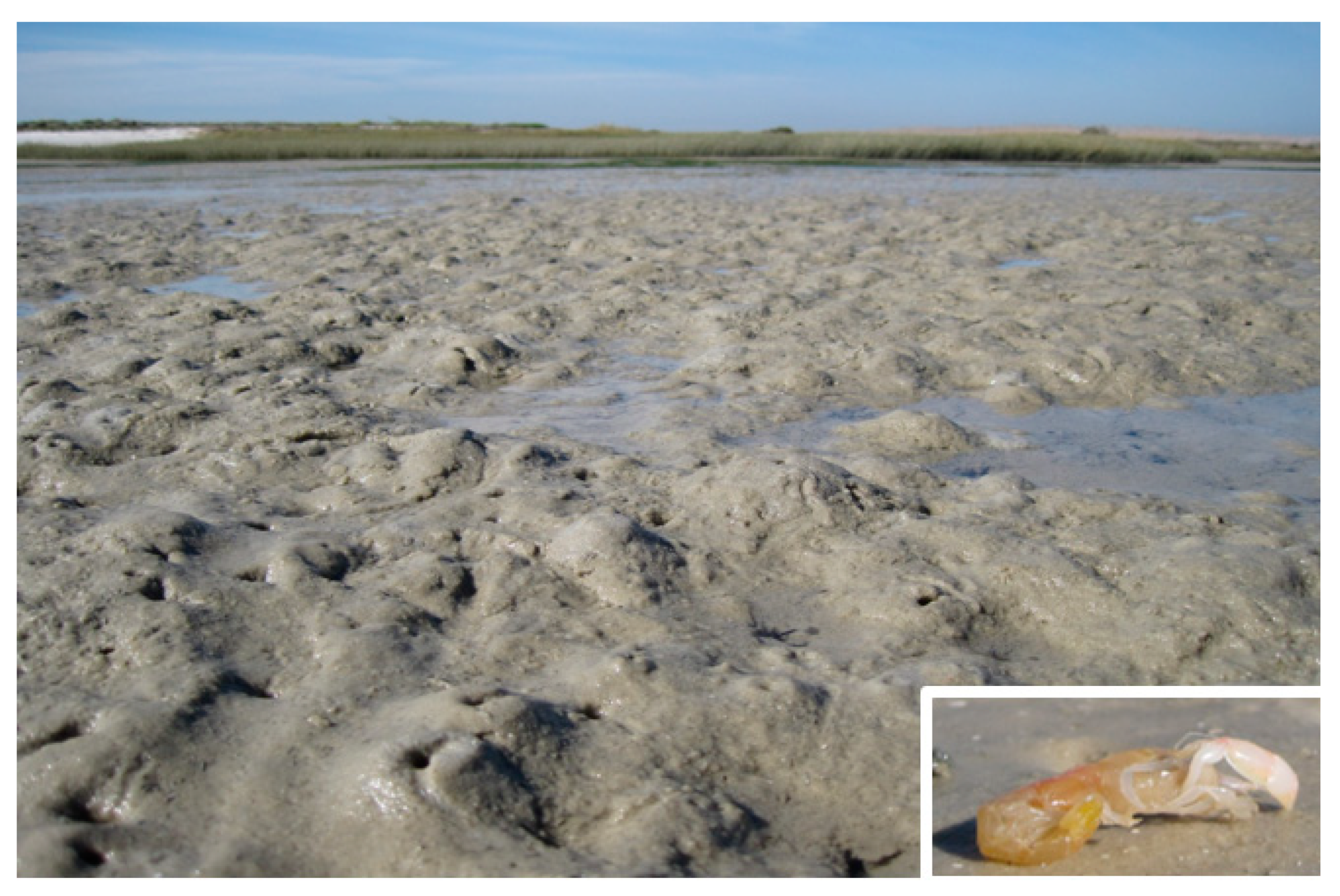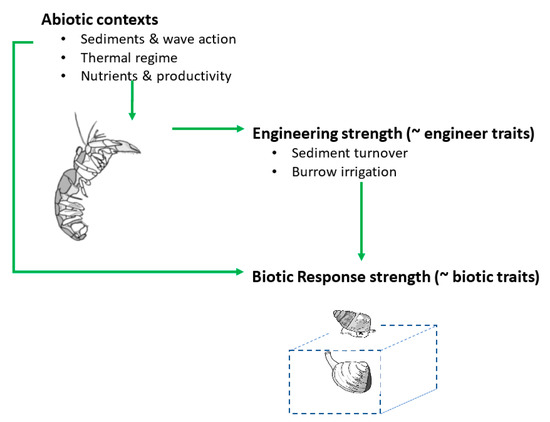 Figure 2. Schematic overview of dependencies that can influence biotic responses to engineering by thalassinidean crustaceans. Abiotic contexts such as sedimentary and thermal regimes influence engineer traits, which in turn determine the strength of abiotic modification, principally by affecting sediment turnover and burrow irrigation. However, fundamental traits of thalassinids determine the degree to which they are influenced by abiotic settings. Community level responses are affected by abiotic contexts and the strength of ecosystem engineering, which are all influenced by biological traits of assemblages. The need to understand and integrate these aspects in future research form the central motivation for this review. Animal drawings courtesy of Jessica Dawson.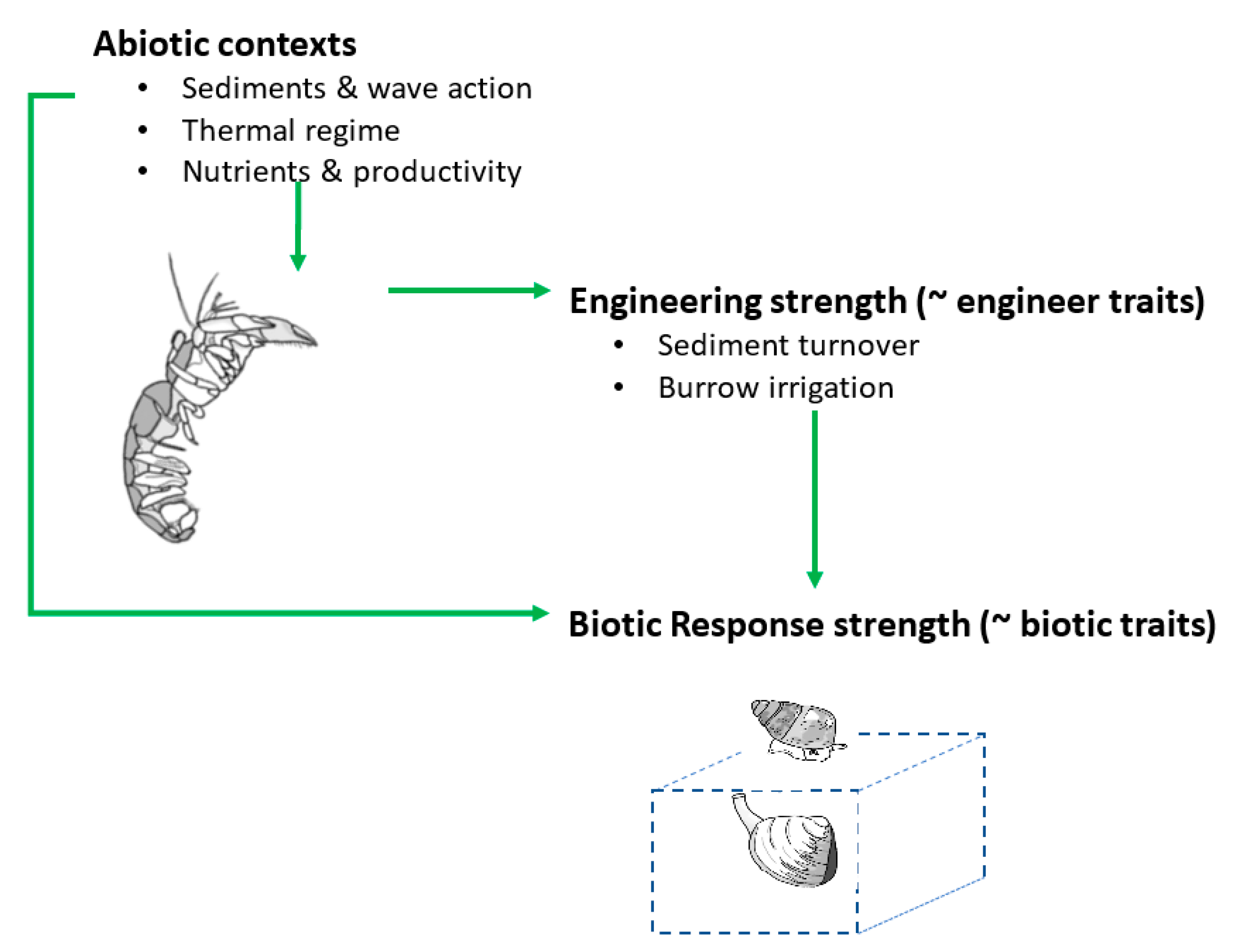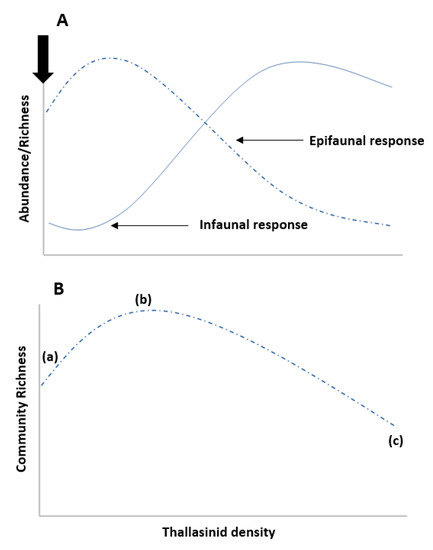 Figure 3. Predicted responses of (A) epi- and infaunal abundance/richness and (B) community richness to increasing thalassinid densities. In A, increasing thalassinid densities is expected to induce shifts from epifaunal- to infaunal-dominated states, due to increased sediment processing strengthening amensalism and facilitation on epifauna and infauna respectively. In (B), community richness is expected to respond unimodally to increasing thalassinid density. Thick arrow above y-axis denotes a non-engineered state. Note: responses are intended to be illustrative, not exhaustive – broad patterns are more important than specific response features.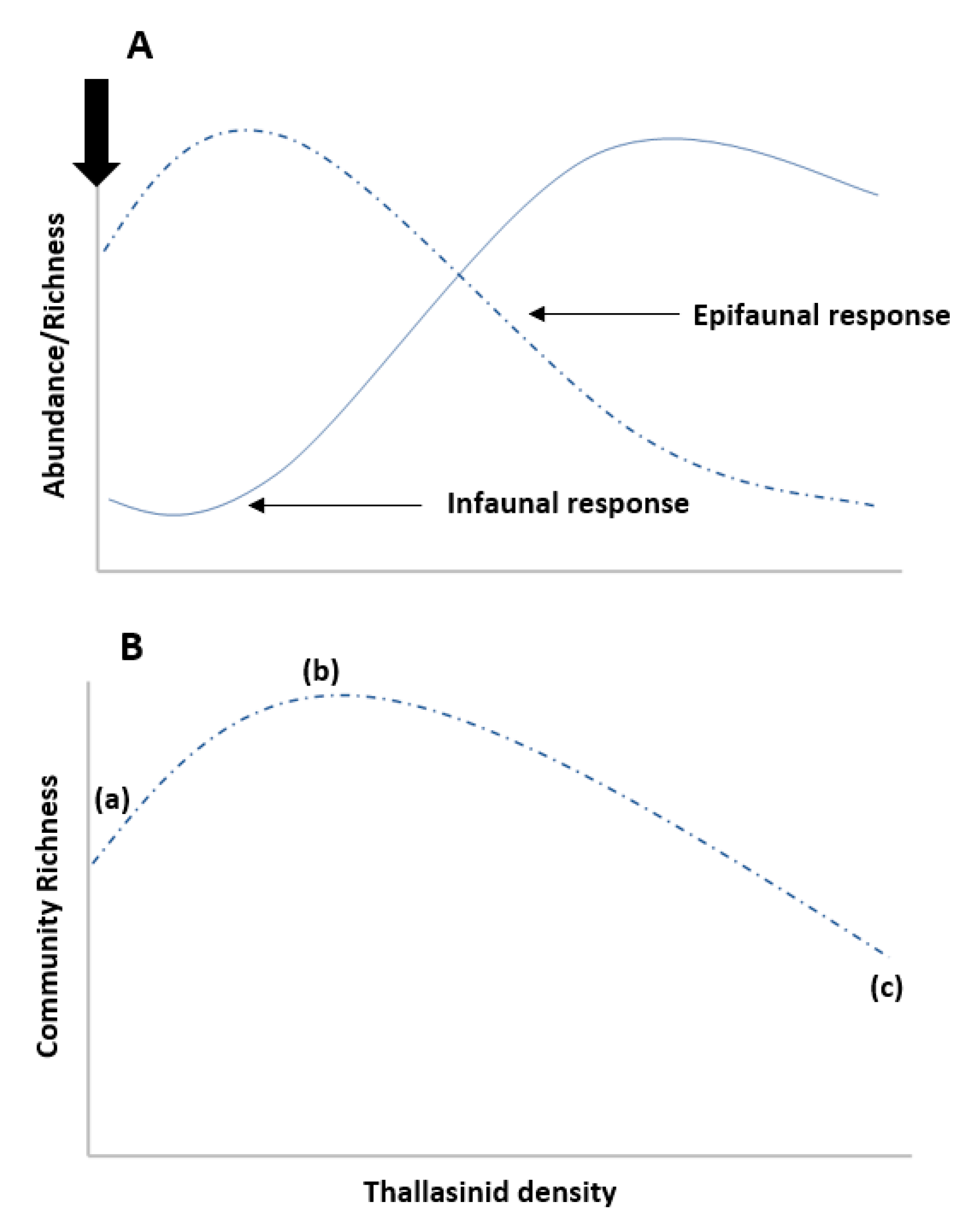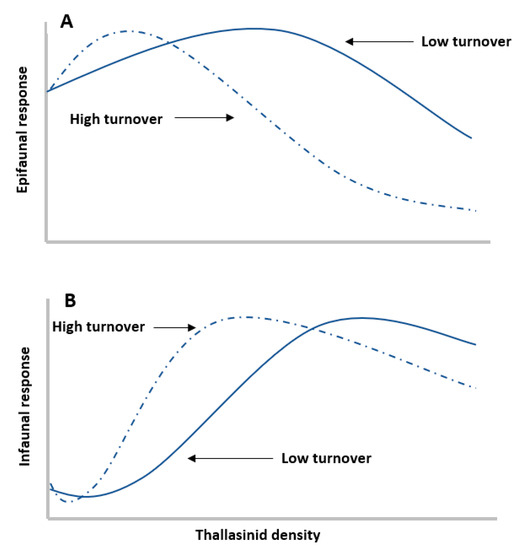 Figure 4. Predicted responses of (A) epifauna and (B) infauna to increasing densities of two deposit-feeding thalassinid species that exhibit contrasting sediment processing behaviours. Species that exhibit high turnover (broken lines) rates induce changes in direction of infaunal and epifaunal responses at lower densities than those that exhibit low turnover (solid lines). Note: responses are intended to be illustrative, not exhaustive – broad patterns are more important than specific response features.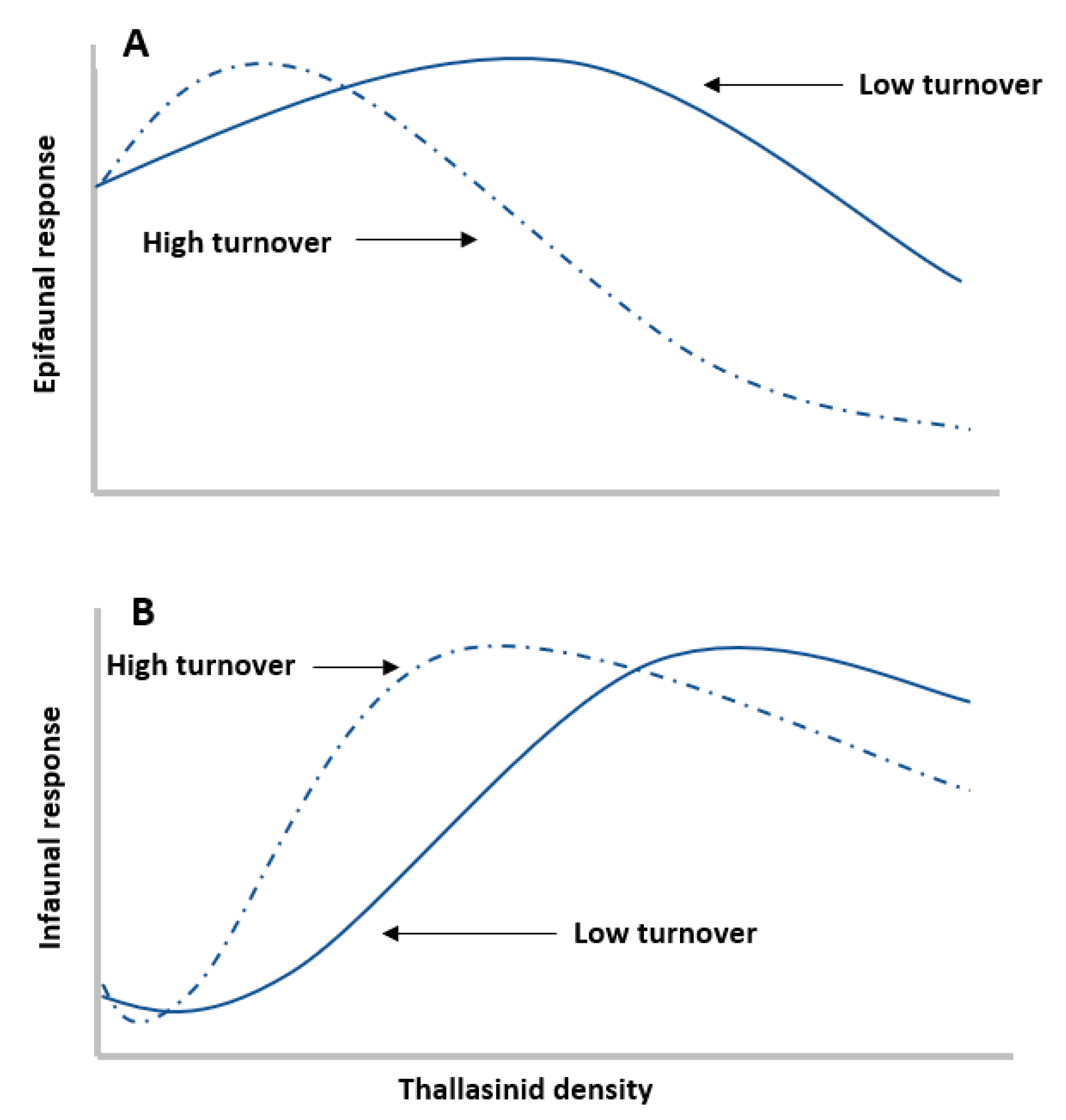 © 2019 by the author. Licensee MDPI, Basel, Switzerland. This article is an open access article distributed under the terms and conditions of the Creative Commons Attribution (CC BY) license (http://creativecommons.org/licenses/by/4.0/).