Communities and Attachment Networks Associated with Primary, Secondary and Alternative Foundation Species; A Case Study of Stressed and Disturbed Stands of Southern Bull Kelp
1
Centre for Integrative Ecology; Marine Ecology Research Group, School of Biological Sciences, University of Canterbury, Private Bag 4800, Christchurch 8140, New Zealand
2
UWA Oceans Institute and School of Plant Biology, University of Western Australia, Hackett Drive, Crawley 6009, WA, Australia
3
Cawthron Institute, 98 Halifax Street East, Nelson 7010, New Zealand
*
Author to whom correspondence should be addressed.
Received: 13 March 2019 / Revised: 29 March 2019 / Accepted: 3 April 2019 / Published: 10 April 2019
Abstract
Southern bull kelps (
Durvillaea
spp., Fucales) are 'primary' foundation species that control community structures and ecosystem functions on temperate wave-exposed rocky reefs. However, these large foundation species are threatened by disturbances and stressors, including invasive species, sedimentation and heatwaves. It is unknown whether 'alternative' foundation species can replace lost southern bull kelps and its associated communities and networks. We compared community structure (by quantifying abundances of different species) and attachment-interaction networks (by quantifying which species were attached to other species) among plots dominated by
Durvillaea
spp. and plots where
Durvillaea
spp. were lost either through long-term repeated experimental removals or by recent stress from a marine heatwave. Long-term experimental removal plots were dominated by 'alternative' foundation species, the canopy-forming
Cystophora
spp. (Fucales), whereas the recent heatwave stressed plots were dominated by the invasive kelp
Undaria pinnatifida
(Laminariales). A network analysis of attachment interactions showed that communities differed among plots dominated by either
Durvillaea
spp.,
Cystophora
spp. or
U. pinnatifida
, with different relationships between the primary, or alternative, foundation species and attached epiphytic 'secondary' foundation species. For example, native
Cystophora
spp. were more important as hosts for secondary foundation species compared to
Durvillaea
spp. and
U. pinnatifida
. Instead,
Durvillaea
spp. facilitated encrusting algae, which in turn provided habitat for gastropods. We conclude that (a) repeated disturbances and strong stressors can reveal ecological differences between primary and alternative foundation species, (b) analyses of abundances and attachment-networks are supplementary methods to identify linkages between primary, alternative and secondary foundation species, and (c) interspersed habitats dominated by different types of foundation species increase system-level biodiversity by supporting different species-abundance patterns and species-attachment networks.
View Full-Text
►

▼

Figures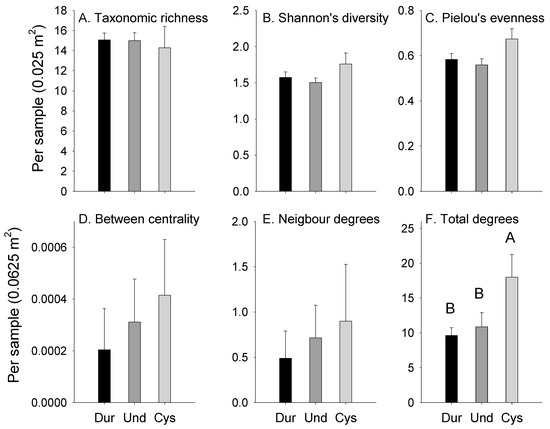 Figure 1
This is an open access article distributed under the
Creative Commons Attribution License
which permits unrestricted use, distribution, and reproduction in any medium, provided the original work is properly cited (CC BY 4.0).

Share & Cite This Article
MDPI and ACS Style
Thomsen, M.S.; South, P.M. Communities and Attachment Networks Associated with Primary, Secondary and Alternative Foundation Species; A Case Study of Stressed and Disturbed Stands of Southern Bull Kelp. Diversity 2019, 11, 56.
Note that from the first issue of 2016, MDPI journals use article numbers instead of page numbers. See further details here.
Related Articles
Comments
[Return to top]