Open Access This article is
freely available
re-usable
Article
Differences in Bacterial Diversity, Composition and Function due to Long-Term Agriculture in Soils in the Eastern Free State of South Africa
1
Department of Plant and Soil Sciences, University of Pretoria, Private Bag X20, Hatfield, Pretoria 0083, South Africa
2
Department of Microbial, Biochemical and Food Biotechnology, University of the Free State, P.O. Box 339, Bloemfontein 9300, South Africa
3
Department of Biochemistry, Genetics, and Microbiology, University of Pretoria, Private Bag X20, Hatfield, Pretoria 0083, South Africa
*
Author to whom correspondence should be addressed.
Received: 5 March 2019 / Accepted: 13 April 2019 / Published: 17 April 2019
Abstract
:
Land-use change from natural to managed agricultural ecosystems significantly impacts soil bacterial diversity and function. The Eastern Free State (EFS) is one of the most productive agricultural regions in South Africa. However, no studies aiming to understand the changes in bacterial diversity, composition and function due to land-use change in this area have been conducted. This study investigated, using high-throughput 16S rRNA gene amplicon sequencing, the effects of long-term agriculture on bacterial diversity, composition and putative function in the EFS by comparing microbiomes from lands that have been under agronomic activity for over 50 years to those from uncultivated land. Results indicate that agriculture increased bacterial diversity. Soil chemical analysis showed that land-use shifted soils from being oligotrophic to copiotrophic, which changed bacterial communities from being
Actinobacteria
dominated to
Proteobacteria
dominated. Predictive functional analysis using Phylogenetic Investigation of Communities by Reconstruction of Unobserved States (PICRUSt) suggested that agricultural soil was abundant in genes associated with plant fitness and plant growth promotion, while non-agricultural soil was abundant in genes related to organic matter degradation. Together, these results suggest that edaphic factors induced by long-term agriculture resulted in shifts in bacterial diversity and putative function in the EFS.
Keywords:
bacterial diversity; bacterial function; high-throughput 16S rRNA gene sequencing
2. Materials and Methods
2.1. Site Description and Sampling
Soil samples were collected in August 2016 from six locations (from 10 m to 21 km apart) in the EFS farming area (
Figure 1
). Soil samples were collected from five fields with at least 50 years of agricultural history and one location with its natural flora representing uncultivated, non-agricultural land. At the time of sample collection, no crops were present in the agricultural fields. The natural flora in the non-agricultural location comprised 20% trees, 70% grass and 10% shrubs. Sampling and processing equipment were sterilized with 10% sodium hypochlorite and rinsed in distilled water between each sampling location. The agricultural fields ranged in size from 6 to 10 ha and the non-agricultural field was approximately 0.5 ha. Forty samples were collected at 20 m spacings in each agricultural field and at 2 m spacings in the non-agricultural site in a classical W-shaped pattern. Distances were closer in the non-agricultural location because the total field area was smaller than the agricultural fields. From the 40 samples, composite samples were made by pooling every 10 samples, resulting in four composite samples for each agricultural field and non-agricultural site. Therefore, a total of 20 agricultural (four composite samples x five fields) and 20 non-agricultural soil samples were collected and sent for Illumina sequencing. All soil samples (approximately 1.7 kg) were collected using a 10 cm diameter soil auger at a depth of 0–15 cm. Soil samples were stored at −80 °C within 24 h of sampling until further processing.
2.2. Soil Chemical Analyses
From each agricultural site, 10 soil samples, approximately 1.7 kg each and randomly collected from a sampling depth of 15 cm with the aid of a 10 cm diameter soil auger, were collected for chemical analysis. The 10 soil samples were combined to form a composite sample for chemical analysis for each sampling location. For the non-agricultural site, 10 soil cores, also approximately 1.7 kg each, were collected for soil chemical analysis at each subplot from a sampling depth of 15 cm with the aid of a 10 cm diameter soil auger. The 10 soil samples per non- agricultural subplot were also pooled to form a composite sample for chemical analysis. A total of ten soil samples (five agricultural and five non-agricultural) were submitted for soil chemical analyses. Soil chemical analyses were conducted in the analytical laboratory of the Department of Plant and Soil Sciences, University of Pretoria, South Africa, using standard protocols [
18
,
19
]. Basic soil parameters (pH, total C, P, N, Ca, Mg, Na and organic matter) were determined for each location. Soil pH was determined using the 1:1 water ratio method [
20
].
2.3. DNA Extraction
Total genomic DNA of each sample was extracted from 1 g of soil using the Mo Bio PowerSoil® DNA Isolation Kit (Carlsbad, CA, USA) according to the manufacturer's recommendations. DNA was quantified using the Qubit 2.0 fluorometer (Invitrogen, Life Technologies, Carlsbad, CA, USA) and the quality was checked on a 1% agarose gel stained with Lonza Gel Stain, run at 90 V for 45 min and visualized on a Gel Doc XR system (Bio-Rad, Pleasanton, CA, USA). The DNA was stored at −20 °C until further analysis.
2.4. 16S rRNA Gene Sequencing
Sequencing was performed at MRDNA (
www.mrdnalab.com
, Shallowater, TX, USA) using the Illumina MiSeq workflow following the manufacturer's guidelines. The Illumina (2 × 250 bp) tailed polymerase chain reaction (PCR) approach was used to generate amplicon libraries. Amplicons from different samples were mixed in equal concentrations and purified using Agencourt Ampure beads (Agencourt Bioscience Corporation, USA). The V4 variable region of 16S rRNA gene was amplified using PCR primer pair 515F (5′-GTGYCAGCMGCCGCGGRA-3′) and 806R (5′-CCCCGYCAATTCMTTTRAG-3′) [
21
]. The forward primer was tagged with a barcode and used in a 28 cycle PCR (5 cycle used on PCR products) using the HotStarTaq Plus Master Mix Kit (Qiagen, USA) under the following conditions: 94 °C for 3 min, followed by 28 cycles of 94 °C for 30 s, 53 °C for 40 s and 72 °C for 1 min, after which a final elongation step at 72 °C for 5 min was performed. PCR products were confirmed on a 2% agarose gel and samples with 200 bp amplicons were purified using calibrated Ampure XP beads. The purified PCR products were used to prepare a DNA library by following the Illumina TruSeq DNA library preparation protocol.
2.5. 16S Amplicon Analysis
Sequence data were processed using the Quantitative Insights into Microbial Ecology (QIIME) software version 1.9.1 [
21
]. The sequences were joined, and barcodes removed, and sequences of less than 200 bp or with more than two ambiguous base calls were also removed. Quality trimming was performed for all sequences greater than 200 bp by removing all sequences with quality scores less than 25 or containing more than one mismatch to the sample-specific barcode or to the primer sequences. Chimeric sequences and sequences with homopolymer runs exceeding 6 bp were also removed. OTUs were selected at 3% divergence (97% similarity level) using USEARCH v6.1 [
22
]. All bacterial taxonomies were assigned to an OTU using the RDP Naïve Bayesian Classifier [
23
] with the SILVA-ARB database (release 123). Final OTUs were taxonomically classified using BLASTn against a curated database derived from GreenGenes, RDPII and NCBI (
www.ncbi.nlm.nih.gov
; [
24
];
http://rdp.cme.msu.edu
) and all unassigned OTUs at phylum level were removed for downstream analyses. All samples were rarefied to the same number of sequences (183,613) per sample, and a total of 40 (20 agricultural and 20 non-agricultural) samples were used for downstream analysis.
2.6. Bacterial Community Analysis
Alpha diversity parameters (richness, Shannon and Simpson's Diversity index) were calculated using the vegan R package [
25
,
26
]. The Simpson's Index of Diversity (1-D) was calculated by the R-vegan package, where D = sum
p_i
2
and
p_i
is the proportional abundance of species (OTUs)
i
. The observed differences in the Simpson index were not statistically significant. ACE and Chao1 parameters were calculated using Visual and Analysis of Microbial Population Structures (VAMPS) [
27
]. Analysis of variance (ANOVA) was carried out to determine significant differences in bacterial diversity and soil chemistry between agricultural and non-agricultural soil using the phia package [
28
]. Analysis of similarity (ANOSIM) was applied to determine significant differences in bacterial diversity and soil chemistry. Soil chemistry data were standardized and pair-wise distances computed based on Euclidean distances. Community data matrices were Hellinger-transformed, and the Bray–Curtis distance measure was used to generate a dissimilarity matrix. Weighted and unweighted UniFrac1 dissimilarities were also obtained [
29
]. Bacterial community structure and the environmental variables were visualized using Principal Component Analysis (PCA) plots generated using ClustVis [
30
]. PCA was used to explain the effect of environmental factors on variations observed in bacterial communities. Environmental variables that contributed to the variation in community composition were selected for further analysis. The Adonis function in Vegan was used to assess factors that contributed to differences in bacterial community composition for each habitat or land use type. The average relative abundance and frequency of occurrence values of each phylum across each sample type were plotted as a sunburst pie chart in Krona [
31
], to infer putative ecological relevance. Rarefaction curves were also constructed in VAMPS [
27
]
2.7. Community Gene Function Prediction
Functional inferences were performed according to the Phylogenetic Investigation of Communities by Reconstruction of Unobserved States (PICRUSt) [
29
]. Metagenomic inferences were done using the taxonomy generated from the GreenGenes database [
24
,
32
]. The OTU table was normalized based on the predicted 16S copy number for each organism in the OTU table using the normalize_by_copy_number.py script. Functional predictions of Kyoto Encyclopedia of Genes and Genomes (KEGG) Ortholog (KOs) were performed using the normalized OTU table as input. KOs were then categorized by function to collapse all KOs to the respective KEGG pathways. The contribution of each OTU to a given gene function was then estimated by multiplying OTU abundances by the set of gene abundances for each taxon. The resulting annotated table of predicted gene family counts for each sample was then visualized in Statistical Analysis of Metagenomic Profiles (STAMP) using Microbiome Helper. All predictions were subjected to a multiple test correction using the Benjamin–Hochberg FDR at a
q
-value filter of <0.05. Additionally, weighted nearest sequenced taxon index (NSTI) values were computed from metagenomic data using the -a option in the predict_metagenonmes.py script [
33
]. NSTI scores are a quality control measure that is used to validate the accuracy of functional annotations by quantifying the availability of nearby genome representatives for each microbiome sample [
34
].
4. Discussion
Our results indicate that the soil bacterial diversity and composition of cultivated soil in the Eastern Free State is different from that of uncultivated soil. The agricultural soil microbiome was predicted to be abundant in functions that promote plant growth and fitness compared to non-agricultural soil. Using PICRUSt, we were able to suggest functional differences that may be a product of agricultural practices. The findings from this study can serve as a baseline for future studies focusing on the impact specific groups of bacteria on crop productivity. The focus of this study was limited to bacterial diversity and functional inferences based on the 16S rRNA gene. Information on diversity of fungi and viruses would also be required to ensure a wholistic understanding of the soil microbiome in the Eastern Free State.
Supplementary Materials
The following are available online at
https://www.mdpi.com/1424-2818/11/4/61/s1
, Figure S1: Sunburst chart showing the total relative abundance of bacterial phyla detected in investigated samples, Figure S2: Rarefaction analyses of samples at phylum level, Figure S3: Unique and shared KEGG Orthologs (KOs) between the agricultural and non-agricultural soils, Figure S4: Extended error bar plot for the six active features (high-level subsystems) that had significant differences between agricultural and non-agricultural samples, Figure S5. Extended error bar plot showing the abundances of functions associated with plant interaction that had significant differences between agricultural and non-agricultural samples, Figure S6: Heat map showing differences in relative abundance of the 50 most abundant bacterial genera as revealed by ClustVis statistical analysis, Figure S7. Relative abundance of different genera involved in plant growth promotion and plant fitness between agricultural and non- agricultural soils.
Author Contributions
Conceptualization, J.P.D., J.E.v.d.W., D.A.C., J.M.S., and A.V.; methodology, J.P.D., J.E.v.d.W., D.A.C., J.M.S., and A.V.; software, J.P.D., and A.V.; validation, J.P.D., and A.V.; formal analysis, J.P.D, J.E.v.d.W., and A.V.; investigation, J.P.D., J.E.v.d.W., D.A.C., J.M.S., and A.V.; resources, J.E.v.d.W., D.A.C., and J.M.S.; data curation, J.P.D., and A.V.; writing—original draft preparation, J.P.D., and J.E.v.d.W.; writing—review and editing, J.P.D., J.E.v.d.W., D.A.C. and A.V.; supervision, J.E.v.d.W., D.A.C., J.M.S. and A.V.; project administration, J.E.v.d.W., D.A.C. and J.M.S.; and funding acquisition, J.E.v.d.W., D.A.C. and J.M.S.
Funding
This research was funded by Potatoes South Africa, grant specific unique reference number (UID) 105649.
Acknowledgments
A special thanks goes to Mr. Gert Bester in the Eastern Free State of South Africa for giving us access to his farm and assisting in sample collection. We also would like to acknowledge Dr. Michelle Greve for assisting us with the mapping software and drawing the map.
Conflicts of Interest
Authors declare no conflict of interest. The funders had no role in the design of the study, in the collection, analyses, or interpretation of data; in the writing of the manuscript, or in the decision to publish the results.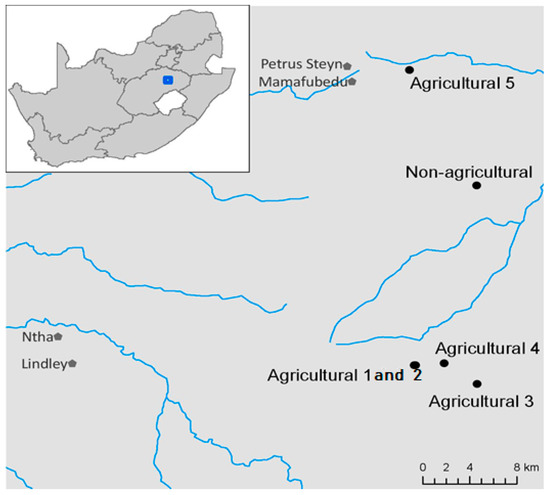 Figure 1. Map of the study area showing the location of sampling areas in the Eastern Free State of South Africa. Black dots indicate the sampling locations. Map courtesy of Dr. Michelle Greve (University of Pretoria).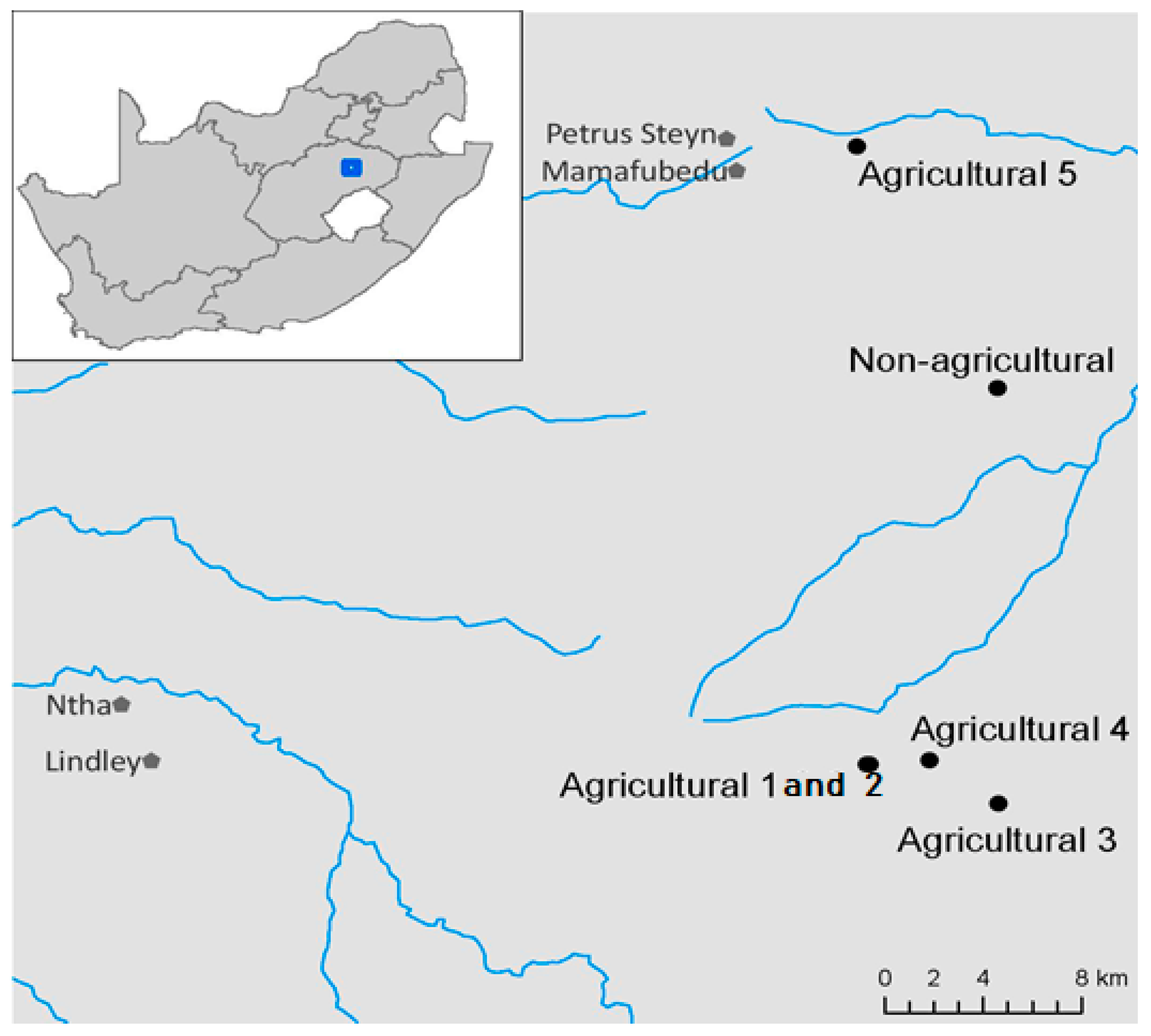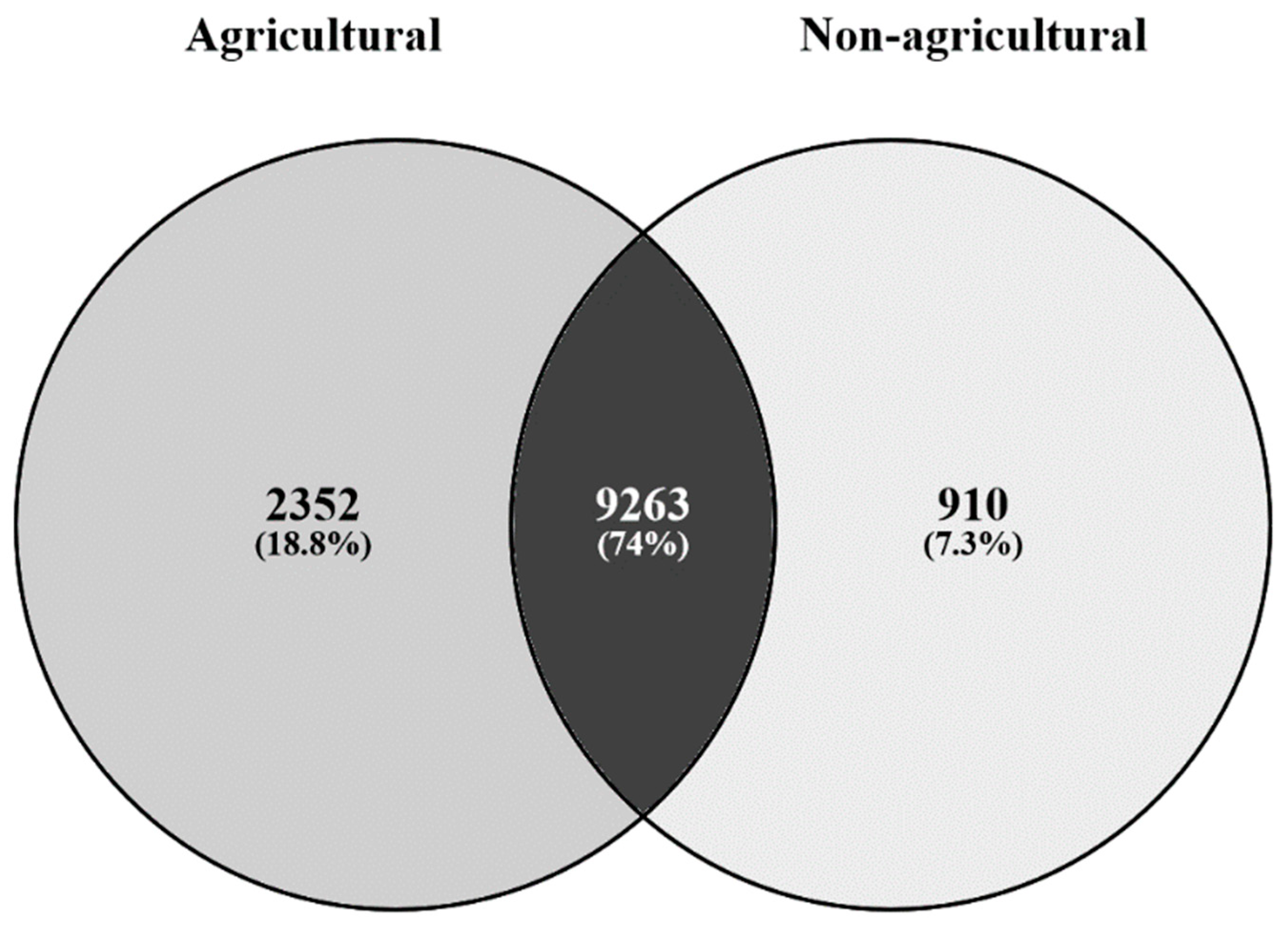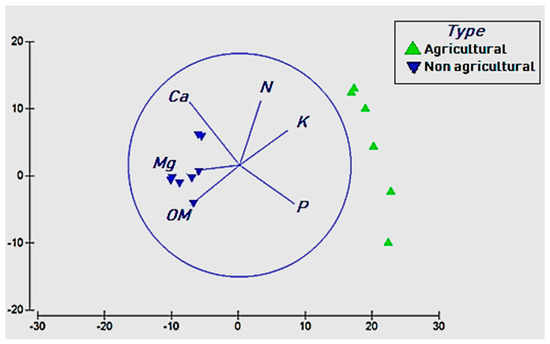 Figure 3.
Distance-based redundancy analysis (db-RDA) biplot of a) bacterial communities and soil chemistry parameters. Only the environmental variables that significantly (
p
< 0.05) explained variability in microbial community structure are shown (arrows). The direction of the vectors indicates the direction of maximum change of that variable, whereas the length of the vector represents how well the parameter explains the distribution of the data.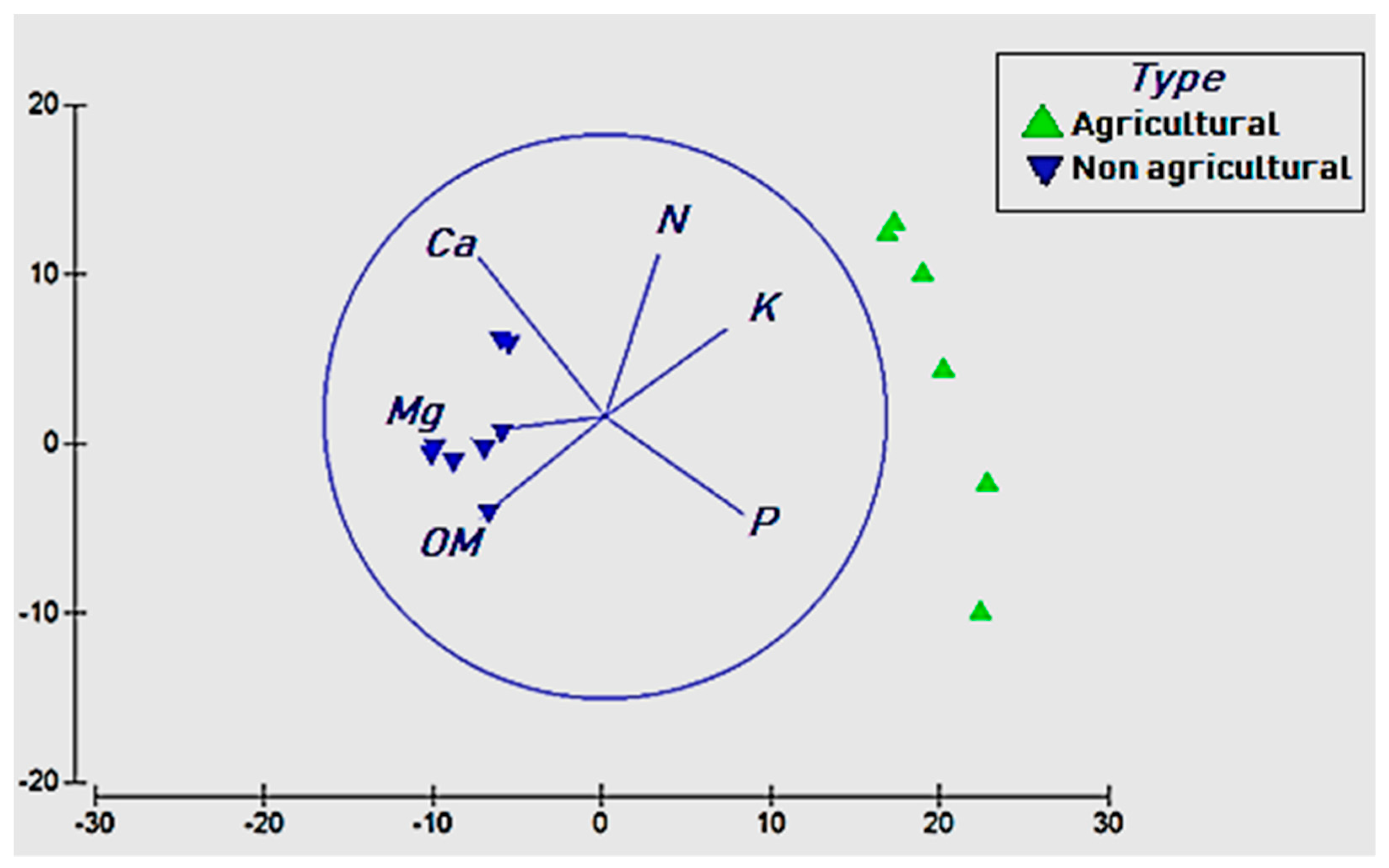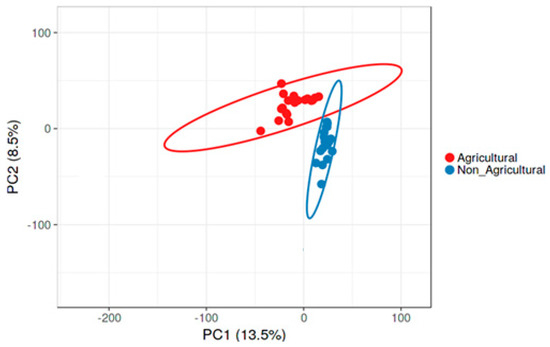 Figure 4.
A principal component analysis (PCA) plot showing differences in structure of bacterial communities between agricultural (red circles) and non-agricultural (blue circles) soil at phylum level. Unit variance scaling is applied to rows; Singular value decomposition (SVD) with imputation was used to calculate principal components. X and Y axes show Principal Component 1 and Principal Component 2 that explain 13.5% and 8.5% of the total variance, respectively. Prediction ellipses are such that with a 0.95 probability, a new observation from the same group will fall inside the ellipse.
N
= 40 data points.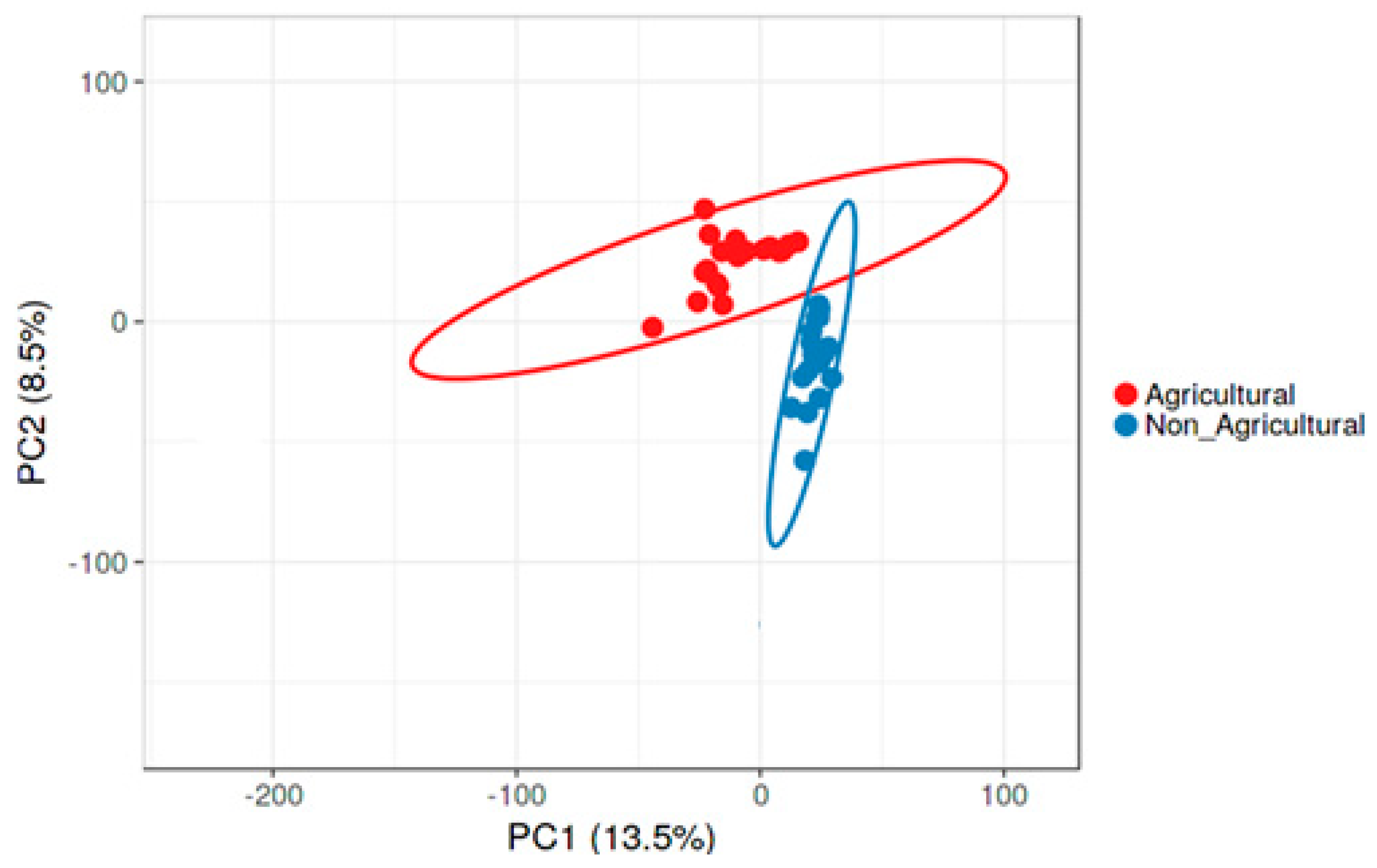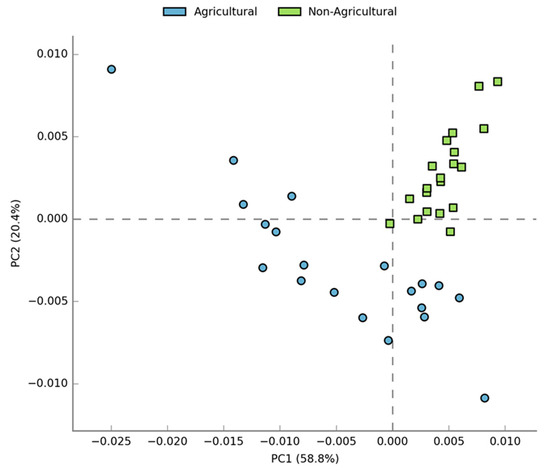 Figure 5. Principal Component Analysis plot of primary features computed using the STAMP software, based on multiple group analysis, applying ANOVA test, Games–Howell post hoc test for confidence interval method and Benjamin–Hochberg FDR for correction. X and Y axes indicate that Principal Components 1 and 2 explain 58.8% and 20.4% of the total variation in the predicted functions, respectively.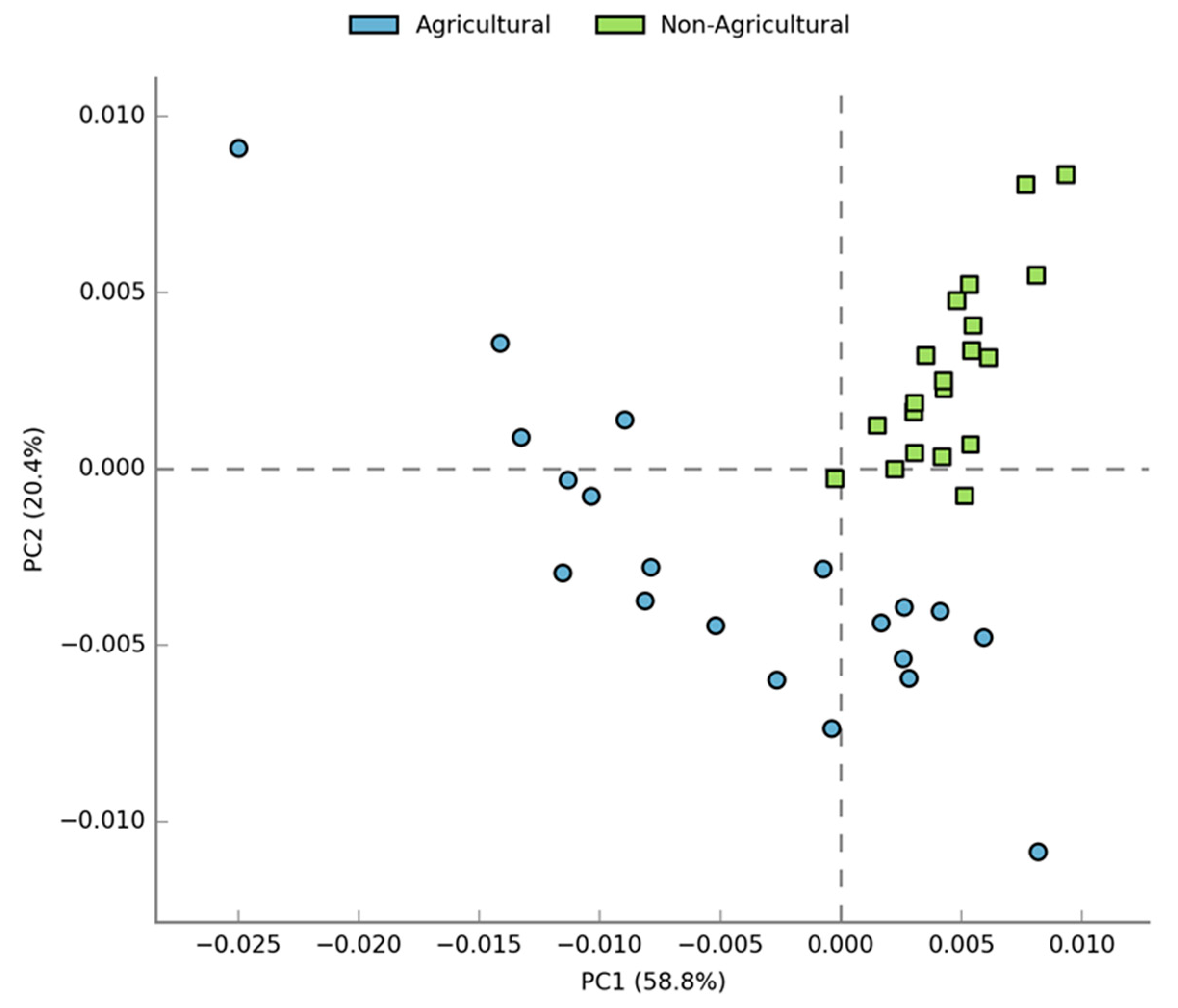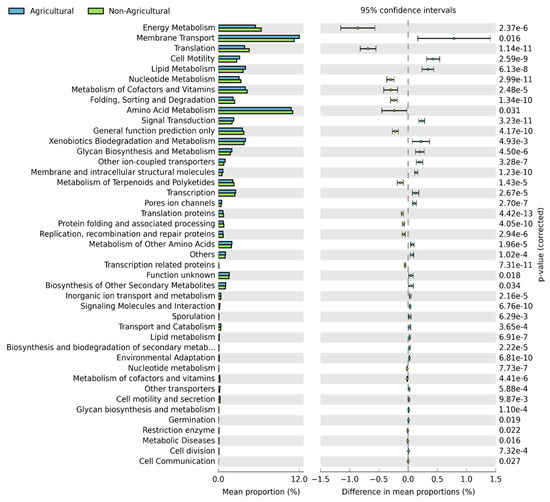 Figure 6.
Extended error bar plot showing the mean proportion (%) of significantly different predicted functional categories at level 3 found in soil bacterial communities. Points indicate the differences between agricultural and non-agricultural soil (blue and green bars, respectively), and the values on the right show the
p
-values that were derived from a White's non-parametric t-test [
36
].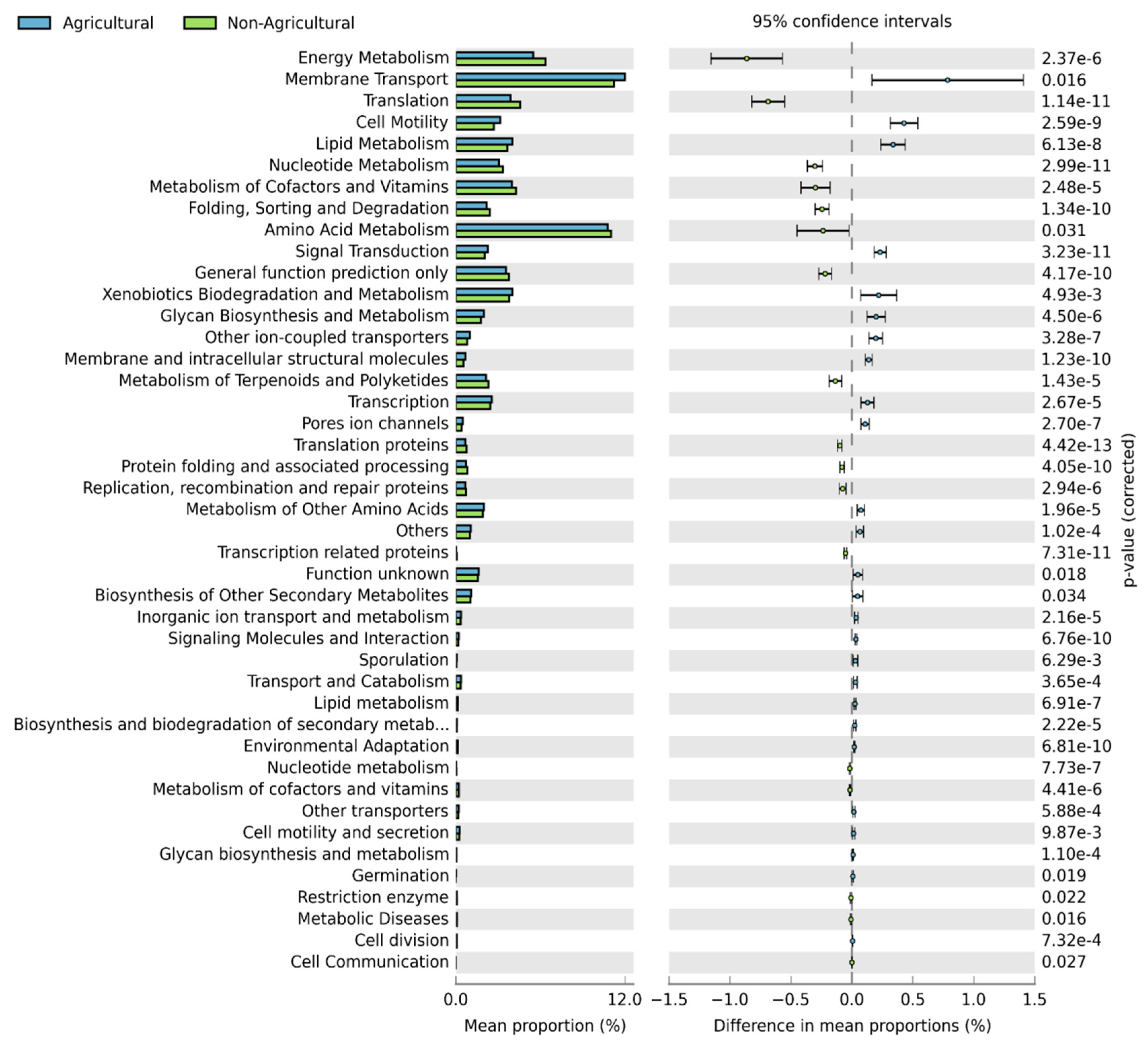 Table 1.
Total relative abundance of bacterial phyla detected in agricultural and non-agricultural soil samples from the EFS. P-values marked with an asterisk (*) indicate significant differences (
p
< 0.05).
Phylum
Agricultural
Non-Agricultural

p

-Value
Proteobacteria
40%
34%
3.788 × 10−5 *
Actinobacteria
23%
40%
0.0323 *
Bacteroidetes
12%
4%
0.0410 *
Chloroflexi
8%
6%
0.8106
Firmicutes
7%
4%
0.4156
Acidobacteria
3%
6%
3.877 × 10−5 *

Table 2. Differences in bacterial richness and diversity measures of the 16S rRNA gene libraries between the agricultural and non-agricultural soil samples. Standard deviations (SD) from the means are indicated in parentheses. Values with marked with an asterisk indicate the land use type that was significantly higher for each diversity index.
| Diversity Index | Agricultural | Non-Agricultural |
| --- | --- | --- |
| Richness | 598 (2.85) * | 504 (2.56) |
| ACE | 46.4 (2.78) * | 34.1 (3.20) |
| Chao1 | 44.5 (4.96) * | 33.0 (4.09) |
| Shannon | 2.80 (0.31) * | 2.58 (0.12) |
| Simpson | 0.76 (0.10) | 0.80 (0.03) |

© 2019 by the authors. Licensee MDPI, Basel, Switzerland. This article is an open access article distributed under the terms and conditions of the Creative Commons Attribution (CC BY) license (http://creativecommons.org/licenses/by/4.0/).