Open Access This article is
freely available
re-usable
Article
No Signs of Genetic Erosion in a 19th Century Genome of the Extinct Paradise Parrot (
Psephotellus pulcherrimus
)
1
Department of Bioinformatics and Genetics, Swedish Museum of Natural History, Box 50007, SE-104 05 Stockholm, Sweden
2
Department of Zoology, Swedish Museum of Natural History, Box 50007, SE-104 05 Stockholm, Sweden
3
Environmental Futures Research Institute, Griffith University, Nathan 4111, Australia
4
Biodiversity and Geosciences Program, Queensland Museum, South Brisbane 4101, Australia
5
Australian National Wildlife Collection, CSIRO National Research Collections Australia, Canberra ACT 2601, Australia
6
Museum für Naturkunde, Leibniz Institut für Evolutions- und Biodiversitätsforschung, 10115 Berlin, Germany
*
Authors to whom correspondence should be addressed.
Received: 7 March 2019 / Accepted: 8 April 2019 / Published: 15 April 2019
Abstract
:
The Paradise Parrot,
Psephotellus pulcherrimus
, was a charismatic Australian bird that became extinct around 1928. While many extrinsic factors have been proposed to explain its disappearance, it remains unclear as to what extent genetic erosion might have contributed to the species' demise. In this study, we use whole-genome resequencing to reconstruct a 15x coverage genome based on a historical museum specimen and shed further light on the evolutionary history that preceded the extinction of the Paradise Parrot. By comparing the genetic diversity of this genome with genomes from extant endangered birds, we show that during the species' dramatic decline in the second half of the 19th century, the Paradise Parrot was genetically more diverse than individuals from species that are currently classified as endangered. Furthermore, demographic analyses suggest that the population size of the Paradise Parrot changed with temperature fluctuations during the last glacial cycle. We also confirm that the Golden-shouldered Parrot,
Psephotellus chrysopterygius
, is the closest living relative of this extinct parrot. Overall, our study highlights the importance of museum collections as repositories of biodiversity across time and demonstrates how historical specimens can provide a broader context on the circumstances that lead to species extinctions.
Keywords:
Psephotellus pulcherrimus
; museomics; genome-wide heterozygosity; genetic erosion
3. Results
3.1. Mapped Genomes and Population Genetics
The PSMC-analysis of effective population size through the last 100,000 years (
Figure 2
) suggest that the Paradise Parrot had a relatively high effective population size around 100 kya, from which it decreased to a minimum around ~30 kya. After that the effective population size appears to have been stable with a slight increase. The genome-wide level of heterozygosity in the Paradise Parrot was estimated to 1.75 SNPs per thousand nucleotides (
Table 2
), and no long runs of homozygous sites were found in a genome-wide scan.
3.2. Phylogenetic Relationships and Divergence Estimates
The phylogenetic trees obtained from the analyses of the concatenated dataset as well as of the individual loci recovered are shown in the
Supplementary Material (Figures S2–S8)
. All analyses recovered the three termite mound-nesting
Psephotellus
parrots (the Paradise Parrot
Psephotellus pulcherrimus
, the Golden-shouldered Parrot
Psephotellus chrysopterygius
and the Hooded Parrot
Psephotellus dissimilis
) as monophyletic, and the Paradise Parrot and golden-shouldered parrot as sister species within this clade (see
Supplementary Material
). Overall, the tree obtained from the concatenated data set has an identical topology to that obtained by [
31
], when taking into account that we have pruned several taxa from their data set.
The genetic distances in the mitochondrial cytochrome b for all species included in the phylogenetic analyses are summarized in
Table 3
. The genetic distance between the Paradise Parrot and Golden-shouldered Parrot was 1.77%. Based on the mitochondrial DNA clock (which for birds is normally based solely on divergence rates in the cytochrome b gene) of 2.1% for birds e.g., [
33
] a very rough estimate suggest that these two species diverged from each other slightly less than one million years ago.
Supplementary Materials
The following are available online at
https://www.mdpi.com/1424-2818/11/4/58/s1
, Figures S1–S5: individual gene trees, Figure S6: RAxML tree from concatenated data set, Figure S7: MP-EST tree based on 5 genes, Figure S8: Estimated rate of heterozygosity versus read depth.
Author Contributions
Conceptualization, M.I., P.G.P.E. and M.P.K.B.; methodology, M.I., P.G.P.E. and M.P.K.B.; formal analysis, P.G.P.E. and M.P.K.B.; writing—original draft preparation, M.I.; writing—review and editing, M.I., P.G.P.E., M.P.K.B., U.S.J., P.O., L.J.; project administration, M.I., P.G.P.E. and M.P.K.B.
Funding
This research was funded by the Swedish Research Council, grant numbers 621-2014-5113 (MI) and 621-2017-3693 (PE).
Acknowledgments
We thank Erik Åhlander for help in gathering information about the paradise parrot study skin specimen stored at the Swedish Museum of Natural History, and Nicolas Dussex for discussions about conservation genetics. The authors acknowledge support from the National Genomics Infrastructure in Stockholm funded by Science for Life Laboratory, the Knut and Alice Wallenberg Foundation and the Swedish Research Council, and SNIC/Uppsala Multidisciplinary Center for Advanced Computational Science for assistance with massively parallel sequencing and access to the UPPMAX computational infrastructure.
Conflicts of Interest
The authors declare no conflict of interest.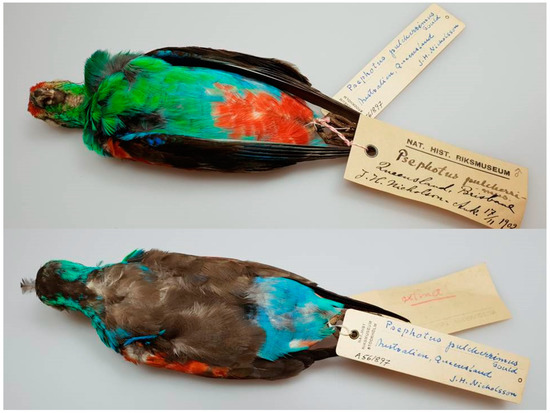 Figure 1. Photos of the male Paradise Parrot specimen (NRM 561897) held at the Swedish Museum of Natural history showing its ventral (above) and dorsal (below) plumage. This is the sample that was used to sequence the Paradise Parrot´s genome.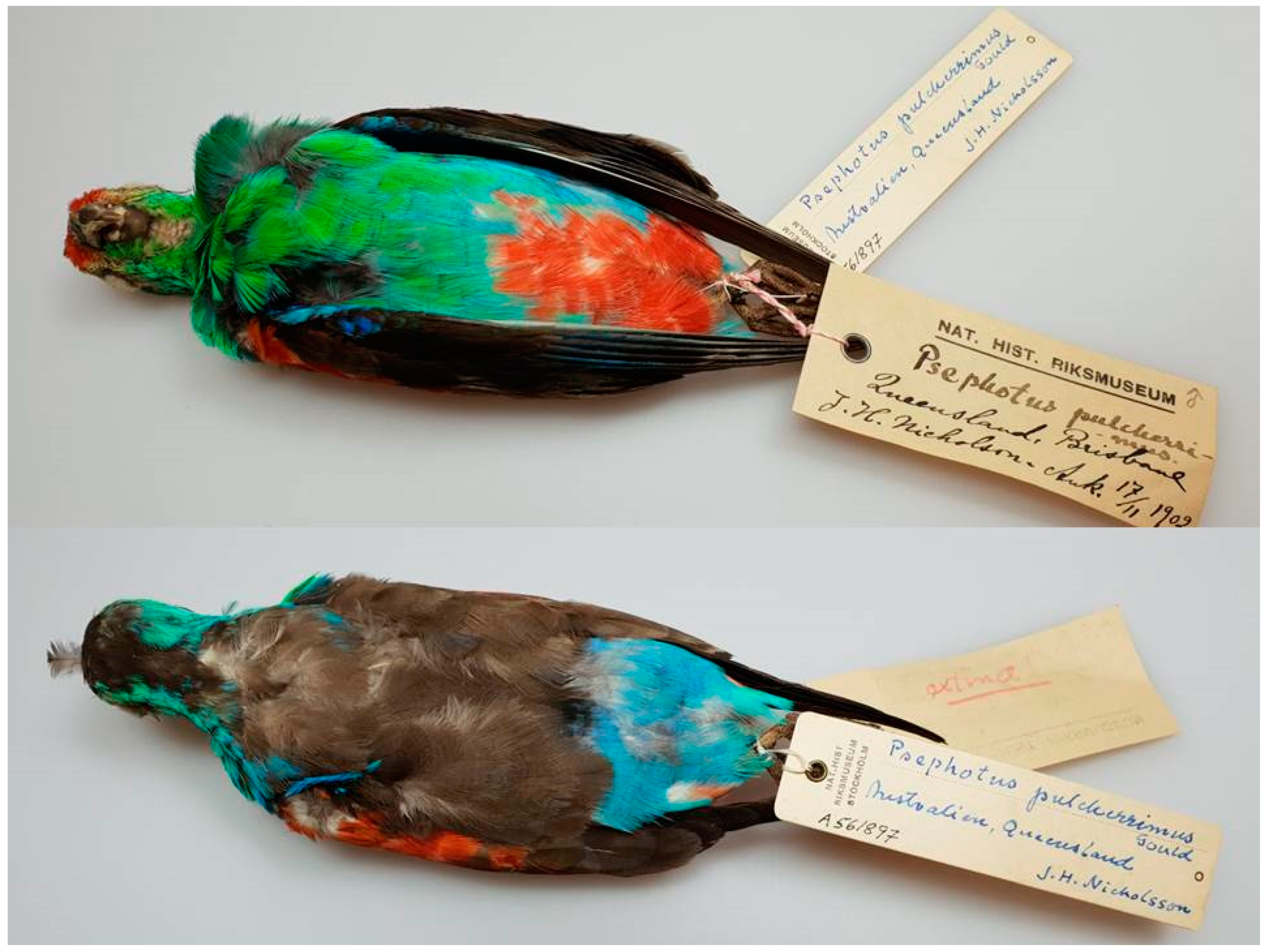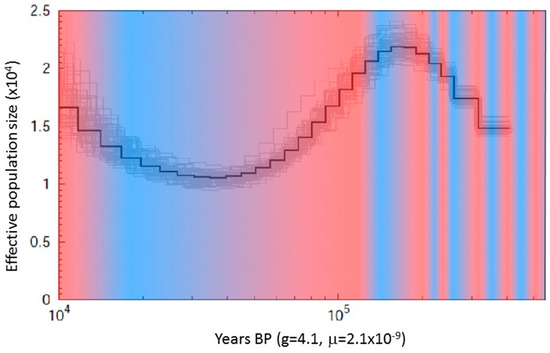 Figure 2.
The change in effective population size over time for the Paradise Parrot was derived by the pairwise sequential Markovian coalescent model (PSMC). The x axis gives a log scale of the time in years, applying a genome mutation rate of 2.1 × 10
−9
per site and generation time of 4.1 years. The bold black line shows the effective population size through time. The thin grey lines represent 100 rounds of bootstrapped sequences. The background color indicates past temperature fluctuations in Australia [
44
] where pink indicate warmer periods and blue colder periods.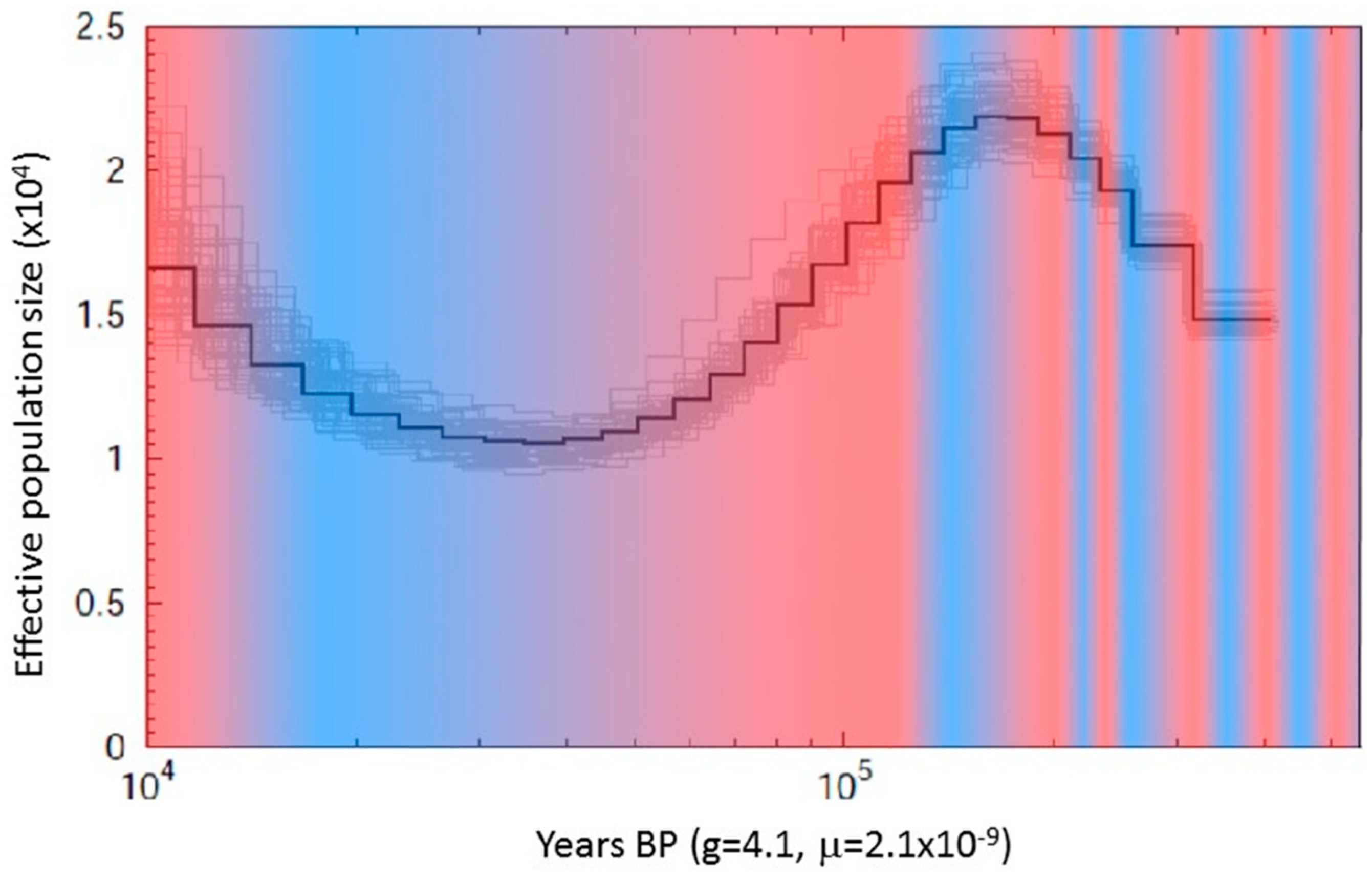 Table 1.
Sequences used by [
31
] that have been downloaded from GenBank and used in HMMER and in the phylogenetic analyses.
| Species | Rag1 | ZENK | c-mos | cytb | ND2 |
| --- | --- | --- | --- | --- | --- |
| Psephotellus chrysopterygius | JF807991 | JF807977 | JF807963 | JX442436 | JX442400 |
| Psephotellus dissimilis | GQ505210 | GQ505155 | GQ505101 | JX442415 | JX442384 |
| Psephotus haematonotus | JX442403 | JX442379 | JX442404 | JX442435 | JX442399 |
| Psephotellus varius | GQ505209 | GQ505154 | GQ505100 | JX442414 | JX442383 |
| Purpureicephalus spurius | GQ505204 | GQ505150 | GQ505096 | JX442410 | JX442381 |
| Platycercus venustus | GQ505207 | GQ505153 | GQ505098 | JX442413 | JX442382 |
| Lathamus discolor | GQ505211 | GQ505156 | GQ505102 | JX442416 | JX442385 |

Table 2. Estimated genome-wide levels of heterozygosity in three parrot species. The table shows that the genome-wide heterozygosity in the Paradise Parrot is substantially lower than in the abundant Australian budgerigar but almost twice as high as in the endangered New Zealand Kea.
Species
SNP rate (10−3)
Ref
Kea,

Nestor notabilis

0.91
[42]
Budgerigar,

Melopsittacus undulatus

4.31
[43]
Paradise parrot,

Psephotellus pulcherrimus

1.70
This study

Table 3.
The uncorrected genetic p-distances for the mitochondrial cytochrome
b
gene between species included in the phylogenetic analyses.
JX442416
JX442435
JX442413
JX442410
JX442414
JX442415
JX442436

Lathamus discolor

JX442416

Psephotus haematonotus

JX442435
12.67%

Platycercus venustus

JX442413
11.99%
10.16%

Purpureicephalus spurius

JX442410
12.10%
10.96%
10.05%

Psephotellus varius

JX442414
10.62%
9.93%
8.11%
8.45%

Psephotellus dissimilis

JX442415
12.10%
10.39%
9.36%
9.59%
7.99%

Psephotellus chrysopterygius JX442436

11.53%
11.19%
9.93%
9.02%
7.99%
6.85%

Psephotellus pulcherrimus

this study
11.31%
11.31%
11.09%
9.76%
7.76%
6.21%
1.77%

© 2019 by the authors. Licensee MDPI, Basel, Switzerland. This article is an open access article distributed under the terms and conditions of the Creative Commons Attribution (CC BY) license (http://creativecommons.org/licenses/by/4.0/).